These are hands down the easiest brownies ever.  Chewy and fudgy with a load of hazelnut flavor from the Nutella.  Crazy good and only three ingredients!
Have you guys seen Cooper yet?  He's the new addition to our family and he's such a cutie. I have to admit that I never wanted a dog.  I didn't grow up with dogs and I didn't want to add any more "jobs" to my life.  However, I agreed, for my husband and for my kids.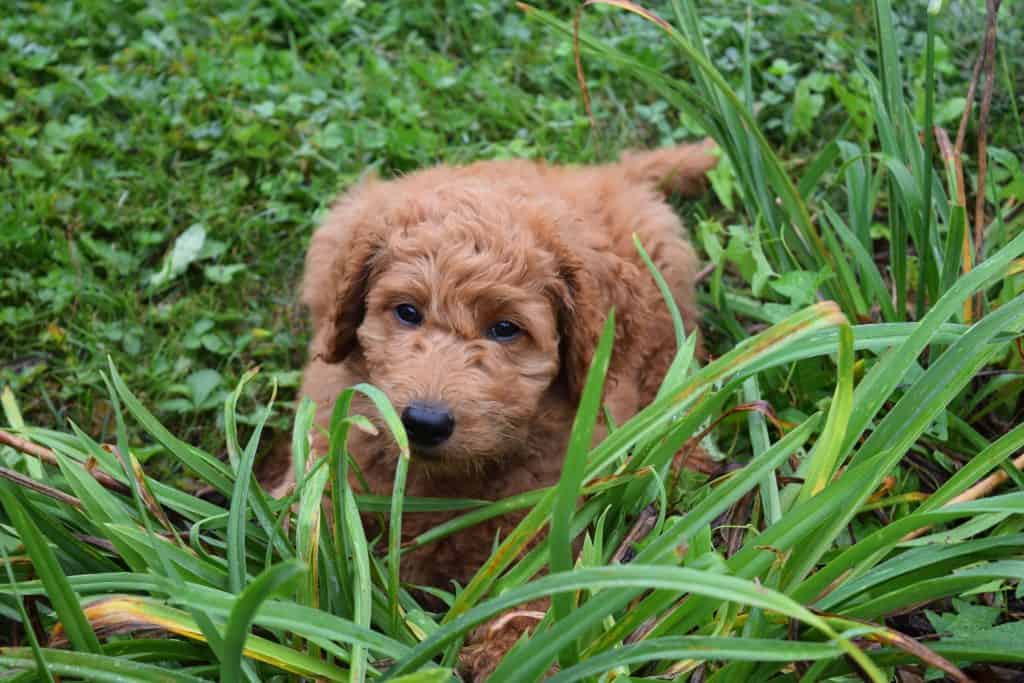 It's the best.  Seriously, Cooper is so sweet and loving.  His little tail wags eagerly when we come home.  He loves to roll over on his back to await belly scratching.  He looks me in the eye and he seems to understand, especially when his little head tilts to the side.
On the flip side, he stinks, he eats bugs, he pees on the kitchen floor (a lot) and he smells…like a dog.  My house smells like a dog; for that matter, I probably smell like a dog.  He's bitten holes in my clothes, chews on my kitchen table and attempts to nip at every visitor. I have had to completely reorganize my day in order to meet his needs.  After all, I hate to leave him crated for too long.
My point is if you don't have a dog,  get one.  Be warned, it's a lot of work, but the love and companionship that comes back to you makes it worth it.  It's good for your kids to help with dog chores and to have someone to snuggle with when they are having a bad day. Did you know dog owners are less likely to be depressed?  Just do it, but don't say I didn't warn you about how hard it is.
Now that I am super busy taking care of Cooper, I can only make recipes with three ingredients.  Just kidding!  These 3 Ingredient Nutella Brownies are the perfect after school treat that can be whipped up in minutes.  In fact, your kids can make them!  They can be a quick answer to a bake sale at school or treats for a neighborhood Halloween party (insert candy corn on top).  Truly no one will know how easy they are.
They have been making the rounds on the internet.  I found them on Buzzfeed and they even have a video.  I like making these in mini muffin cups because I'm lazy and I hate cutting brownies.  Have you ever destroyed a perfectly good pan of brownies by cutting them with the wrong knife?   You know what I'm talking about; when all the brownie chunks come out and make a huge mess.  Using a serrated plastic knife prevents this.  Just a little FYI for you.
I also tried making these with gluten free flour.  I would say they were fine but much better with all-purpose flour.  If you want to try it, just replace the regular flour with gluten free.  No other changes are necessary.  The gluten free ones are best eaten on the first day.
Two Bite Nutella Brownies (Three Ingredients)
Super simple three ingredient Nutella brownies.
Ingredients
1 1/4

cups

Nutella

2

eggs

1/2

cup

flour
Instructions
Preheat oven to 350°.

Line 28 mini muffin cups with liners.

Mix all ingredients together in a mixing bowl.

Using a mini ice cream scoop, fill each container about 3/4 full with the batter.

Bake for about 8-12 minutes - do not overcook or they will dry out.

These are best served on the day they are made but can be stored in a plastic container for a few days.