Are you in a dinnertime rut? Aren't we all? It's time to mix it up with some new delicious recipes that can be made in 30 minutes or less. Most of these are easy to make with ingredients you are likely to have on hand. Let's do this!
Copycat Panera Bread 10 Vegetable Soup
This Copycat Panera Bread 10 Vegetable Soup is comforting, spicy, and loaded with vegetables. It's easy to make in around thirty minutes, and I've made it gluten free! Bring on the comfort food.
Baked Teriyaki Salmon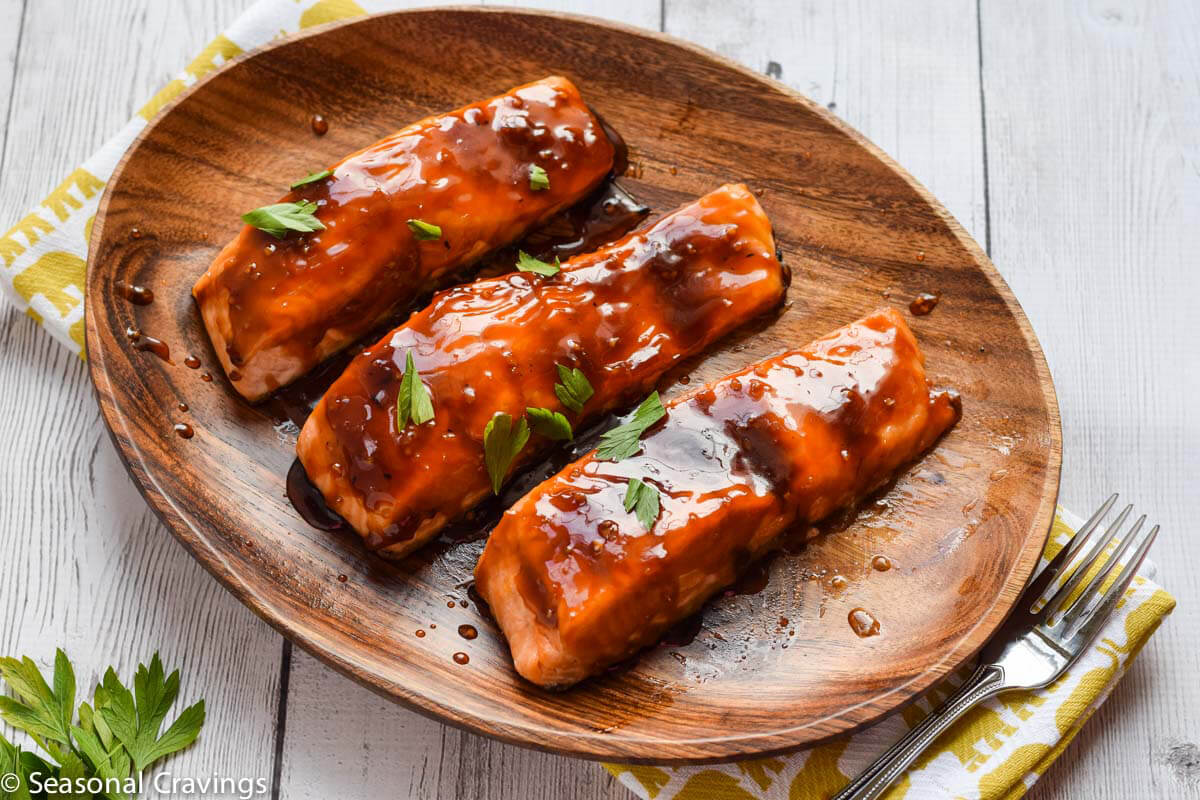 This easy Teriyaki Salmon recipe is flavorful, tender, and absolutely delicious. The 5-ingredient homemade teriyaki sauce makes this easy meal a family favorite and the whole dish comes together in under 45 minutes. Pair it with your favorite side for a healthy and hearty meal the whole family will love.
Skinny Roasted Cod With Tomatoes
Skinny Roasted Cod With Tomatoes is a huge weeknight win. The fish is mild, tender and flavorful and the roasted tomatoes are super sweet.
Spicy Tomato Soup
This simple and flavorful Spicy Tomato Soup is perfect for a cold winter day. A little smokey spice makes a big difference in this bowl of goodness. But it's surprisingly simple to make. All you need are a few ingredients and about 30 minutes!
Easy 5-Ingredient Chicken Drumsticks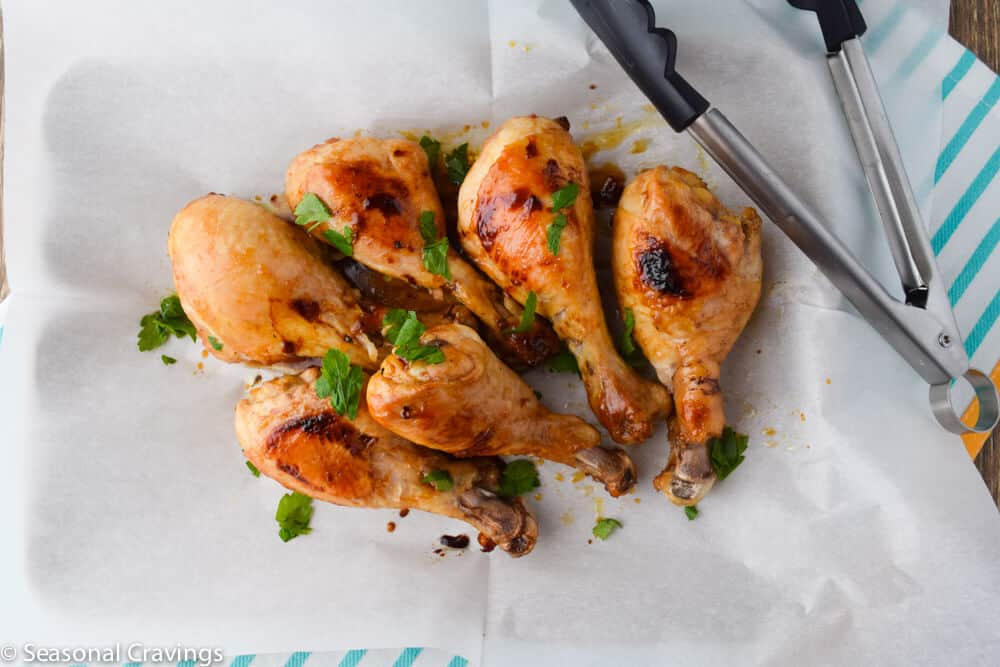 This easy five-ingredient Chicken Drumsticks recipe is tasty and simple and your entire family will love them! The crispy skin holds the moisture in, giving way to the tender meat that is juicy and flavorful thanks to a simple marinade made with tamari, olive oil, red wine vinegar, and garlic.
Instant Pot Chicken Stir Fry
Weeknight shortcuts are the best! Try this Instant Pot Chicken Stir Fry using frozen vegetables for a quick one-pot wonder dinner the whole family will love.
Stir Fried Udon Noodles
A quick and easy stir-fried teriyaki chicken yaki udon stir fry recipe, made with leftover chicken, vegetables, chewy udon noodles, and tossed with a sweet and sticky teriyaki sauce. Great for using up leftovers or when you want a simple meal in less than 30 minutes!
Dill Pickle Soup
Dill Pickle Soup is my all-time favorite soup recipe for busy weeknights. It requires merely 30 minutes of your time and provides you with a hearty and satisfying bite. This easy soup is savory and creamy and kids love it too. Perfect for lunch or dinner, especially in cold winter weather.
Honey Mustard Chicken
This Honey Mustard Chicken is exactly what you need if you're looking for a flavor-packed, one-pan dinner meal that can be made in just 30 minutes! And the creamy honey mustard cream sauce is amazing on rice, potatoes, and roasted veggies, too!
Beef Yaki Udon Noodle Stir Fry
Beef yaki udon is a tasty noodle stir fry which you can make in less than 30 minutes. Try this easy udon recipe if you're looking for a simple Japanese dish to make with beef and noodles. You can make the entire thing in one wok and since it has meat, vegetables and noodles, you don't even need to come up with side dishes.
Chick Pea Pasta with Sausage and Broccoli Rabe
This easy recipe for Chick Pea Pasta with Sausage + Broccoli Rabe is a healthy and satisfying dinner that can be on the table in 20 minutes!
Creamy Chicken Mushroom Stroganoff
This Chicken Mushroom Stroganoff is a creamy, savory, luxurious dinner inspired by delicious Eastern European cuisine and it's ready to eat in just half an hour! You simply can't beat this easy stroganoff recipe for a one-skillet, thirty-minute dinner when you're ready for a satisfying, comforting meal that doesn't involve slaving in the kitchen all afternoon.
Yummy Pork Egg Roll in a Bowl
Pork egg roll in a bowl is a low-carb alternative to traditional egg rolls. This is an easy recipe with ground pork, veggies and other flavours which is sure to satisfy a craving for Asian food. I love this easy one pan meal. If you want something quick and simple for a busy weeknight dinner, consider this 15 minute meal! It's cheaper and healthier than takeout but every bit as tasty – maybe even more!
Easy, 20 Minute Vegan Pasta
Easy, 20 Minute Vegan Pasta! You are going to love this healthy, easy vegan pasta! With a trick to creating glossy, restaurant-style pasta, this is a must save for quick dinners.
30 Minute Pesto Chicken, Kale and White Bean Soup
This 30 Minute Pesto Chicken, Kale + White Bean Soup is the perfect cozy recipe to whip up on a cold night when you want something healthy and easy.
Air Fryer Honey Mustard Pork Chops
I love the versatility of pork chops. This air fryer honey mustard pork chops recipe is the latest recipe I've made and it's so good! This 30 minute meal is perfect after a busy day at work. Making a tasty honey mustard pork chop sauce is super-easy too! You will LOVE this delicious air fried pork recipe. They are flavourful, juicy pork chops!
10 Minute Vegan Black Bean Tacos
If you are looking to serve a plant-based taco for dinner, take a look at this recipe for vegan black bean tacos! In just 10 minutes, you can have a healthy, yet satisfying meal ready to serve with a punch of flavor and protein. This black bean taco recipe will knock your socks off!
Easy Quinoa Sweet Potato Chili
If you want to enjoy a hearty, meatless chili that is ready in under 30 minutes, try this flavorful, filling, and delicious quinoa sweet potato chili. This is a quick and easy combination that you can make for lunch or dinner even on busy weekdays.
Italian Beef Braciole Stuffed Beef Roll
Being Italian, this Italian beef braciole always makes me happy. A stuffed Italian rolled steak or beef roll with tomato sauce is always good. Braciole is delicious served with pasta, mashed potatoes or a vegetable based side dish. It makes a truly wonderful Sunday family dinner and is one of the Italian classics when it comes to steak roll recipes.
Sheet Pan Portobello Fajitas
Sizzling and spicy bell pepper, onion, and portobello mushroom strips will make truly delicious vegan fajitas together with guacamole, salsa, black beans, and vegan sour cream. I guarantee you that you will not miss any beef or chicken. It is quick to make, but even quicker to disappear.
Pasta with Clam Sauce
This recipe for Linguine alle Vongole, aka pasta with clam sauce, is an easy and delicious classic Italian seafood dinner that uses mostly pantry ingredients and only takes 30 minutes to make.
Campbell's Chicken Curry
This foolproof Campbell's Chicken Curry is the perfect easy weeknight meal your family will love. It's loaded with tender chicken, vegetables and a flavorful broth made with curry, turmeric and Campbell's® Cream of Chicken Soup.
Cedar Planked Salmon with Peach and Tomato Salsa
This gorgeous late-summer recipe for Cedar Planked Wild Salmon with Tomato Peach Salsa makes for a simple and flavorful grilled dinner.
Grilled Swordfish with Grilled Oranges & Fennel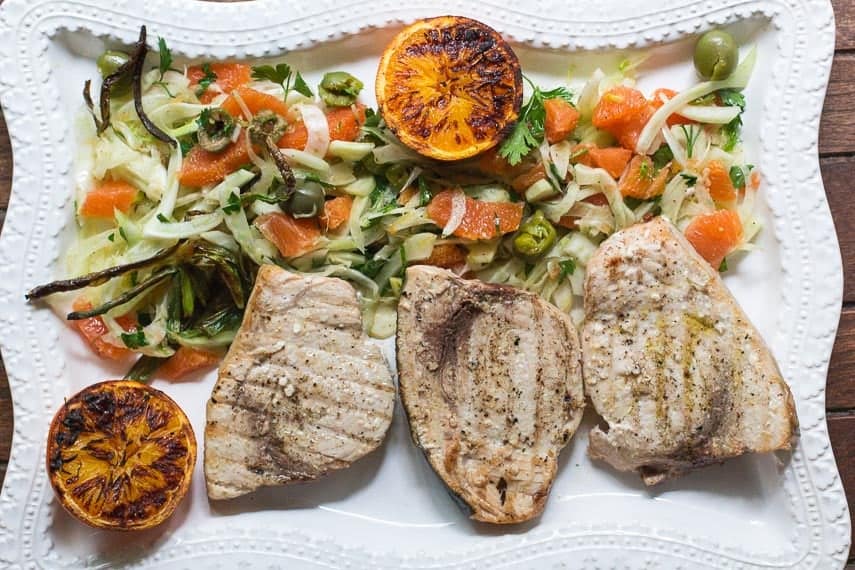 Have you ever grilled oranges? This recipe for Grilled Swordfish with Grilled Oranges & Fennel is a fantastic – and easy – introduction to grilling citrus fruit.
Air Fryer Black Bean Taquitos
Black Bean Taquitos made in the air fryer! Crispy vegan taquitos made in the air fryer with just a handful of ingredients.
20-Minute Pasta With Roasted Red Pepper Sauce
This hearty dish with roasted red pepper pasta sauce is the perfect vegan comfort food! Not only do you get to enjoy a big bowl of pasta, but it is covered in an amazing, flavorful sauce. Dinner in 20 minutes? YES, please!
Easy Vegan Drunken Noodles Recipe
Inspired by the Thai favorite, Pad Kee Mao, this easy vegan drunken noodle recipe is made with rice noodles, veggies, tofu and a spicy sauce. Ready in 30 minutes!
Za'atar Spiced Tofu Scramble
If you're looking for a simple, plant-based recipe that packs of punch of savory, aromatic flavor, then this is the recipe for you – Za'atar Spiced Low FODMAP Tofu Scramble! This play on classic scrambled eggs uses tofu instead of eggs for a plant-powered, protein-rich twist. You might be thinking: "But…tofu doesn't taste like eggs!" And you'd be right. But don't worry – we got you.
Lamb Burgers with Tahini Sauce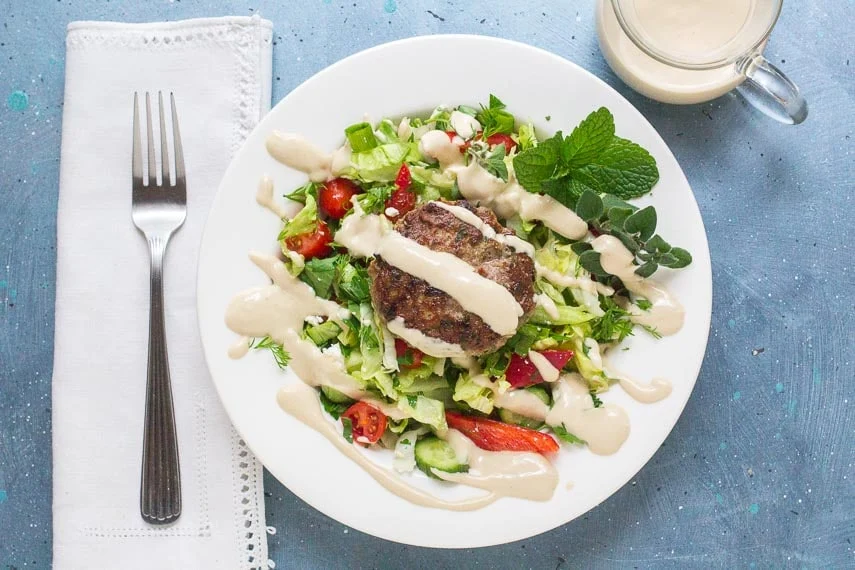 This lamb burger gets its Mediterranean flavor from lots of fresh herbs – a combo of oregano, mint, dill and parsley – as well as feta, cumin, and of course, the star of the show, juicy ground lamb.
Easy Italian Sloppy Joes
These are the best easy Italian Sloppy Joes and they are so handy when you are short on time or energy! It's even more perfect when I have leftover meat sauce from a pasta dish I have made previously.
More From Seasonal Cravings
Dinnertime again? Yes, so grab some sausage, and let's get to work. These tasty sausage recipes are easy to make and a nice change from ground beef and chicken breasts which we all get sick of.  Your family will love you for these delicious and creative recipes, and you will love it if you have leftovers! 25 Sausage Recipes That Will Make You Dream of Leftovers.
30 Mouthwatering Mediterranean Recipes to Satisfy Your Cravings
The Mediterranean Diet is one of the best diets to follow for anyone wanting a healthy switch. It is delicious and filled with nutritious elements, such as heart-healthy fats, whole grains, nuts, fruits, and vegetables. This diet has no restrictions, although refined sugar and other processed foods should be in limited consumption.  30 Mouthwatering Mediterranean Recipes to Satisfy Your Cravings
25 Healthy Chicken Tenderloin Recipes
Easy grilled chicken tenders, simply marinated and grilled in the pan or on a grill. Perfect for serving as they are, sliced on a salad or in sandwiches. Either you marinade them for hours, or just for 30 minutes before cooking, the grilled strips will still be moist and wonderful. 25 Healthy Chicken Tenderloin Recipes
30 Foolproof Soups for Easy Winter Dinners
This creamy Tortellini Soup with Sausage will warm your soul on a cold fall night. Easy to make in less than 30 minutes and a family hit for sure.  It's simply made with fresh or frozen tortellini and a rich tomato base.  30 Foolproof Soups for Easy Winter Dinners
Effortless Eats: Simple Dinner Ideas with Quick and Easy Prep
Get ready to whip up some delicious meals with ease! These recipes are designed to be simple and accessible, utilizing only a few, easy-to-find ingredients. From comforting pasta dishes to juicy grilled meats and delicious vegetarian options, you'll find something to love. Each recipe features step-by-step instructions and beautiful photos, making it easy to follow. Effortless Eats: Simple Dinner Ideas with Quick and Easy Prep