Get ready to level up your morning game with 35 easy to make overnight oats recipes. If you're tired of the same old boring breakfast routine and want something exciting, nutritious, and easy to make, we've got you covered. So grab a jar, gather your ingredients, and get ready to make some delicious breakfasts!
Overnight Oats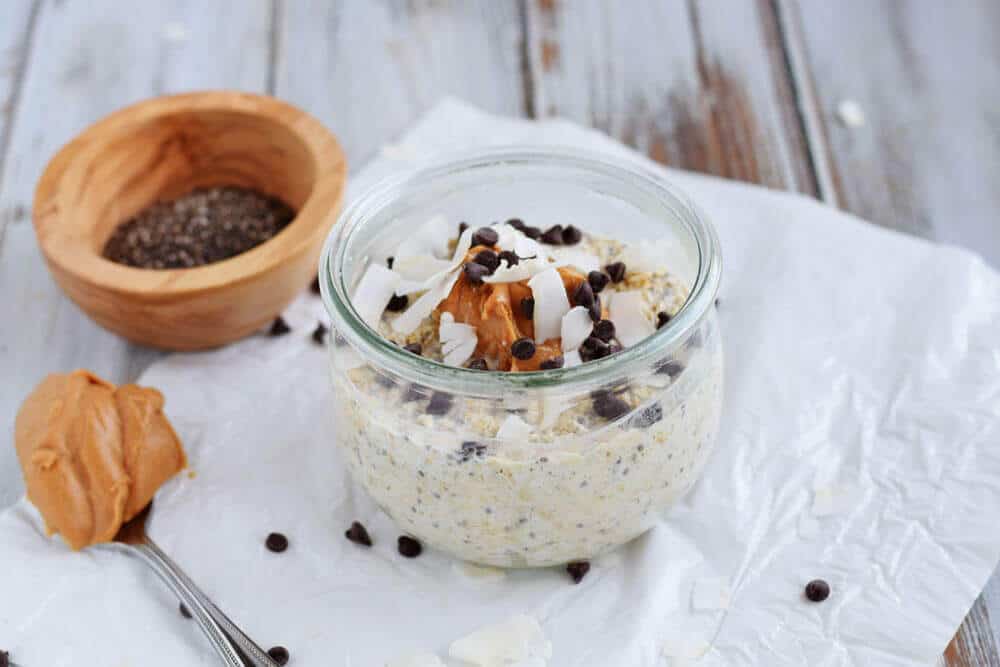 These Overnight Oats with Almond Milk make a healthy and delicious breakfast that can be prepped the night before and are perfect for busy mornings. They are easy to make, creamy, and filled with delicious toppings like peanut butter, chocolate chips, and chia seeds to keep you feeling full and satisfied all morning.
Apple Cinnamon Overnight Oats with Chia Seeds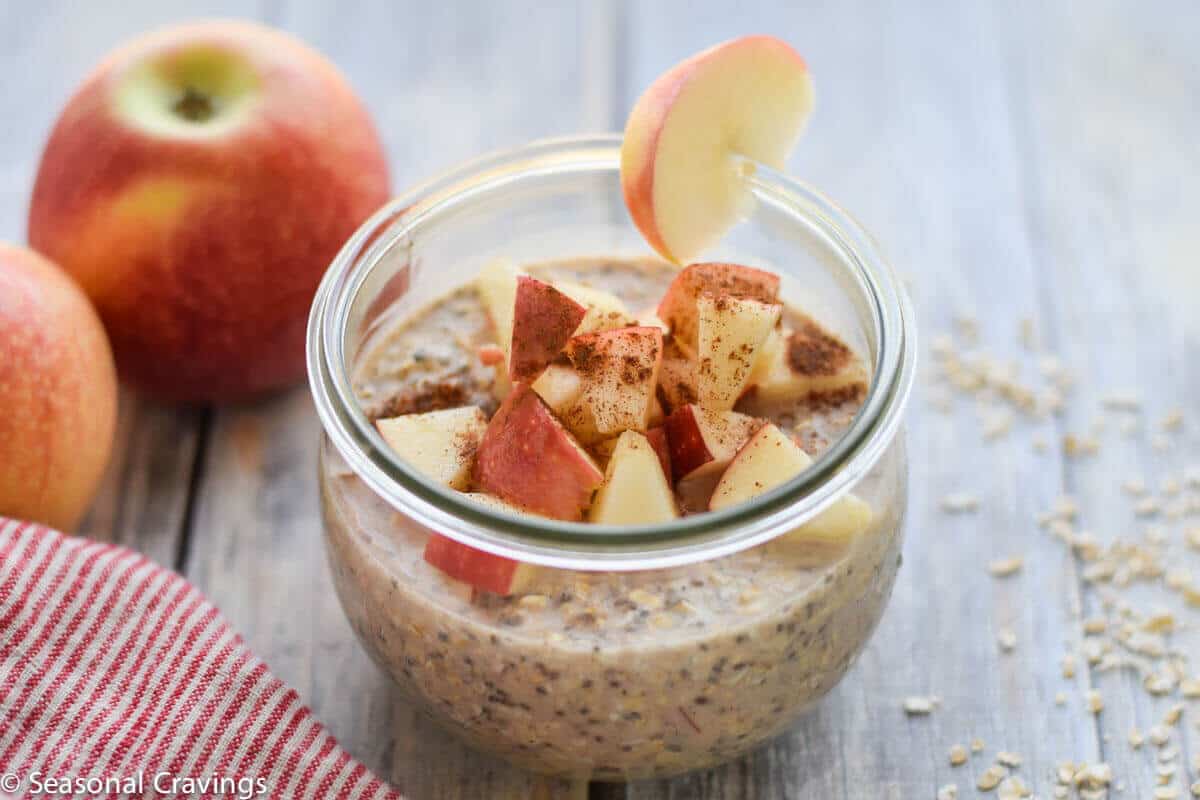 Apple Cinnamon Overnight Oats with Chia Seeds are hearty, satisfying, and oh so filling. Sweet, creamy and full of protein and fiber, this breakfast will keep you full until lunch! Easy to make in five minutes.
Cranberry Chocolate Overnight Oats
These Cranberry Chocolate Overnight Oats make a super hearty and healthy breakfast that can be meal prepped ahead and eaten all week. The perfect fall flavored breakfast!
Overnight Chocolate Oatmeal Protein Bowl
If you are looking for a healthy breakfast that satisfies your sweet tooth, try this Overnight Chocolate Oatmeal Protein Bowl. Make it at night or meal prep it for the entire week.
Cookies and Cream Overnight Oats
These cookies and cream overnight oats are the perfect healthy dessert for breakfast recipe! This high protein oatmeal recipe uses simple ingredients and is perfect for breakfast meal prep. This recipe is vegan, oil-free, gluten-free, refined sugar-free, and whole foods plant based.
Red Velvet Overnight Oats
These healthy Red Velvet Overnight Oats are your new favorite breakfast! Made with simple ingredients, and naturally colored. This oatmeal recipe is vegan, high protein, oil-free, gluten-free, and refined sugar-free!
Chocolate Peanut Butter Overnight Oats
Healthy chocolate peanut butter overnight oats are a quick and easy, meal prep breakfast. Made with 8 nutritious ingredients in less than 5 minutes, they taste like a peanut butter cup and will keep you full until lunch!
Easy Overnight Oats with Yogurt
Easy Overnight Oats with Yogurt are a great healthy high-protein breakfast! This recipe only takes 6 ingredients and 5 minutes to prepare! Plus it's no-cook, gluten-free and can easily be made dairy-free!
Apple Butter Overnight Oats
These creamy Apple Overnight Oats are swirled with apple butter, dried apples, and pecans for a healthy breakfast that tastes like fall!
High-Protein Overnight Oats
Try making these high-protein overnight oats for a healthy, hearty, and delicious breakfast that will keep you full of energy all morning. Rolled oats, chia seeds, protein powder, maple syrup, and peanut butter blend together for the ultimate meal.
Nutella Overnight Oats
Easy nutella overnight oats are a simple, delicious hazelnut breakfast idea. Quick to meal prep in advance for ready-to-go breakfasts throughout the week.
Pistachio Overnight Oats
These pistachio overnight oats are a healthy, easy to make breakfast idea. Oats mixed with pistachios, brown sugar, honey and dark chocolate chips. Topped with a drizzle of chocolate and shredded coconut.
Carrot Cake Overnight Oats with Coconut Milk
Whenever spring rolls around, I automatically crave all the carrot cake-flavored foods. And these carrot cake overnight oats are a fabulous way to satisfy that craving!
Peach Mango Overnight Oats
This creamy mango overnight oats recipe is the perfect healthy breakfast for summer. This oatmeal is full of healthy ingredients and even contains a secret beauty and flavor boosting ingredient. This recipe is: vegan, gluten-free, refined sugar-free, WFPB, and oil-free.
Lemon Blueberry Overnight Oats
Most people think they must give up their favorite foods before eating healthily. But that's not always the case! You can make delicious, nutritious meals using simple substitutions and creative recipes. For example, this lemon blueberry overnight oats recipe is a great way to enjoy your favorite flavors while protecting your waistline.
PB&J Overnight Oats
These PB&J Overnight Oats are the perfect plant-based breakfast! You can make them during meal prep and enjoy them all week long. I used raspberry chia jam and almond butter, but feel free to use any nut butter of choice!
Overnight Oats with Protein Powder
This protein-packed breakfast is the perfect way to start your morning! These overnight oats with protein powder are easy to make, delicious, and super healthy!
Vegan Snickers Overnight Oats
You decide! This wholesome bowl of vegan snickers overnight oats has the delicious flavors of the famous candy bar but in a much more filling and healthy format. The best of both worlds!
Delicious Mango Overnight Oats
An Easy Mango Overnight Oats Recipe everyone will love! Make this quick mango oatmeal for a healthy breakfast.
Easy Overnight Oats With Coconut Milk
A hearty three ingredient make ahead breakfast you'll look forward to! Like my Overnight Oats with Peanut Butter, these no cook Overnight Oats with Coconut Milk are creamy and so satisfying. I'm sharing five ways to customize these coconut milk overnight oats!
Easy Biscoff Overnight Oats
These Biscoff overnight oats are the best overnight oats you'll ever eat! They're creamy, chewy, a little sweet, and have hints of caramel.
PB2 Overnight Oats
These PB2 overnight oats are the ultimate healthy breakfast. They call for just 5 basic ingredients and are the perfect hearty breakfast with added protein and flavor from peanut butter powder (or regular peanut butter). They're also gluten-free with a vegan option.
Pumpkin Overnight Oats
Enjoy the flavors of pumpkin pie for breakfast with these creamy, delicious Pumpkin Overnight Oats! They're made with 6 simple ingredients and take only 5 minutes of prep!
Banana Cinnamon Overnight Oats
These banana cinnamon overnight oats are dairy-free, vegan, and easy to make gluten-free. They have a delicious banana bread flavor without being too sweet! They are made with almond milk, chia seeds, and cinnamon to create a healthy breakfast that is packed with fiber to keep you full throughout the day.
Birthday Cake Overnight Oats
These birthday cake overnight oats have a rich and delicious vanilla cake batter flavor that is simply irresistible. You only need a few healthy ingredients to make this recipe, and no yogurt is required. These oats are completely vegan and gluten-free, but you can't tell by how good they taste!
Cinnamon Roll Overnight Oats
These healthy cinnamon roll overnight oats are perfectly sweet, delicious, and so easy to make! With a cinnamon-sugar swirl in every serving, they taste just like cinnamon buns. Made with yogurt and almond milk, this recipe is vegan, dairy-free, and naturally gluten-free for both kids and adults to enjoy.
Vegan Fig Overnight Oats
Vegan Fig Overnight Oats have become my go-to for keeping me on track with my healthy eating, and man does it taste good too! Healthy, delicious, easy to make, and pretty!
Strawberry Banana Overnight Oats
Love breakfast all ready when you wake up in the morning? What if you could have breakfast that tastes like dessert?! Welcome to Strawberry Banana Overnight Oats.
Blueberry Lemon Overnight Oats
Blueberry Lemon Overnight Oats is a fantastic vegan make-ahead breakfast recipe (without yogurt) for healthy gut and weight loss. It's entirely plant-based, naturally gluten-free, and dairy-free. Best of all, it's perfectly refreshing, vibrantly creamy, and incredibly tasty!
Matcha Overnight Oats
Matcha Overnight Oats is a delicious make-ahead breakfast featuring rolled oats, matcha green tea powder, and chia seeds. Top it with fresh berries or your favorite fruit for a refined sugar-free grab-and-go meal that will keep you satisfied all morning.
Cookie Dough Overnight Oats
These Cookie Dough Overnight Oats are a quick and delicious breakfast that take only 5 minutes to prep. They're a great way to start your day, since they're packed with wholesome ingredients and the irresistible flavor of cookie dough.
LEMON CURD RASPBERRY OVERNIGHT OATS
Tangy lemon curd and a juicy fresh raspberry sauce are swirled into these creamy overnight oats for an easy make-ahead breakfast treat!
Blueberry Cheesecake Overnight Oats
These blueberry cheesecake overnight oats will make you feel like you're eating dessert for breakfast! They're made with nutritious ingredients like whole rolled oats and chia seeds. They're sweet, creamy, and made with tangy cream cheese.
Vegan Chocolate Cherry Overnight Oats
Vegan chocolate cherry overnight oats- a make-ahead breakfast that tastes like dessert. If the idea of eating basic oats every morning bores you and you want to make it taste better, try this recipe. It just needs 5 minutes of effort.
Peach Cobbler Overnight Oats
Peach Cobbler Overnight Oats is a healthy make-ahead breakfast that makes meal prepping a breeze! It's delicious, easy, and tastes JUST like peach cobbler!
35 Smoothies to Kickstart a Healthy Day
If you're looking to give your year a healthy kickstart, why not incorporate these smoothie recipes into your diet routine? These smoothie recipes are delicious and nutritious so you can enjoy them while nourishing your body. All are gluten free and many are dairy free and vegan. Get all the recipes here.
26 High Protein Breakfasts for the Perfect Start to the Day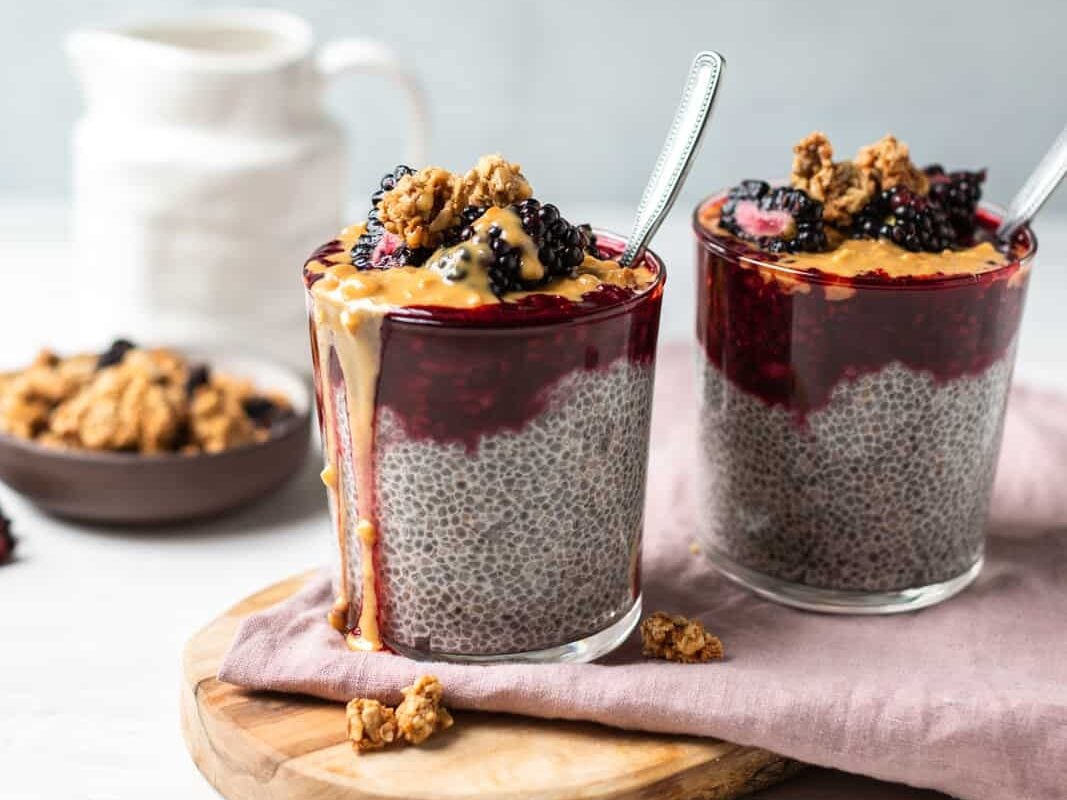 Are you tired of the same old breakfast routine? Do you struggle to find filling meals that will give you the energy you need to start your day? Look no further! We've compiled a list of 26 high protein breakfasts that are not only delicious but also easy to make.