I hope you all had a great Memorial Weekend.  I did but I'm still recovering.  I'm way too old to drink three four Mint Limeade Mojitos in one night.  It just doesn't work anymore.  It's Tuesday and time for a healthy reset.  Back to Overnight Oatmeal Protein Bowls, drinking lemon water, getting lots of rest and planning healthy meals.
This Halibut Sandwich With Cilantro Sauce is the way to go.  The halibut is light with a mild fish flavor.  Halibut is full of protein, omega- 3 heart healthy fatty acids and vitamin B.  It's a firm fish that holds together well which makes it great for grilling and for a sandwich like this.  Always look for fish that has a mild aroma, not a fishy smell and rinse it before cooking.  Store it in the coldest part of your refrigerator and use within two to three days (fishwatch.gov).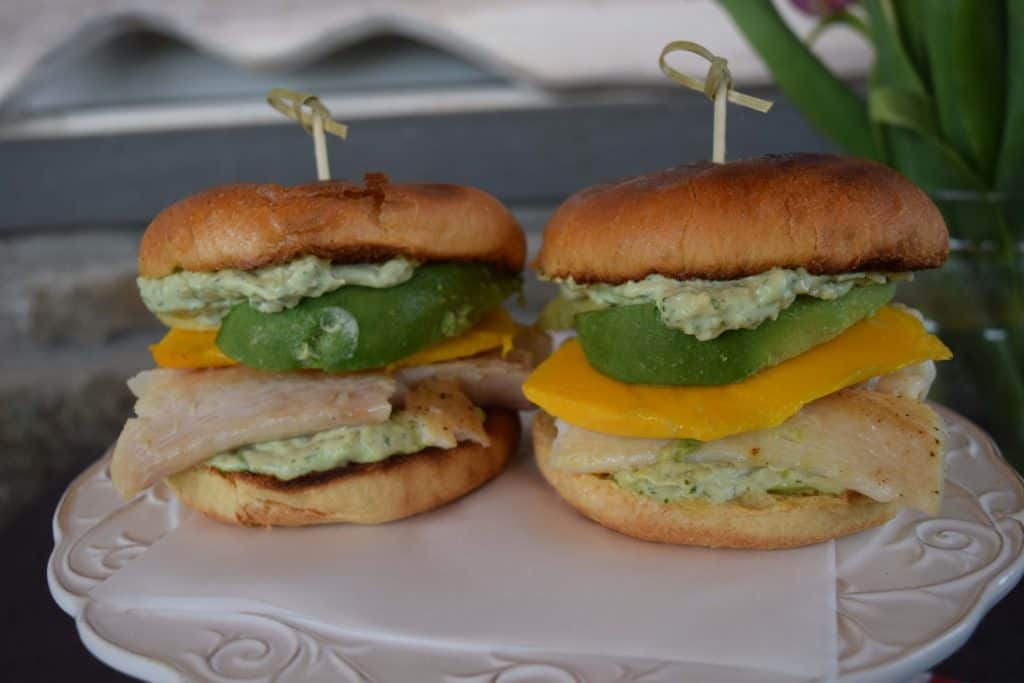 The cilantro sauce makes this sandwich fresh and springy.  I normally don't eat mayo but when you add avocado, cilantro and garlic, I'm in.  This is a great way to bring flavor to sandwiches.  Try mixing other herbs like basil, mint or parsley and putting it on a grilled cheese or a BLT.  Make a roasted red pepper spread and put it on a tuna sandwich.  Olives, capers, chives, pesto or sun-dried tomatoes…I can't stop.
Let's talk buns – brioche is the only way to go – end of discussion.  They are full of butter and eggs which makes them light and fluffy.  They aren't so bulky that they take over the sandwich.  Trust me you have to try this and yes it makes a big difference.  I toasted these so they would be able to carry the weight of the halibut.  Enjoy!
Halibut Sandwich With Cilantro Sauce
A light and healthy halibut sandwich with mango, avocado and cilantro sauce.
Ingredients
1

large halibut fillet

rinsed and patted dry with a paper towel

salt and pepper

1

tbsp

olive oil

sliced mango

sliced avocado

2

brioche buns

toasted

cilantro sauce

1

small bunch cilantro

rinsed

1/2

avocado

1

garlic clove

chopped

1/2

cup

good mayonnaise

1

tbsp

of lemon juice
Instructions
Heat olive oil in a non-stick skillet.

Salt and pepper halibut to taste and add to pan.

Cook for about 8-9 min. on each side or until opaque throughout.

Remove from heat and squeeze a bit of lemon juice on it.

Toast the brioche buns lightly in the toaster.

For cilantro sauce, add all ingredients to a food processor and pulse until mixed.

Spread on buns and top with fish, sliced mango and avocado.
Having friends over?  Serve these sandwiches with this California Quinoa Salad and this Mint Limeade Mojito.