These easy to make Nutella Puffs are a fun treat for the whole family. Flaky on the outside and filled with creamy Nutella they are sure to please!
No more snow days…please. We are going stir crazy here. I keep trying to limit the xbox but I secretly like it because it keeps them occupied and happy. I force them to get on their snow gear which takes me at least 30 minutes to get together and 30 minutes to clean up. At least it's worth the 30 minutes outdoors, isn't it?
The melting puddles of snow in my mudroom, the mugs half full of hot chocolate, the fighting between siblings… Calgon take me away.
Then I feel guilty. I am so happy they are home and still want to hang out with mom. This is a chance to bond with them and they are growing up so fast; shouldn't I take advantage of these opportunities?
Yes, so let's bake!
When we are stuck in the house all day, baking is a no brainer. Before the storm, I made sure I had puff pastry in my freezer. Everyone else was grabbing gallons of milk and batteries while I was getting puff pastry and Nutella. I remember snow days when I was a kid. We would make Toll House Cookies and share them with our neighbors. Traditions like that are important for children.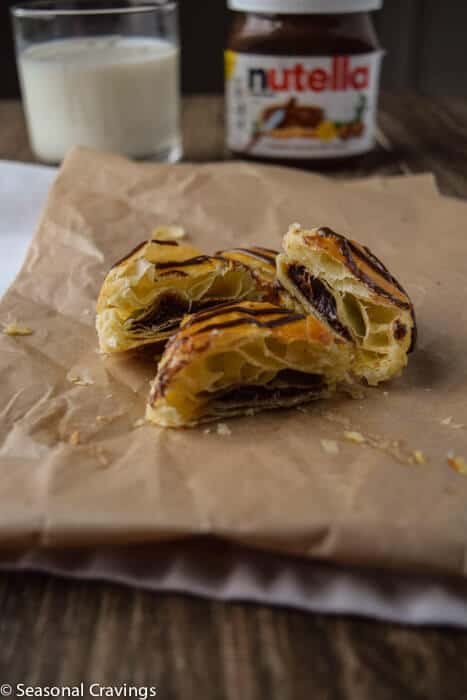 These are a sure bet for the winter blues. Do you see the flaky, buttery crust and the warm Nutella inside? The Nutella drizzle on top pulls it all together.
What an easy surprise to whip up for (or with) your family this winter. Seriously…try it today. Be brave – add bananas, chocolate chips, strawberries or peanut butter. Top with a dusting of powdered sugar or cocoa. Hmmm… or try savory fillings like goat cheese and sauteed mushrooms.
Before (not super lovely)
Need More Chocolate In Your Life?
Nutella Puffs
Light and flaky puffs filled with Nutella and topped with Nutella drizzle.
Ingredients
1

package puff pastry

thawed and rolled out a bit

1

egg plus 1 tbsp of water

whisked

Nutella

1

tsp

canola oil
Instructions
Preheat oven to 375 degrees. Place rack in center of oven.

Unfold thawed puff pastry onto a floured work surface. Roll out with a rolling pin until it's about 1/2 inch longer around sides.

Use a round cookie or biscuit cutter to cut out circles. You will have scraps that you can roll out again and continue to cut. Be sure you don't place scraps in a ball to reuse. They should be layered on top of one another and then rolled so they don't lose their folds.

Brush all circles with the beaten egg mixture. Place one teaspoon of Nutella in the center of half of the circles. Top those with the remaining circles. You should get about 15-20 depending on the size of your cutter.

Use a fork dipped in flour to crimp edges. Brush lightly with more egg wash. Poke each puff with a fork to let the air escape during baking.

Place on a baking sheet lined with parchment paper. Bake for 12-15 minutes until they are golden and puffy. Let cool.

Put two tablespoons of Nutella and one teaspoon of canola oil into a small bowl and microwave for one minute. Check for consistency - you want it to be runny enough to drizzle over the puffs. Microwave longer if necessary. After cool put into a ziplock bag and cut off the corner. Use as a pastry bag to drizzle over puffs.
Nutrition
Calories:
96
kcal
|
Carbohydrates:
7
g
|
Protein:
1
g
|
Fat:
6
g
|
Saturated Fat:
1
g
|
Cholesterol:
10
mg
|
Sodium:
44
mg
|
Potassium:
14
mg
|
Vitamin A:
15
IU
|
Calcium:
3
mg
|
Iron:
0.5
mg