​​This easy Slow Cooker Barbecue Pork recipe is a no-fuss and no-prep recipe perfect for busy weeknights and summer potlucks. Toss 3 common ingredients into your slow cooker in the morning for a flavorful meal in the evening that the whole family will love.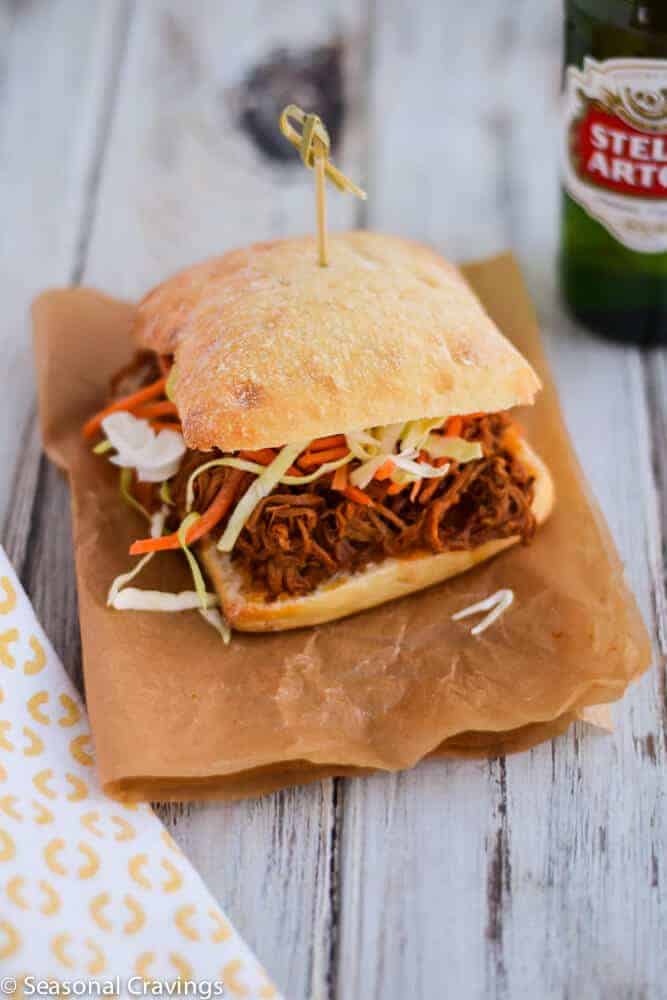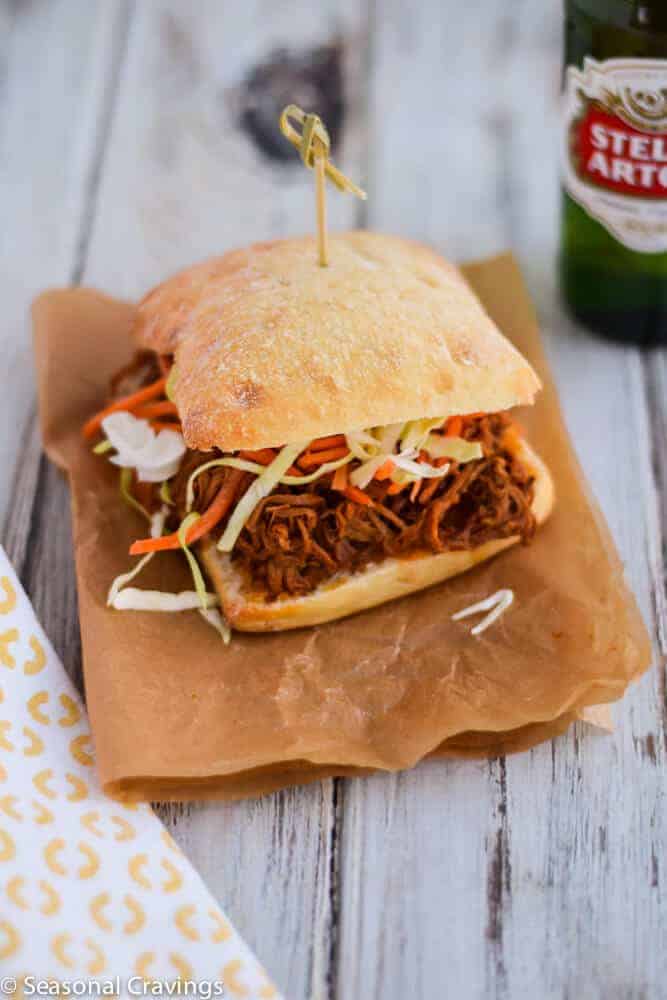 Pulled pork is a wonderful comfort food that comes with many benefits. It's packed with protein making it a satiating and fully satisfying choice of meat. It's also versatile and can be served in various forms and topped with everything from pickled onions to a simple slaw. 
Lastly, it's typically made in the slow cooker, making it a very easy hands-off recipe. And who doesn't love hands-off recipes?
This is the best-pulled pork recipe because it calls for only 3 ingredients but is packed with so much flavor. It's crowd-pleasing, kid-friendly, and mom-approved because it frees me up for more important things.
Ingredients
This easy slow cooker dinner comes together with 3 simple ingredients and a crock pot.
Pork tenderloin

- you'll need approximately 3-4 pounds of pork tenderloin. One tenderloin typically weighs about 1 ½ - 2 pounds, so using at least two tenderloins for this recipe is best. 

Barbecue sauce

- use your favorite barbecue sauce; I love Stubb's

Beer

- a 12-ounce bottle of pale lager will do; I used Stella, but feel free to use whatever you happen to have on hand or your favorite beer; you can also swap the beer with chicken broth.
How to Make Slow Cooker Barbecue Pork
This pork dinner comes together quickly in the slow cooker. The full printable recipe is in the recipe card for your convenience.
Step 1.
Turn the slow cooker on low setting and spray the inner pot with cooking spray. 
Step 2. 
Place pork tenderloin into the bottom of the slow cooker pot. Top with BBQ sauce and pour in the beer.
Step 3.
Cook on low heat setting for 9-10 hours or on high for 4-5 hours or until tender to your liking.
Step 4.
Remove the pork tenderloin from the slow cooker and shred meat with two forks. Discard any excess fat and be careful not to overshred. 
Return the shredded meat to the slow cooker and toss to combine with the BBQ and beer sauce. 
Serve warm over focaccia or brioche buns.
Food Safety
Regarding food safety, slow cooker recipes are typically fail-proof. The extended cooking time ensures that your meat is fully cooked through. Furthermore, you will feel resistance when shredding pork with forks if it's not thoroughly cooked.
However, you can always test for doneness by using an instant meat thermometer. This is best done before shredding the meat. Insert the temperature gauge into the thickest part of the pork tenderloin. The USDA recommends cooking pork until the internal temperature of the pork registers 145 degrees Fahrenheit. (source) 
Helpful tips
This seasoned pork is pretty simple on its own. But consider these helpful tips for best results:
Cut cooking time:

If you're short on time and want the pork tenderloin to cook quicker, cut it into large pieces and cook on high. This can speed up the cooking time by half. 

Double the recipe:

This is a great recipe to scale up or down as needed. If you're feeding a large crowd, double the ingredients (but also increase the cooking time). 

Use a different cut of meat

: Pork tenderloin is leaner and the best cut of pork for this recipe. But next time you can try a fattier cut if desired - boneless pork roast, butt shoulder, or bone-in pork shoulder will all work. 

Rest the meat:

Don't rush into shredding.

As with all meats, it's important to let the pork rest after cooking time. Let it sit either in the slow cooker or on the cutting board before digging in with the forks to shred.
Storage Instructions
Leftover pulled pork can be stored in an airtight container for up to 4-5 days in the refrigerator. 
For longer storage, freeze shredded pork in a freezer airtight container or flat in a freezer bag for up to 6 months. Thaw overnight in the refrigerator.
Reheat it in the microwave until warmed through. Alternatively, reheat it on the stovetop in a small covered pan over medium heat for a few minutes. You may need to add a tablespoon of water to create steam and trap heat.
Frequently Asked Questions
Do you need to add liquid to the slow cooker when cooking pork?
Technically, pork will release a lot of its own liquid and fats, making adding liquid to the slow cooker is unnecessary. However, this recipe uses pork tenderloin, a leaner pork cut. Therefore, adding barbecue sauce and a bottle of beer to the pork is best to make flavorful and juicy meat.
How can I get tender pork?
Slow cooking the pork at low heat is the secret to the most tender and juiciest pulled pork. That's why using a slow cooker is ideal for recipes like this because it takes the guesswork and ensures perfectly tender pork every time. Slow and low is the best way to cook tougher and leaner meats.
Can I overcook pork in the slow cooker?
Just like it's possible to overcook beef and chicken, it is also possible to overcook pork. You want to cook the pork until the connective tissue has been broken down. A good indication of that is when the meat is pull-apart tender, as tested with two forks shredding the meat. Don't overcook the meat to avoid the muscle fibers losing structure and becoming mushy.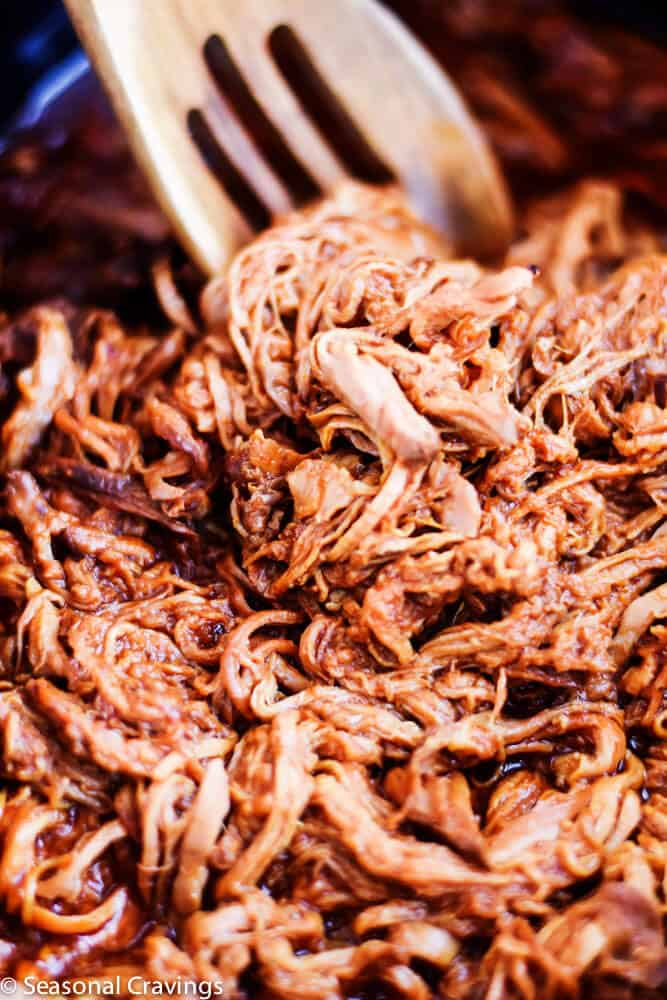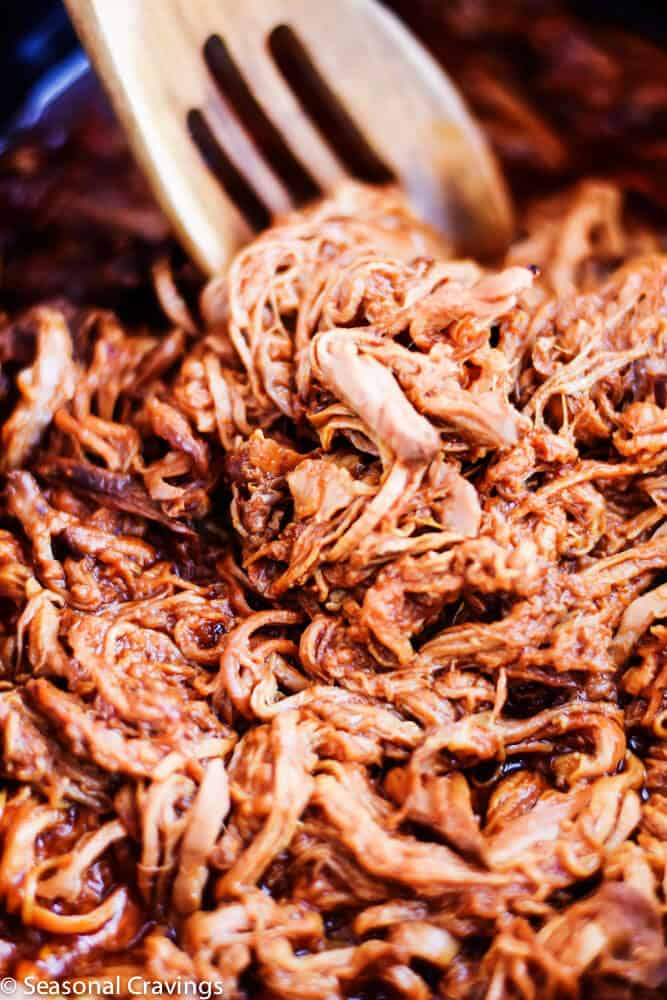 Serving Suggestions
There is no shortage of ways to enjoy this slow cooker barbecue pork. If you're like my kids, eat it straight up with extra barbecue sauce on the side. 
For a complete and hearty meal, serve it on slider buns, focaccia bread, or soft brioche buns topped with a simple coleslaw mix. Keep in mind that the buns make these pork sandwiches no longer gluten-free. 
To keep this easy recipe gluten-free, serve the juicy pork with a side of potato salad or gluten-free macaroni salad. Jazz it up with pickles, creamy slaw, pickled onions, caramelized onions, sauteed bell peppers, jalapenos, or grilled pineapple for a fun change. 
Slow Cooker BBQ Pork Dinner Ideas
Sometimes I make a double batch of this slow cooker pork and serve it differently throughout the week. Here are some different ways you can use this flavorful BBQ pork:
Pork tacos, nachos, enchiladas, quesadillas, burritos, or Mexican lasagna

Pork wraps with gluten-free tortillas or lettuce

Quinoa

or rice bowls with veggies and pork

In a baked sweet potato topped with cheese

Add it to pizza, salad, or grilled cheese

Add pork to fried rice or use as the meat of choice for pot pie or shepherd's pie
Need More Easy Dinner Recipes to Get You Through The Week?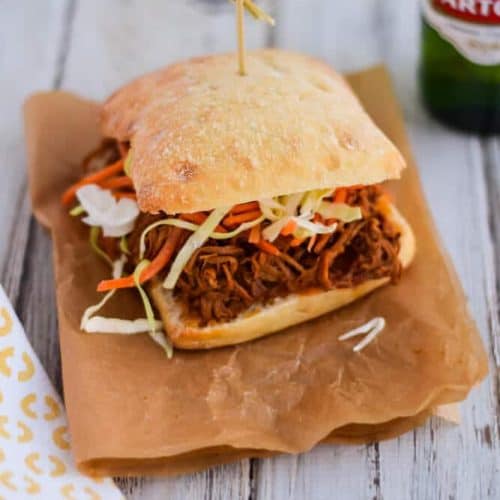 Three Ingredient Barbeque Pork
This quick and easy Three Ingredient Barbeque Pork will soon become a family favorite. It is simmered all day in the slow cooker with barbecue sauce and beer which makes the pork meltingly tender.
Print
Pin
Rate
Ingredients
1

pork tenderloin

3-4 lbs

1 ½ - 2

cups

of BBQ sauce

I used Stubb's

1

bottle of beer

I used Stella
Instructions
Turn slow cooker on low, spray with cooking spray and add the pork.

Top with BBQ sauce and beer.

Cook for 9-10 hours until tender.

Shred pork with two forks and remove any fat pieces. Return pork to slow cooker with sauce.

Serve on focaccia or brioche buns.