If you're serving flank steak for dinner, know that it goes perfectly with various delicious side dishes to enhance the overall dining experience. Whether you're into a salad, pasta, or grilled vegetables, there are plenty of options to transform your simple flank steak meal into a delightful culinary experience. Check out this collection of side dishes you can serve with flank steak for a delicious and easy dinner in no time. No more wondering what goes with flank steak.
1. Seasoned Roasted Sweet Potatoes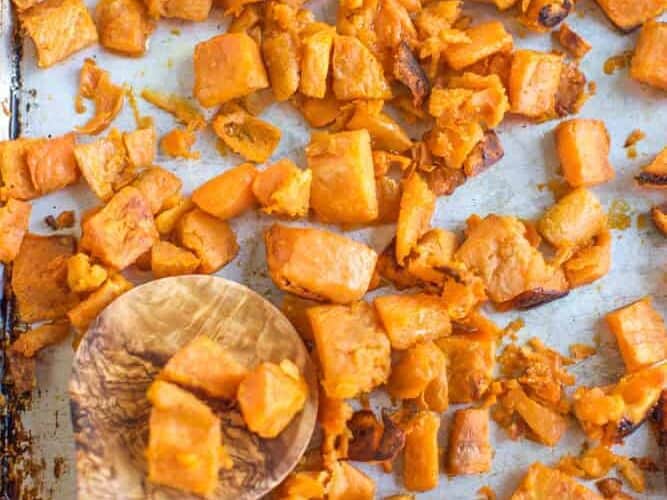 There's something about the high heat that really adds a lot of flavor to sweet potatoes. Roasting sweet potatoes could not be more simple. And it makes the perfect side dish to serve with a flank steak dinner. Get the Seasoned Roasted Sweet Potatoes recipe here.
2. Strawberry Feta Salad
This Strawberry Feta Salad is one of the best summer salads for healthy eating. It is packed with flavor and texture and made with simple ingredients like baby kale, fresh strawberries, crunchy pecans, and creamy feta. Coated with a simple balsamic vinaigrette, this salad will surely be a hit at your table. Get the Strawberry Feta Salad recipe here.
3. Oven Roasted Corn
This Oven Roasted Corn is the best way to make summer corn. There's very little prep time needed, and it comes out perfect, tender, and flavorful every time. Plus, it's the easiest way to make corn on the cob for large parties. Get the Oven Roasted Corn recipe here.
4. Keto Cucumber Salad
Summer in a bowl! This Keto Cucumber Salad is light, refreshing, and so EASY to make. It's perfect for meal prep, picnics, cookouts, and a side dish for flank steaks. Get the Keto Cucumber Salad recipe here.
5. Roasted Mini Potatoes
Roasted Mini Potatoes are bite-sized potatoes seasoned with a little garlic, salt and pepper and baked in the oven for golden and tender perfection. They feature a crispy skin and creamy interior and pair well with your favorite main dish. Get the Roasted Mini Potatoes recipe here.
6. Gluten-Free Pasta Salad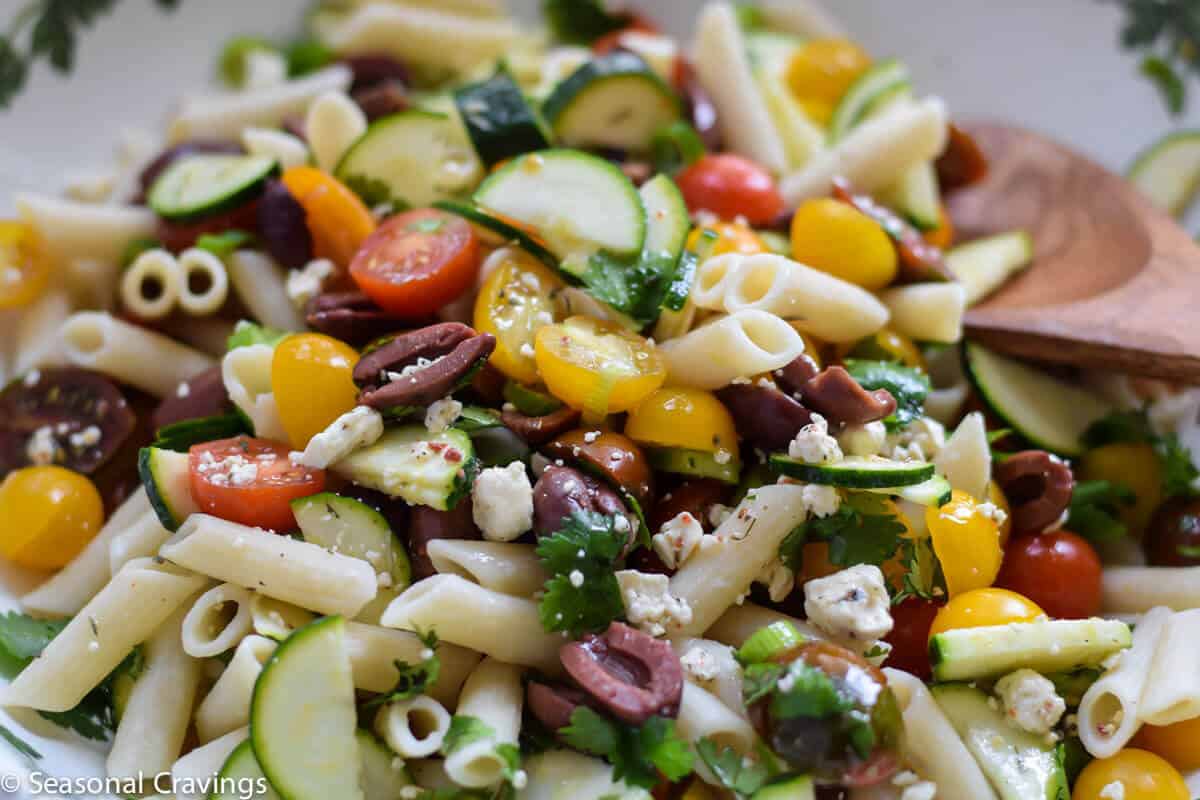 This salad will easily become your favorite summer side dish, which goes perfectly with steaks. It's full of summer's seasonal bounty, healthy and gluten-free. Bring it to your next barbecue and watch it disappear. Get the Gluten-Free Pasta Salad recipe here.
7. Kale and Apple Salad with Maple Mustard Dressing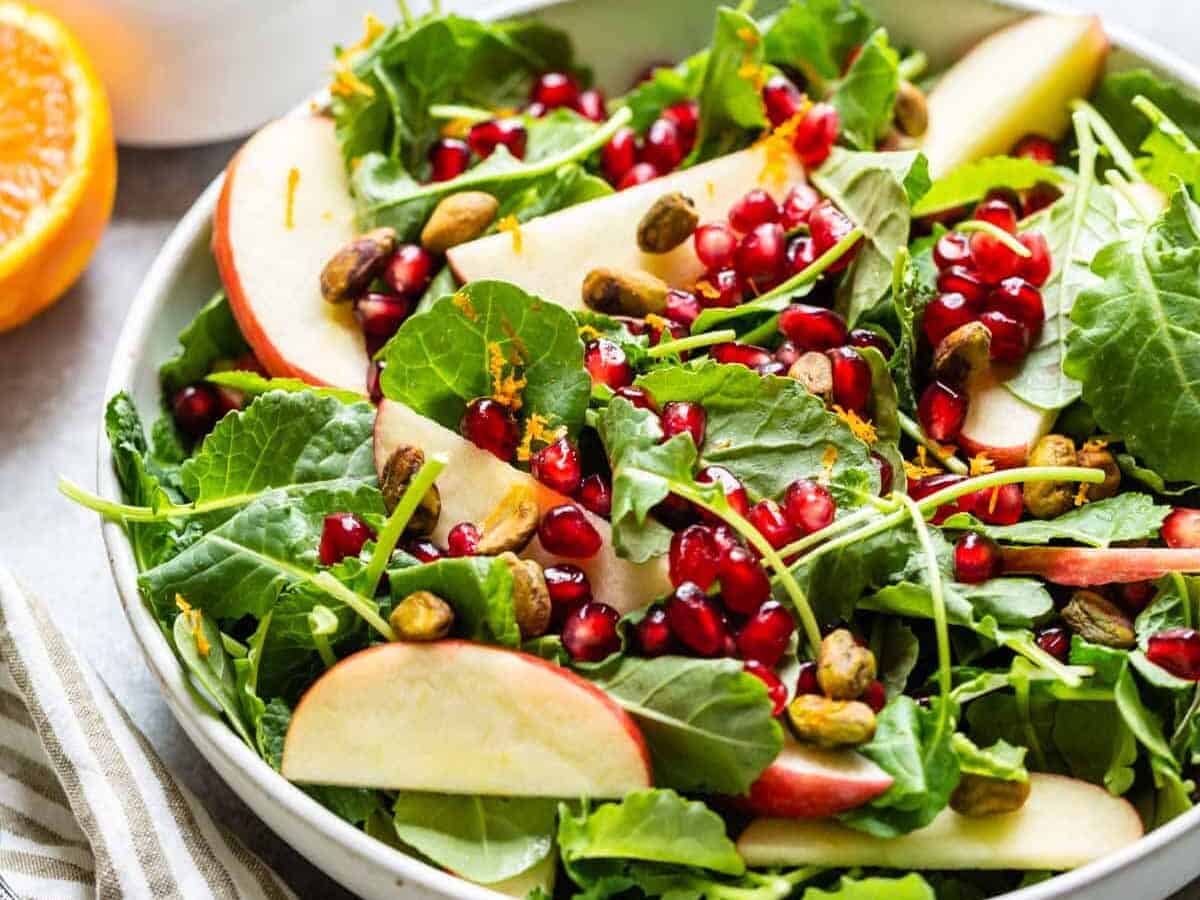 Loaded with pistachios and pomegranate arils, this will be your new go-to side dish for steak dinner. It is fresh, seasonal, and easy to make but sure to impress. Get the Kale and Apple Salad with Maple Mustard Dressing recipe here.
8. Spiced Sweet Potato Fries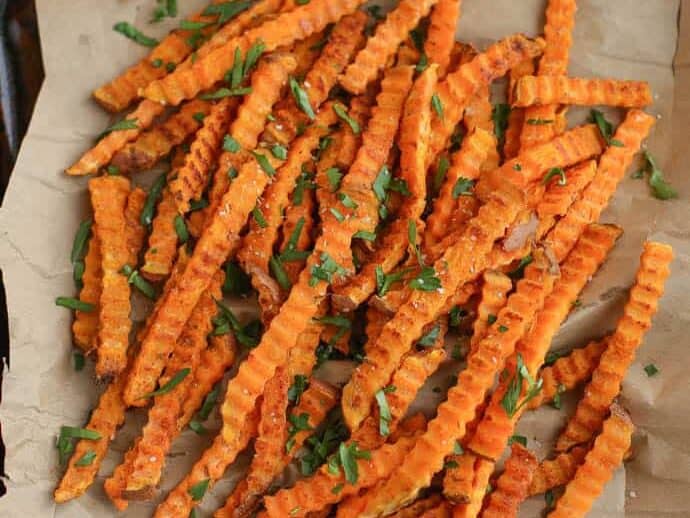 This side dish is a great addition to any weeknight meal. With a decadent mixture of spices, this recipe will make your mouth water and leave you wanting more. They are full of salty spices and so easy to bake in the oven. Get the Spiced Sweet Potato Fries recipe here.
9. Marinated Tomato Basil Salad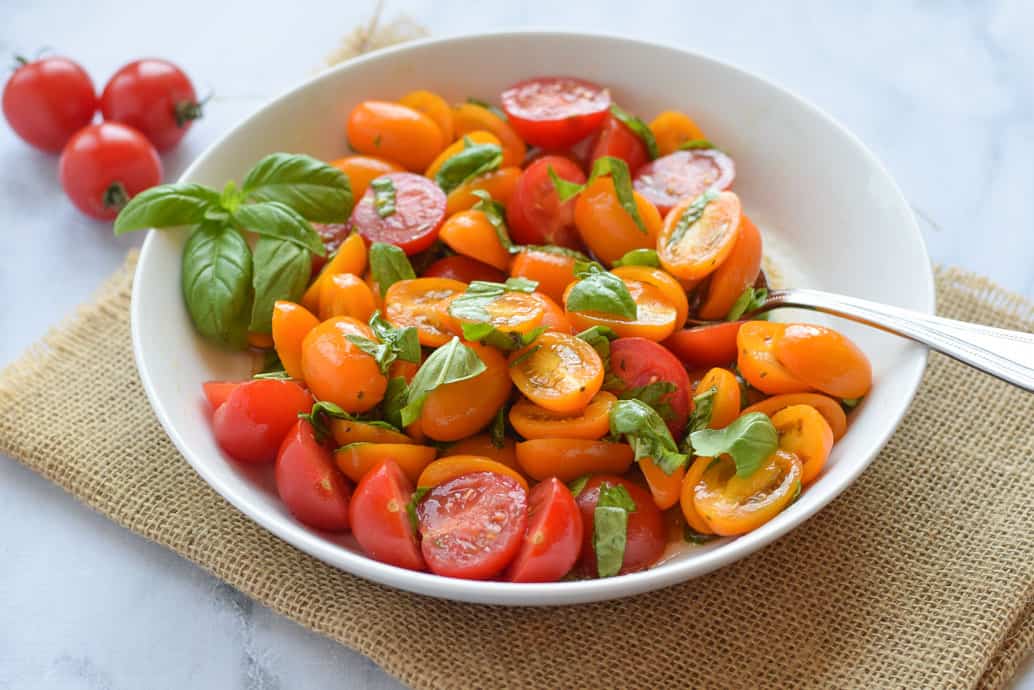 Full of fresh flavors, this recipe can be used in many ways as a side dish for a steak dinner or as a topping for any grilled meat. You'll be enjoying this simple tomato salad all summer long. Plus, it's naturally dairy-free, paleo, and Whole30. Get the Marinated Tomato Basil Salad recipe here.
10. Watermelon and Cucumber Salad
This Watermelon and Cucumber Salad is the perfect way to celebrate a warm and sunny summer day, especially when you pair it with a light glass of wine. This healthy salad is full of watermelon, cucumber, feta, avocados, and mint. Get the Watermelon and Cucumber Salad recipe here.
11. Cucumber Tomato Salad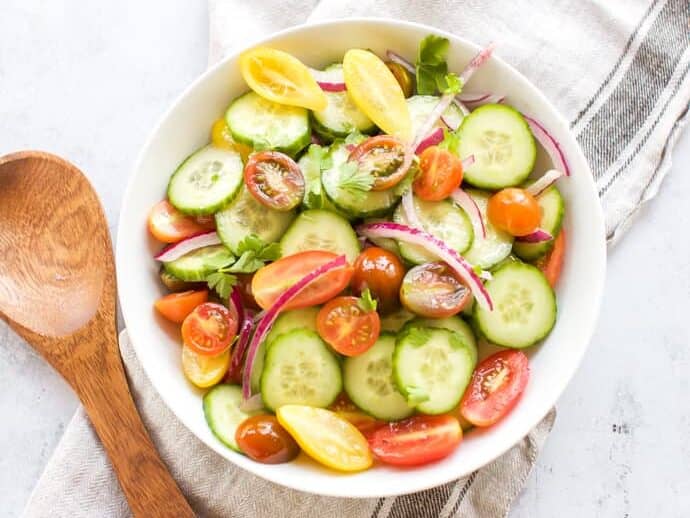 Serve this simple and flavorful salad with flank steak. Fresh summer tomatoes are full of sweetness and color. Toss them with a simple dressing to take the flavor to the next level. Get the Cucumber Tomato Salad recipe here
12. Mediterranean Roasted Vegetables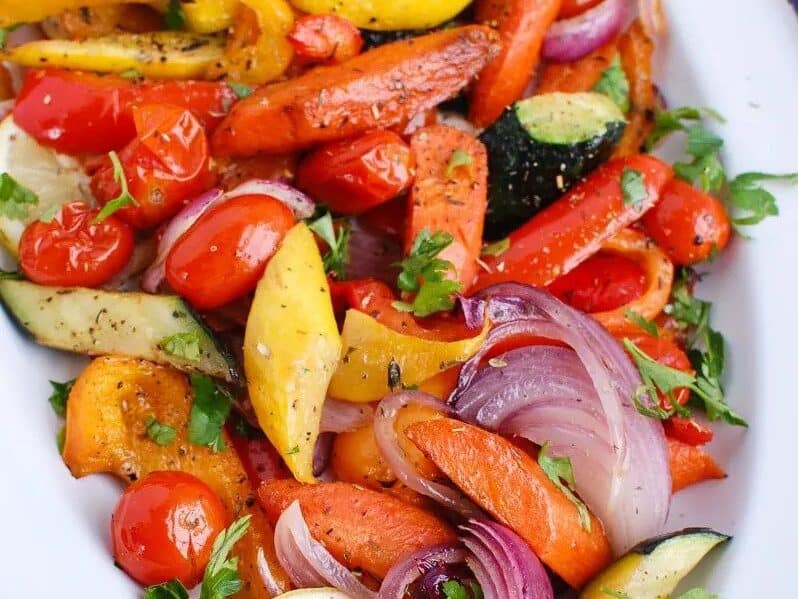 The rainbow of vegetables is seasoned with oregano, thyme and a squeeze of lemon juice. These are the perfect vegan side dish to pair with grilled meats, add to a rice bowl or a healthy side dish. Get the Mediterranean Roasted Vegetables recipe here.
13. Copycat Ruth Chris Brussels Sprouts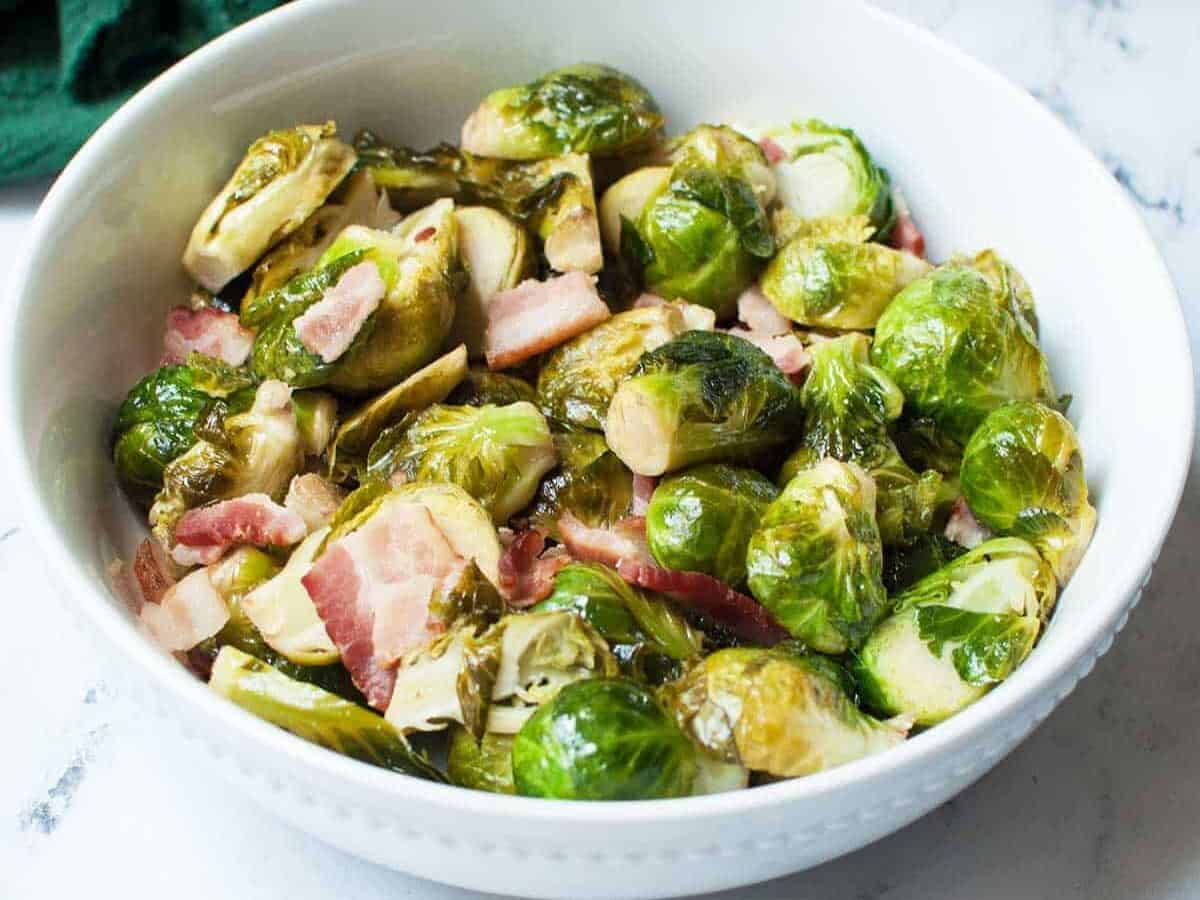 If you love the delicious brussels sprouts from Ruth Chris then you love this copycat recipe! These copycat Ruth Chris brussels sprouts go great with steak or grilled chicken. Get the Copycat Ruth Chris Brussels Sprouts recipe here.
14. Parmesan Pesto Roasted Potatoes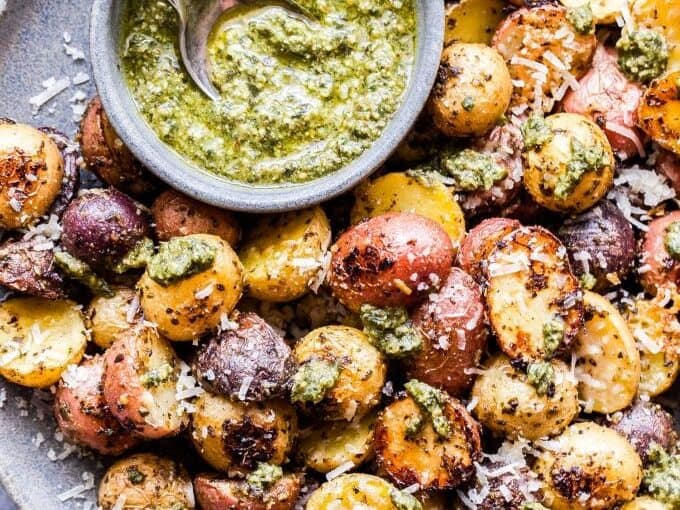 These four-ingredient Parmesan Pesto Roasted Potatoes will become a staple side dish in your home! They only take minutes to prepare and the bold flavors of the parmesan cheese and pesto are sure to win you over! Get the Parmesan Pesto Roasted Potatoes recipe here.
15. Baked Potatoes in the Oven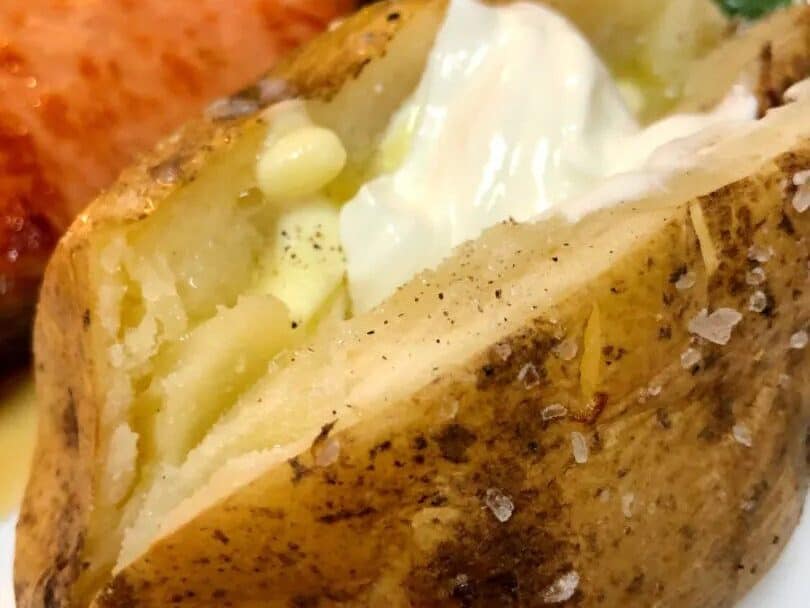 Whether you're looking for a comforting side dish or a satisfying main course, baked potatoes are a timeless classic that never fails to impress. You don't need any fancy equipment or culinary expertise to achieve potato perfection. Get the Baked Potatoes in the Oven recipe here.
16. Caramelized Corn and Green Beans Skillet with Cumin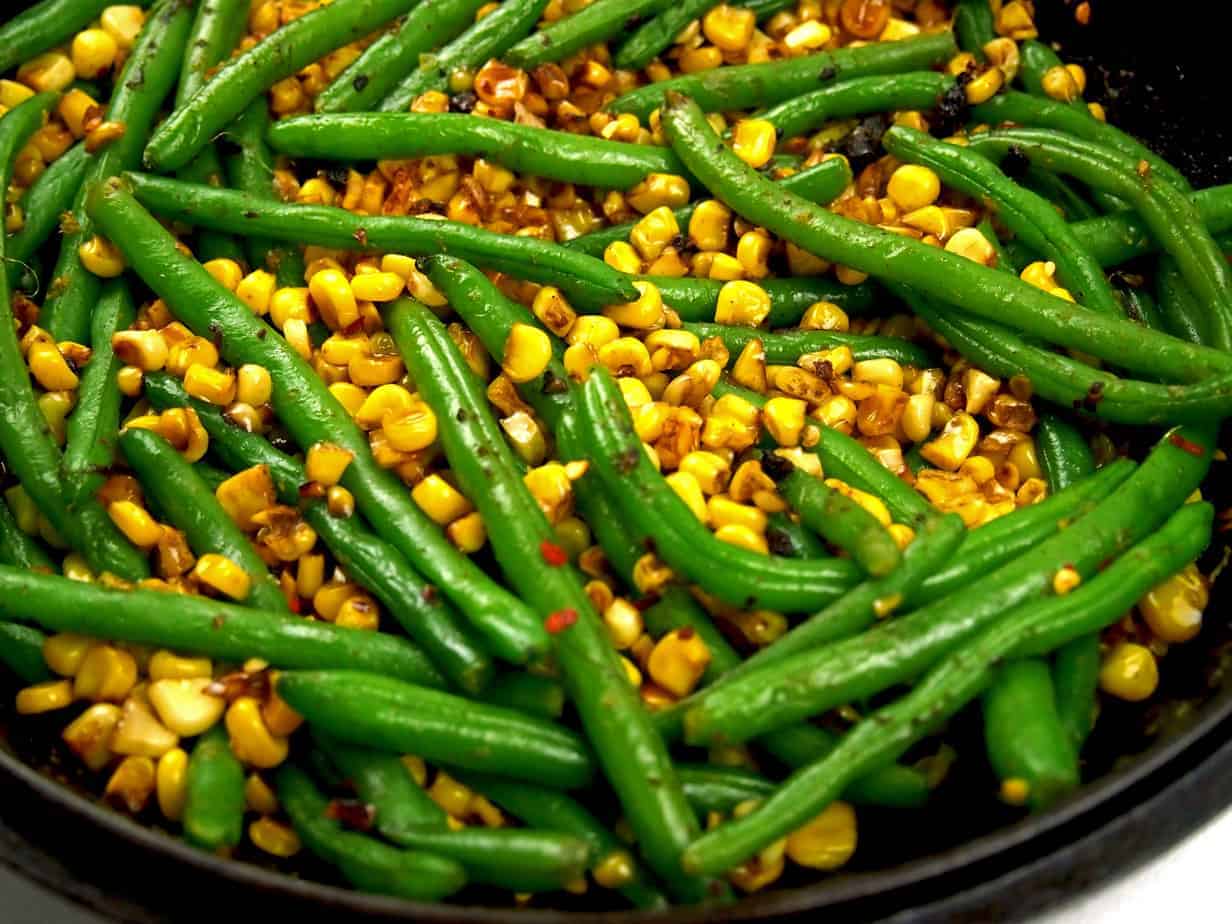 Corn has a characteristic sweetness that lends perfectly to this dish. Blooming + caramelizing = huge flavor bonuses. Master these techniques and you'll be set. Get the Caramelized Corn and Green Beans Skillet with Cumin recipe here.
17. Roasted Zucchini with Parmesan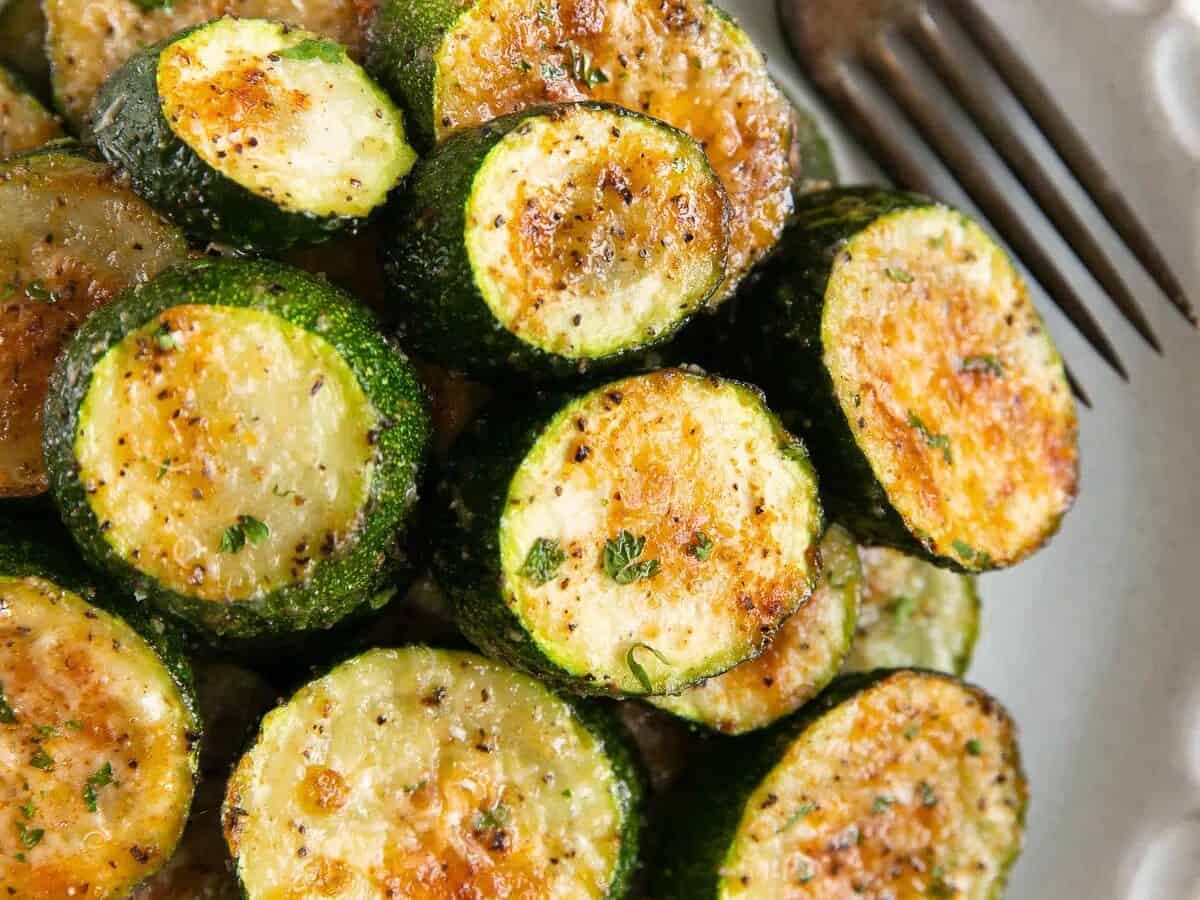 Ready in about 20 minutes, fresh zucchini squash is tossed with olive oil, simple seasonings, and grated parmesan cheese then roasted in the oven until tender. The perfect weeknight side dish. Get the Roasted Zucchini with Parmesan recipe here.
18. Creamed Corn
This delicious homemade creamed corn recipe is way better than the canned version and only takes minutes to prepare! A simple side dish that is perfect with steaks or any weeknight meal. Get the Creamed Corn recipe here.
19. Air Fryer Green Beans and Mushrooms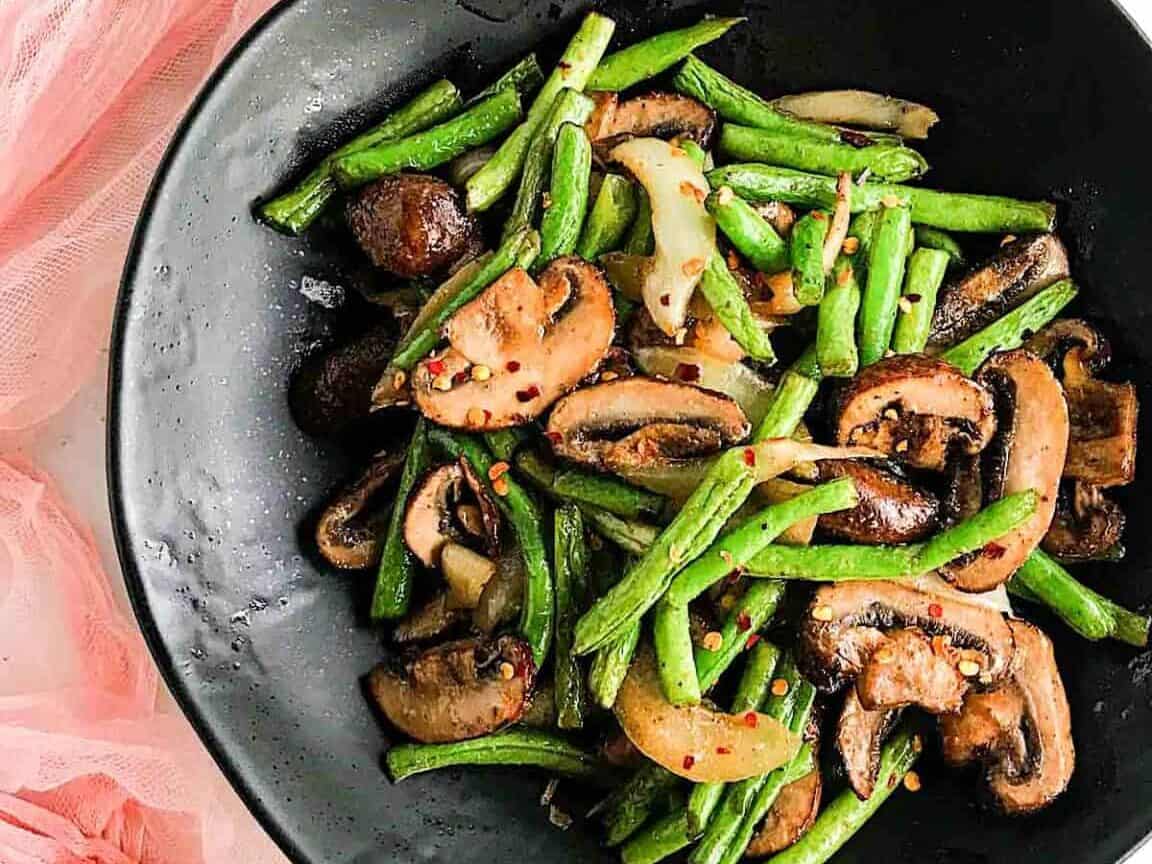 Air fryer green beans and mushrooms are a delicious and healthy dinner recipe that's super easy to make. It's not only packed with flavor, but it's also loaded with essential vitamins and nutrients that are good for you. Get the Air Fryer Green Beans and Mushrooms recipe here.
20. Caprese Pasta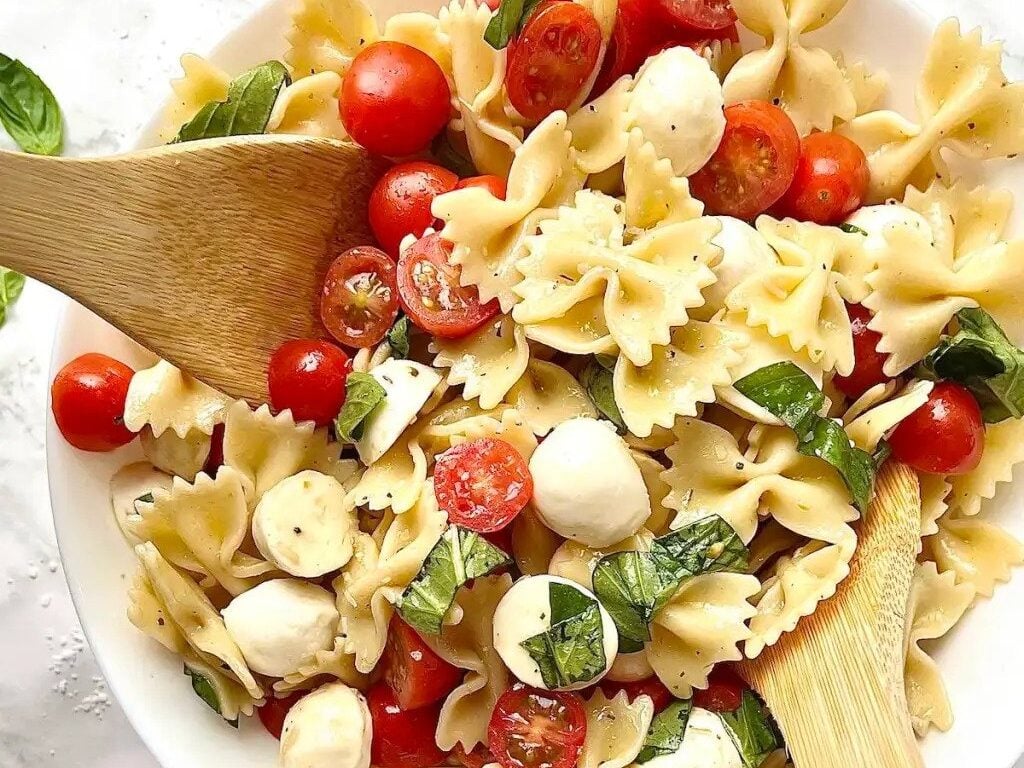 Wanna put a unique spin on a classic Italian Caprese salad with a Caprese pasta dish? This Caprese pasta salad is sure to impress your guests with its traditional Italian flavours and hearty pasta twist. Get the Caprese Pasta recipe here.
21. Boursin Mashed Potatoes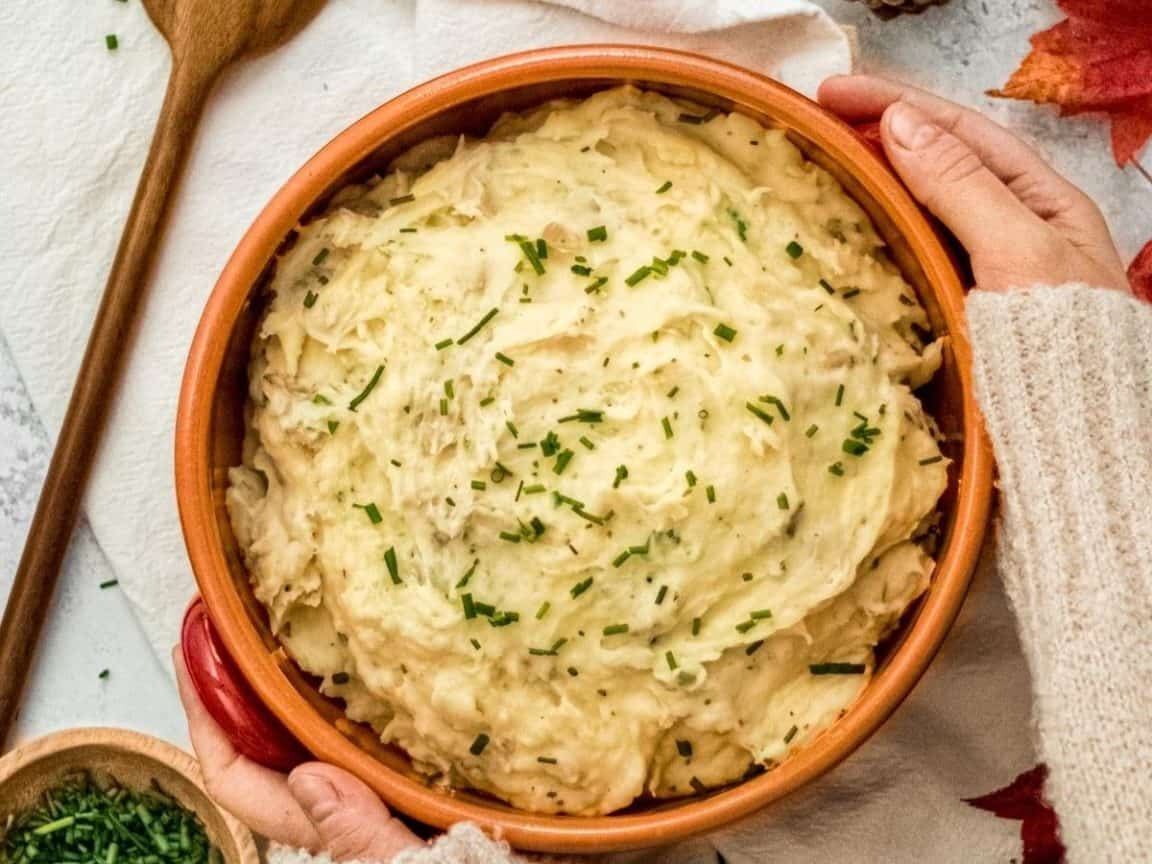 Boursin mashed potatoes make a great side dish to flank steak and are smooth, creamy, herby, fresh, cheesy, and perfectly whipped. They can be made 2 days ahead of time, only take about 20 minutes, and are irresistible! Get the Boursin Mashed Potatoes recipe here.
22. Cantaloupe Salad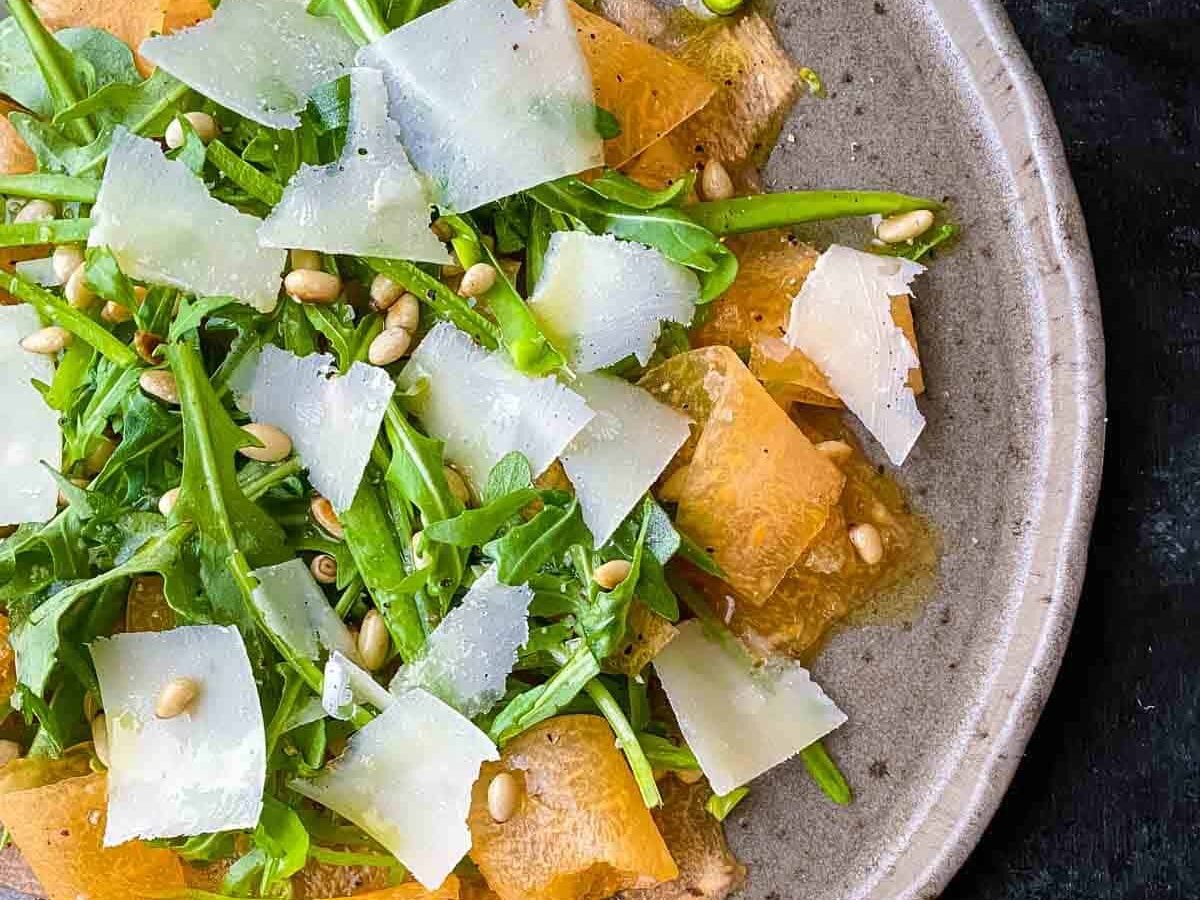 If you are wondering what to eat with flank steak, try this honey-sweet shaved cantaloupe combined with snow peas, rocket, pine nuts, and parmesan delivers a delicious fresh salad perfect for summer or alfresco entertaining. Get the Cantaloupe Salad recipe here.