Love Starbucks, but hate the price? Make your own copycat drinks with these delicious dupes. Perfect for an afternoon snack or late night treat! Most are easily made with only a few ingredients.
Homemade Pink Drink
Have you always wanted to learn how to make Starbucks pink drink? I am always a fan of the Starbucks homemade pink drink and love that I can made it at home for less. So yes, I make it a lot. Have you ever made a Starbucks pink drink copycat recipe? It's just as good as the real thing.
Starbucks S'mores Frappuccino
Indulge in the heavenly taste of a Starbucks S'mores Frappuccino at home! Satisfy your cravings with the perfect blend of chocolate, marshmallow, and graham cracker flavors in every sip.
Just Like Starbucks Cinnamon Dolce Latte
A Starbucks cinnamon dolce latte is one of the best drinks for the Fall. With earthy cinnamon, tasty espresso, vanilla, and whipped cream, this is the perfect Starbucks copycat latte. The homemade cinnamon dolce syrup is easy to make and you can make extra for future drinks.
Starbucks Pumpkin Spice Cold Brew
Creamy, caffeinated, and perfectly luxurious, my copycat recipe for Starbucks Pumpkin Spice Cold Brew is a dead-ringer for the seasonal coffee shop favorite. Made with just 6 ingredients in about 5 minutes, this fall-flavored pick-me-up is faster and cheaper to make than buying at the store.
Copycat Dragon Drink
Enjoy a refreshing Starbucks dragon drink with this easy-to-make copycat dragon drink recipe! A great-tasting, summertime pink drink made with fresh, wholesome ingredients. It's perfect for groups, gatherings, and all your fun summer events.
Iced Brown Sugar Oatmilk Shaken Espresso
Power through your day with a delicious glass of Iced Brown Sugar Oatmilk Shaken Espresso made right at home! It's a complete copycat of Starbucks version!
Starbucks Strawberry Frappuccino
If you love strawberries, you're going to love this caffeine-free, frozen strawberry frappuccino drink that blends strawberry syrup, milk, and ice together to make a delicious berry treat.
Peach Black Tea Lemonade
Have you ordered Starbucks peach black tea lemonade? I find it refreshing and tasty and love making my own iced peach tea! Once you know how to make your own homemade Starbucks peach tea, you can rustle up this treat whenever you like. I am such a fan of iced drinks in the summer and always experimenting to made a new summer Starbucks drink recipe!
Keto Pink Drink
My Keto Pink Drink is light, fruity, and delicious! You won't have to miss out on this Starbucks coffee shop favorite when you can make your own low carb pink drink at home. This easy recipe is also dairy-free, sugar-free, and Trim Healthy Mama friendly.
Iced Pineapple Matcha
This Iced Pineapple Matcha Drink is a delicious Starbucks copycat, perfect for waking up or cooling off in the middle of a scorching summer day. The combination of matcha, pineapple, coconut and ginger checks all the boxes for an amazing beverage that will make your home feel like a cafe.
Chocolate Cream Cold Brew
Chocolate Cream Cold Brew, a Starbucks copycat drink, is a great way to have your caffeine fix during summer! With a delicious combination of chocolate, cream and coffee, this recipe is super easy to make and comes out perfect every time.
Salted Caramel Cold Brew
This Salted Caramel Cold Brew is refreshing and a delicious Starbucks copycat recipe. It is the perfect cold coffee beverage for a warm day.
Vegan Pumpkin Cream Cold Brew
Fall served up cold. A chilled coconut-milk-based pumpkin cream tops icy cold brew for the perfect bridge between summer and fall. Give yourself lead time with this one: The cream floats best when it's refrigerated first.
Homemade Pumpkin Cream Cold Brew
Inspired by Starbucks' Pumpkin Cream Cold Brew, this recipe uses cold brew and pumpkin spice foam made of pumpkin pie spice and cream. Skip the line and make a simple cold brew with syrup and a pumpkin spice whipped cream.
Iced Brown Sugar Oat Milk Shaken Espresso
I don't know about you but I loooove Starbucks. And I think the Starbucks iced brown sugar oat milk shaken espresso is one of their best ever coffee creations! If you're in the mood for a copycat Starbucks iced drink, the good news is you can make this DIY Starbucks shaken espresso recipe.
Mango Dragonfruit Refresher
Make a delicious Mango Dragonfruit Refresher at home! Keep it healthy by using just a few healthy ingredients, and save money. I love this drink with soda water, but you can also make a Mango Dragonfruit Refresher with coconut milk for an indulgent fruity drink.
Pumpkin Spice Chai Latte
This pumpkin spice chai latte is made with real pumpkin, creamy, and is made under 10 minutes with only a few ingredients. It combines the two best fall flavors – pumpkin and chai. It has so much more flavor and is creamier than Starbucks pumpkin chai. You won't be able to resist not making this for your festive fall pick-me-up!
Java Chip Mocha Green Smoothie
Turn your morning coffee into a healthy breakfast with this Java Chip Mocha Green Smoothie – inspired by the Starbucks Frappuccino! This sugar free mocha smoothie has a healthy base of yogurt, bananas and spinach.
Copycat Starbucks Double Shot Recipe
Coffee lovers listen up! This copycat Starbucks double shot recipe is soon to be your new favorite iced espresso drink to make at home. It's light, creamy, totally delicious, and ridiculously easy to make – no barista skills required.
Homemade Java Chip Frappuccino Recipe
The frappuccino recipes section is not complete without a homemade Java Chip Frappuccino. The rich and creamy blended coffee drink is a real treat when you can make it from the comfort of home.
Starbucks Matcha Latte
This Starbucks matcha latte is a light and energizing green tea drink that is ultra-creamy and made with just 4 simple ingredients in about a minute. It's naturally sweetened with maple syrup and super easy to make.
Starbucks Oleato Copycat (Iced Shaken Espresso)
This Starbucks Oleato copycat is an iced shaken espresso that's smooth and creamy with a subtle sweetness, a hint of hazelnut, and notes of warm, toasted coffee. You only need 4 ingredients and 5 minutes to make this at home before it hits the market.
Apple Crisp Macchiato
Apple Crisp Macchiato is the perfect fall coffee drink with all your favorite flavors in Apple pie, cinnamon, apples, and espresso topped off with an irresistible froth.
Chai Latte
Enjoy a homemade Starbucks dupe of the famous Chai Tea Latte with just 2 ingredients and 5 minutes of your time! Learn to make your own Chai Concentrate and you'll have a batch of this latte ready at a whim to last the whole week at a fraction of the cost.
Cold Foam
Making the switch to DIYing your Starbucks coffee order at home to save some $$$? Here's a quick guide on how to make the Starbucks Cold Foam in just 2 minutes with 2 ingredients - perfect for any iced coffee or cold brew.
Cookies & Cream Frappuccino
Move over Starbucks! This Cookies & Cream Frappuccino is gluten-free, soy-free, and vegan! This homemade recipe has all the sweet deliciousness without the cost and is made right in your blender with minimal fuss!
Iced Matcha Latte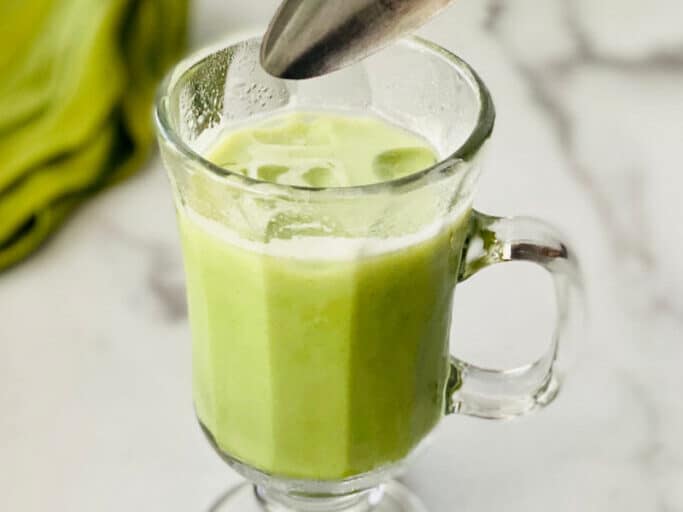 Making an iced matcha latte at home is a lot easier than you think. This delicious Starbucks copycat recipe is just as good as the pretty green matcha iced tea latte the barista makes. Plus it costs less.
Iced White Chocolate Mocha
This Starbucks copycat iced white chocolate mocha is delicious, creamy, and super easy to make at home! Brewed espresso is mixed with creamy white chocolate sauce and topped with whipped cream for this easy iced latte.