This Minestrone Soup will warm your bones from the inside out. It's packed with fall seasonal vegetables and has layers of warm flavors. The quinoa adds a little boost of protein. (gluten free, with vegan option)
This post has been written by me and is sponsored by La Cucina Italiana
Fall is in the air and warm soups are on the menu. Is there anything more satisfying than a warm bowl of spice filled soup on a cool night? I love soups like this because they can be made ahead on Sundays when I have time and we enjoy them during the week for lunches and dinners.
This Minestrone is chock full of vegetables like tomatoes, carrots, celery, red pepper, potatoes, peas, swiss chard, and onions. For a change, I added sweet potatoes. They are in season and add a little extra sweetness to this soup.
I love adding some quinoa or gluten free pasta to make it more hearty and filling. You can add any kind of beans you have; cannellini, kidney, pinto, chickpeas or black beans. The beans and quinoa add extra protein and hearty texture to help keep you full.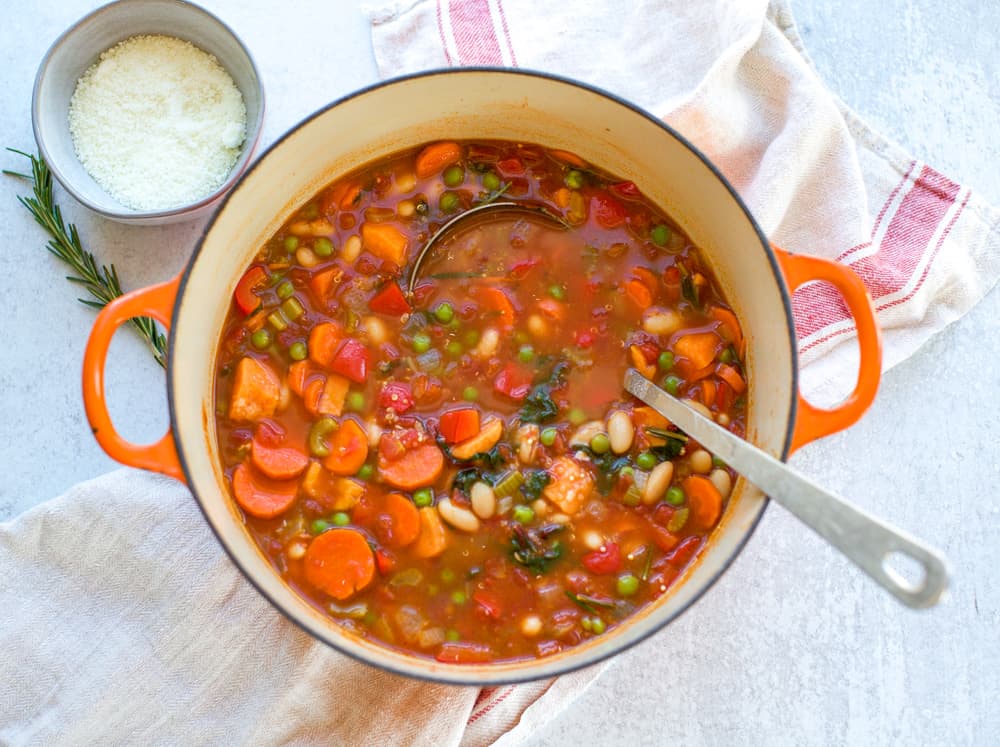 The final step is adding some fresh greens when the soup is hot and ready to go. I usually let these greens wilt for a few minutes, but they don't need to cook long. I used swiss chard, but you could also use kale, spinach, collard or mustard greens. They add beautiful color to the final product.
…