These Overnight Oats with Almond Milk make a healthy and delicious breakfast that can be prepped the night before and are perfect for busy mornings. They are easy to make, creamy, and filled with delicious toppings like peanut butter, chocolate chips, and chia seeds to keep you feeling full and satisfied all morning. This overnight oats recipe is also gluten free, dairy free, and vegan.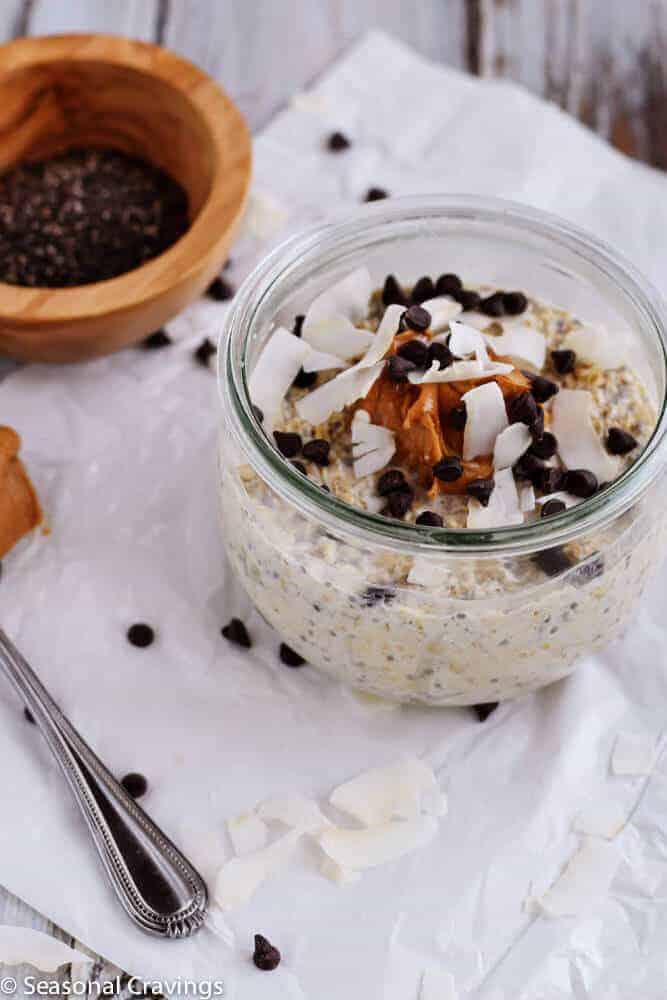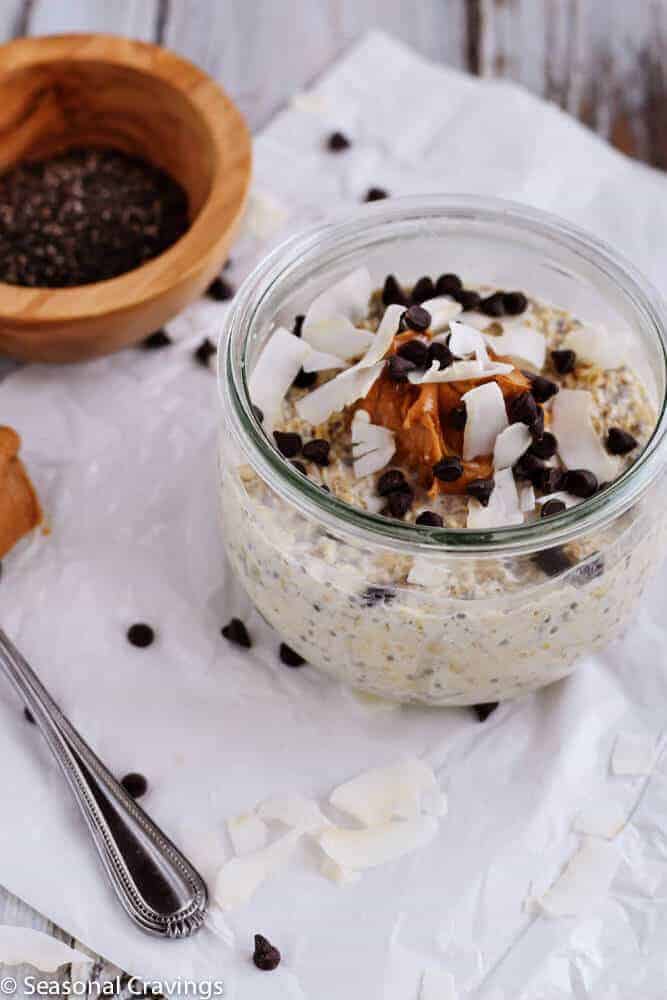 Why You'll Love This Recipe
This is a great make-ahead breakfast recipe

- These overnight oats are the perfect breakfast for meal prep. They can even be made in large batches to enjoy throughout the week.

Overnight oats use simple Ingredients

- The basic overnight oats recipe simply requires oats and milk (whether dairy free or not), two ingredients you likely already have on hand. In these overnight oats with almond milk, I like to add chia seeds and peanut butter for the added health benefits and to make it even more satiating.

The topping options are so versatile

- This healthy overnight oats recipe makes a great breakfast for the entire family because it can easily be customized with toppings. Some of our favorite flavor combinations include chocolate and peanut butter and fresh fruit with a drizzle of honey.
What are overnight oats?
Overnight oats are a delicious and convenient breakfast option that has become increasingly popular recently. Overnight oats are made by combining raw oats with a liquid (in this case, almond milk) and allowing them to soak in the refrigerator overnight. This process allows the oats to absorb the liquid and soften, creating a creamy and satisfying texture.
The great thing about overnight oats is that they're so versatile and can be customized to suit your taste buds. You can add in your favorite fruits, nuts, seeds, or natural sweeteners to create a delicious and nutritious, healthy, and convenient breakfast. Plus, because you can prepare them in advance, overnight oats are perfect for busy mornings when you don't have time to cook breakfast. Simply grab your jar of oats the next morning and head out the door.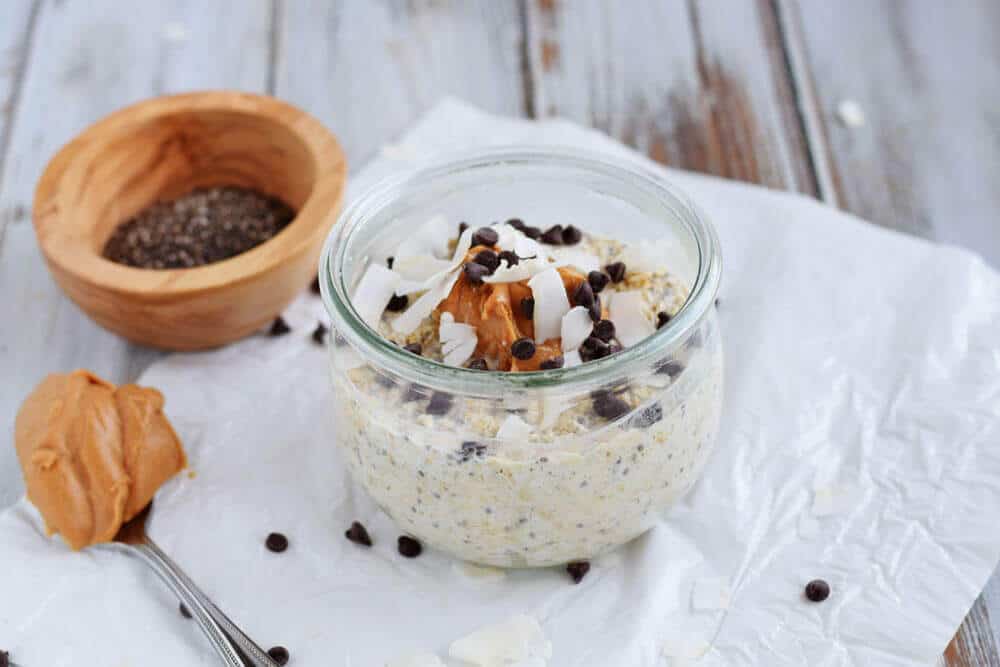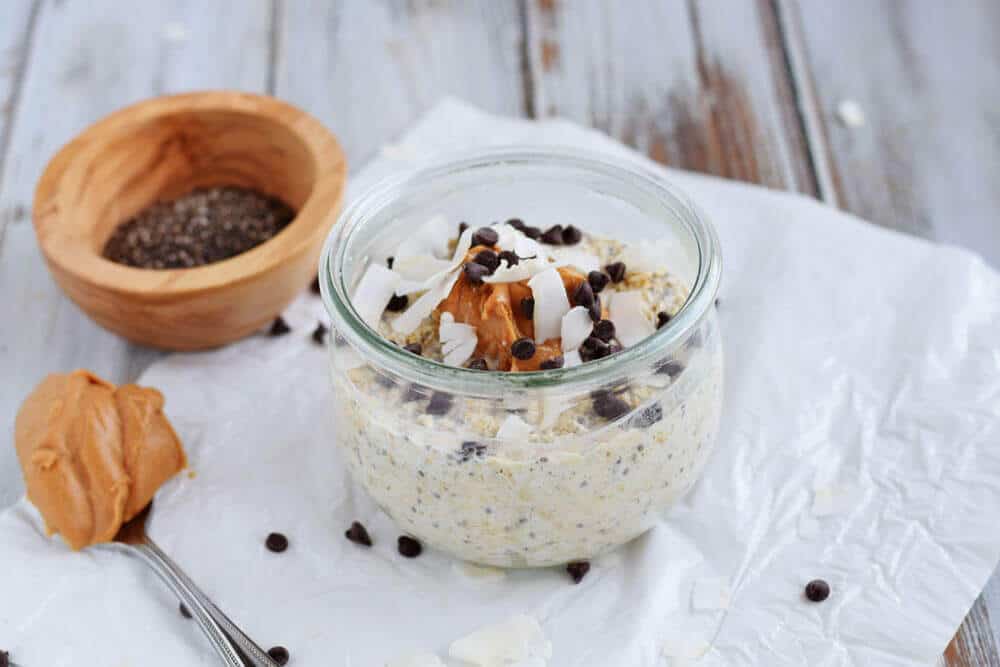 Ingredient Notes
Oatmeal -

I use Bob's Red Mill

Gluten Free Oats

. If you have celiac disease, it is important to get the certified gluten free oats.
Milk -

I use Califia unsweetened almond milk. Feel free to substitute coconut milk, cashew milk, oat milk, soy milk, or cow's milk.

Nut Butter -

I used peanut butter but I've made this many times with both almond butter and cashew butter.

Chia Seeds -

These are optional but they add healthy fats and extra nutrients to this breakfast making it even more healthy.

Toppings of choice -

the topping options are truly endless but here are some of our favorites; nuts, seeds, berries, sliced bananas, coconut flakes, and chocolate chips. You can also stir in a heaping spoonful of greek yogurt for added protein.
How To Make This Recipe
Mix the oatmeal, chia seeds, and milk of choice in a mason jar or airtight container, then cover with the lid.
Place in the fridge overnight.
When ready to serve, top the oats with your favorite toppings such as almond or peanut butter, coconut flakes, and/or mini chocolate chips and enjoy.
Tips For The Best Overnight Oats
Choose the right oats

: Use rolled oats or old-fashioned oats instead of quick oats or steel-cut oats which will affect the texture. If you're looking for a recipe that uses steel-cut oats, try this

crock pot steel cut oats with chocolate, cherries, and cashews

.

Use the right ratio of liquid to oats:

Always use a 1:1 ratio of oats to liquid (in this case, almond milk) for the base recipe. This will ensure that the oats absorb the liquid properly and have a creamy texture.

Toppings are key:

Overnight oats are incredibly versatile, so feel free to add your favorite fruits, nuts, seeds, or sweeteners to the mix. I've listed some of our favorites below.

Let the oats soak overnight:

As the name suggests, overnight oats need to soak overnight in the refrigerator to allow the oats to absorb the liquid and to soften to a delicious texture.

Gluten-Free overnight oats:

If you are gluten free, be sure to use certified gluten-free oats.

Use a mason jar:

I recommend making these oats in a mason jar as it is easy to mix and store.
Leftovers and Storage
Storing overnight oats is incredibly easy and convenient. Once you've made your oats, simply cover them tightly and store them in the refrigerator for up to 5 days. I recommend using a jar or container with a tight-fitting lid, as this will help keep your oats fresh and prevent them from drying out.
When you're ready to eat them, give them a quick stir and add any desired toppings or mix-ins.
If you love blueberries, try these Blueberry Overnight Oats. On a keto diet, try these Keto Overnight Oats.
The Best Overnight Oat Toppings
One of my favorite things about this oat recipe is its versatility in terms of toppings. While you can certainly keep it simple and top these overnight oats with whatever you have on hand, these are a few of my favorite "fun" topping combinations:
Banana Nut:

Slice a ripe banana and sprinkle some chopped walnuts or pecans over the top of your overnight oats. Finish it off with a dash of cinnamon and a drizzle of honey or maple syrup for a touch of sweetness.

Fresh Fruit:

My favorite way to enjoy these overnight oats is to add a handful of fresh berries (frozen works as well). You can top them with a sprinkle of shredded coconut or chopped almonds for added crunch. The sweet and tangy flavors of the berries pairs perfectly with the creamy texture of the oats.

Chocolate Peanut Butter:

A classic flavor combo for a reason. Stir in a spoonful of natural peanut butter (or almond butter) and a tablespoon of cocoa powder. Top with sliced bananas or strawberries for some added sweetness. This

overnight chocolate oatmeal protein bowl

is another great recipe for chocolate lovers.

Almond Joy:

This one is a healthy twist on almond joys that's so delicious. Top your overnight oats with some unsweetened shredded coconut, a handful of sliced almonds, and a drizzle of honey or maple syrup. For some added crunch, top with a sprinkle of cacao nibs or mini chocolate chips.
For cozy fall favorites, give these overnight oats a try:
Remember that toppings can add a large number of calories and sugar to your oats, so whichever you choose, try to keep your portion sizes under control.
FAQ's
How do you make basic overnight oats?
To make basic overnight oats, combine 1 part raw oats with 1 parts liquid (such as dairy or non-dairy milk) in a jar or container, and mix well. Cover and refrigerate overnight; in the morning, you'll have a delicious and creamy breakfast ready! From there, you can customize your oats with your favorite add-ins and toppings to make them even more delicious and nutritious.
Are overnight oats healthy?
Yes, overnight oats are a great healthy breakfast option. They're packed with fiber from whole grains, protein, and nutrients and can help keep you full and satisfied all morning. However, it's important to be mindful of the toppings you use, as they can quickly add up in calories and sugar. I like to stick to fresh or frozen fruit, nuts, seeds, and natural sweeteners like honey or maple syrup for a nutritious and satisfying breakfast.
What are the best oats to use for overnight oats?
Rolled oats or old-fashioned oats are the best oats to use as they provide the perfect creamy texture after soaking up the liquid overnight. If you use quick oats or instant oats, they may soften too much, and using steel-cut oats may result in the oats not softening enough overnight.
More Healthy Breakfast Ideas You'll Love
If you make this recipe, let me know what you think! I'd love it if you could add a star rating ★ and a comment below. Be sure to follow me on Instagram, Pinterest, and Facebook, too!
Overnight Oats with Chia Seeds and Almond Milk
These Healthy Overnight Oats are easy to make, creamy and super healthy. Treat yourself to a filling, ready-made breakfast!
Print
Pin
Rate
Ingredients
1

cup

gluten free oats

I like Bob's Red Mill

1

cup

plain almond milk

1

tablespoon

chia seeds

1

tablespoon

honey

optional

Toppings:

1

tablespoon

coconut flakes

1

tablespoon

chocolate chips

1

tablespoon

peanut butter
Instructions
Mix all ingredients in a jar with lid and place in fridge overnight.

In the morning top with favorite toppings and enjoy.

If it's too thick add a bit more almond milk.
Notes
If you are gluten free, be sure to use certified gluten free oats.  
Nutrition
Calories:
335
kcal
|
Carbohydrates:
46
g
|
Protein:
9
g
|
Fat:
14
g
|
Saturated Fat:
3
g
|
Cholesterol:
1
mg
|
Sodium:
173
mg
|
Potassium:
231
mg
|
Fiber:
8
g
|
Sugar:
14
g
|
Calcium:
245
mg
|
Iron:
3
mg