This recipe is so easy I wanted to call it How To Make Skirt Steak Without a Recipe but that seemed too long.  Other ideas were: no brainer, stupid easy, and no fail.  You get the idea.  This is an easy weeknight, last minute or freezer meal. Are you confused?  Don't be.
Herbed Skirt Steak only involves a few ingredients which can be added in any amount without screwing it up.  Seriously.  Make the marinade and throw it in the fridge in the morning or make it last minute and let it sit for twenty minutes.  The flavor will be more intense if it marinates a bit longer.  Or do some make ahead freezer meals and make the marinade when you get home from the grocery.  Throw it on the steak, put it in the freezer and rejoice when you pull that baby out for a weeknight fifteen minute meal.  How easy it that?  It's delicious on chicken, shrimp, fish and potatoes.  Grill it outside as I did or make in on the stovetop in a grill pan.
I have decided after this meal that my family has officially become the two skirt steak family. This was not enough.  Not to mention the leftovers would be delicious.  I'm not sure why I still pretend my kids are little and that my almost twelve-year-old boy doesn't eat a lot.  He's growing so fast that he looks me in the eye and I can borrow his shoes.  He needs protein!
Many apologies to all the vegetarians out there.  We have always loved steak.  My oldest son asks for the "red" steak and my youngest always asks if I marinated it in my special sauce.  I have created culinary monster children who says things like: is this gluten free, do you have grass-fed butter for this roll and can I make my own smoothie?  Most of the time I loooove to hear these comments but sometimes I worry my kids are becoming high maintenance.  Let's hope this helps them develop a healthy love of food and willingness to try new things.  Fingers crossed.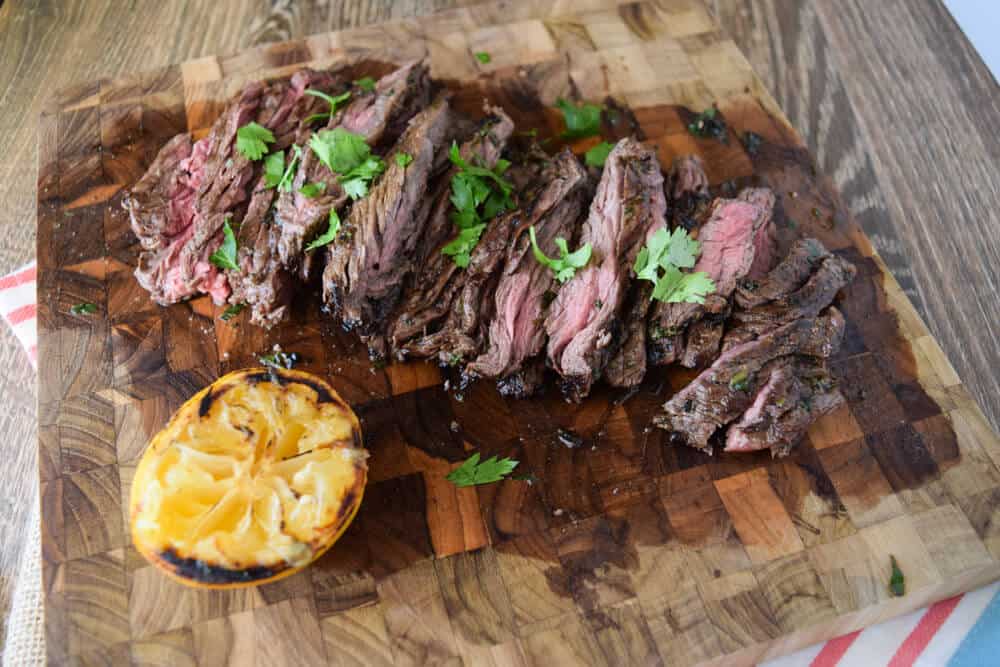 Our goal should be to keep our kids around the dinner table as long as possible.  So give this a try and let me know how it goes.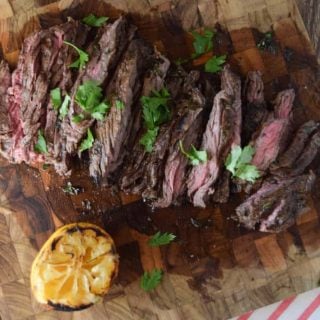 Herbed Skirt Steak - A Family Favorite
Easy herb and lemon marinated skirt steak.
Print
Pin
Rate
Ingredients
1/2

cup

finely chopped cilantro

1/2

cup

finely chopped italian parsley

4

garlic cloves

chopped

1

tsp

cumin

1

lemon

juiced and zested

1/2 - 3/4

cup

olive oil

salt and pepper

1

skirt steak
Instructions
Mix all marinade ingredients together in a bowl including lemon zest and juice. Try to smoosh it on the side of the bowl to really meld the flavors.

Put steak in a ziplock bag and add the marinade. Put in a bowl in fridge for at least 20 minutes.

Cook on the grill for 5-9 minutes on each side. Scrape off some of the herbs if they start to burn.

Let rest for 10 minutes while juices redistribute and top with more herbs.

I also did a quick grill of a lemon half and squeezed that all over steak right before serving.