Everyone needs more easy dinner ideas right?  Check out this great round up of 16 Easy Gluten Free Weeknight Dinners.  You are sure to find some that will be a welcome change for your family.
We have been so busy lately with sports, homework and fall activities that I have been slacking on my meal planning.  I hate it when 5:00 rolls around and I have no idea what's for dinner.  Trust me, that happens more than I care to admit!  Often I have food already made in the fridge from dishes I have photographed for the blog but not always.
So, in an effort to help you lovely readers (and myself!) I have rounded up 16 Easy Gluten Free Weeknight Dinners from some of my favorite bloggers.  I hope you find some you like and they make your weeknight dinner madness easier. Let's get started with the meal planning!
Sheet Pan Brown Sugar Pork Chops from Seasonal Cravings
Sheet pan dinners are so quick and easy. This one will be a big hit with the kiddos.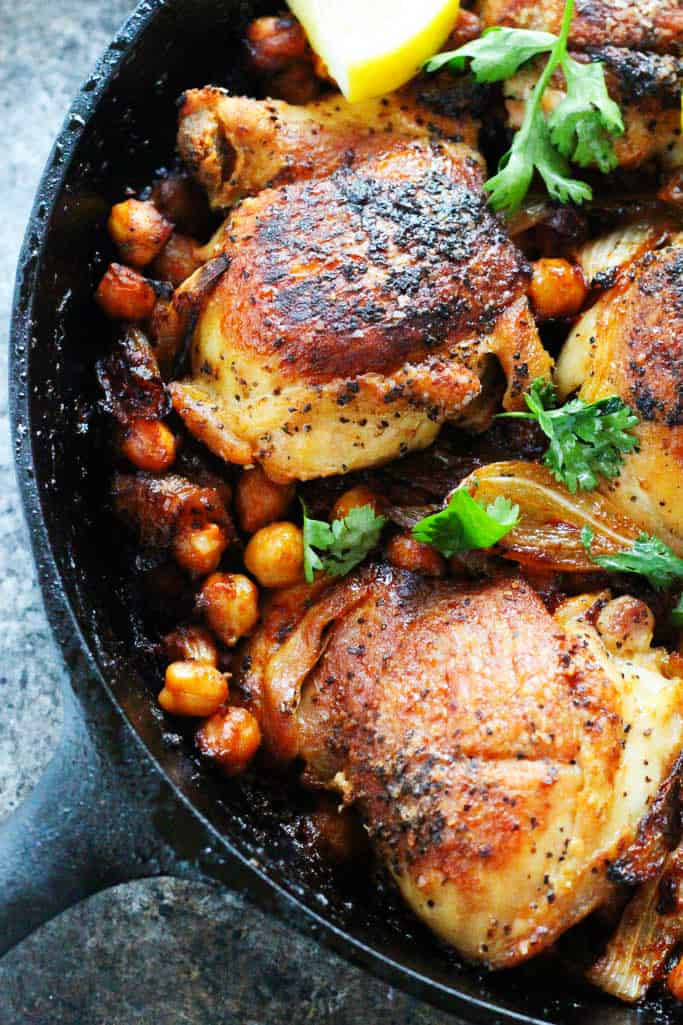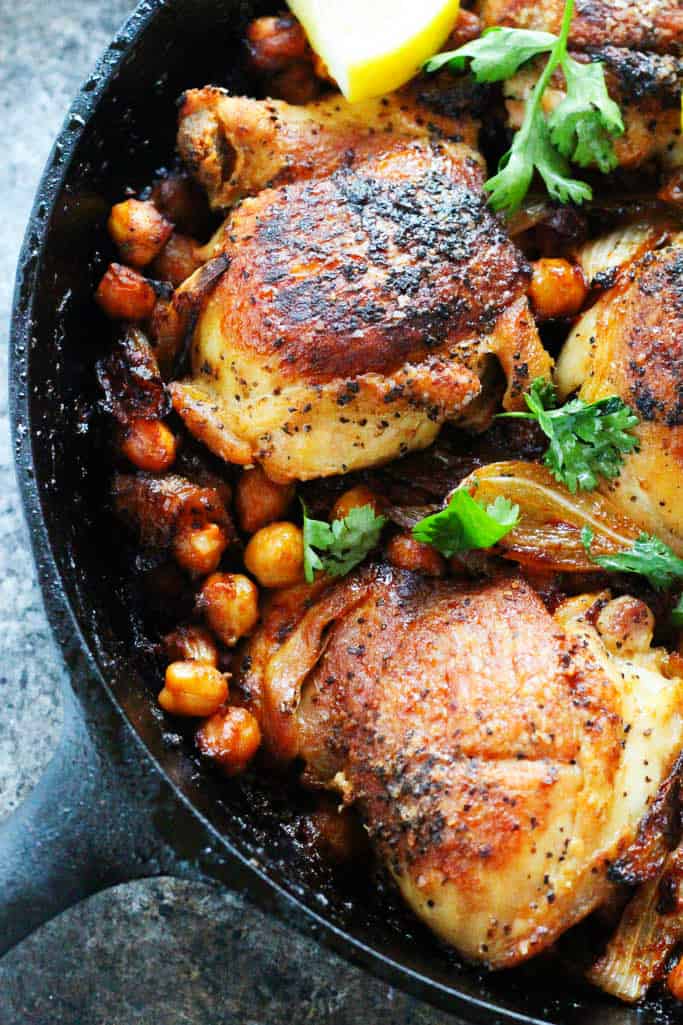 One Pot Harissa Chicken with Chickpeas and Yogurt from Platings and Pairings
Hearty and perfectly browned chicken with tons of flavor.  Will make for great leftovers the next day.
Almond and Herb Crusted Baked Salmon + Asparagus from A Saucy Kitchen
Simple to make in only 15 minutes, this salmon is topped with almonds and herbs.  Whole 30 friendly.
Ginger Honey Glazed Chicken from Seasonal Cravings
This is always a hit with my kids.  Easy to make with only three ingredients. Paleo friendly.
Thai Coconut Shrimp Soup from Taste Love and Nourish
This beautiful soup is lightened up by using unsweetened coconut milk.  Trust me, you won't miss the fat and calories.
Pulled Pork Loaded Fries from Simply Delicious
What could be better (or easier) than loading homemade fries with pulled pork, cheese, and jalapenos?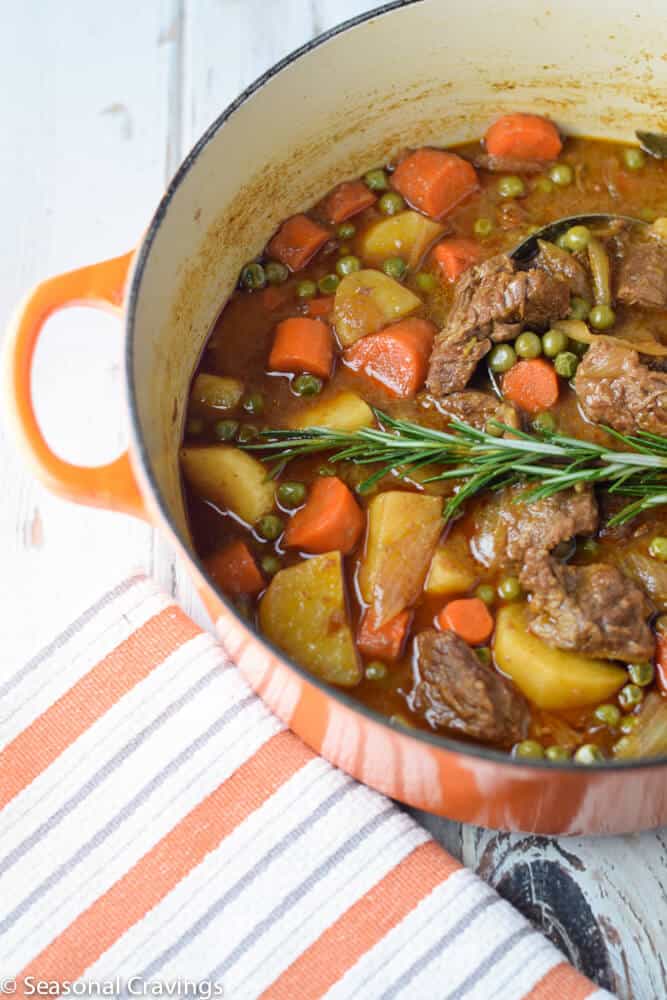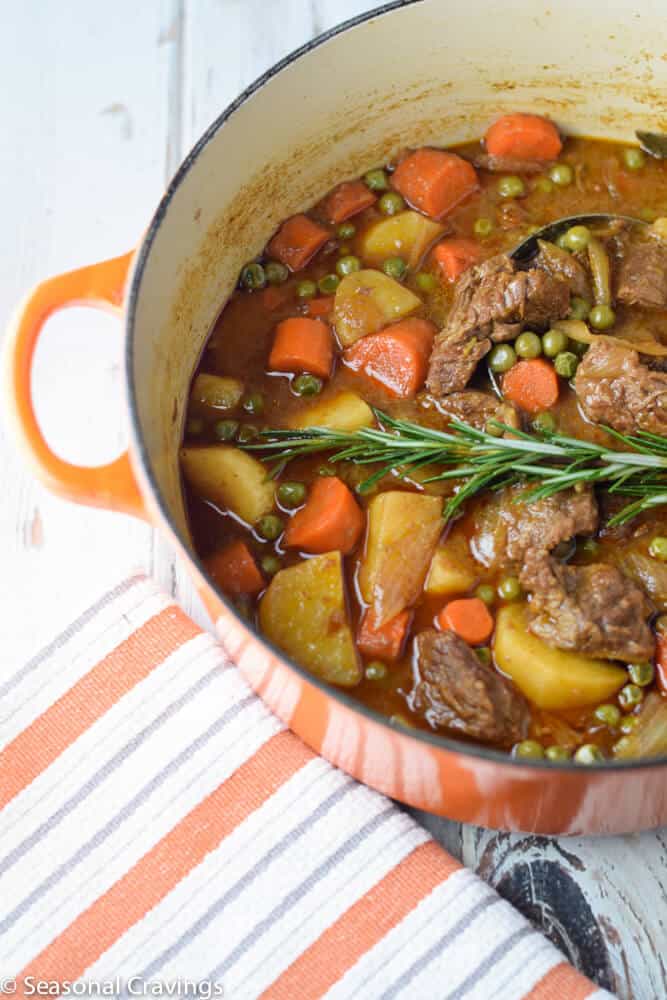 Apple Cider Beef Stew from Seasonal Cravings
It's fall and time for beef stew!  This one has a light and sweet flavor from the apple cider but it's still hearty enough for a chilly fall night.
White Wine Braised Chicken and Vegetables from A Saucy Kitchen
White wine and bacon add so much flavor to this gorgeous almost one-pan chicken dinner.
Rotisserie Inspired Roasted Chicken from Taste Love and Nourish
This delicious roasted chicken has the perfect combo of spice.  Plan to make two at a time so you'll have leftover chicken for the week.
One Pot Tex-Mex Chicken and Rice from Simple Seasonal
Who doesn't love a gooey, cheesy one pan dinner like this?
Lentil and Kale Soup from Green Valley Kitchen
Try this comforting soup for your meatless Monday and plan to take it in your lunch the next day.
Mexican Chicken Soup with Charred Baby Corn from Simply Delicious
How cute are those charred baby corns?  Full of so much spice and flavor, you'll wish you had leftovers.
10 Minute Creamy Vegan Bean and Aubergine Casserole from Lauren Caris Cooks
This delicious dish takes only 10 minutes from start to finish and is full of protein. Add potatoes or rice for a complete dinner.
Lemon Rosemary Salmon from Cooktoria
Ready in only 20 minutes, your family will love this salmon topped with lemon rosemary sauce.
Easy Cassoulet from The View From Great Island
This is a simpler version than the classic dish and takes about an hour but plan to make it on Sunday and eat it on two different nights.
Healthy Sriracha Shredded Chicken Tacos from Jar of Lemons
Tacos are always a hit at my house and this is a spicy version that is super easy to put together.
Note:  Always check to make sure all ingredients are gluten free if you follow a gluten-free diet.  Don't forget to check your chicken broth and stocks!