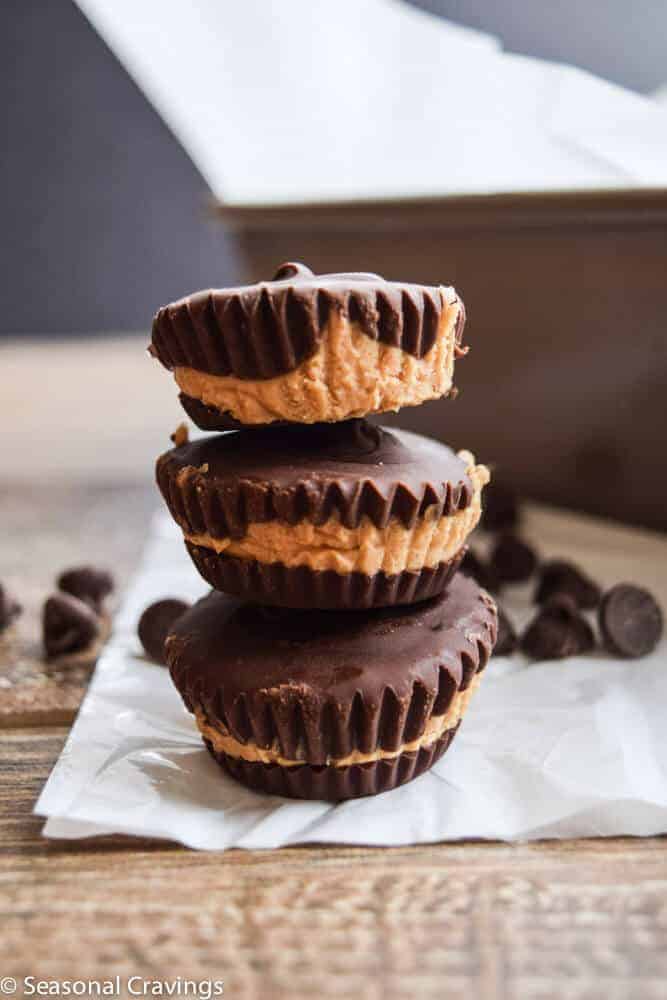 Happy Friday people!  It's officially the weekend and usually, I let me guard down and let the desserts roll.  Hey, it's been an entire week since I had sweets.  It's time to celebrate.
Oh my, do these babies bring back memories.  In high school, my bestie and I would head into 7-Eleven almost every afternoon for these.  They kept them in the freezer case and on a hot day they were a perfect, melt in your mouth treat.  If only I still had the metabolism of a teenager. These are even better than the ones in the orange wrapper and with far fewer ingredients.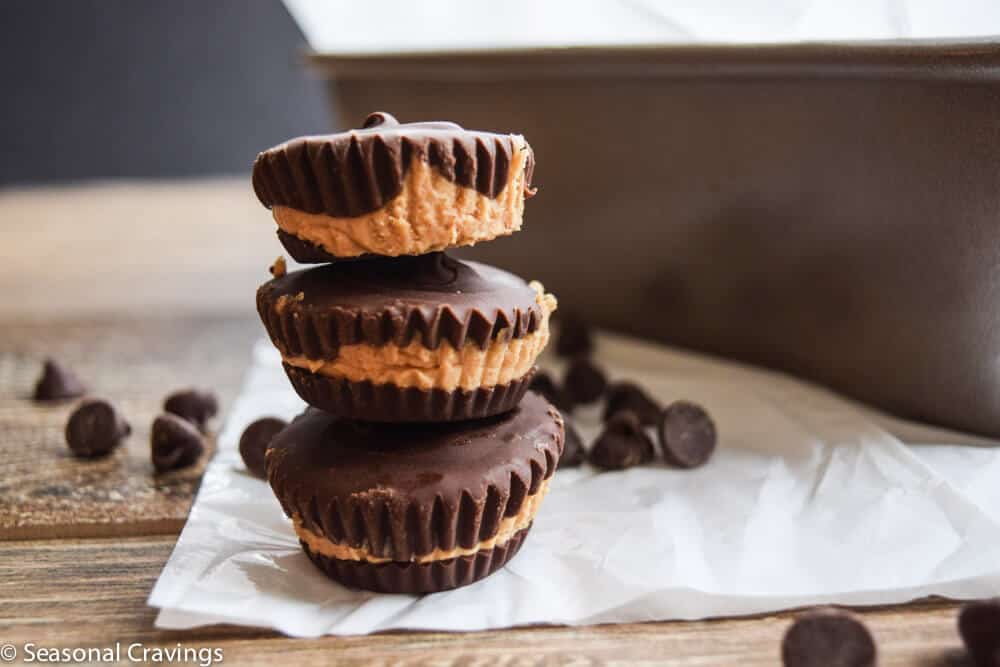 Mini Peanut Butter Cups are easy to make and always popular wherever you take them.  Everyone needs a bit of chocolate now and then and these can be eaten without guilt. I mean they are minis, right? And minis have zero calories, right? Yeah, yeah.
If you prefer them gluten free use Enjoy Life chocolate chips.   Peter Pan is the only peanut butter we use and I haven't tried these with the natural version that you have to stir.  It might take some recipe tweaking.
I used a recipe by Fifteen Spatulas and she even has a video showing how to make them.  Hers look amazing.  Not sure why mine look less than perfect.
Ingredients
1/2

cup

peanut butter

2

tbsp

butter

softened

12

ounces

semisweet or dark chocolate chips

1/4

cup

powdered sugar
Instructions
Prepare your mini muffin pan with paper liners.

Melt 6 ounces of chocolate chips in the microwave. Stir frequently.

Put a small amount of melted chocolate in the bottom of each muffin liner. Use a spoon or your finger to spread it out to cover the bottom. Or bang the muffin pan on the counter to spread out the chocolate.

Place in freezer for fifteen minutes until chocolate sets.

Mix the peanut butter, butter and powdered sugar with a hand mixer until fluffy.

Remove chocolate from freezer and place a small amount of peanut butter mixture on each chocolate layer.

Melt the rest of the chocolate chips. Spoon more chocolate on the top of the peanut butter mixture. Make sure all of the peanut butter mixture is covered by the chocolate.

Freeze for fifteen minutes to set.

Serve cold or frozen. They tend to melt quickly.
Need more chocolate?  Try these Nutella Puffs or these Neiman Marcus Chocolate Chip Cookies.