A delicious Chinese restaurant meal is one of life's great pleasures. Naturally, people want to know whether it is still possible to eat great Chinese food while on a gluten free diet.
So is Chinese food gluten free? It's complicated. The short answer is likely no. But fortunately, the answer doesn't end there.
Let's look into what you can order that is gluten free, how to order it at a Chinese restaurant, and tips for talking placing your order with the waiter.
Is Chinese Food Gluten Free?
My quick answer is no because most Chinese food does contain gluten. It can be quite challenging to find gluten free food in Chinese cuisine.
There are several factors that make finding gluten free Chinese food difficult. One of the biggest challenges is the use of soy sauce. Traditional soy sauce is made with wheat flour and is unsuitable for those with Celiac disease or Non-Celiac gluten sensitivity. Soy sauce is used widely in Chinese cooking, both as a seasoning on its own and as an ingredient in sauces such as teriyaki. Other 'Dark sauces,' such as oyster sauce, fish sauce, teriyaki sauce, and hoisin sauce, are likely to contain hidden gluten unless specifically marked gluten-free.
Many Chinese restaurants use breaded or battered ingredients in some dishes. Wheat-based breading or batter both contain gluten. Gluten is also present in wonton wrappers and many types of noodles. Spring rolls (if fried) and egg rolls almost always contain gluten.
Cross-contamination is always a potential issue for those with celiac disease when eating out, and Chinese restaurants are no exception to this rule. The only way to avoid this is if the restaurants use dishes and utensils solely for gluten free cooking. You will have to discuss this with your wait staff to ensure compliance.
It might be tricky to find gluten free Chinese food, but it shouldn't be impossible. There are some steps you can take to enjoy Chinese food safely.
Cross-Contamination
Possible sources of cross-contamination in Chinese restaurant food include shared oil in fryers, water that has been used to cook wheat-based noodles, and shared pans or woks.
Talk to your server about these risks, and ask questions about how they avoid cross-contamination. Some cross-contamination risks - like shared oil in fryers - are almost impossible to eliminate, but changing pans or using fresh water when steaming food should be easier. However, remember that the risk of cross-contamination is down to the individual kitchen. If you don't feel safe eating somewhere, you can always take your business elsewhere.
What Chinese Food is Gluten Free
When ordering at a Chinese restaurant, try to go for simple dishes. Dishes such as plain steamed vegetables and meats are all more likely to be gluten free. Ask for a side of steamed green beans or other vegetables with no sauce.
Light sauces are more likely to be gluten free than dark sauces. Often, sauces are thickened with cornstarch, but confirming this with your server is a good idea.
​Plain steamed white rice is gluten free if it has no sauce or seasonings on it, but always confirm that it is gluten free with your server.
Always avoid regular soy sauce in Chinese restaurants. A good alternative is tamari, a Japanese soy sauce made without wheat. Ask your server whether they have gluten-free soy sauce available. Otherwise, adding your tamari to plain dishes at the table gives you the same flavor without the gluten.
A little preparation can go a long way when it comes to eating out gluten free. If you can look at the menu ahead of time or phone to speak to the restaurant, you can get a better idea of what's available. This guide from Beth Israel Lahey Health gives you a great idea of the dishes you can eat and how dishes can be adapted to be gluten free.
Talk to your server about what might be suitable, and don't be afraid to ask questions! Do be aware that there are no guarantees and that the risk of cross-contamination is always an issue. Be very specific about what you can and cannot eat.
Chinese Dishes That Are Gluten Free (Always Double Check)
Steamed Vegetables
Steamed Rice
Steamed Chicken or Seafood
Fried Rice (must use gluten free tamari not soy sauce)
Egg Drop Soup
Rice Noodles
Soba Noodles
Gluten Free Noodles (Always Double Check)
Rice Noodles: Rice noodles are a staple in many Chinese dishes and are typically made from rice flour or a combination of rice and tapioca flour. They have a soft and slightly chewy texture. Rice noodles are commonly used in dishes like Pad Thai, Pho, and Singapore noodles.

Bean Thread Noodles (Cellophane Noodles): Bean thread noodles are made from mung bean starch and are translucent in appearance. They are also known as glass noodles or cellophane noodles. These noodles are gluten-free and are often used in stir-fries, soups, and spring rolls.

Sweet Potato Noodles: Sweet potato noodles, also known as Korean glass noodles or dangmyeon, are made from sweet potato starch. Despite the name, they are commonly used in Chinese cuisine as well. These noodles have a slightly sweet flavor and a chewy texture. They are often used in dishes like Japchae (Korean stir-fried noodles) and stir-fries with vegetables and meat.

Buckwheat Noodles (Soba Noodles): While not traditionally Chinese, soba noodles are gluten-free and widely available in Chinese cuisine. Soba noodles are made from buckwheat flour, which gives them a nutty flavor. They are commonly used in cold noodle salads or served in hot broth.

Gluten-Free Egg Noodles: Some Chinese restaurants offer gluten-free egg noodles made from a combination of alternative flour, such as rice flour and tapioca starch. These noodles provide a similar texture to traditional wheat-based egg noodles and can be used in dishes like stir-fries or noodle soups.
Making gluten-free Chinese food at home can be a wonderful way to explore the flavors of this cuisine while adhering to a gluten-free diet. Here are some tips to help you create gluten-free Chinese dishes in your own kitchen. It's not as hard as you think!
Use Gluten-Free Soy Sauce: Traditional soy sauce contains gluten, so opt for gluten-free soy sauce or tamari. These gluten-free alternatives provide the savory umami flavor that is characteristic of Chinese cuisine. You can use gluten-free soy sauce or tamari in stir-fries, marinades, dipping sauces, and more.

Choose Gluten-Free Noodles: As mentioned earlier, various gluten-free noodle options are available. Rice noodles, bean thread noodles (cellophane noodles), and sweet potato noodles are great gluten-free choices for Chinese dishes.

Embrace Fresh Ingredients: Chinese cuisine relies heavily on fresh vegetables, herbs, and proteins. Use a variety of colorful vegetables such as bok choy, broccoli, snow peas, carrots, bell peppers, and mushrooms. Pair them with gluten-free proteins like chicken, shrimp, beef, or tofu.

Make Your Own Sauces: Many Chinese sauces contain gluten, so consider making your own gluten-free versions at home. Combine gluten-free soy sauce, garlic, ginger, honey, rice vinegar, and other flavorings to create tasty stir-fry sauces, glazes, or dressings.

Master Stir-Frying Techniques: Stir-frying is a popular cooking method in Chinese cuisine. It involves quickly cooking ingredients in a hot pan or wok. Ensure your pan or wok is clean and free from any gluten residue. Use high heat, a gluten-free cooking oil (such as vegetable oil or sesame oil), and quickly cook your vegetables, proteins, and noodles to maintain their texture and flavor.

Explore Authentic Chinese Recipes: There are numerous authentic Chinese recipes that are naturally gluten-free or can be easily modified. Look for recipes that feature gluten-free ingredients as the base and explore dishes such as stir-fried vegetables, Mongolian beef, Kung Pao chicken, cashew shrimp, or Szechuan tofu.

Be Cautious with Pre-Packaged Ingredients: When using pre-packaged sauces, spice mixes, or condiments, always read labels to ensure they are gluten-free. Some may contain gluten or gluten derivatives, so choose certified gluten-free products or make your own versions.

Maintain a Gluten-Free Kitchen: Prevent cross-contamination by using separate utensils, cutting boards, and cooking equipment for gluten-free Chinese cooking. Clean surfaces thoroughly before preparing your gluten-free dishes to avoid any traces of gluten.

Experiment and Adapt: Don't be afraid to experiment and adapt traditional Chinese recipes to make them gluten-free. Explore different ingredient combinations, spices, and flavors to suit your taste preferences while adhering to a gluten-free diet.
By incorporating these tips and your creativity, you can enjoy a wide variety of gluten-free Chinese dishes right in your own kitchen. Experiment, have fun, and savor the flavors of gluten-free Chinese cuisine!
FAQs
Q: Is soy sauce gluten free?
A: No, soy sauce is not gluten free. Traditional soy sauce is brewed using wheat and is unsuitable for those with celiac disease or non-celiac gluten sensitivity. You can use tamari as a substitute and it's just delicious.
Q: Is rice gluten free?
A: Yes, rice is naturally gluten free. However, if you're dining out, be aware of the risks of cross-contamination. Make sure rice is cooked with fresh water and in a clean pan. Fried rice is usually made with soy sauce, so it isn't gluten free. Ask for gluten-free soy sauce to be used if possible.
Q: Is tamari gluten free?
A: Yes, tamari is a Japanese soy sauce that doesn't contain wheat and is gluten free. It's a great substitute for traditional Chinese soy sauce.
Looking for some Gluten Free Chinese Recipes? Try these:
Chinese Five Spice Chicken Bowl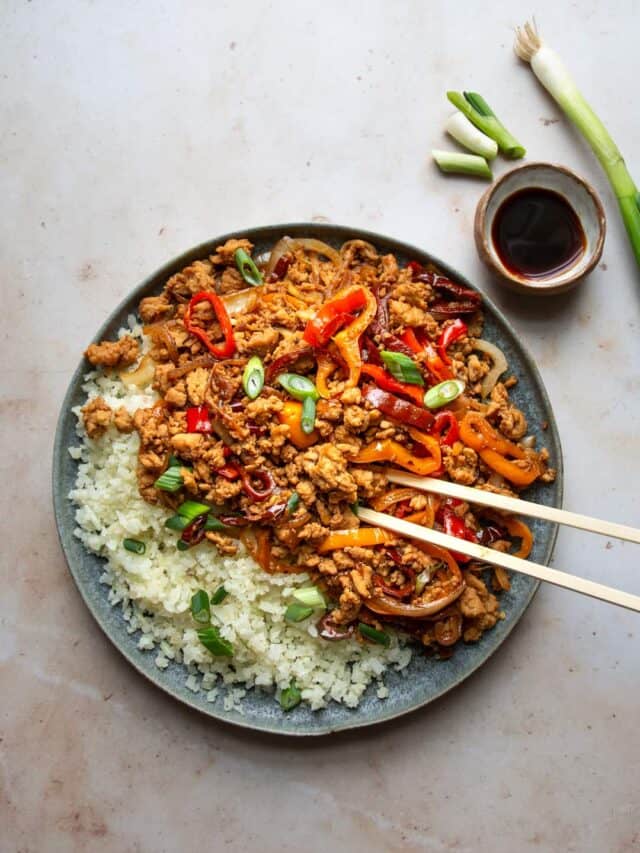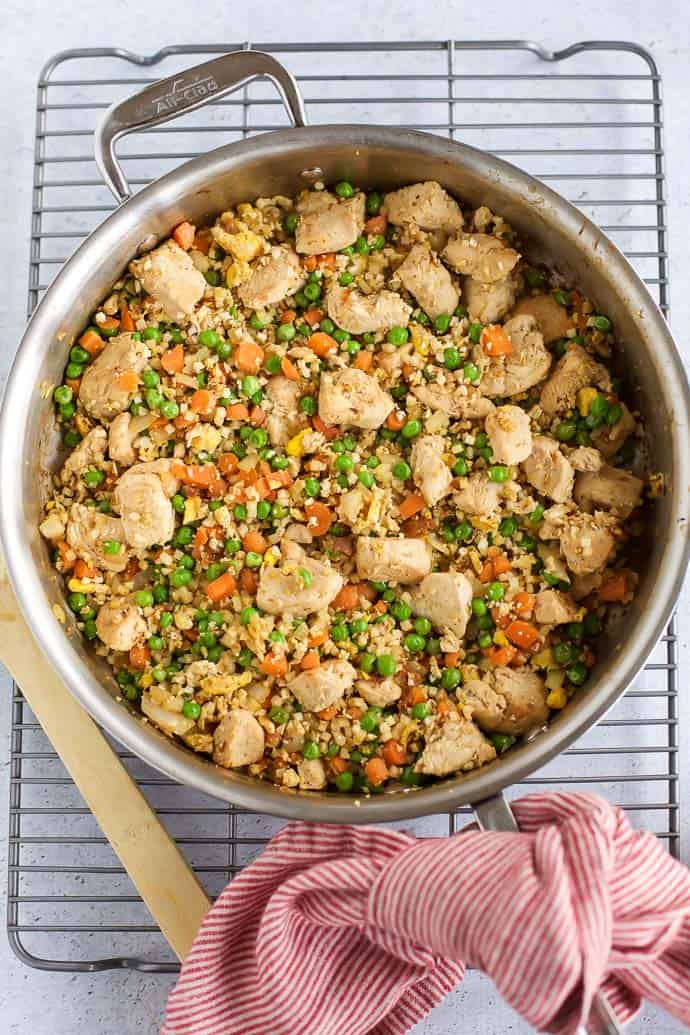 Chicken Fried Cauliflower Rice