Here's everything you need to know about going gluten free for good health!
I have been on a gluten free diet for a number of years simply because it makes me feel better. I have a gluten sensitivity not full-blown celiac disease. If you suffer from bloating, constipation or gas when you eat a big plate of pasta, you might want to consider whether you could have a gluten intolerance too. What started as an experiment to help my oldest son get rid of his eczema turned into a lifestyle for me.
It's not as hard as you think to ditch the gluten. Check out my gluten free recipe index.
Remember if you have Celiac Disease you need to read labels carefully and avoid cross contamination. You should choose products that are certified gluten free.
Benefits of a Gluten Free Diet?
Do I think all gluten is bad for us? No, I don't. Eating whole grains if your body can handle it works well for a lot of people, just not for me. I also believe it helps me keep weight off because I know the cookies, cakes, and crackers are off limits for me. Gluten Intolerance is a real thing!
Gluten is a family of proteins found in wheat, barley, and rye. Gluten itself is not bad for you but for some people it can cause issues.
If you are trying to avoid gluten it's easiest to stick to foods in their natural state that are gluten free like fruits, vegetables, meat, poultry, fish, nuts, legumes, and dairy.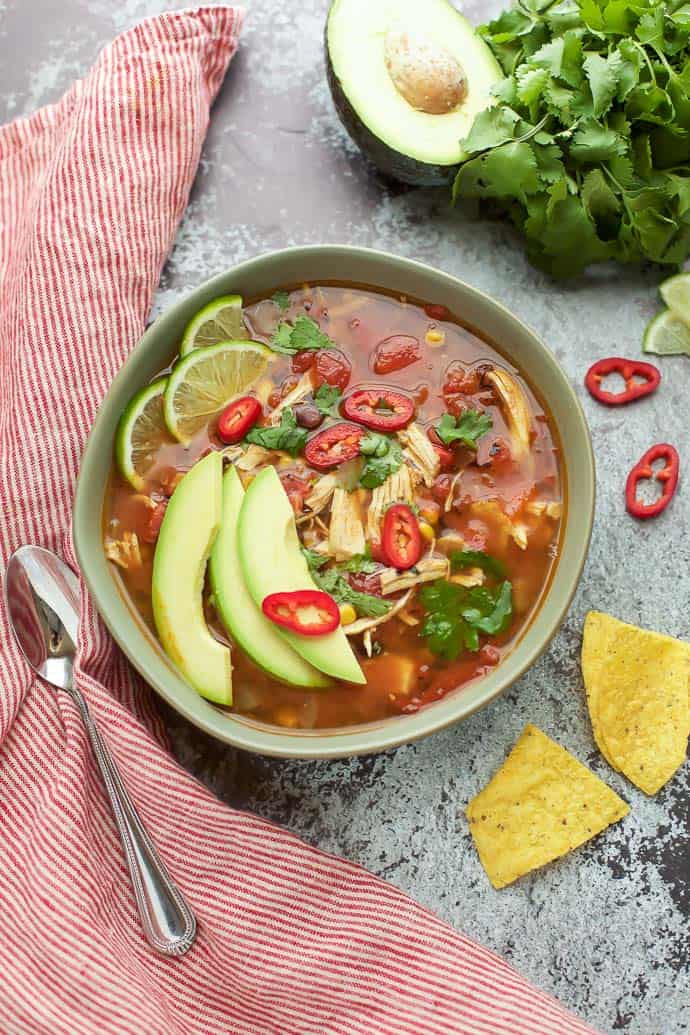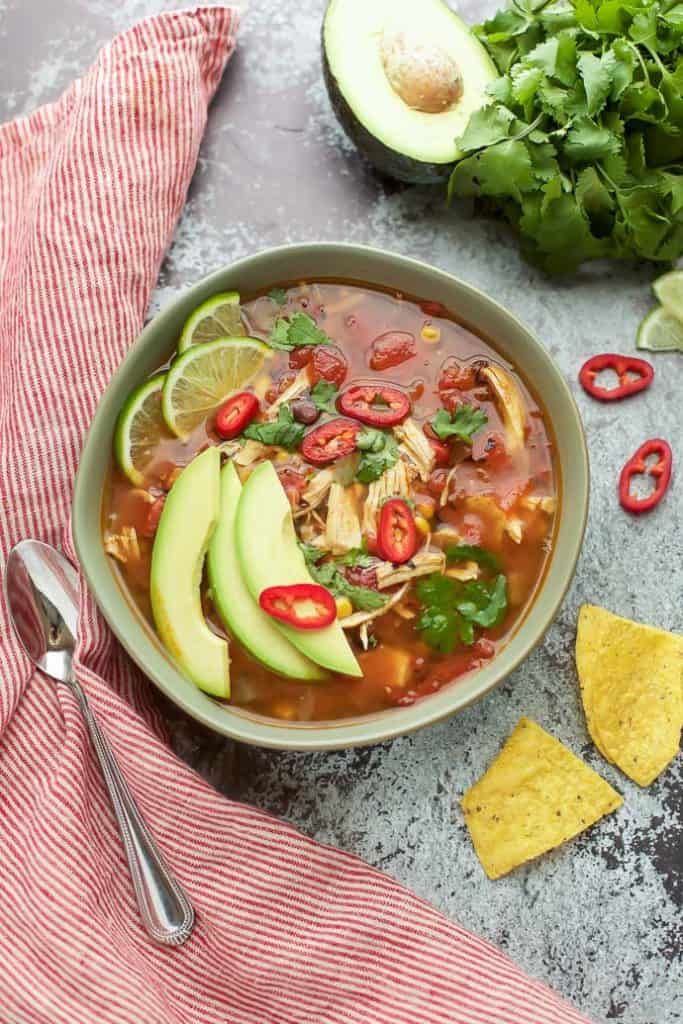 Pictured Recipe: Instant Pot Chicken Tortilla Soup
Ironically, if you eat more foods like this and less that come in a box you will be healthier and feel better – whether gluten bothers you or not. That's a WIN!
If you want to include some gluten free grains in your diet stick to the gluten free ones like quinoa, millet, amaranth, and sorghum. There are lots of gluten free pastas available in the grocery stores now too.
Check out this gluten free pasta review. We eat Barilla and the kids are fine with it. Watch out for oatmeal because it has to be certified gluten and wheat free.
What Not to Eat When You Are Gluten Free
Do not fall into the trap of buying all the gluten free processed foods on the shelves these days. There is nothing healthy about gluten free cookies with tapioca starch as the first and main ingredient. Talk about blood sugar issues!
Pictured Recipe: Quiche Cups with Tomato and Prosciutto
What Can You Eat on a Gluten Free Diet?
fruits and vegetables
nuts, nut butters and legumes
meat, fish, seafood, poultry
rice, wild rice, quinoa,
amaranth, buckwheat (yes it's true), millet, sorghum, teff
gluten free pastas
gluten free flours which can include flours made from almonds, teff, cassava, rice etc.
eggs
dairy products but be sure to check labels
butter, olive oil, vinegar
spices (only spices with one ingredient not mixes)
What Foods Contain Gluten?
anything containing wheat, rye, barley, malt
pasta
crackers
cereal
bread
desserts like cookies, cakes
processed meat
soups
salad dressing
sauces
soy sauce (use tamari instead)
beer
Symptoms of Gluten Intolerance?
bloating and gas after eating
upset stomach
headaches
fatigue
brain fog
Pictured Recipe: Spiced Sweet Potato and Kale Salad
How to Start a Gluten Free Diet the Healthy Way
My best tip for starting a gluten free diet is to keep it simple. Try eating the same things for breakfast everyday just to start off slow. And again if you want to do it the healthy way eat foods in their natural state not those made in a factory. Here are some easy ideas…
Breakfast
eggs, avocado, and smoked salmon
gluten free oatmeal with almond milk and raspberries
Lunch
Dinner
sauteed protein (chicken or steak) and vegetable with rice
Find all my gluten free recipes here.
Benefits of a Gluten Free Diet
Okay, let me start by saying I am not a doctor and you should always consult with a medical professional before making major changes to your diet. These benefits are ones that I have noticed over the last four years of gluten free living.
I feel less bloated and constipated and just have a more regular way about me. I am less tired than I used to be. That gluten hangover I get from eating a huge bowl of pasta makes me want to crawl in the bed. As I said before I also just eat healthier when I avoid processed junk filled with gluten.
Print out my Gluten Free Grocery List Here …

Will A Gluten Free Diet Make Me Lose Weight?
In a word…NO! But ironically if you are going gluten free the healthy way you are essentially eating a clean diet with no processed, boxed and packaged foods. If that is what you are doing, you probably will lose weight.
If you are eating packaged gluten free crackers, cookies, granola bars, protein bars, pop tarts and cereal bars than no, not going to happen.
Gluten Free Resources
Here are my Ten Most Popular Gluten Free Recipes
Reach out to me if you have any questions about how to go gluten free the healthy way. I've been doing this for about 10 years now and consider myself a pro!