Quinoa is my favorite of all the grains and it's gluten free so it's an essential pantry item at my house. It is infinitely adaptable and packed with protein and fiber. Here is the ultimate guide to How to Cook Quinoa.
Learning how to cook quinoa is one of the most basic of the cooking skills! I make quinoa weekly and keep it in the fridge all week for salads, grain bowls and dinner side dishes. I love having a healthy grain at the ready when hunger strikes.
WHAT IS QUINOA
Quinoa is a technically a seed but it is categorized as a whole grain because of the way we eat it. It's available in black, white, red and yellow varieties. Many people consider quinoa to be a superfood.
HEALTH BENEFITS OF QUINOA
Quinoa is packed with protein at 8g per cup and all the essential amino acids. It's a great plant based source of protein for vegans.
It contains more fiber than other grains with 5 grams per cup. Fiber helps you to stay full longer, improves digestion and helps to promote good gut flora. Most Americans do not get enough daily fiber. You should get at least 28g per day.
Quinoa contains manganese, folate, copper, phosphorous, iron, lysine and zinc.
Quinoa is especially beneficial when it replaces other less healthy grains like rice and wheat.
Quinoa is low fat and cholesterol free
Quinoa is a low glycemic index carb which can help you feel full longer.
Quinoa is gluten free! If you want to learn more about going gluten free check out my Gluten Free Guide.
HOW TO COOK QUINOA ON THE STOVE
Quinoa is fairly easy to cook but it's not incredibly forgiving. If you add too much water or cook it for too long you will have a mess. I have learned this from experience! Now I make it the exact same way every time I prep it for the week.
1. Rinse the quinoa: Place the quinoa into a fine mesh strainer and rinse it with cold water for 2 minutes.
2. Bring it to a boil: Place the rinsed quinoa in a medium-size pot with two cups of water and a pinch of salt, if desired.
3. Simmer: Cover the pot and simmer over low-medium heat for 15 minutes.
4. Fluff: Once done cooking, remove it from heat and fluff with a fork before serving and enjoy!
QUINOA FAQ
Do I have to rinse quinoa? No, that is up to you. Some people say it helps to make it less bitter but I've never noticed a difference. Some quinoas are pre-rinsed.
Do I have to soak quinoa? No, you do not.
How long does it take to cook quinoa? 20 minutes, 15 to cook and 5 minutes to rest.
What is the water to quinoa ratio? 2:1, 1 part quinoa, 2 parts water or broth
Do all colors of quinoa take the same amount of time to cook? Not exactly. White quinoa cooks the fastest and that is what I am referring to here.
How do I cook quinoa in a rice cooker? It's so easy. Put in your 1 cup of quinoa to 2 cups of water, add salt and press start.
How do I cook quinoa in the microwave? I have no idea but check out Fit Foodie Finds here.
Quinoa is a great base for so many flavors and meal starters. It makes great grain bowls and works well as an addition to salads. You can even eat it as a sweet or savory breakfast bowl. However, when you are serving it as a simple side dish you have to spice it up a bit. It can be a little bland.
11 WAYS TO SPICE UP QUINOA
Add olive oil or butter
Add soy sauce or tamari
Add lots of freshly chopped herbs and a squeeze of citrus
Add butter, lemon juice and garlic
Mix in crumbled feta or even better...tomato basil flavored feta
Season with a spice mix like Herbs de Provence or Everything Bagel
Mix in cooked beans and chopped scallions
Mix in peas
Stir in chopped fresh veggies, like cucumber, peppers and tomatoes
Add tomato sauce and parmesan
How to Cook Quinoa
Quinoa is my favorite of all the grains and it's gluten free so it's an essential pantry item at my house.  It is infinitely adaptable and packed with protein and fiber.  Here is the ultimate guide to How to Cook Quinoa.
Print
Pin
Rate
Ingredients
1

cup

white quinoa

2

cups

water or broth

½

teaspoon

salt
Instructions
Add two cups of water or chicken broth to a medium sized pot.  Add one cup of quinoa to the pot and add salt.

Turn heat to high and bring to a full boil. You will see little bubbles all around the edges of the pot.

Turn heat to low, cover with a lid and set timer for 15 minutes.

When timer ends remove from heat and let sit for five minutes.

Remove lid and fluff well with a fork. Taste and add more salt if needed
Notes
This recipe will make 3-4 cups of cooked quinoa.
Nutrition
Calories:
104
kcal
|
Carbohydrates:
18
g
|
Protein:
4
g
|
Fat:
2
g
|
Saturated Fat:
1
g
|
Sodium:
195
mg
|
Potassium:
160
mg
|
Fiber:
2
g
|
Calcium:
13
mg
|
Iron:
1
mg
FAVORITE QUINOA RECIPES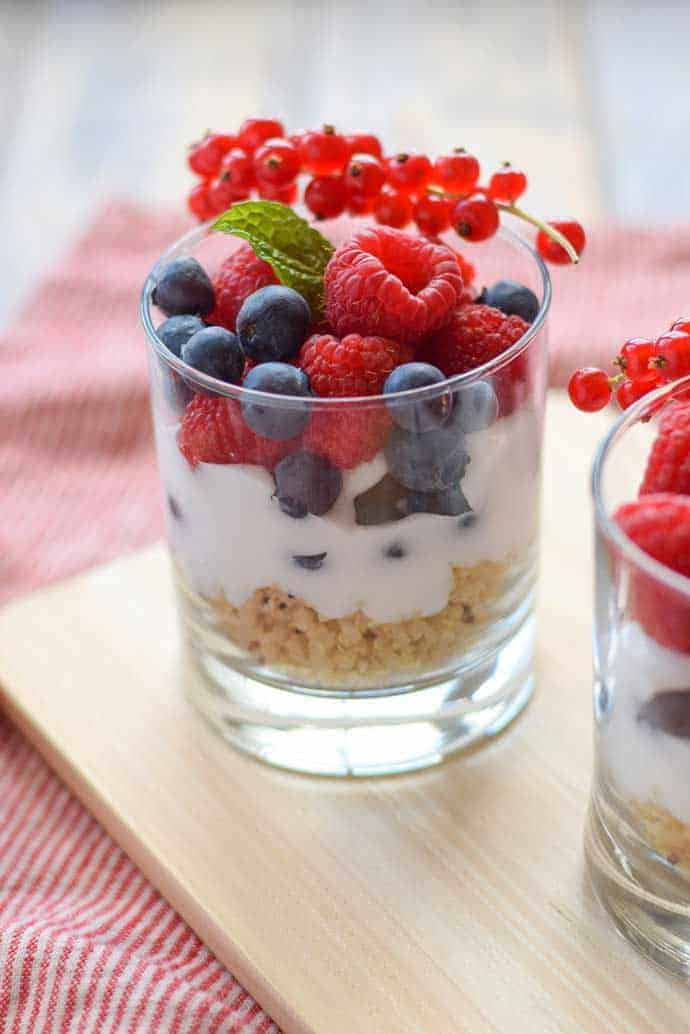 High Protein Quinoa Yogurt Parfait
Instant Pot Turkey Quinoa Chili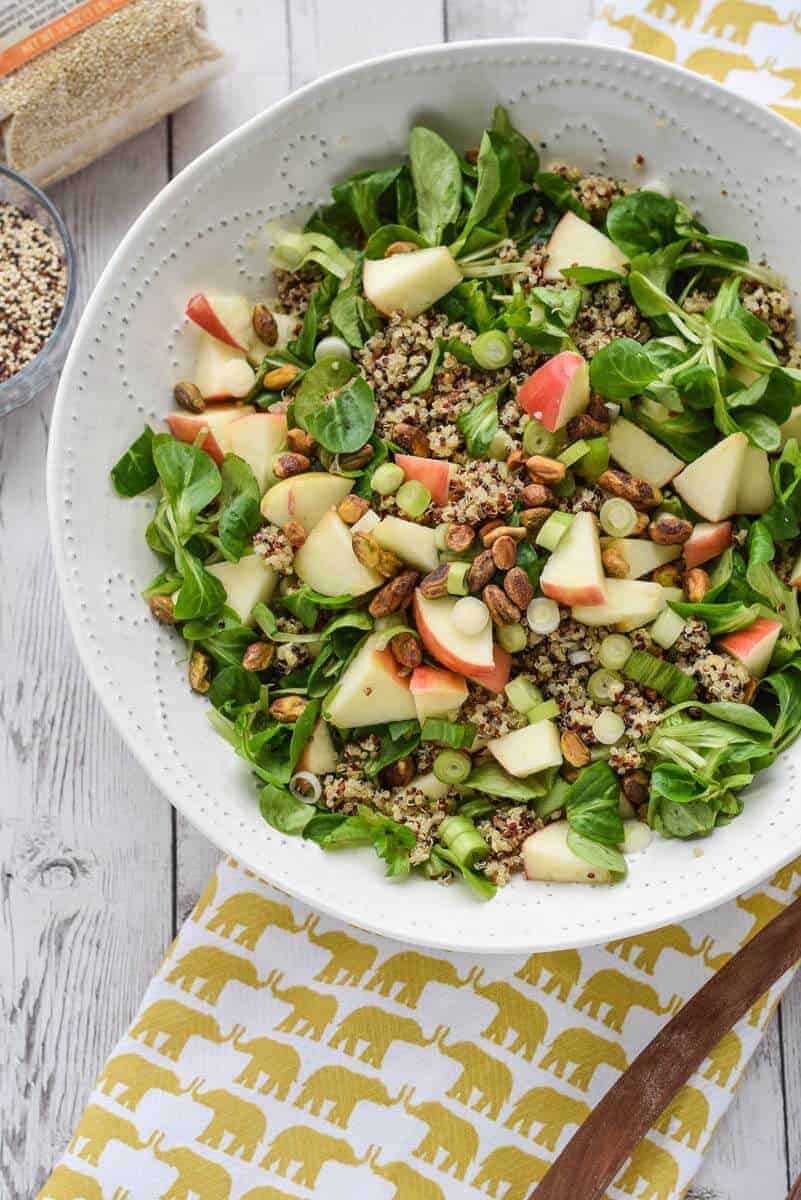 Detox Quinoa Salad with Turmeric Tahini Dressing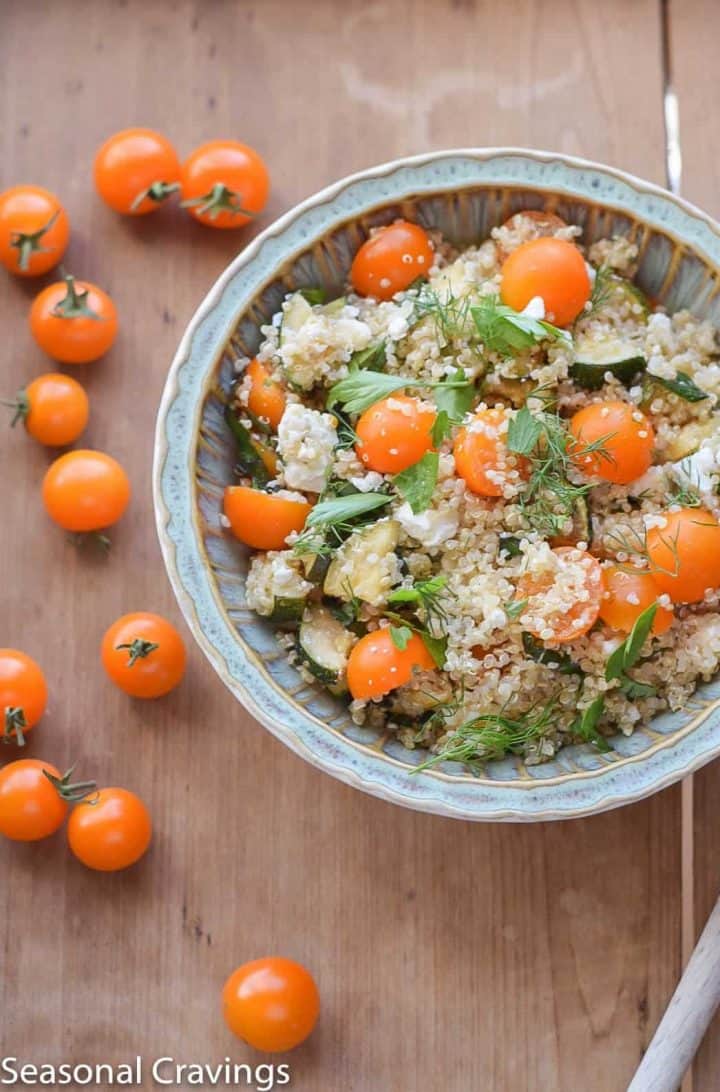 Quinoa with Zucchini and Tomatoes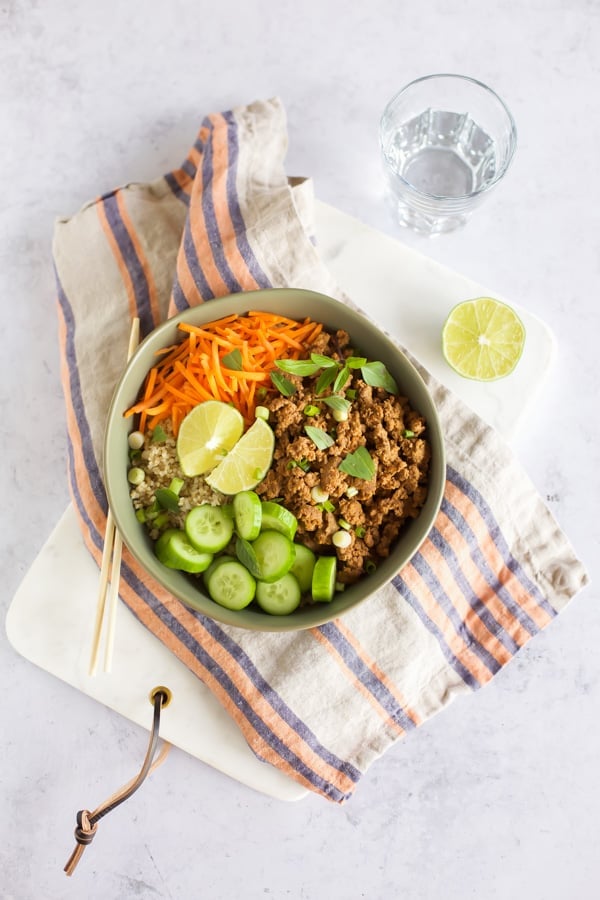 Indonesian Beef and Quinoa Bowl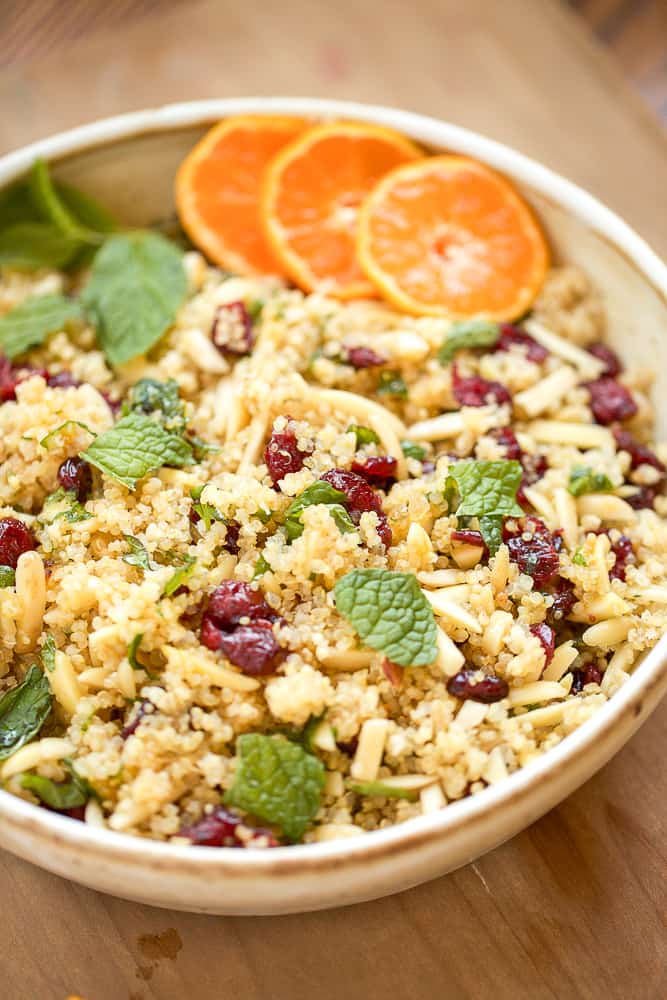 Pin this post for later!