Soy-Glazed Chicken Thighs have the juiciest and most tender meat under a wonderfully crispy chicken skin. This family favorite comfort food has only 4 basic ingredients, plus the chicken thighs, and can be customized to fit Whole30, paleo, or keto diet.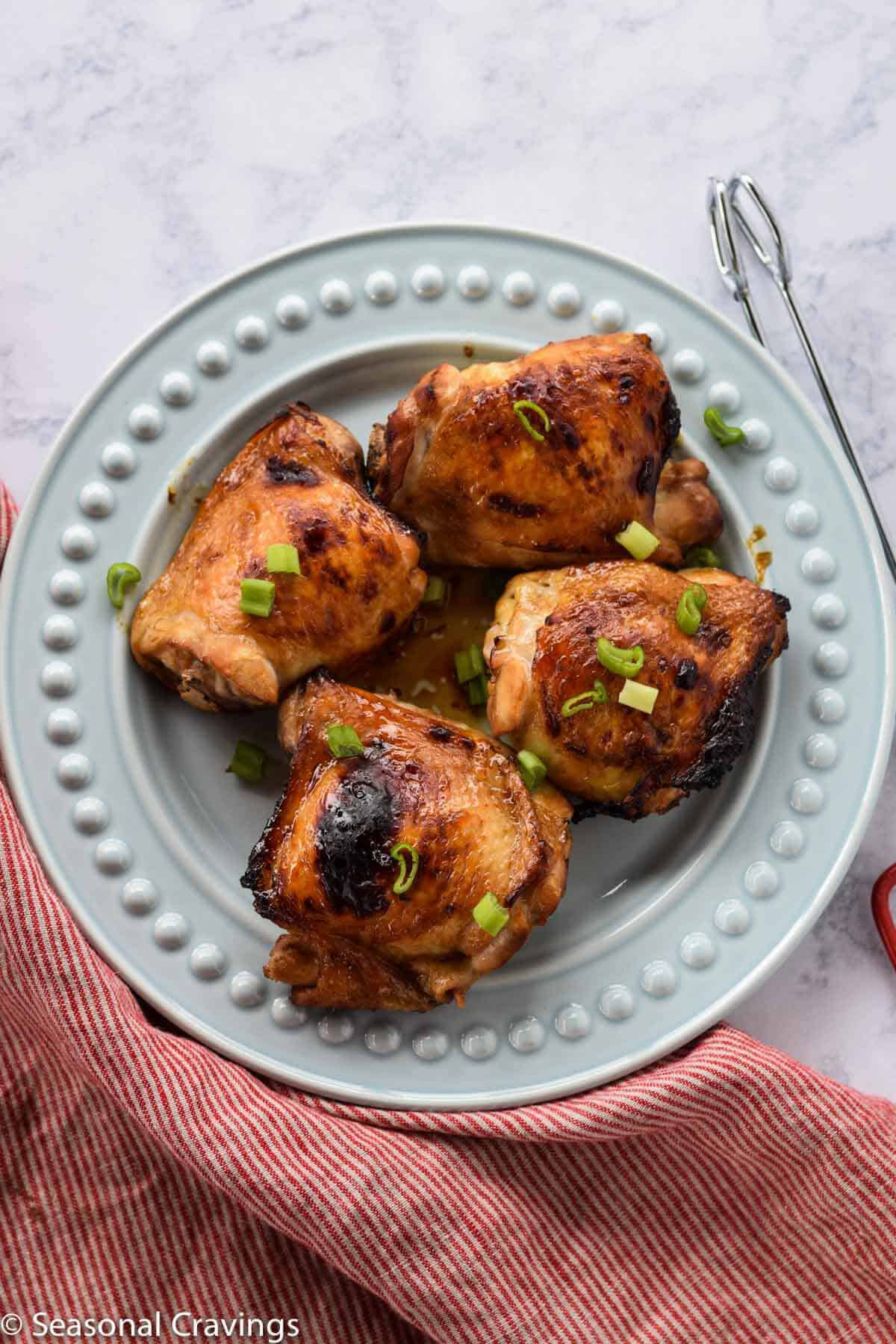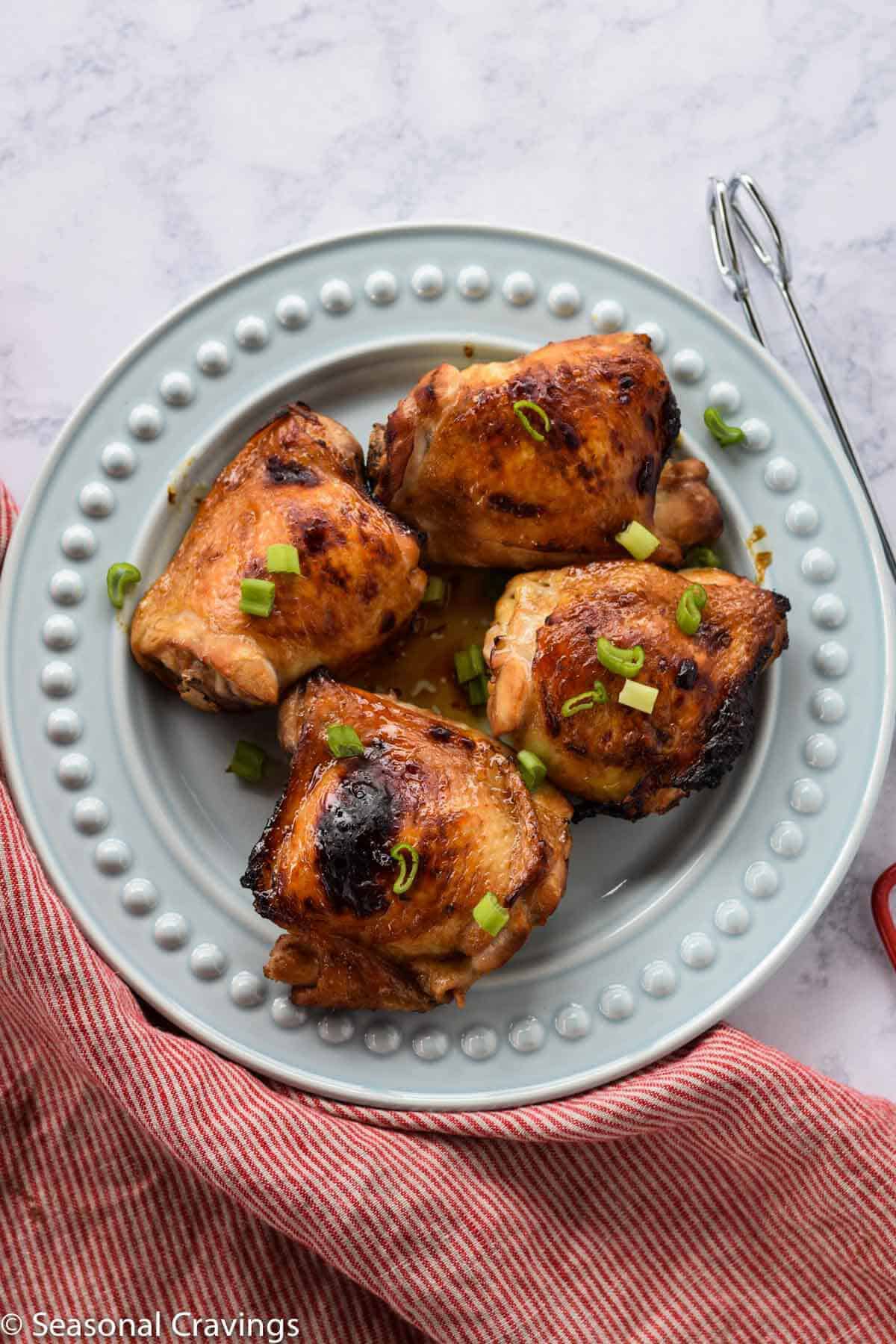 You will love these easy-baked chicken thighs. It has very simple ingredients with very minimal prep work involved. And the best part is the entire family will love them too.
An easy marinade that consists of 4 basic pantry staples gives tender chicken thighs tons of flavor and juicy texture. Cooking chicken thighs takes only 30-40 minutes, giving you plenty of time to whip up a side or salad for an easy weeknight dinner. I promise these will become part of your regular rotation of meals that are suitable for any day of the week.
Plus, these chicken thighs can easily be customized to fit a particular healing diet like Whole30, paleo, or keto, and you can double the batch for easy meal prep. Basically, this is a perfect meal for anyone and everyone, and at any time. Serve this standout dish on busy weeknights or impress your guests at your next dinner party.
If you love chicken, check out more of the Best Chicken Recipes.
Ingredients
This simple chicken thigh recipe calls for five very basic ingredients. 
Chicken thighs -

with skin on and bone in for best flavor; using skin-on bone-in chicken thighs will make this dish super juicy and flavorful; I do not recommend using boneless skinless chicken thighs but feel free to use chicken legs (chicken drumsticks) or bone-in chicken breasts

Tamari - also known as gluten-free soy sauce; feel free to use regular soy sauce if you are not gluten-free
Fresh lime juice -

adds fantastic tang, acidity, and flavor to the marinade and helps create juicy meat

Honey -

just a few tablespoons of honey is enough to add a subtle sweetness and rich flavor

Fresh garlic -

freshly minced or diced is always great but jarred minced garlic works in a pinch
How to Make Chicken Thighs
This simple recipe comes together quickly in six steps. For your convenience, the printable recipe with detailed instructions is in the recipe card.
Step 1.
Combine minced garlic cloves, fresh lime juice, soy sauce or tamari, and honey in a small bowl. Alternatively, you can do this directly in a large Ziploc bag. Seal the bag, then massage well to ensure that all the wet ingredients are thoroughly combined.
Step 2. 
Pat the chicken thighs dry with paper towels and place them in a medium bowl. Pour the marinade over the chicken and toss to coat well. 
You can also directly transfer the chicken thighs into the Ziploc bag with the marinade. Seal the bag and massage it to ensure the chicken is thoroughly coated with the rest of the ingredients.
Marinate the chicken in the refrigerator for at least an hour or overnight for the best flavor.
Step 3.
When ready to bake the chicken, pull them out of the refrigerator and allow it to come to room temperature for 30 minutes.
Preheat the oven to 450 degrees Fahrenheit (232 degrees Celsius). Line a sheet pan with foil or parchment paper.
Step 4.
Remove chicken from bag or bowl and discard marinade. Place chicken thighs on the prepared sheet pan with the skin side down.
Step 5. 
Bake for 15 minutes in the hot oven. Then flip the chicken over and bake for another 15-20 minutes or until the chicken is cooked through and golden brown.
You may also check for doneness by using an instant-read thermometer and cooking it until it reads 165 degrees Fahrenheit when inserted into the thickest part of the chicken. 
Step 6.
Remove chicken from the sheet pan and rest for 5 minutes for juices to redistribute into the meat. Pour the pan drippings over the chicken and serve immediately.
Serve with your favorite side dish or salad.
Dietary Substitutions
This easy chicken thigh recipe can be modified to satisfy dietary preferences and maintain the perfect balance of crispy skin and juicy meat. The delicious recipe written in the recipe card below is naturally dairy-free and gluten-free, as long as you use tamari sauce. However, you can accommodate any healing diet with just a few minor tweaks. Check out how:
Whole30:

sub coconut aminos for tamari sauce and sub date paste for the honey

Paleo:

sub coconut aminos for tamari sauce

Keto:

sub coconut aminos for tamari or soy sauce and use sugar-free, low-carb honey alternative or omit completely. 
Food Safety
Ensure that you cook the chicken and other poultry meats thoroughly to avoid food-borne illnesses. The best way to test for the doneness of chicken is by using an instant-read meat thermometer.
Insert the temperature gauge into the thickest part of the chicken thighs. The USDA recommends cooking chicken until the internal temperature registers 165 degrees Fahrenheit. (source) Additionally, there should be no pink when cut into the meat. You can test this by making a small cut into the thickest part of the thigh and see if any pink flows out.
Cooking time will vary depending on the size of the chicken drumsticks; that's why the cooking time listed in the directions is a general guideline. it's always best practice to rely on an instant-read thermometer when cooking meats.
Helpful Tips
This simple chicken recipe comes together quickly and easily with a 4-ingredient marinade. But a few expert tips may help as you make this recipe.
Double the marinade:

You can use this marinade for any cut of chicken, with bone in but don't limit the marinade just to poultry. Double it and reserve some for salmon, scallops, or any white fish. It's also great on

green beans

and

broccoli

. 

Marinate overnight:

For seamless dinner time, combine the chicken with marinade the night before. This is a great recipe for busy weeknights.

Make extra for meal prep:

Double the recipe and evenly divide between two gallon-size Ziploc bags. Make one for dinner and reserve one for easy meal prep later during the month. Lay it flat on a small sheet and pop it in the freezer. Thaw overnight when ready to enjoy and bake per directions.

Buy chicken on sale:

The best quality chicken thighs come from pastured chicken and can be found at your local farmer's markets, but organic chicken from grocery stores are fantastic as well; stock up when they are on sale and freeze them.
Storage Instructions
If you have any leftovers of the chicken thighs, store them in an airtight container in the refrigerator for up to 5 days. 
Frozen marinated and uncooked chicken thighs can be kept in the freezer for up to 2 months in an airtight container like a well-sealed Ziploc bag. Thaw overnight in the refrigerator and bake per directions.
To reheat cooked chicken thighs, pop them in a non-preheated toaster oven set at 400 degrees Fahrenheit and heat until warmed through. Alternatively, you can reheat it in a microwave for 1-2 minutes. 
Frequently Asked Questions
Can I use this marinade for other meats?
This basic 4-ingredient soy marinade is a lovely glaze to any meat or vegetables. Enjoy it with other chicken cuts like bone-in chicken breast, drumsticks, or chicken wings. You can also use it for salmon, shrimp, or scallops. It's even great on leftover cooked chicken to give it new life. 
What is the best way to avoid overcooking chicken thighs?
Chicken thighs are mostly dark meat, therefore it can sometimes appear pink even though it's completely cooked. Using a meat thermometer to check the doneness of your poultry is the best way to ensure the meat is cooked to a safe 165 degrees Fahrenheit without overcooking it.
Why are my chicken thighs not crispy?
You can do several things to ensure a perfectly crispy and crunchy chicken. First, make sure your chicken is dry before adding it to the marinade. Second, bake the chicken at a high temperature, uncovered and undisturbed (aside from flipping it once). Additionally, the honey in the marinade will also caramelize and help produce lovely crispy skin. Finally, you can broil the chicken for the last few minutes of baking to get the extra crispy skin. 
Serving Suggestions
These 5-ingredient juicy chicken thighs is an easy recipe that can go with just about any side. Traditionally, soy-flavored meats are paired excellently with white or brown rice. But to jazz things up, consider wild rice or even a side of potatoes.
For an extra fun change, try these crispy chicken thighs with Seasoned Sweet Potatoes or Spiced Sweet Potato Fries.
It's also fantastic served with vegetables like this Easy Roasted Broccoli or Keto Cucumber Salad for any night of the week.
A light garnish of green onions and sesame seeds is always a great way to add flavor, color, and texture.
Need More Healthy Chicken Recipes in Your Life?
Ingredients
4

chicken thighs

skin on

3

garlic cloves

diced

¼

cup

fresh lime juice

about 2 limes

¼

cup

tamari or regular soy sauce

gluten free soy sauce

2-3

tablespoon

honey
Instructions
Whisk together all ingredients and pour into a Ziploc bag.

Add chicken thighs and let marinate at least an hour and up to overnight.

Preheat oven to 450°.

Line a sheet pan with foil and place chicken on skin side down.

Cook for 15 minutes, then flip the chicken over.

Cook for another 15-20 minutes or until chicken in cooked through and browned.

Pour pan drippings over chicken and serve immediately.
Nutrition
Calories:
295
kcal
|
Carbohydrates:
12
g
|
Protein:
20
g
|
Fat:
19
g
|
Saturated Fat:
5
g
|
Polyunsaturated Fat:
4
g
|
Monounsaturated Fat:
8
g
|
Trans Fat:
0.1
g
|
Cholesterol:
111
mg
|
Sodium:
898
mg
|
Potassium:
295
mg
|
Fiber:
0.2
g
|
Sugar:
9
g
|
Vitamin A:
96
IU
|
Vitamin C:
5
mg
|
Calcium:
19
mg
|
Iron:
1
mg