How is your weekly meal planning going?  I hope you were able to read my post with a brief description on how I do it.  There will be more meal planning to come here at Seasonal Cravings.
Meal planning is a win-win.  It cuts down on waste, saves money, is healthier and saves your sanity.  If I can cut down on trips to the grocery store it saves me money.  I always get more than I need and spend too much money.  Plus, it's so nice when the kids ask what's for dinner and I point them to the weekly menu on the fridge.
I have another sheet pan dinner for you here – Sheet Pan Chicken With Butternut Squash.  Isn't it gorgeous with all those fall colors?  I roasted butternut squash, apples and onions for this one and drizzled them with honey.  Butternut squash pairs so well with anything sweet so this combo is a hit.  The chicken got beautifully browned on top because of the high temperature used to roast it.  We love chicken thighs in our house because they are more flavorful and fatty than chicken breasts.  I almost always use skin on because it adds more fat and flavor to the dish but I don't eat the skin.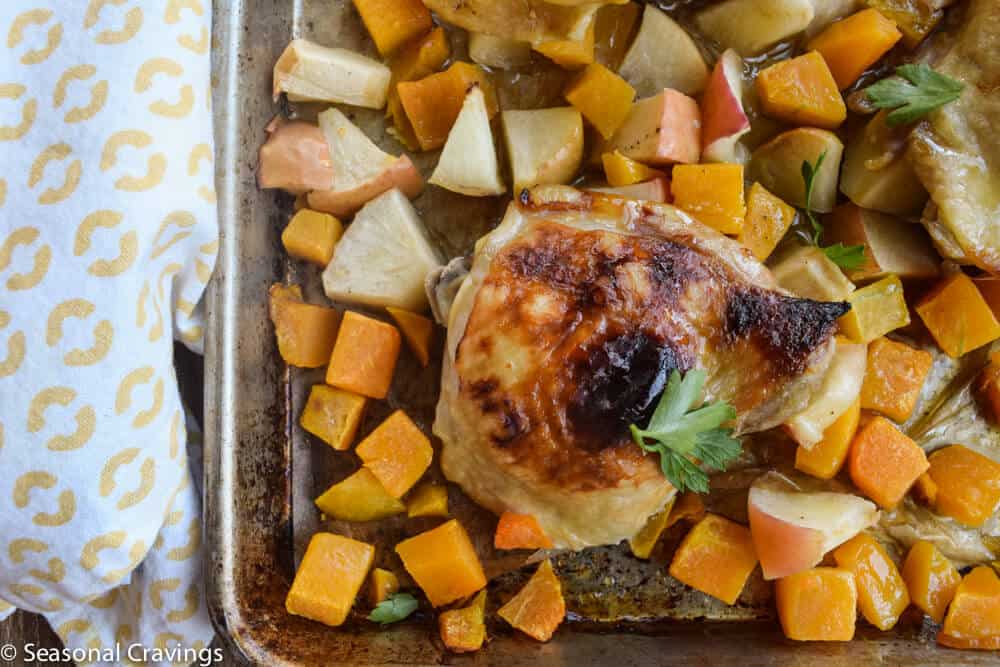 In an effort to save my sanity I have vowed never to cut a butternut squash.  Seriously.  I have tried it and it can be done but takes way longer than I have available to me.  If you are a better person than I and you want to show your mad cutting skills, go to it.  Here's a handy dandy video for you.  I buy mine precut in a nice little package and that makes me happy.
Don't judge.
Happy weekend to all.  Hope you can take the time to enjoy the cooler weather and the changing colors outside.  We have baseball, basketball and soccer games this weekend so we will be outside a lot.  This sheet pan dinner will come in handy when I don't want to be stuck in the kitchen all weekend.
If you try this out be sure to leave me a comment below.  I'd love to hear from you.
Sheet Pan Chicken With Butternut Squash
A super easy sheet pan chicken using chicken thighs, apples, butternut squash and honey.
Print
Pin
Rate
Ingredients
6

chicken thighs

1

large apple

Honeycrisp is great

1

butternut squash

diced

1-2

tbsp

honey

2

tbsp

olive oil

salt and pepper

parsley for garnish
Instructions
Preheat oven to 425°. Place rack in upper third of oven.

Rinse chicken thighs and pat dry. Place on the sheet pan skin side up. Sprinkle with salt and pepper.

Put all veggies on pan. Drizzle everything with olive oil and honey.

Mix everything around being sure to coat both sides of chicken.

Salt and pepper to taste.

Roast for about 35-45 minutes. Look for the chicken to get to an internal temp. of 165°.