Easy Balsamic Chicken is a quick one-pan dinner that can be whipped up in under 20 minutes. The tomatoes and balsamic vinegar make a delicious sauce, and you'll have a healthy and filling dinner in no time.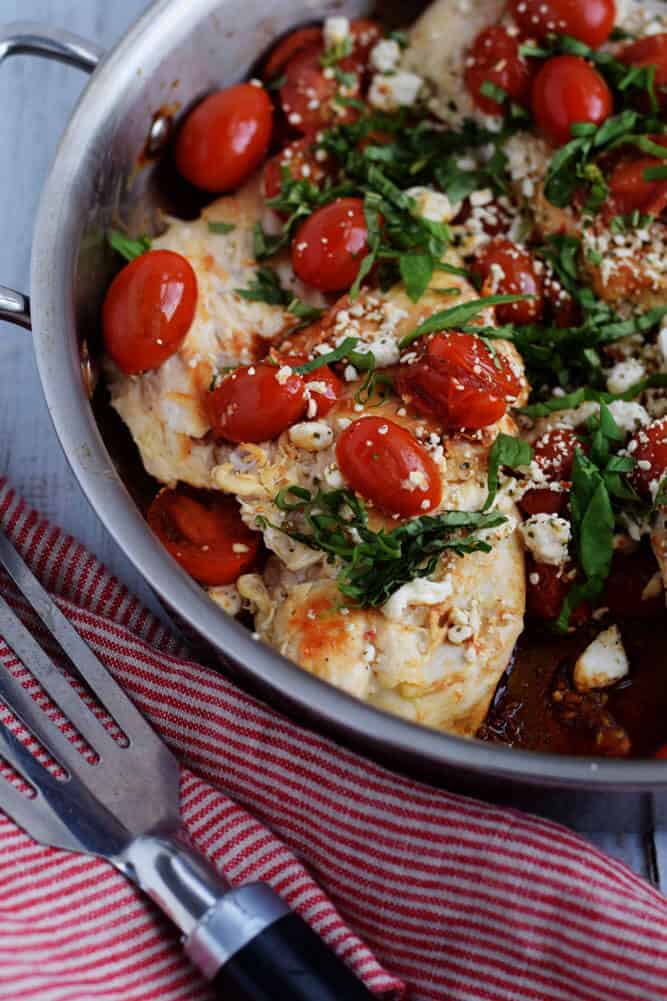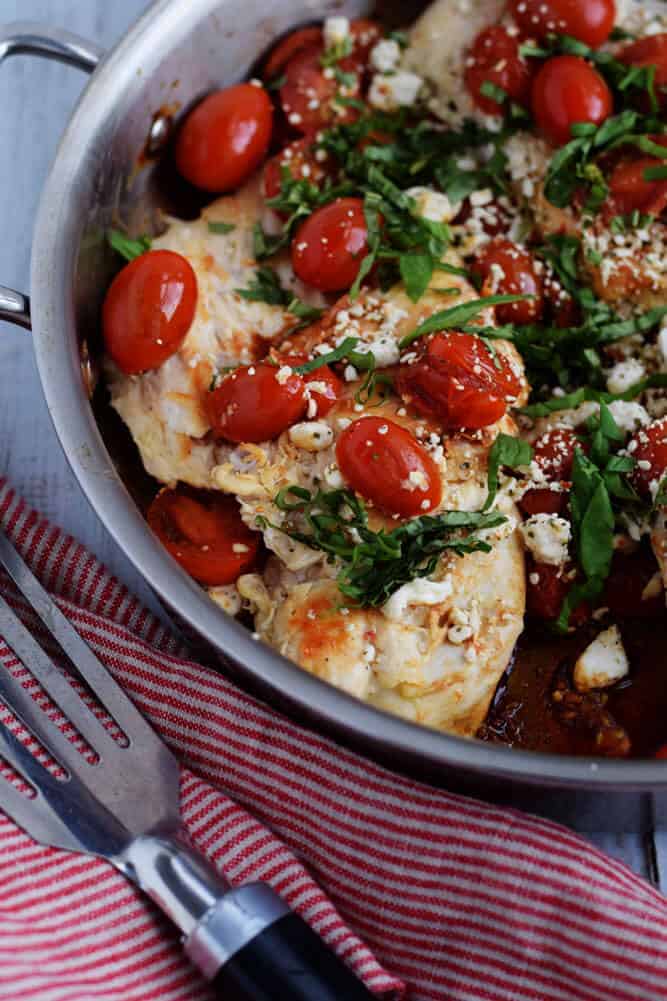 Jump to:
Chicken is a classic weeknight ingredient that we all love and hate simultaneously. It's a healthy protein, and we could all use easy chicken recipes to satisfy our families. Here is my list of 45 Gluten Free Chicken Dinners for more inspiration on those busy weeknights.
This Easy Balsamic Chicken recipe is a hit with my family because they love Italian food. The flavor of the balsamic reduction is just subtly sweet to satisfy them and they all love the sauce made when those burst tomatoes. This easy weeknight meal is made with pantry staples and can be ready in less than 30 minutes. No need for a balsamic marinade in this one!
Plus, this chicken breast recipe tastes even better the next day so feel free to double it for an easy leftover dinner tomorrow!
If you love using balsamic vinegar in your cooking, try these easy weeknight recipes: Slow Cooker Balsamic Pork, Five Ingredient Caprese Chicken, or use it in your salad dressings like in this Strawberry and Feta Salad with Pecans.
Ready for an easy dinner that will become one of your favorite quick chicken recipes?
Ingredients
This gluten-free dinner comes together with 6 common ingredients.
Chicken breasts

- boneless skinless chicken breasts are best, but chicken tenders will work too

Olive oil - extra virgin olive oil is a great option, and I get mine from Costco
Grape or Cherry Tomatoes

- I prefer grape tomatoes because they have a sweeter flavor but either will work. You can also use yellow grape tomatoes if you can find them in the summer.

Balsamic Vinegar - One of my favorite ingredients of all time. It is so versatile, and I use it all the time in my homemade salad dressings. It has a rich complex flavor with hints of molasses and chocolate.
Basil and Tomato Flavored Feta Cheese - Okay, maybe my second favorite ingredient. Why not buy feta cheese that is loaded with extra flavor? I love using this in pasta salads too. Feel free to use regular feta cheese if you can't find it.
Fresh Basil

- You can substitute dried basil, but you'll miss out on fantastic flavor. Fresh herbs jazz up your meals instantly.
How to Make Easy Balsamic Chicken
This chicken dinner comes together quickly in one pan. The printable recipe is in the recipe card for your convenience.
Step 1.
Place chicken breasts between two pieces of plastic wrap or parchment paper and pound with a meat mallet to an even thickness. This is a must. Trim the chicken of any fat.
Step 2.
Preheat a large skillet to medium-high heat.
Step 3.
Pat chicken dry with a paper towel and generously salt and pepper on both sides. Add 2 tablespoons of oil to the pan.
Step 4.
Swirl the pan around when the oil is hot to cover it evenly with oil. Increase heat to medium. Place chicken in the pan and cook for about 5 or 6 minutes per side. Try not to disturb them, so they have time to brown on each side.
Step 5.
Cook chicken until no longer pink in the middle and the temperature registers 165 degrees Fahrenheit when using an instant-read meat thermometer.
Step 6.
Remove the chicken from the pan and cover it with aluminum foil.
Step 7.
Add one more tablespoon of olive oil to the pan and add the fresh grape tomatoes. Cook for a few minutes until they start to burst open. Add the balsamic vinegar and stir gently, scraping up all the brown bits from the bottom of the pan.
Step 8.
Add cooked chicken and juices back to pan and top with feta cheese and fresh basil. Remove from heat and serve immediately.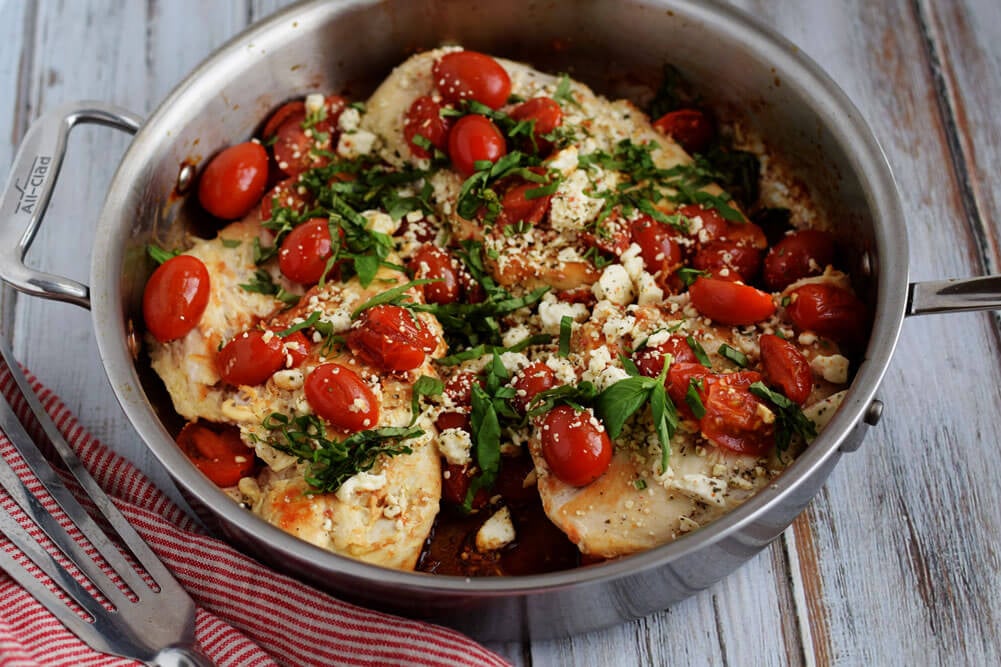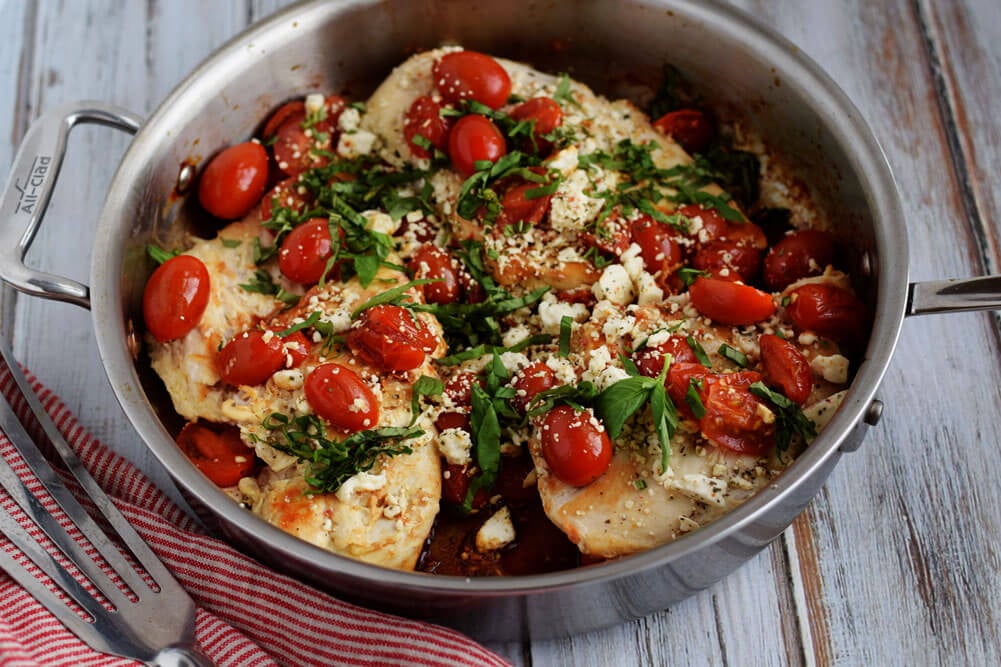 Food Safety
The best way to test for the doneness of any meat is by using an instant-read meat thermometer. Insert the temperature gauge into the thickest part of the chicken. The USDA recommends cooking chicken until the internal temperature registers 165 degrees Fahrenheit. (source) Additionally, there should be no pink when cut into the breasts.
Cooking time will vary depending on the thickness of the chicken breasts that's why it's helpful to have an instant-read thermometer.
Helpful tips
This easy one-pan meal is pretty simple on its own. But consider these helpful tips for best results:
When pan-frying chicken breasts, I always trim any visible fat from boneless skinless chicken breasts and flatten them with a meat mallet. That way, it will cook evenly and produce the most tender chicken.

You can also buy chicken tenders at the grocery store as they are typically more uniform. It makes this dish even easier and quicker.

Don't settle for dry chicken! The only way to get juicy chicken breasts is not to overcook them.

If you want to elevate that balsamic flavor, drizzle a little bit of balsamic glaze over the finished dish.

For a fancy spin on this easy weeknight dinner, add a few slices of fresh mozzarella cheese on top of the chicken breast and allow it to melt gently.
Storage Instructions
Leftover balsamic chicken can be stored in an airtight container for up to 3-4 days in the refrigerator.
Reheat it in the microwave until warmed through. Alternatively, you can reheat in a toaster oven with the juices and tomatoes at 350 degrees Fahrenheit for 10 minutes or until warmed through. Lastly, you can reheat on the stovetop in a small covered pan over medium heat for a few minutes.
Frequently Asked Questions
How to buy the best balsamic vinegar?
When shopping for balsamic vinegar, you must check for its origin and make sure that it is made from 100% grapes. Many kinds of vinegar have fillers added that take away from the flavor. I usually buy mine at Costco because I'm not picky about it, but the quality makes a difference, especially in a recipe like these balsamic chicken breasts. Epicurious recommends Villa Manodori Balsamic Vinegar and Cucina & Amore Balsamic Vinegar of Modena.
Is balsamic glaze the same as balsamic vinegar?
Balsamic glaze is a reduction of balsamic vinegar. Therefore, it is often referred to as balsamic reduction on bottle labels. The vinegar is simmered in a saucepan for about 20-30 minutes until reduced in half and thickened to a maple syrup consistency while making the balsamic glaze.
What vegetables are good with balsamic chicken?
In addition to cherry tomatoes, green beans and asparagus are especially great with balsamic chicken. Red bell peppers and red onions would also work wonderfully.
Serving Suggestions
This easy chicken dish is packed with flavor and nutrition and is great on its own. But to make it a complete meal, serve it with your favorite side. Pasta, rice, or potatoes work, but it also pairs well with roast vegetables. Try this chicken with Roasted Green Beans or Easy Roasted Broccoli.
Nutrition
Chicken breasts are a great source of lean protein, making them a popular addition to a healthy diet. Plus, when you trim the fat off of skinless chicken breasts, you are further reducing the fat content.
The good thing is that chicken breasts are loaded with health benefits. Most notably, the nutrients in the chicken breast may help with appetite control, muscle mass, bone health, and even improve sleep thanks to an essential amino acid called tryptophan. (source)
A serving of this Easy Balsamic Chicken clocks in at only 285 calories and 6 grams of carbs. It also packs in 21 grams of protein, which means you will feel fuller longer. It's a fantastic dish that's both healthy and delicious!
Need More Healthy Chicken Recipes to Get You Through The Week?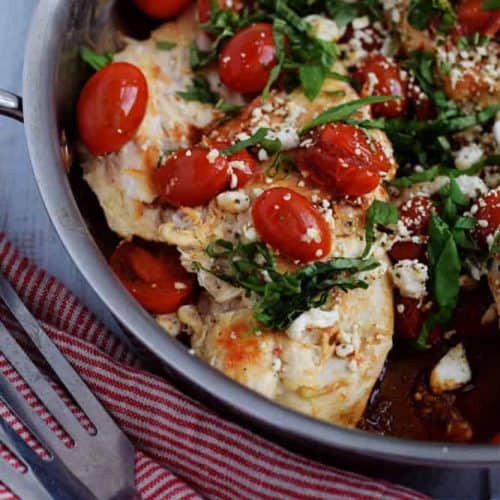 Easy Balsamic Chicken
Easy Balsamic Chicken is a one pan quick, healthy dinner that you can whip up in under 20 minutes. The tomatoes start to burst and make a yummy sauce mixed with the balsamic vinegar
Print
Pin
Rate
Ingredients
3

boneless chicken breasts

trimmed of fat

salt and pepper

2

tablespoon

olive oil

1-

pint

grape or cherry tomatoes

2

tablespoon

balsamic vinegar

½

cup

basil and tomato flavored feta

¼

cup

basil
Instructions
Place chicken breasts in between 2 sheets of plastic wrap and pound to an even thickness.

Preheat a skillet to medium-high.

Salt and pepper both sides of chicken breasts. Add 2 tablespoon oil to the pan.

When the oil is hot swirl it around to cover entire pan. Turn heat to medium. Place chicken in pan and cook for about 5 or 6 minutes per side. Try not to disturb them so they have time to brown on each side.

The chicken should no longer be pink in the middle and reach a temperature of 165°.

Remove the chicken from the pan and cover with foil.

Add 1 tablespoon more olive oil and add tomatoes. Cook for a few minutes until they start to burst open. Add 2 tablespoon balsamic vinegar. Scrape the bottom of the pan and get up all that goodness.

Add chicken back to pan with the juices.

Top with feta and basil and serve.
Nutrition
Calories:
285
kcal
|
Carbohydrates:
6
g
|
Protein:
21
g
|
Fat:
18
g
|
Saturated Fat:
6
g
|
Cholesterol:
70
mg
|
Sodium:
277
mg
|
Potassium:
464
mg
|
Sugar:
4
g
|
Vitamin A:
805
IU
|
Vitamin C:
27.2
mg
|
Calcium:
117
mg
|
Iron:
1.7
mg