Easy Balsamic Chicken is a one pan quick, healthy dinner that can be whipped up in under 20 minutes.  The tomatoes start to burst and make a yummy sauce mixed with the balsamic vinegar.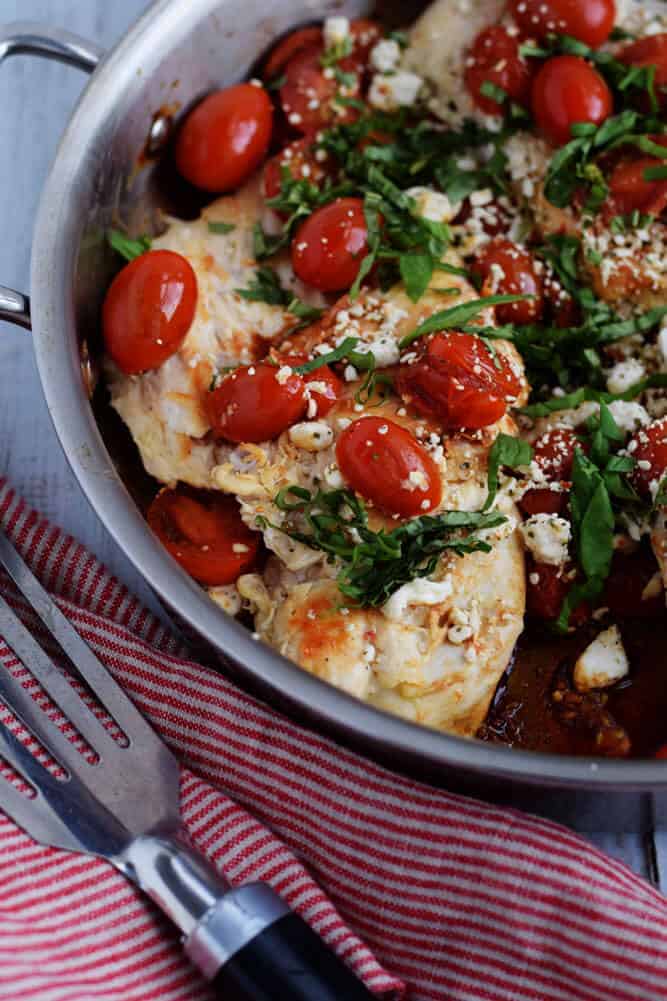 One pan.
Ready in under 20 minutes.
Family Favorite.
Gluten free.
Need I say more?
This Easy Balsamic Chicken is quick to prepare and only requires a few ingredients.  My twelve-year-old son loved this – he was so excited about it and gobbled it down.  It really makes my day when I hit a homerun with my kids like this.  Then I can easily pop this in my weekly meal rotation and relax.  Planning = peace.  Life is crazy at our house and we need any help we can get planning and organizing.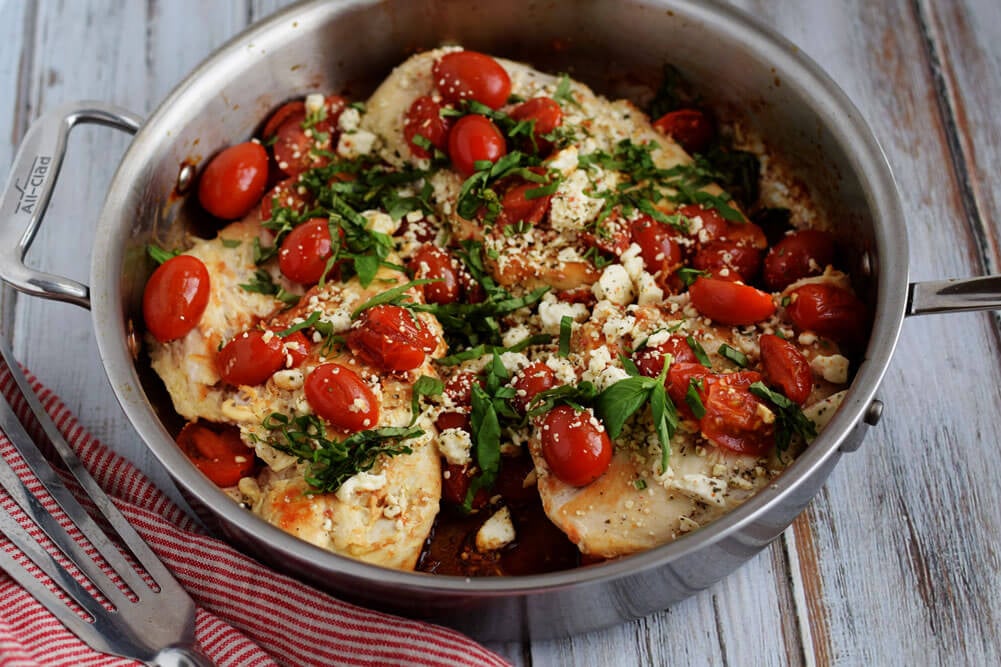 Chicken breasts are the ultimate in versatility.  I'm a huge fan, however, there are certain things I have to do to make them tasty.  For instance, I always trim the fat.  If one of my kids finds a cartilage piece, the gig is up.  I make them sound so picky, don't I?  Well, I guess they are but they are pretty good eaters.  The other trick I use is flattening out the chicken.  I always do a better job cooking them when they are equal thickness.  Otherwise, I'm cutting into the thickest part, cooking longer and the thinner sections become tough. Trust me, this makes a huge difference.  Not to mention, they take less time to cook so your meal gets on the table faster.  My kids would be happy if I simply sauteed the flattened chicken breasts in olive oil with garlic 24/7 but that's way too boring.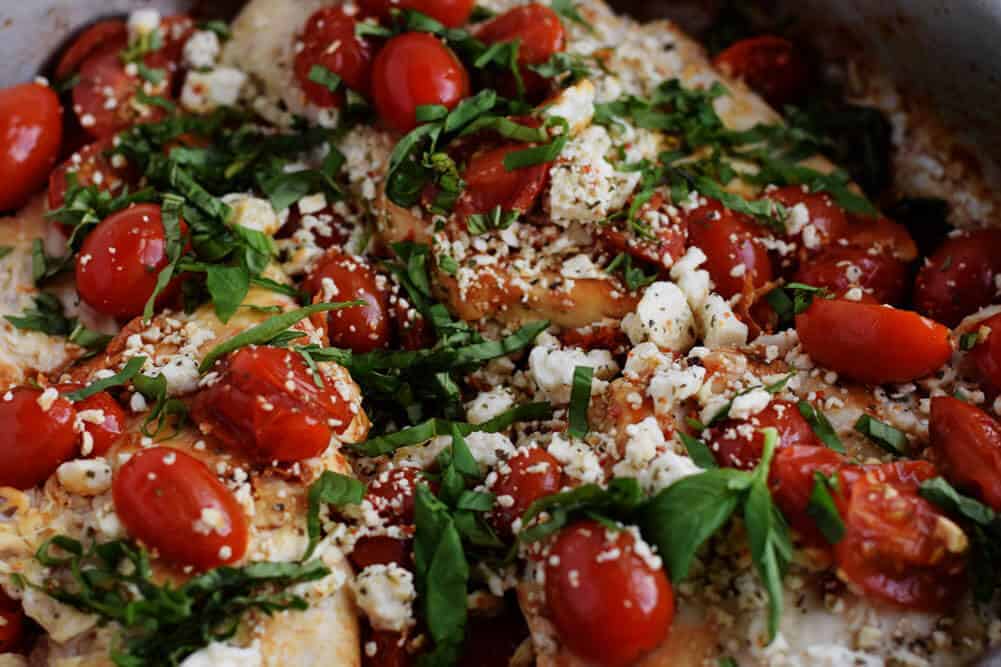 On another note, I have good news for you.  Can you believe it?  Some of them even had the yellow buds ready to open.  I can't believe that winter is coming to an end.  I couldn't be happier!  Soon I'll be cooking Spring seasonal goodies like strawberries, peas, asparagus, honeydew and watercress.  Only 27 more days until Spring.
Easy Balsamic Chicken
Easy Balsamic Chicken is a one pan quick, healthy dinner that you can whip up in under 20 minutes. The tomatoes start to burst and make a yummy sauce mixed with the balsamic vinegar.
Print
Pin
Rate
Ingredients
3

boneless chicken breasts

trimmed of fat

salt and pepper

2

tbsp

olive oil

1-

pint

grape or cherry tomatoes

2

tbsp

balsamic vinegar

1/2

cup

basil and tomato flavored feta

1/4

cup

basil
Instructions
Place chicken breasts in between 2 sheets of plastic wrap and pound to an even thickness.

Preheat a skillet to medium-high.

Salt and pepper both sides of chicken breasts. Add 2 tbsp oil to the pan.

When the oil is hot swirl it around to cover entire pan. Turn heat to medium. Place chicken in pan and cook for about 5 or 6 minutes per side. Try not to disturb them so they have time to brown on each side.

The chicken should no longer be pink in the middle and reach a temperature of 165°.

Remove the chicken from the pan and cover with foil.

Add 1 tbsp more olive oil and add tomatoes. Cook for a few minutes until they start to burst open. Add 2 tbsp balsamic vinegar. Scrape the bottom of the pan and get up all that goodness.

Add chicken back to pan with the juices.

Top with feta and basil and serve.
Need more quick dinner recipes?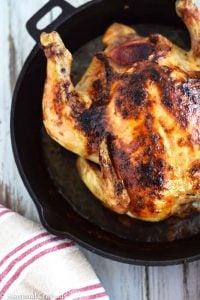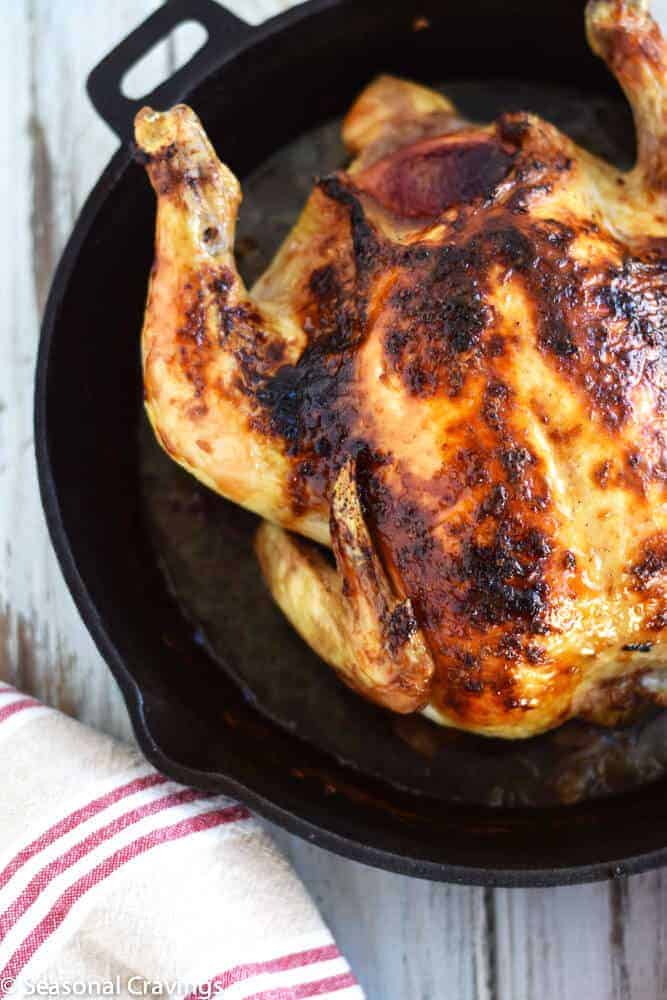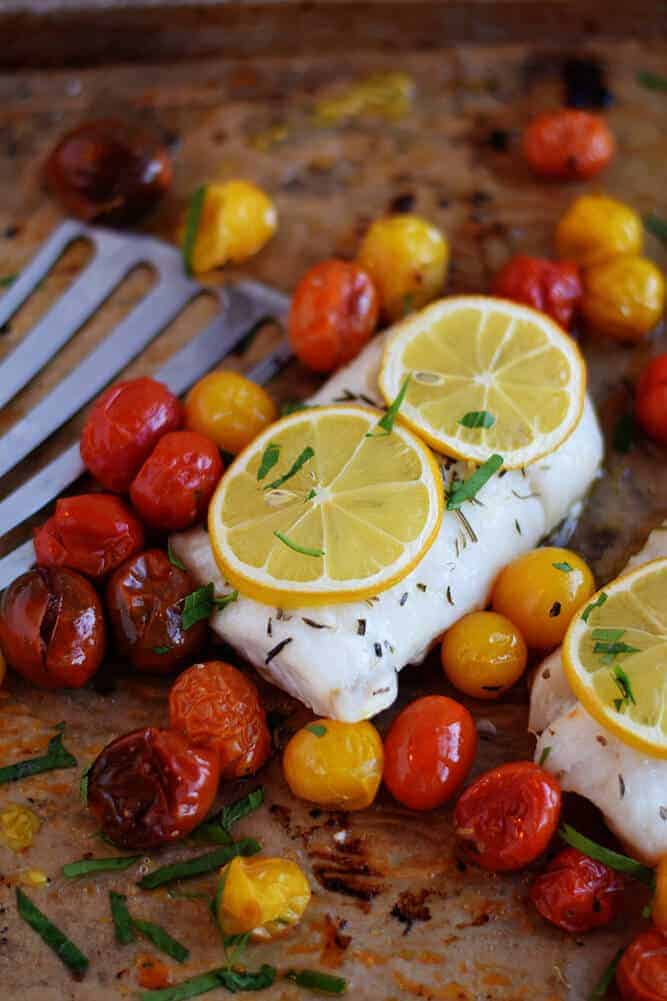 Skinny Roasted Cod with Tomatoes