Who doesn't love Trader Joe's? I mean every single time I go I find a gem, whether it's Everything Bagel Seasoning or frozen green beans that my kids love. I am a HUGE fan. They are constantly coming out with new products and many of them are gluten free.
I have noticed that the fresh baked goods are full of gluten free gems these days. Whether you have celiac disease or non-celiac gluten sensitivity Trader Joe's is a good grocery store for you. Sometimes it's hard to tell which items are gluten free so I've made it easy for you here! (updated 2022)
So, in an effort to streamline my own shopping and at the request of my readers I am giving you the ultimate Trader Joe's Gluten Free List. These products are all gluten free and I buy them on the regular. They are family tested and worth the drive to a second grocery store! I plan to check it often so it stays up to date. Trader Joe's is always coming out with new products.
30 Best Gluten Free Products at Trader Joe's
Breakfast
Gluten Free Pumpkin Bread and Muffin Mix - This is moist, delicious and so easy to make for a quick treat or a gift for a neighbor. You'll be glad to have this in your pantry. I like to add mini chocolate chips and sometimes a drizzle of chocolate on top. Makes it look homemade.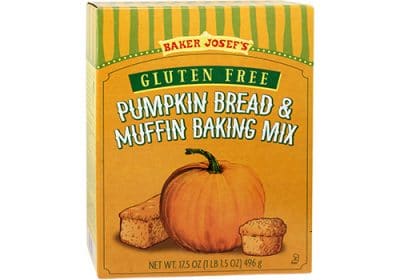 Gluten Free Everything Bagels - My kids like these toasted with butter. If you've been gluten free for any time you know a good gluten free bread replacement is hard to find. These bagels will not disappoint.
Gluten Free English Muffins - It can be hard to find good gluten free English muffins but these are tasty especially when loaded up with butter and served right out of the toaster.
Unsweetened Instant Oatmeal - So smart! I have wanted this for so long. Instant oatmeal packets are usually loaded with sugar. This way you can sweeten it with your own berries and nuts and they are perfect for a quick breakfast on the run.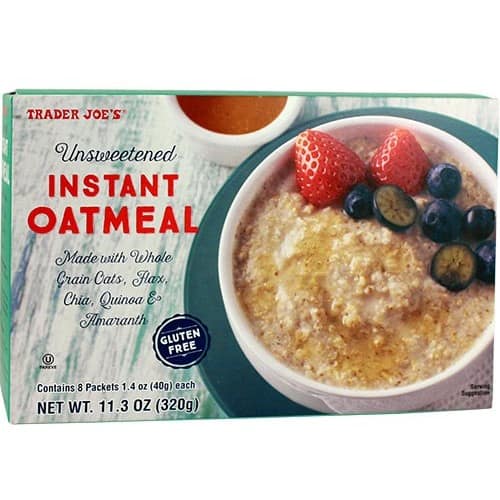 Eggwich Breadless Breakfast Sandwich - These babies are packed with protein and can be made easily as you are running out the door in the morning.
Gluten Free Pumpkin Bread - When you just don't have time to bake your own Gluten Free Banana Bread try this delicious treat.
Gluten Free Granola Loaded Fruit and Nut- Gluten free granola can be hard to find but not anymore. This delicious mixture is great on Greek yogurt or on top of vanilla ice cream.
Lunch and Dinner
Gluten Free Uncured Pepperoni Pizza - Quick and easy lunch or dinner - done!
Mini Beef Tacos - My kids love these and we can easily whip them up in the air fryer. I love having these on hand for those groups of teens that arrive when you are least expecting them. Serve with salsa.
Gluten Free Cauliflower Pizza Crust - This crust is a freezer staple. You can pull it out and quickly make a delicious gluten free pizza with cheese and leftover veggies.
Fully Cooked Organic Quinoa - Okay I can be lazy, but I'm also super busy and this helps me eat healthy even when I haven't had time to meal prep quinoa for the week.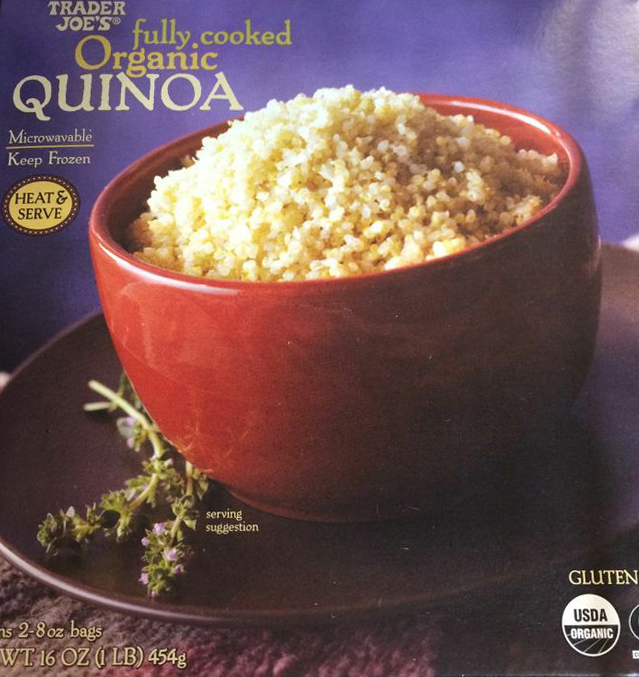 Harvest Spaghetti Squash Spirals - Easy to make and low carb. I love freezer shortcuts like this!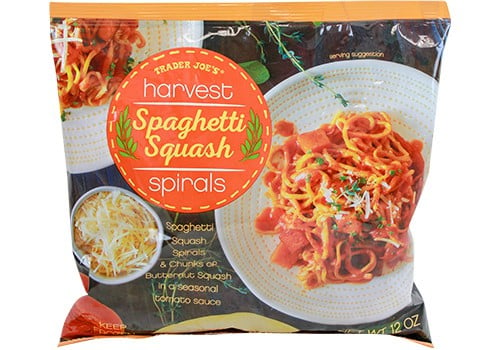 Gluten Free Mac and Cheese - This is so handy to have in the freezer to serve as a quick side dish for dinner or sometimes I'll cook it up and send it in my kid's lunches.
Organic Hearty Minestrone Soup - Again, when I'm feeling lazy this makes a great lunch or quick dinner.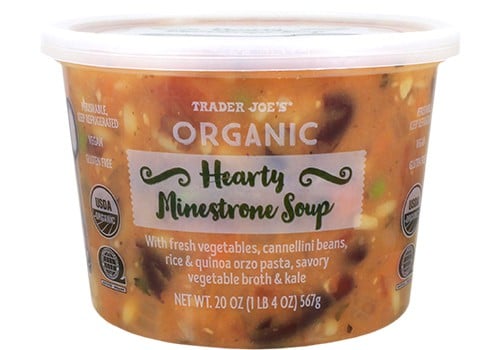 Cashew Butter - I try not to buy this anymore because it's so good I can't control myself. But if you have more willpower than me, go for it. Use it to make these Almond Butter Balls. It's also available on Amazon.
Manchego Cheese - This cheese has the perfect bite and makes a great appetizer with fig jam and apples or crackers. The price is right at Trader Joe's.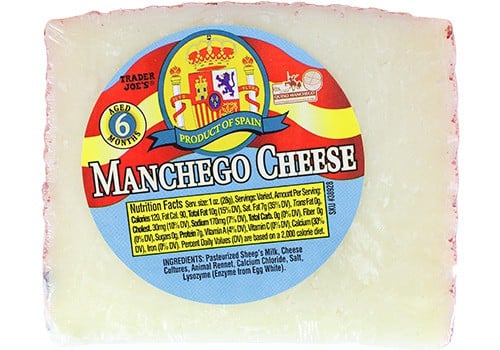 Steamed Lentils - When you don't have time to cook your own lentils but need some more protein in your life, these are for you. Add them to a salad or vegetable soup for a quick meal.
Riced Broccoli and Cauliflower - If you trying to eat lower in carbs this is the perfect replacement for rice or pasta. Try them with red sauce and meatballs.
Organic Brown Rice Penne Pasta- This is a pantry staple and we use it to make quick pasta with meatballs or parmesan and butter penne.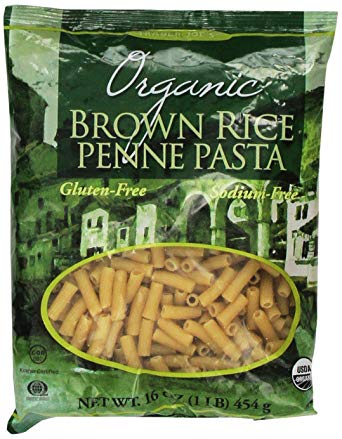 Cauliflower Tabbouleh - This is a deliciously light salad that I often eat as a dinner side. It only lasts a few days in the refrigerator.
Trader Joe's Organic Chicken Broth - This is another pantry staple I always have in the closet. It's a must for quick weeknight meals.
Snacks
Organic Corn Chip Dippers - Sometimes you just gotta have that salty crunch. These are great with salsa, queso or guacamole.
RXBARS - These are made with the cleanest, simplest ingredients and can satisfy some serious cravings.
Perfect Bar - This sweet bar is guilt-free but still satisfies your need for chocolate.
Desserts
Gluten Free Crispy Crunchy Chocolate Chip Cookies - My kids love these and they taste just like Tate's Bake Shop cookies.
Brownie Crisp Coffee Ice Cream Sandwiches - I can't believe these are gluten free because they are over-the-top delicious. It's very hard to find ice cream sandwiches that are gluten free so I pick these up almost every time I go to Trader Joe's.
Gluten Free Joe Joe's - Kid favorite!
Caramel Sea Salt Baking Chips - These are so much fun and add flavor to any baking. I like to add them to classic Gluten Free Chocolate Chip Cookies or you could add them to any quick breads or breakfast pancakes.
Other
Everything Bagel Seasoning - I could write a whole post on this to tell you all the ways I use it, like on roasted vegetables, in quinoa, on chicken breasts or roasted chicken, on grain bowls, on fried eggs, and on salmon... plus one million more ways. Just get it. AND you can buy it here on Amazon.
So, there you have it - The 20 Best Gluten Free Products at Trader Joe's. So go out there and try some of these great products. Let me know how you like them in the comments!
My Gluten Free Resources and Guides