This Easy Gluten Free Diet Meal Plan will help you get started on track to being gluten free in no time. The recipes are easy to make and require no special ingredients. Whether you looking for breakfast, lunch or dinner, you will find them here and most are made in under 30 minutes.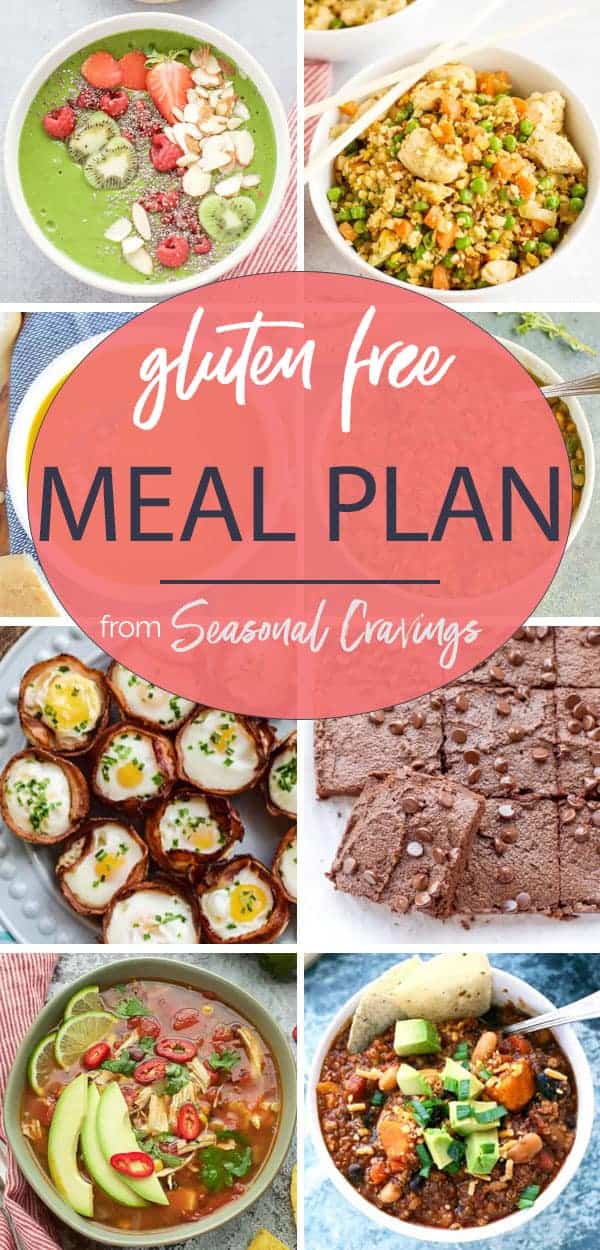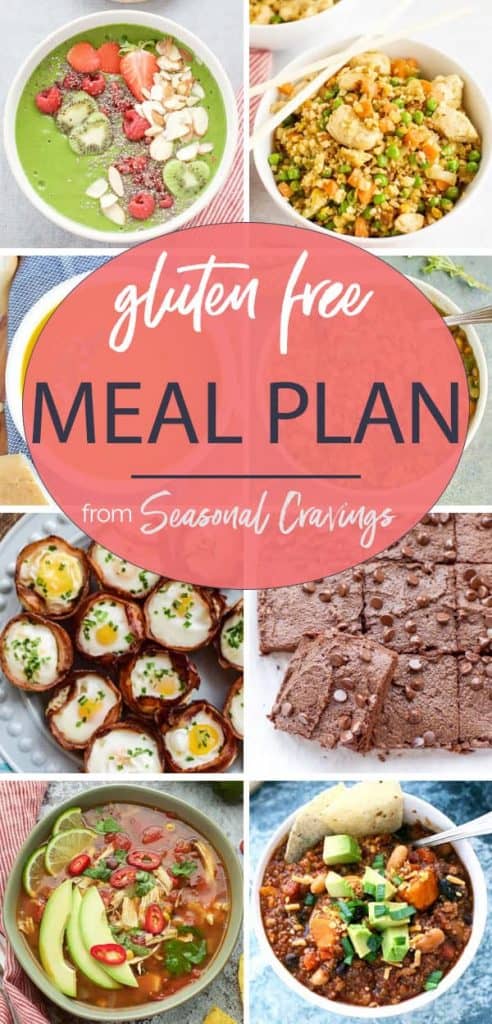 You guys are always asking for gluten free meal plans and I've finally gotten one together for you!
These gluten free meals are some of my reader's favorites and have been made over and over. I tried to keep this super simple for those of you who might be starting out on your gluten free journey or possibly just want to test it out for a few weeks to see how you feel.
If you are looking for more information about going Gluten Free check out Gluten Free For Beginners for lots of tips and tricks to going gluten free and eating healthier AND my Gluten Free Food List.
I've even included a handy dandy pdf grocery list at the bottom that you can take with you to the supermarket. OR just take a photo of it and be on your way!
Let's jump into the Gluten Free Diet Meal Plan!
This plan is for one week. There are three breakfasts and three lunches that you can rotate throughout the week. There are six dinners because one night is for leftovers. 😄
Gluten free breakfasts
Green Smoothie Bowl with Raspberries - this will satisfy your sweet tooth and help you get your daily vegetable servings in.
Bacon and Egg Cups - this has been my most pinned recipe and it has TONS of reviews on Pinterest. Easy to make ahead and take on the go. Totally satisfying!
Chocolate Chia Pudding - this keto high protein breakfast will fill you up and keep you fueled until lunch. This is easy to make ahead.
Gluten free lunches
Lentil Salad with Tuna - this flavorful salad is packed with protein and hearty enough to hold up when made ahead.
Greek Quinoa Salad - this is one of my favorite salads made with quinoa and lots of Mediterranean flavors. If you don't want to make your own dressing, just add your favorite gluten free vinaigrette. I like Primal Kitchen.
Sausage and Bean Soup - make this soup on Sunday and you will have great meals all week.
Gluten free dinners
Cauliflower Chicken Fried Rice
If you are trying to eat low carb, you'll love this Chicken Fried Cauliflower Rice. It's full of veggies and Asian flavor, plus low carb!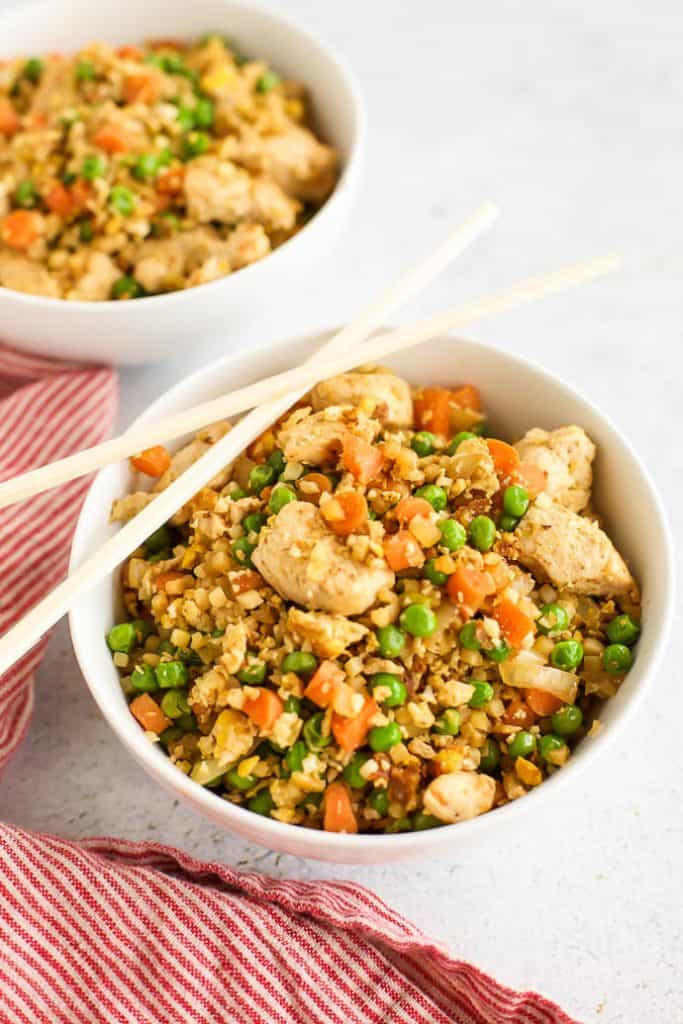 Have trouble cooking your London Broil? Is it always tough and tasteless? If so, you will love this Tender London Broil. Giving the meat a little bit of love beforehand goes a long way and guarantees a tender, flavorful steak every time.
Acorn Squash Soup with Turmeric
Acorn Squash Soup with Turmeric will warm your bones this winter. It's so creamy and delicious that you won't realize how healthy it is. Full of veggies and made dairy free with coconut milk.
This easy Baked Teriyaki Salmon is a must for your weeknight rotation. The glaze is sticky sweet and a perfect topper to this mild roasted salmon.
If you are looking for a quick, family-friendly dinner idea, I've got you covered. These Sheet Pan Chicken Fajitas are the easiest things ever and kids love them. Ready in under 30 minutes too!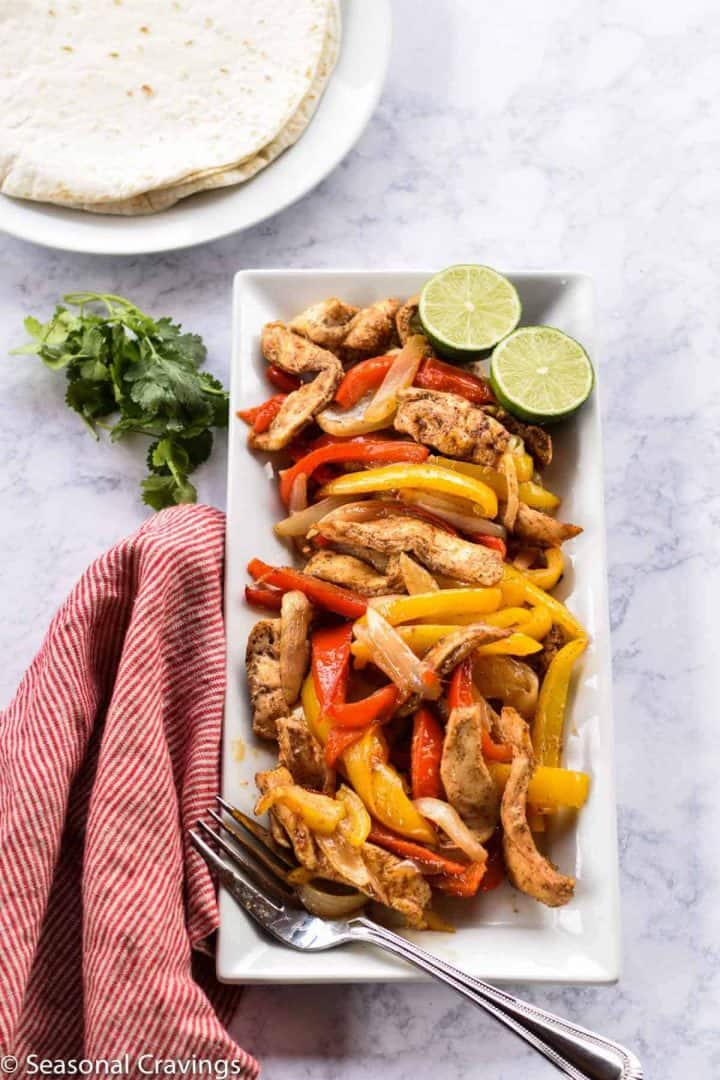 This Gluten Free Instant Pot Beef Stew will warm your bones on a cool fall night. It's full of potatoes, carrots, and celery plus lots of warm flavors from the spices. It can be put together in around 30 minutes in the Instant Pot.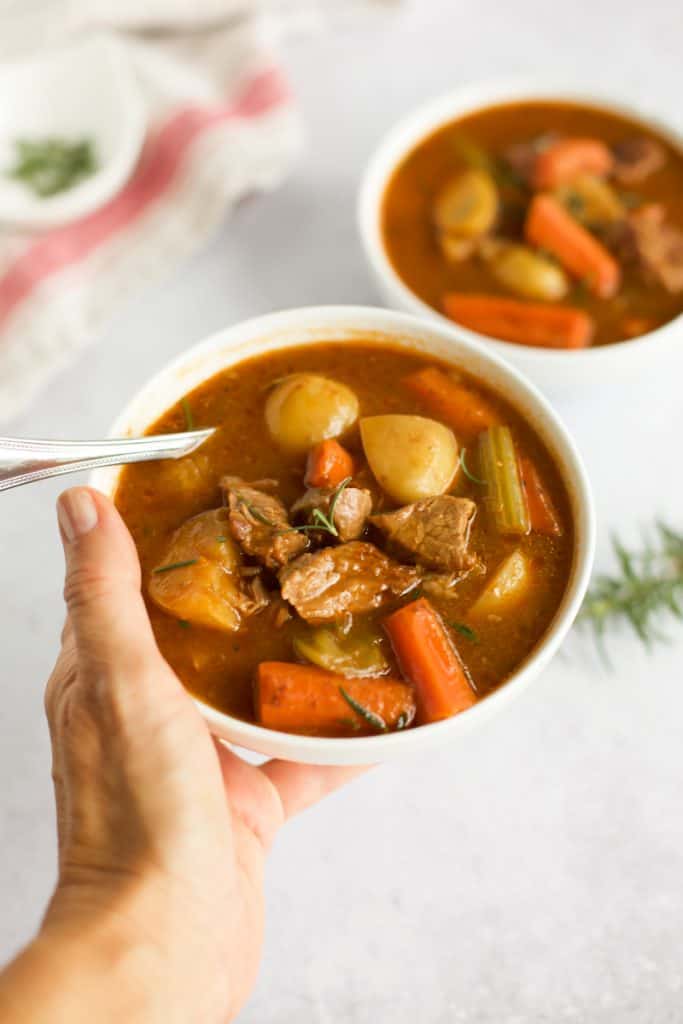 And we can't leave out some chocolate. Every week should include a treat day where you get to eat Keto Brownies!
Looking for more healthy gluten free dinner ideas? Check out my dinner recipe index here.
Meal Prep Notes
For breakfast, you can meal prep the bacon and egg cups and the chia pudding ahead and they will last in the refrigerator for several days. All three lunches can also be made ahead to eat during the week. Do not put the dressing on the salads ahead of time or they will get soggy.
Click here for a PDF grocery list. You will have to adjust this list to meet your serving needs.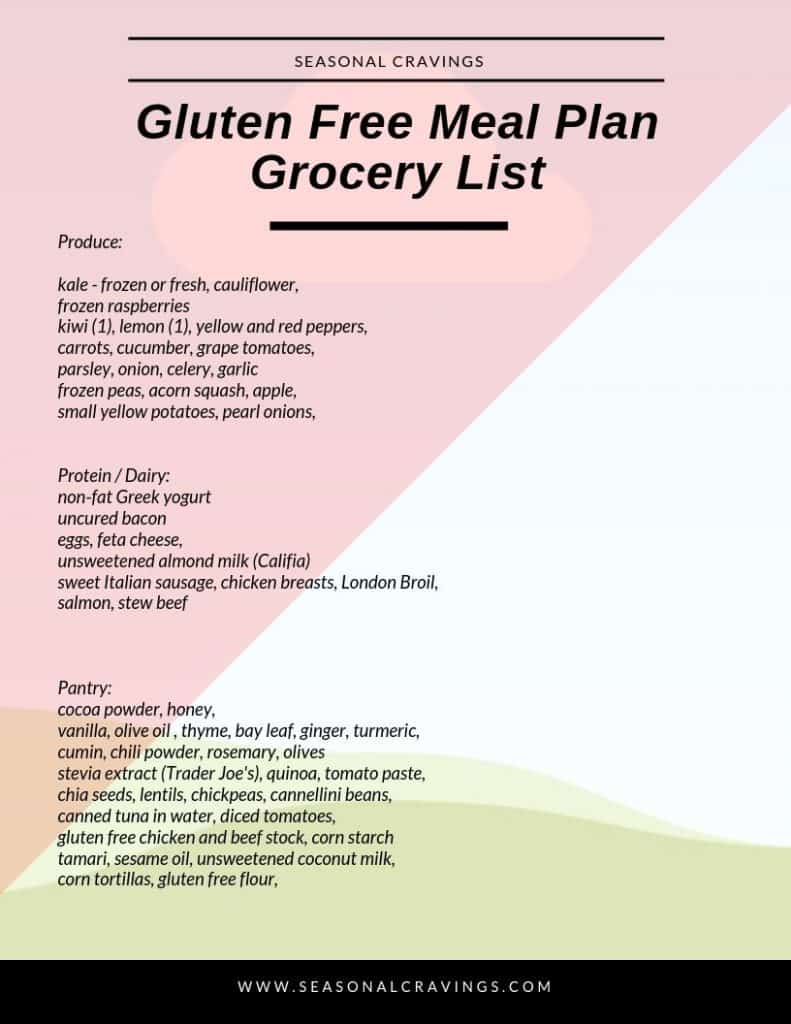 That's all folks! I hope this Gluten Free Meal Plan helps you out and makes your week less stressful.
My Gluten Free Resources and Guides