The ultimate resource for gluten free lunches.  These 100 Gluten Free Lunch Ideas for Kids will be your go to list for the school year!
I can't believe it's already time to think about back to school.  It's such a stressful time of year with the school supplies, homework, new teachers, sports and a completely full calendar.
Did I mention we haven't finished our summer workbooks yet?  So, it's time to start some organizing around here!
In an effort to streamline the lunch making process I've compiled an extensive list of 100 easy Gluten Free lunchbox ideas. Print it out and put it on your fridge or better yet, take a picture with your phone and you will always have your list at the ready.  Make sure to pin it to your Pinterest board so you can refer to it later.  Here we go!
If you are a beginner at gluten free check out How to Go Gluten Free the Healthy Way.
100 Gluten Free Lunch Ideas for Kids (and Adults)
This list contains affiliate links to Amazon and I may earn a small commission if you purchase.
Veggies (add hummus, guacamole, salsa, dressing or nut butters for dipping
yellow or red grape tomatoes
mini red and yellow peppers
carrots
snow peas or sugar snap peas
sweet potato fries (in thermos)
mini caprese skewers with cherry tomatoes and mozzarella
celery sticks
tossed salad with dressing
jicama sticks
green beans (leftover in thermos)
roasted broccoli (leftover in thermos)
edamame
pickles in these cute packs
olives in these cute packs
Fruits (add caramel, Nutella or greek yogurt for dipping)
grapes
apples (soak in lemon water to prevent browning) or small apples for eating whole
berries (here are some cute individual packs)
berry parfait with yogurt
applesauce
fruit skewers (or fruit and cheese)
bananas (you can write a secret message)
cubed melon
sliced watermelon
kiwi fruit cut in half - eat with a spoon
fruit smoothie in thermos
apple sandwiches with granola and nut butter
Proteins
hard boiled or scrambled eggs
scrambled eggs with sausage or bacon
scrambled eggs with Katz Gluten Free English Muffin
English muffin pizzas with Katz Gluten Free English Muffins
egg roll up with ham and cheese (we prefer Boar's Head meats)
corn tortillas or Udi's wraps with lunch meat and cheese
make your own taco with corn tortillas or shells, meat, cheese and toppings in separate containers
taco salad
gluten free tortillas with nut butter, jelly and bananas
mini quiches
pepperoni, sliced cheese and gluten free crackers (we love Crunchmaster)
waffle sandwich (Gluten Free Waffles used as bread)
protein shake in thermos
rice cakes with nut butter and jelly or Nutella
tuna or chicken salad with gluten free crackers or rice cakes
sandwich on Canyon Bakehouse, Three Bakers, Whole Foods Gluten Free Bread or O'Doughs Sandwich Thins / Bagel Thins.
make your own pizza with gluten free Canyon Bakehouse Everything Bagels, sauce and cheese in separate containers (delicious bagels!)
thin pancakes wrapped around a sausage link (we like Pamela's Pancake Mix)
Grass Fed beef sticks
cheese sticks, Mini Babybel, Belgioioso snacking mozzarella, cheese cubes or American cheese slices
Laughing Cow and salami slices
sandwich on a skewer with cubes of gluten-free bread, cheese, and lunchmeat
corn muffin
breakfast muffin like these Five Ingredient Blender Muffins
baked potato or sweet potato in foil with toppings
chocolate rice cake with whipped cream cheese
Katz Gluten Free Challah Rolls with meat and cheese
Turkey Wraps in romaine lettuce
cottage cheese and fruit
Canyon Bakehouse Cinnamon Raisin Bread with PB&J
Thermos Ideas / Leftovers
fried rice with chicken and veggies
spaghetti
mac-n-cheese (we love Annie's gluten free)
nitrate free hot dogs with or without the bun
nitrate free bacon or sausage
Aidell's Gluten Free Meatballs
tortellini with red sauce
Easy Five Spice Chicken Wings (extra napkins)
gluten free soup such as Progresso
grilled chicken, steak or pork with dipping sauce
pizza
cereal with milk
chicken Nuggets
cooked pasta or rice with veggies and chicken
leftover Ginger Honey Glazed Chicken or Grilled Chicken Souvlaki
roasted potatoes with ranch or marinara for dipping
turkey, beef or bison burgers with or without bun with toppings
French toast or French toast sticks with syrup for dipping
Snacks / Treats
popcorn
granola with milk or yogurt
snack mix with pretzels, Chex or Cheerios cereal, nuts, mini chocolate chips and raisins.
plain yogurt with mix-ins (chocolate chips, nuts, coconut flakes, berries)
yogurt tubes or drinks
organic chocolate milk
Five Ingredient Gluten Free Granola Bars from Minimalist Baker
LaraBar
Snyder's Gluten Free Pretzels
banana, zucchini or pumpkin bread
fruit leather
raisins
Breakfast Snack Bites from Urban Baker
 Love note!
Don't forget the cookies!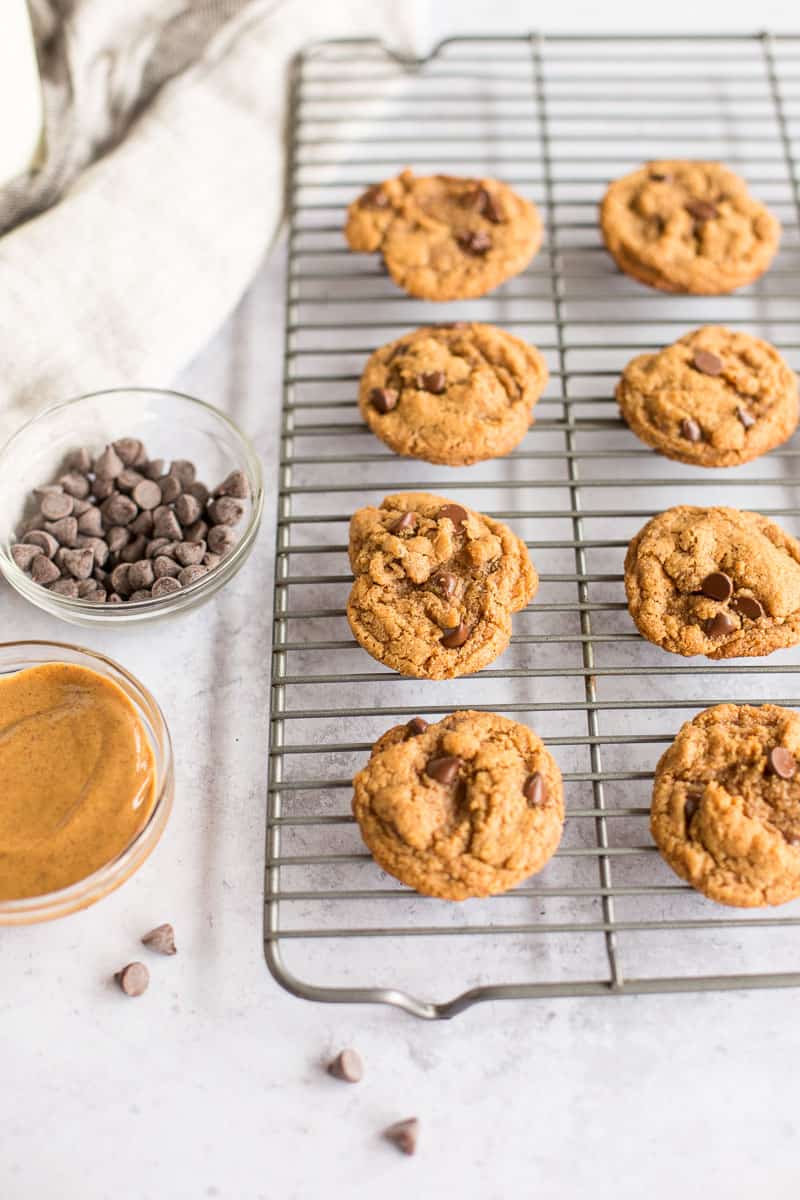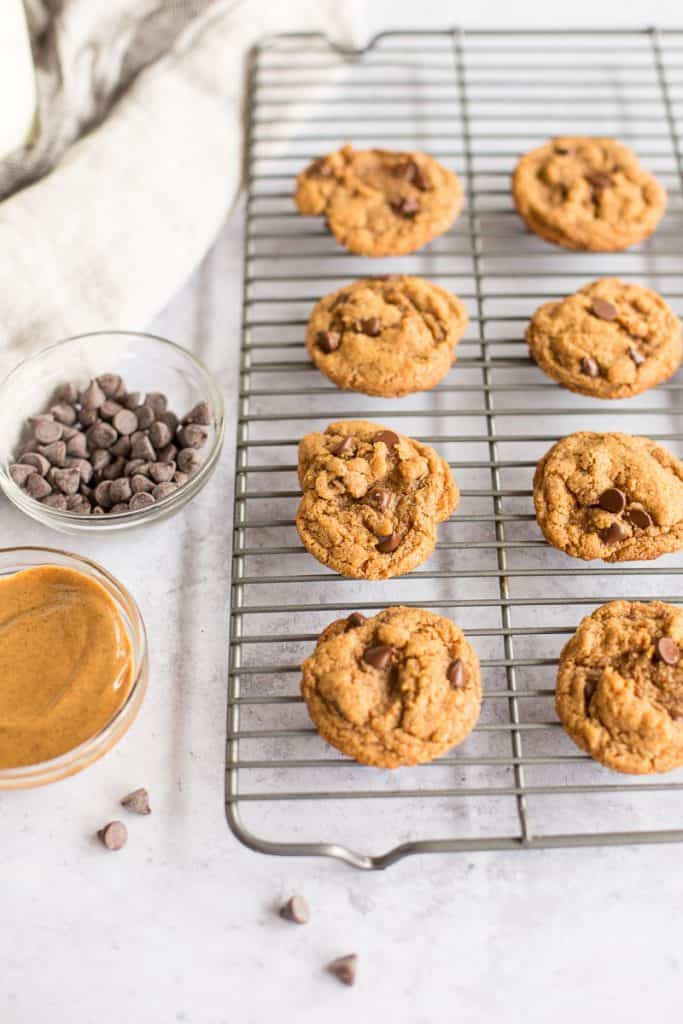 Recipe:  Five Ingredient Peanut Butter Chocolate Chip Cookies
Always, always check the labels to make sure all your choices are gluten free.  I have included many products that are clearly labeled but on certain items you must check the label.  
I am not a dietician but have cooked gluten-free for five years and these are some of my family's favorite products.
Please leave a comment below with other gluten free lunch ideas.  Happy back to school!