This easy five-ingredient Chicken Drumsticks recipe is tasty and simple and your entire family will love them! The crispy skin holds the moisture in, giving way to the tender meat that is juicy and flavorful thanks to a simple marinade made with tamari, olive oil, red wine vinegar, and garlic.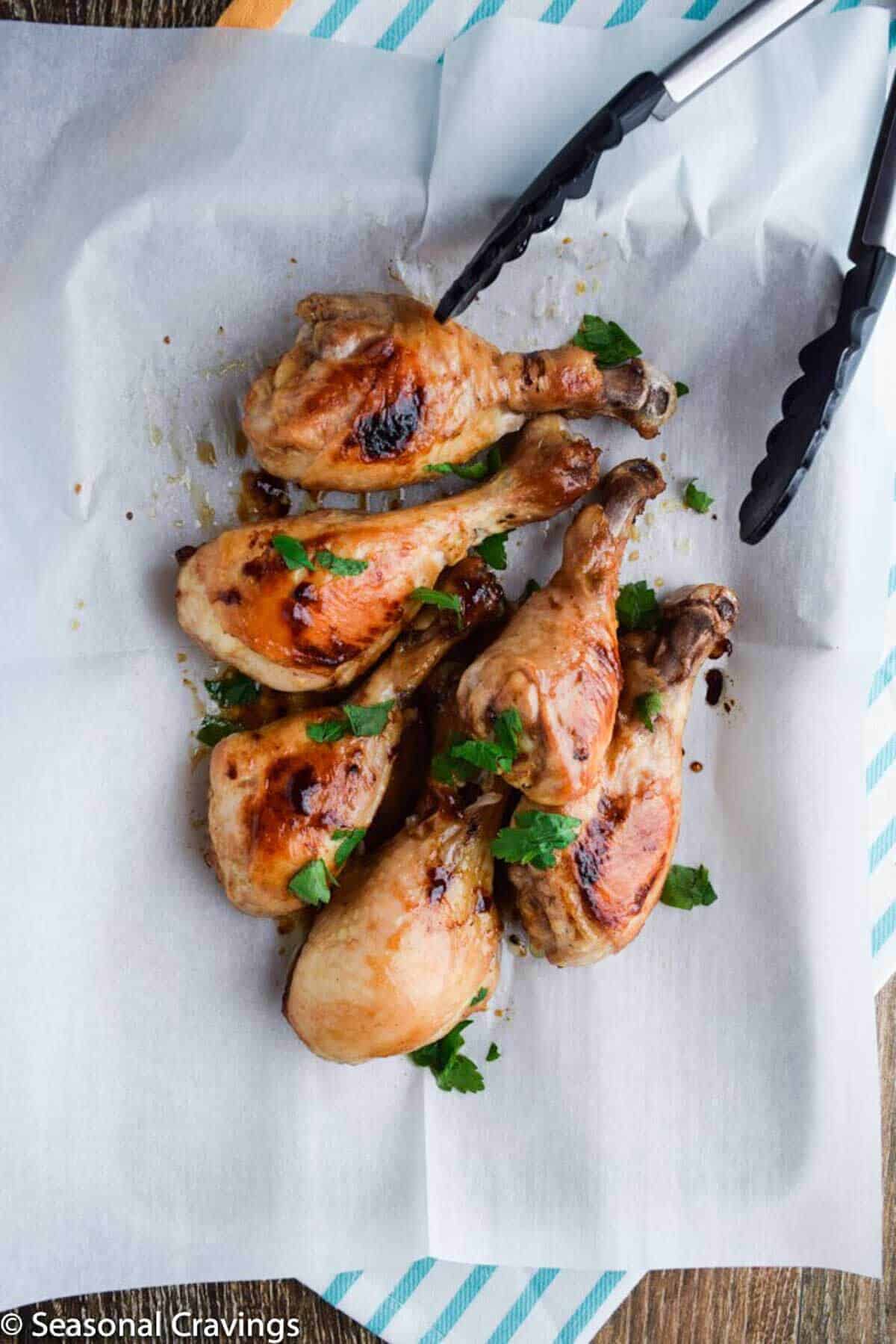 If you love chicken, you will love these oven-baked chicken drumsticks. This recipe makes chicken with that coveted crispy skin that exposes tender meat. I assure you everyone will be coming back for seconds! 
The best part is you can make this dish with minimal effort. All you need is five pantry staples, chicken drumsticks, and a sheet pan. Double the recipe to keep your refrigerator stocked with these easy chicken drumsticks for a weekend meal or easy school lunch throughout the week. 
The easiest way to get the most tender chicken drumsticks is to allow plenty of marinating time. So it's best to marinate in the morning and then pop it in the oven for an easy dinner meal. But, if you're short on time, marinate the chicken for 30 minutes to have a healthy dinner with little effort. 
If your family loves chicken, check out my 30 Easy Gluten Free Chicken Recipes here.
Ingredients
This roasted chicken drumstick recipe calls for very simple ingredients. 
Chicken drumsticks -

also sometimes known as chicken legs (although legs often include the thighs); this is a cheaper cut of chicken; buy skin-on chicken drumsticks - you won't regret that crispy sweet skin. You'll need about 2 pounds of chicken or 8 chicken drumsticks.

Tamari -

this is simply gluten-free soy sauce; feel free to use regular soy sauce if you are not gluten-free.

Olive oil -

I like to buy extra virgin olive oil at

Costco

.

You can use avocado oil for a more neutral taste.

Red wine vinegar - this adds a lovely tang to the marinade and helps to keep the chicken juicy; apple cider vinegar works also as does white wine vinegar.
Garlic -

freshly minced is always great but jarred minced garlic works in a pinch; alternatively, use 1 teaspoon of garlic powder.

Brown sugar -

this makes a delicious topping on the chicken; you can substitute coconut sugar for a nuttier flavor

Salt and black pepper

How to Make Chicken Drumsticks
This simple recipe comes together quickly in four steps. The printable recipe with detailed instructions is in the recipe card for your convenience.
Step 1.
In a small bowl, combine tamari, olive oil, red wine vinegar, and garlic. 
For best results, pat dry the raw drumsticks with a paper towel first and transfer them to a large gallon-sized ziplock bag or a large bowl. Pour marinade over the chicken and gently toss to make sure all chicken is coated with the marinade. 
Set chicken aside to marinate for at least 30 minutes at room temperature but preferably overnight in the refrigerator. 
Step 2. 
Ensure the oven rack is in the center, and preheat the oven to 425 degrees Fahrenheit (218 degrees Celsius). Line a rimmed baking sheet with parchment paper or aluminum foil. If using aluminum foil, spray it with cooking spray so the chicken skin doesn't stick to the foil.
Step 3.
Remove chicken from bag or bowl and discard marinade. Place drumsticks on the prepared sheet pan.
Sprinkle chicken with brown sugar and bake in the preheated oven for 15 minutes. Flip the chicken and cook for 15 minutes or until the chicken is cooked through. Flip the chicken again and cook on low broil for 10 minutes. Watch carefully. Broiling is optional but helps to brown the top of the chicken. 
You can sprinkle with more brown sugar before broiling as this will add caramelization to the chicken skin and yield juicy chicken meat with even crisp skin.  
Step 4.
Remove chicken from the sheet pan and rest for 5 minutes for juices to redistribute into the meat.
Serve with your favorite side dish or salad.
Dietary Substitutions
This delicious recipe can easily be modified to satisfy dietary preferences. Chicken drumsticks as written in the recipe card are naturally gluten-free and dairy-free, but you can make minor tweaks to accommodate any healing diet. 
Whole30:

sub coconut aminos for tamari sauce and omit the brown sugar topping

Paleo:

sub coconut aminos for tamari sauce and use coconut sugar

Keto:

sub coconut aminos for tamari or soy sauce and use sugar-free, low carb brown sugar alternative or omit completely. 
Variations
The beauty of this easy 5-ingredient marinade is that it's excellent for any cut of chicken as long as you make small adjustments.
Chicken breasts:

Pound the chicken breast first and cut off any visible fat. Marinate the chicken breasts in the morning to cook them on the grill for an easy dinner. Omit the brown sugar topping for this cut.

Chicken wings:

Use recipe and instructions written in the drumsticks recipe card. 

Skin-on chicken thighs:<span style="font-weight: 400;"> This marinade is great for skin-on chicken thighs. Cook them in the

air fryer

for an easy hands-off dinner. Try with skin-on, bone-in chicken thighs for extra juicy, scrumptious chicken. 

Whole chicken fryer:

Using a whole chicken is a cost-effective way to serve a healthy meal the whole family will love. There's plenty of white meat, dark meat, and deliciously sweet and crispy skin to satisfy everyone's preferences. Plus, you have carcass and bones to make a healthy and nourishing bone broth afterward. Just cut the whole fryer into pieces and follow the recipe as written. You may need to adjust the cooking time accordingly, but other than that, it's pretty straightforward.
Food Safety
Chicken and other poultry meats must be cooked thoroughly to avoid food-borne illnesses. The best way to test for the doneness of chicken is by using an instant-read meat thermometer. This is especially helpful if you are using different cuts of chicken to ensure it's fully cooked.
Insert the temperature gauge into the thickest part of the chicken. The USDA recommends cooking chicken until the internal temperature registers 165 degrees Fahrenheit. (source) Additionally, there should be no pink when cut into the meat.
Cooking time will vary depending on the size of the chicken drumsticks. That's why it's best to rely on an instant-read thermometer. 
Helpful Tips
This simple chicken recipe comes together quickly and easily. But a few helpful tips may help as you make this recipe.
Don't skip the sweet topping:

The magic is in the brown sugar topping sprinkled on top of the chicken drumsticks. The last few minutes under a low broil will caramelize the sugar and turn the chicken skin a nice shade of brown.

Marinate in the morning:

For seamless dinner time, combine the chicken with the gluten free drumstick marinade in the morning to have it ready to bake in the evening. 

Make extra for meal prep: Double the recipe for easy lunch throughout the week. Leftover chicken drumsticks are just as delicious.
Buy chicken on sale:

The best quality chicken drumsticks come from pastured chicken and can be found at your local farmer's markets; but organic chicken from grocery stores are fantastic as well; stock up when they are on sale and freeze them.
Storage Instructions
Store leftover chicken drumsticks in an airtight container in the refrigerator for up to 5 days. You can also make the marinade separate and store that in a small mason jar in the refrigerator for up to 1 month. 
To reheat chicken drumsticks, pop them in a non-preheated toaster oven set at 400 degrees Fahrenheit and heat until warmed through. Alternatively, you can reheat it in a microwave for 1-2 minutes. 
Frequently Asked Questions
How long should chicken drumsticks be cooked for?
Generally, you want to bake chicken drumsticks in a 400 degree Fahrenheit oven for about 40-45 minutes. However, this will vary depending on your oven and the size of drumsticks.
Are chicken drumsticks healthy?
Chicken drumsticks are mostly healthy. They are an excellent low-carb source of protein at about 10 grams per chicken leg. Meat in chicken drumsticks is a lean source of protein. It's important to note that how you prepare them may alter the nutrient value of chicken legs. Deep frying them in oil or adding calorie-dense sauces will increase the fat content.
Do you have to flip the chicken drumsticks halfway during cooking?
Flipping the chicken halfway during baking time is essential to ensure even cooking. However, you can avoid having to flip the chicken using a roasting rack to allow hot air to circulate the entire piece of chicken.
Serving Suggestions
Serve these 5-ingredient chicken drumsticks with your favorite side or salad. It pairs excellently with your favorite side of potatoes. Try Roasted Mini Potatoes, Seasoned Sweet Potatoes, or even Spiced Sweet Potato Fries for a fun twist. 
It's also fantastic served with roasted vegetables like this Easy Roasted Broccoli. If warm sides aren't your thing, serve this chicken with a refreshing salad like Keto Cucumber Salad or Marinated Tomato Basil Salad.
Nutrition
This chicken drumstick recipe is excellent when you need something fast, easy, and flavorful. A serving of two drumsticks has only 354 calories and a whopping 27 grams of protein, keeping you fully satisfied for longer.
Need More Healthy Dinner Recipes in Your Life?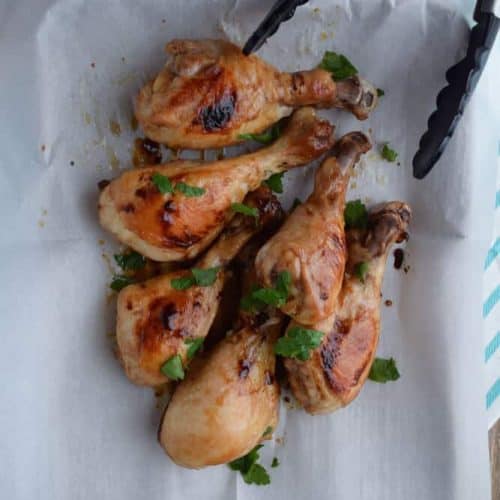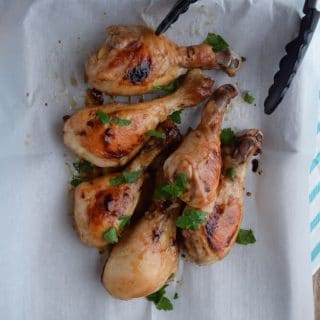 Five Ingredient Chicken Drumsticks
Simple and easy chicken drumsticks.
Print
Pin
Rate
Ingredients
2

tablespoon

tamari (or soy sauce if not gluten free)

1

tablespoon

brown sugar

3

tablespoon

olive oil

2

tablespoon

red wine vinegar

2

cloves

garlic

salt and pepper

8

drumsticks
Instructions
Preheat the oven to 425 degrees Fahrenheit. Place all marinade ingredients into a bowl and whisk. Put marinade in a ziplock bag with chicken drumsticks and marinate for at least thirty minutes or overnight.

Remove chicken from marinade and discard marinade. Place drumsticks on a sheet pan or cookie sheet lined with parchment paper or aluminum foil. I like to spray the aluminum foil with cooking spray so the skin doesn't stick. Sprinkle chicken with brown sugar and bake in the middle of the oven for 30 minutes or until done. Flip chicken legs halfway through cooking time. I always use a digital meat thermometer. Insert into the thickest part of the chicken leg. It is done when the internal temperature reaches 170 degrees Fahrenheit.

Flip and cook on low broil for ten minutes. Watch carefully. This is an optional step but it really adds some much-needed browning to the tops of the chicken drumsticks. Feel free to sprinkle with more brown sugar before browning as this will add caramelization to the chicken skin. This helps to get crispy chicken legs.
Notes
If you are gluten free be sure to use Tamari which is gluten free soy sauce.
Nutrition
Calories:
354
kcal
|
Carbohydrates:
4
g
|
Protein:
27
g
|
Fat:
24
g
|
Saturated Fat:
5
g
|
Cholesterol:
139
mg
|
Sodium:
662
mg
|
Potassium:
356
mg
|
Sugar:
3
g
|
Vitamin A:
70
IU
|
Vitamin C:
0.5
mg
|
Calcium:
18
mg
|
Iron:
1.2
mg