Keto Air Fryer Chicken Thighs are perfectly seasoned and cooked to their optimal crispiness in the air fryer. They are perfect for weekly meal prep and taste great the next day.  (keto, gluten free, whole30, paleo)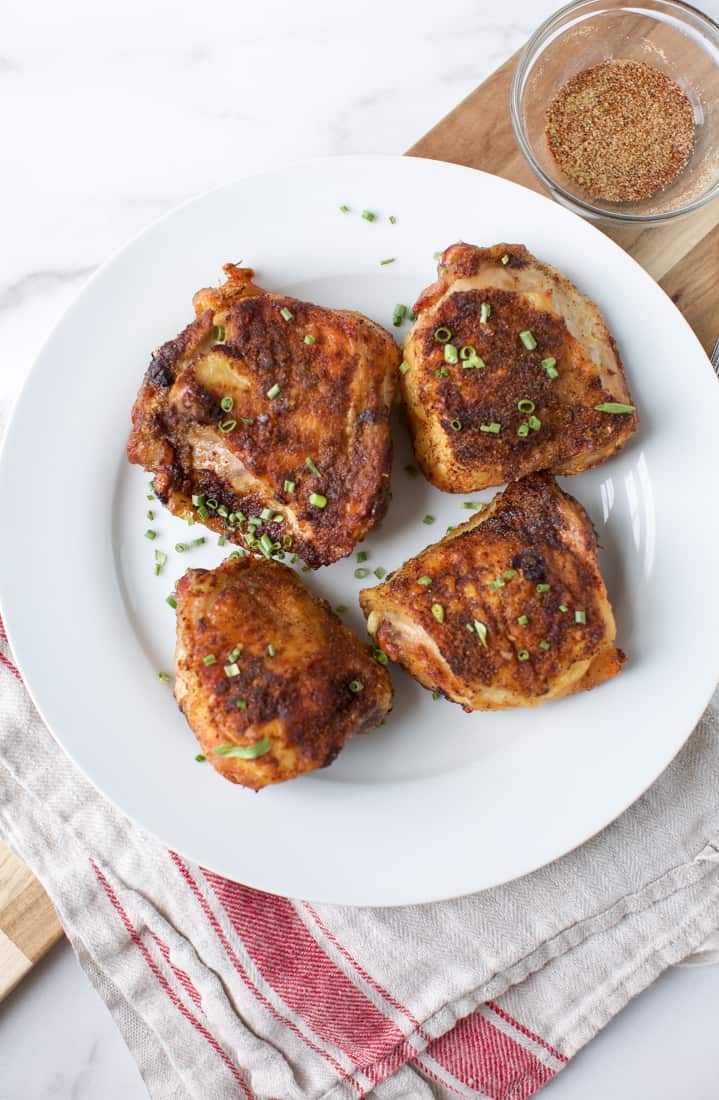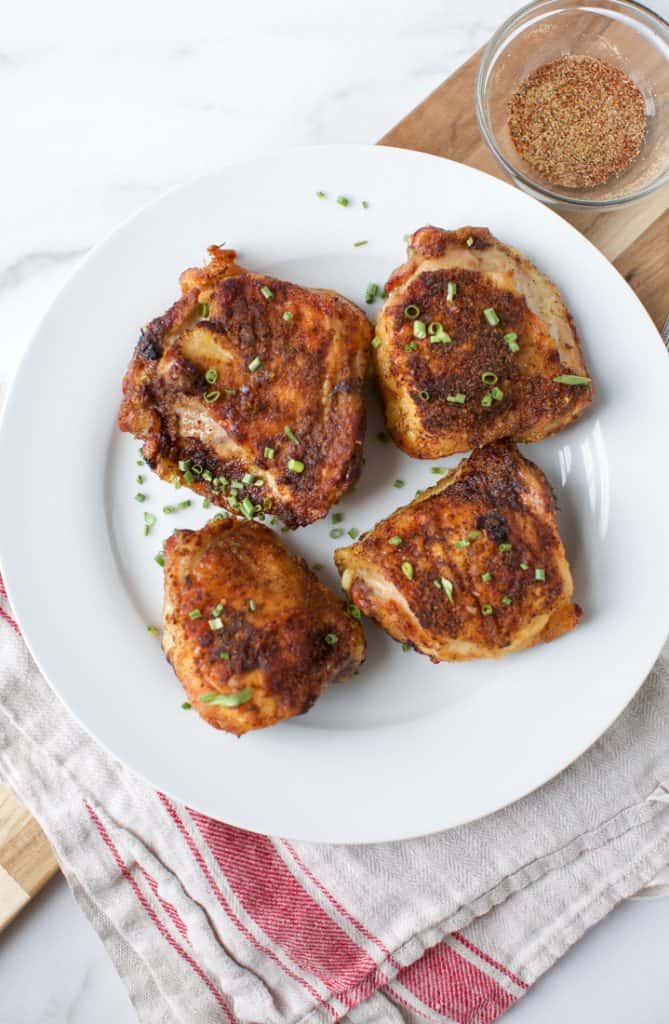 Do you have an air fryer yet?  I know, I know, you don't want another appliance to fill your kitchen counter but I am enjoying mine.  It definitely gives that crispy fried flavor without all the deep fried fat.  🤛
An air fryer is basically a convection oven that cooks on the countertop by using a fan to push air around your food while it's cooking.  This is what gives it the deep fried quality without the fat.  It's fairly simple to use and to clean up.  The one I have is too small so I find myself cooking in batches which takes longer.  I would recommend this one from Amazon if you are looking to get one.
The air fryer is also great for heating any frozen foods like fries, chicken nuggets and mozzarella sticks.  I think they taste better in the air fryer than they do in the oven and my kids give them a thumb's up.
If you love chicken thighs try these Cast Iron Chicken Thighs.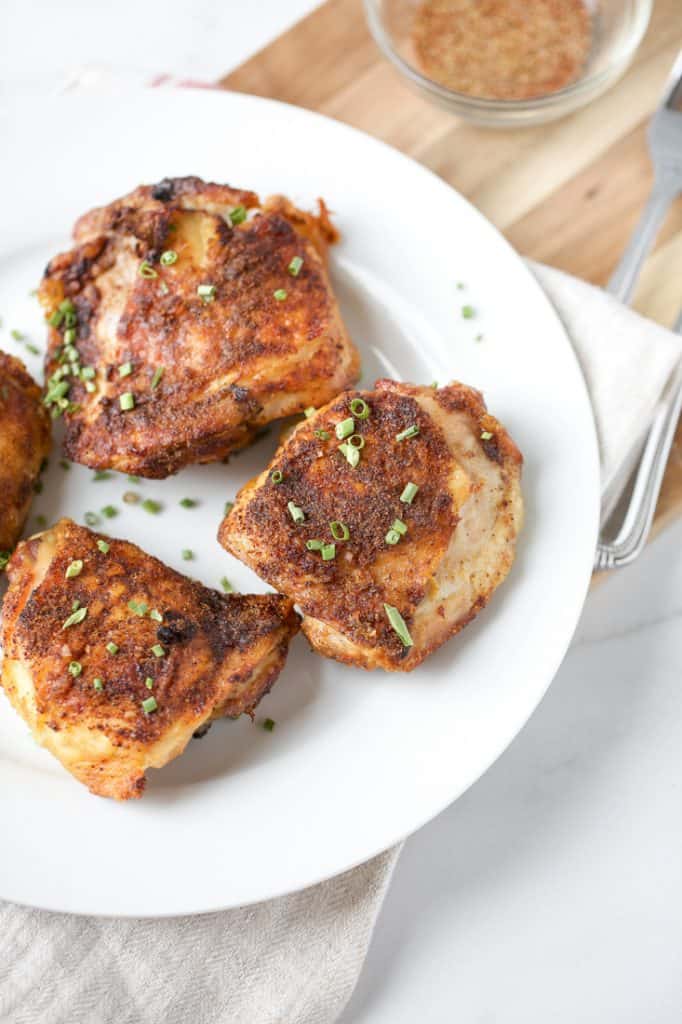 Instructions
Trust me an air fryer is not as tricky as an Instant Pot.  You pretty much just put the chicken thighs in there and walk away.  You do have to flip them halfway through, but that's about it.  I like to spray the basket so nothing sticks.
One key here is to have the right-sized air fryer for your family.  You need space around the chicken so the air can circulate and cook it to nice crispy perfection.  I recommend a 5.5 quart.
So, heat up your air fryer to 350 degrees then cook your chicken for 20 minutes. After 10 minutes flip it to the other side.  Crispy goodness coming soon!
If you love using your air fryer, try these delicious Air Fryer Turkey Tenderloins.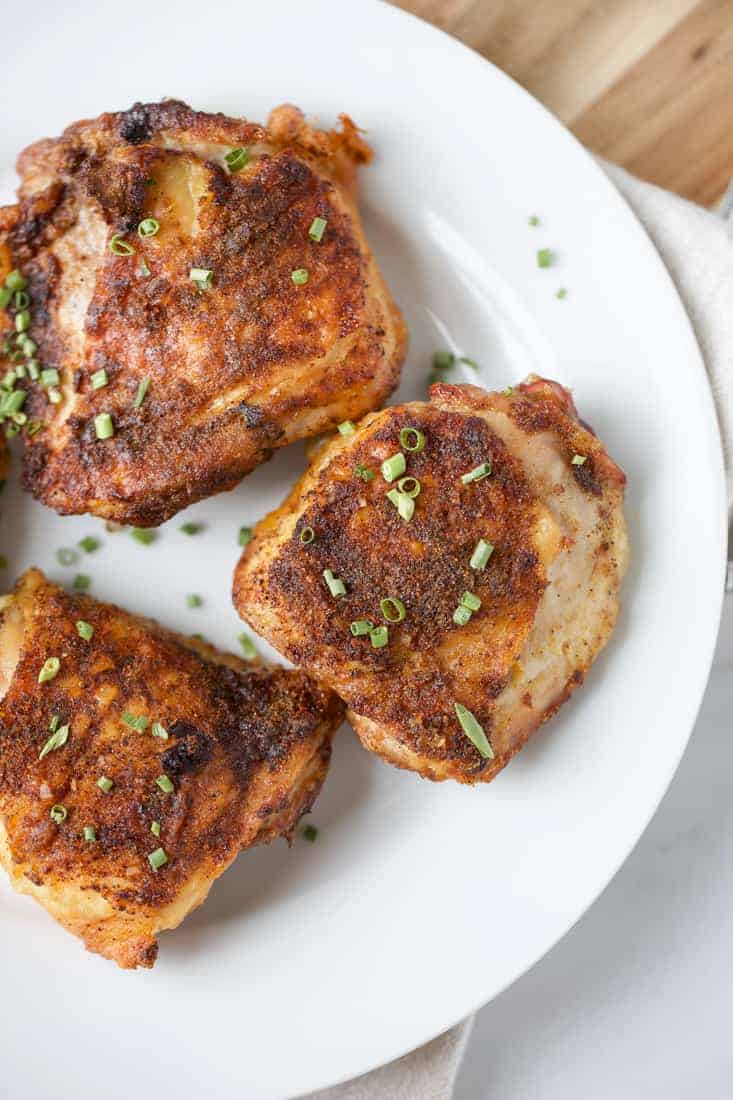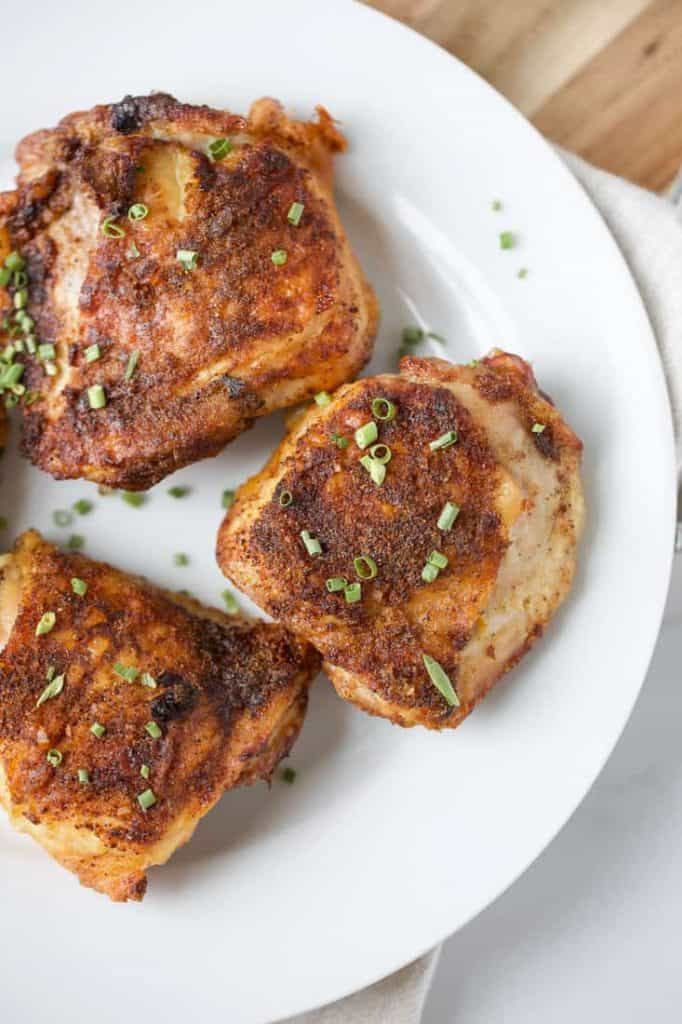 Health Benefits of Chicken
Chicken thighs are a great source of lean protein.  There's been a longstanding debate about the chicken breast versus the fatty chicken thighs but I'm a fan of eating both.  Chicken thighs do have three times more fat than the breast but a lot of that fat is in the skin.  I wouldn't make a regular habit of chowing down on the skin but every once in a while is okay.  Generally, I use skinless chicken thighs or chicken breasts. To learn more about the healthy benefits of chicken refer to the USDA Choose My Plate.
AND in my opinion chicken thighs have more flavor than chicken breasts.
Let's talk about the spice rub!  This rub is the bomb.  I use it on everything from fish to steak to roasted veggies.  Once you try it you'll want to keep a batch made up in the pantry at all times.  Oh, I also put it in my chili sometimes.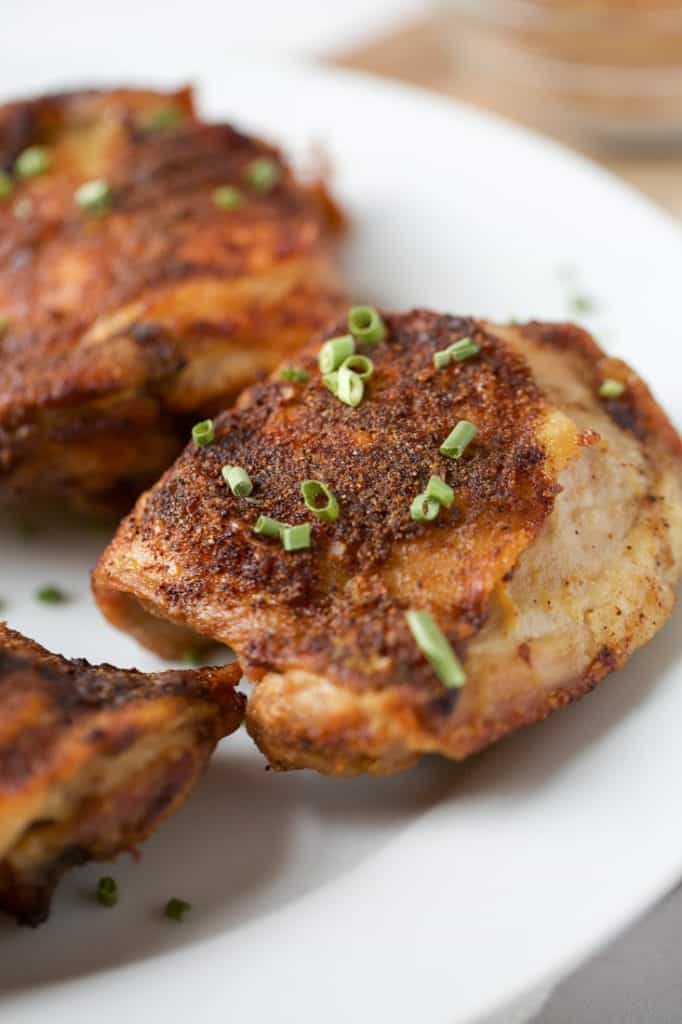 Need More Chicken Recipes?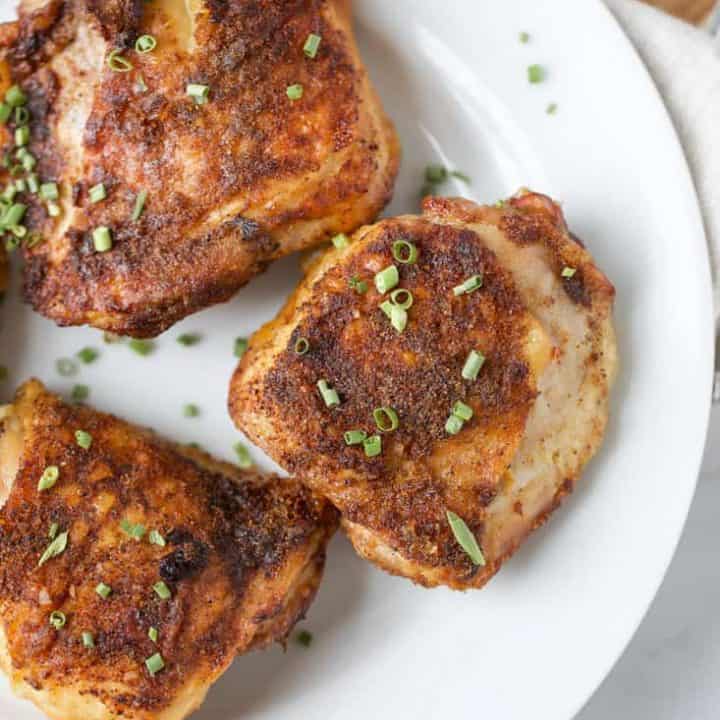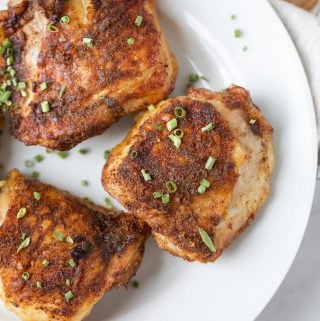 Air Fryer Chicken Thighs
These Air Fryer Chicken Thighs cook to perfection in the Air Fryer.
Print
Pin
Rate
Ingredients
4

chicken thighs, skin on

1

teaspoon

cumin

1

teaspoon

garlic powder

1

teaspoon

onion powder

1

teaspoon

chili powder

½

teaspoon

sea salt

¼

teaspoon

pepper

1

tablespoon

olive oil
Instructions
Toss all seasoning together in a small bowl.

Pat chicken thighs dry with a paper towel and drizzle bother sides with olive oil. Then sprinkle both sides with the seasoning. Be generous!

Heat the air fryer to 350 degrees.

Place chicken in the air fryer basket so they are not touching. You don't want to overcrowd them or they won't cook right.

Set timer for 20 minutes and flip the chicken at 10 minutes. The internal temperature should reach 165 degrees.
Notes
These taste great the next day!  Make a double or triple batch and eat them all week.
Nutrition
Calories:
286
kcal
|
Carbohydrates:
2
g
|
Protein:
19
g
|
Fat:
22
g
|
Saturated Fat:
6
g
|
Cholesterol:
111
mg
|
Sodium:
388
mg
|
Potassium:
259
mg
|
Fiber:
1
g
|
Sugar:
1
g
|
Vitamin A:
236
IU
|
Calcium:
14
mg
|
Iron:
1
mg