Gluten Free Vanilla Baked Donuts are deliciously soft, light, and coated with a refreshingly sweet raspberry glaze. They are a perfect treat for that someone special or to simply surprise your kiddos with a festive after school snack. Boasting a fluffy vanilla cake-like texture, you'll be surprised that these treats are gluten-free and dairy-free.
If you've missed my love for donuts, let me remind you I have many of these sweet treats in various flavors. Chocolate cake donuts, apple cider donuts, and Krispy Kreme copycat donuts are among my favorite, and now these gluten-free vanilla baked donuts have my heart. 
They are perfectly tender and smothered with a delicious raspberry glaze. That's right; there's no need for food coloring when nature gives you the best, most natural beautiful shade of pink and comes with fresh flavor too!
Plus, the vanilla cake texture and taste will fool anyone that they are gluten free.
There are plenty of recipes for which almond flour and coconut flour are called for. This is not one of them. To simplify this recipe, use a gluten-free flour blend to make a fluffy and soft treat that tastes similar to regular wheat.
But not all gluten-free flour is created equal. My preference is Bob's Red Mill 1-to-1 gluten-free flour, as it's the best and easiest replacement for regular whole wheat flour. Use your favorite gluten-free blend if you don't have Bob's Red Mill.
Baking homemade donuts don't have to be complicated or time-consuming. All you need is a donut pan and a few essential ingredients; most of them will come straight from the pantry.
Ready to make a delightful gluten-free treat guaranteed to make your kids smile? These Gluten Free Donut Holes will also make them smile!
Ingredients
These easy gluten-free vanilla donuts come together with 8 simple ingredients and a raspberry glaze made with sugar, juice, and milk. Check out this simple ingredient list where most items come from your pantry!
For the donuts:
Gluten-free all-purpose flour -

my favorite gluten-free flour blend is Bob's Red Mill all-purpose baking flour; it's an excellent gluten-free alternative because you can conveniently use it to replace regular flour at a 1-to-1 ratio.

Sugar -

regular granulated sugar works great; buy organic sugar if budget allows.

Baking powder
Baking soda
Cream of tartar
Salt
Unsalted butter -

one stick (or 8 tablespoons) of unsalted butter; melted and cooled.

Eggs

- pull them out before starting on the recipe so they come to room temperature.

Milk - use coconut milk or almond milk as a dairy-free alternative but regular whole milk will work also.
Vanilla extract

- for a touch of vanilla flavor 
For the raspberry glaze:
Powdered sugar -

also known as confectioner's sugar; in a pinch, you can blend some by adding regular sugar to a coffee grinder and grinding it to powdered sugar consistency.

Raspberry juice -

you will need 100% pure raspberry juice; measure out one cup of frozen raspberries and thaw them in the refrigerator for a few hours. Pour the thawed raspberry liquid through a sieve and measure out three tablespoons. This gives beautiful red color and adds refreshing flavor.

Milk

- just a tablespoon or two to thin out the glaze; can use regular milk or dairy-free milk. 

Almond extract -

vanilla extract works great too.
How to Make Gluten-Free Vanilla Donuts
This delicious donut recipe has a few more steps than your favorite cookies or sweet breads, but it's all totally worth it. It's not complicated as long as you follow these simple steps. The printable recipe is in the recipe card for your convenience.
Step 1.
Preheat the oven to 350 degrees Fahrenheit (177 degrees Celsius). Then, set the rack in the center of the oven and spray your donut pan with cooking spray.
Step 2. 
Whisk together the flour, sugar, baking powder, baking soda, cream of tartar, and salt in a large bowl.
Step 3.
Whisk together the melted butter, eggs, milk, and vanilla extract in a separate mixing bowl.
Step 4. 
Make a well in the center of the bowl with dry ingredients and gently add the wet ingredients to the center. Mix gently until thoroughly combined. 
Step 5.
Transfer the batter mixture to a piping bag or pastry bag. Alternatively, you can use a large Ziplock bag, ensuring the batter is mostly in one corner. Make a small cut in that corner, cutting the tip off. 
Step 6. 
Pipe the donut batter into the prepared pan, filling each well three-quarters full. Take care not to cover the middle section, otherwise, your donuts won't have a hole in the center.
Step 7.
Bake donuts for about 10-12 minutes or until baked through and a toothpick inserted comes out clean.
Step 8.
Remove the donuts from the pan and allow them to cool completely on a cooling rack before glazing. 
Step 9.
To make the raspberry glaze, add sugar, flavor extract (almond or vanilla), and raspberry juice to a stand mixer and mix on medium-high speed. Add milk, one tablespoon at a time, until you reach the desired consistency. 
Step 10.
Spoon glaze over the cooled donuts. Don't dip them as that will cause the donuts to be oversaturated with the glaze. Transfer them back to the rack and sprinkle with your favorite sprinkles. Allow the glaze to set before eating them. 
These gluten-free vanilla cake donuts are best eaten within two days.
Variations
The dough in these gluten-free treats is pretty basic, but the donuts can be jazzed up to change out the flavors. Check out these ideas:
For a fruity glaze:

this recipe is made with raspberry juice, but you can use any real fruit juice; use the same process for frozen strawberries or blackberries.

Change up your glaze:

you don't have to use fruit juice at all; try a rich chocolate glaze or a simple vanilla glaze. Or add a little maple syrup to melted butter for a delicious maple glaze.

Add crunch factor:

instead of sprinkles, add chopped walnuts or pecans on top of the glaze.

Sprinkle with spice and everything nice:

the easiest way to change up donuts is to skip the glaze altogether and toss with a little cinnamon sugar or powdered sugar.
Helpful Tips
These gluten-free donuts are pretty simple to make. But a few expert tips may be helpful as you make this recipe.
Use good quality gluten-free flour blend:

I almost always use Bob's Red Mill 1-to-1 Gluten Free Flour. When choosing a gluten-free flour, look for the ingredient list to ensure it includes xanthan gum. This helps replace the texture and elasticity of gluten in regular flours.

Make mini-donuts:

Use a mini muffin pan to make delicate small treats. It's especially great for kids' parties to satisfy those donut-loving taste buds. You may need to reduce the baking time, so keep a close watch on them.  

No donut pan?

No problem. For a truly easy recipe, pipe a little bit of batter onto a lined and greased sheet pan and pop it in the oven for gluten-free donut holes.

Make glaze to your liking:

the glaze is a simple powdered sugar, milk, and fruit juice blend. Tweak it to your liking. Thin it with more milk as needed and conversely, lay off the milk to make it thicker. 
Storage Instructions
Gluten-free vanilla donuts are best to be enjoyed in the first two days. Store donuts in an airtight container at room temperature. If you still have leftover donuts after that, you can transfer them to the refrigerator for up to two more days. 
Frequently Asked Questions
What can I use instead of food coloring for donut glaze?
Skip the food coloring in the glaze and use 100% pure fruit juice for a truly natural flavor. Add a cup of frozen raspberries, strawberries, or blackberries in a bowl and let them thaw in the refrigerator for a few hours. The berry liquid that pools on the bottom of the bowl makes a beautiful rich hue in most frosting and glaze recipes. Plus, they are loaded with refreshing flavors.
Can I bake with gluten-free flour blend without xanthan gum?
Xantham gum is necessary for gluten-free baked goods for proper elasticity and texture. When buying gluten-free flour, ensure it contains xanthan gum in the ingredients. If it doesn't, add ¼ teaspoon of xanthan gum to the dry ingredients and follow the recipe as written.
Can I freeze gluten-free donuts?
Yes, donuts freeze beautifully. It's best to freeze these vanilla baked gluten free donuts without the glaze. Place unglazed donuts in a plastic bag and freeze for up to 3 months. For glazed donuts, flash-freeze them first. Spread them on a sheet pan and place them in the freezer until frozen. Then, transfer the frozen donuts into a freezer bag and back into the freezer for up to 3 months. Thaw donuts in the refrigerator and enjoy.
Serving Instructions
Surprise children with this tasty treat as an after-school snack. I can assure you it'll make homework time go a little smoother. Or make these on a slow Saturday morning and have everyone add their favorites on top of the glaze. Make a simple lineup of sprinkles, chopped nuts, or cinnamon sugar, and let everyone make their own gluten-free donut.
Lastly, these donuts are perfect for making someone feel extra special. Make a batch and place them in a donut box, wrap the package with a ribbon, and deliver it to someone special for Valentine's Day.
Whichever way you serve these donuts, they will surely become a favorite!
Need More Gluten-Free Treats to Get You Through The Week?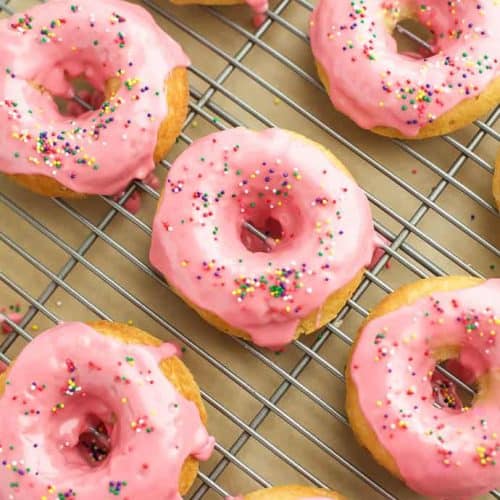 Baked Gluten Free Vanilla Donuts
Baked Vanilla Donuts with Raspberry Glaze are such a treat for that special someone. These are soft, fluffy and light with a sweet raspberry glaze. Hard to believe they are gluten free!
Print
Pin
Rate
Ingredients
1 ½

cups

Gluten Free All Purpose Flour (I use Bob's Red Mill)

¼

teaspoon

baking soda

¼

tsp

cream of tartar

1 ½

teaspoon

baking powder

¼

teaspoon

salt

⅔

cup

sugar

8

tablespoon

(1 stick) unsalted butter, melted and cooled

1

teaspoon

vanilla

2

eggs

1

cup

milk (I used coconut)
Raspberry Glaze
1 ¼

cups

powdered sugar

3

tablespoon

raspberry juice (see recipe notes)

1

tablespoon

milk

½

teaspoon

almond flavor (or vanilla)
Instructions
Preheat oven to 350 degrees and spray your donut pans with non-stick spray.

In a large bowl, whisk together the first six dry ingredients, flour through sugar

In another small bowl whisk together the melted and cooled butter, vanilla, eggs, and milk. Make a well in the center of dry ingredients and pour in. Mix gently.

Transfer mixture to a Ziploc bag and cut the corner tip off. This makes it easy to pipe into the donut pan.

Fill each well ¾ full without covering the middle section. If you do, your doughnuts won't have a hole.

Cook for about 10-12 minutes.


Allow to cool completely before glazing.
Raspberry Glaze
Add sugar, almond flavoring and raspberry juice to a stand mixer and blitz. I like to add a little more milk at a time until I get the consistency I desire.

Pour the glaze over cooled donuts with a spoon. Don't dip them bc they become over saturated.
Notes
For the raspberry juice, I put 1 cup frozen raspberries in the fridge to thaw for a few hours.  I used the liquid from this as my raspberry juice. It has a beautiful red color and lots of flavor.  
These donuts are best eaten day of or next day.
Nutrition
Calories:
232
kcal
|
Carbohydrates:
35
g
|
Protein:
3
g
|
Fat:
9
g
|
Saturated Fat:
5
g
|
Cholesterol:
49
mg
|
Sodium:
96
mg
|
Potassium:
111
mg
|
Fiber:
1
g
|
Sugar:
24
g
|
Vitamin A:
295
IU
|
Calcium:
68
mg
|
Iron:
0.7
mg
Adapted from my Gluten Free Doughnuts (Krispy Kreme Copycat)