Roasted Mini Potatoes are bite-sized potatoes seasoned with a little garlic, salt and pepper and baked in the oven for golden and tender perfection. They feature a crispy skin and creamy interior and pair well with your favorite main dish.
If you want that perfect side dish that's great for a quiet family dinner at home or a fancy holiday meal, I've got you covered.
I know we all make roasted potatoes all the time, but these are special because they are little potatoes that are too adorable to resist! I picked up these mini potatoes at Trader Joe's, and they make the most perfect crispy bite-sized treat.
Roasted Mini Potatoes go with almost everything, making them perfect for busy weeknights. Pair them with my Tender London Broil, Shoyu Chicken, Instant Pot Pork Tenderloin, or this Prime Rib Roast. A perfect easy side dish with minimal effort.
Ingredients
You'll need just a few simple ingredients to make roasted mini potatoes.
The key ingredient is undoubtedly the potatoes, but choosing the right type of potato is essential. This recipe calls for mini potatoes; as the name suggests, they are small potatoes, making them easy to roast whole. 
It's important to use a variety that can hold up to the oven's heat without falling apart. Traditionally, Yukon gold potatoes and red potatoes are great options for roasting, but in this recipe, skip the larger potatoes and go with the adorable smaller spuds.
Mini potatoes -

I found my mini potatoes at Trader Joe's, but your local grocery store should have some type of mini potatoes. These little potatoes may be labeled as new potatoes, baby potatoes, creamers, petite potatoes, and baby potato medley (which is a blend of yellow, red, and purple potatoes)

Olive oil -

Use regular olive oil or extra virgin olive oil; you can also use a more neutral oil like avocado oil.

Fresh garlic -

For extra fresh flavor, mince a few fresh garlic cloves but jarred garlic works well too.

Kosher salt and black pepper
Parmesan cheese -

Adds an excellent cheesy touch to the oven-roasted potatoes.
How to Make Mini Roasted Potatoes
These crispy roast potatoes come together quickly in one pan. The printable recipe is in the recipe card for your convenience.
Step 1.
Preheat oven to 450 degrees Fahrenheit (232 degrees Celsius). 
Step 2. 
Wash small potatoes and pat them dry with paper towel to remove excess moisture. Depending on the size of your potatoes, you may need to cut bigger ones in half so they are all similar size. 
In a large bowl, toss potatoes with olive oil, minced garlic, kosher salt and black pepper.  
Step 3.
Transfer the coated potatoes to a large baking sheet and spread them out evenly in a single layer. Roast in the preheated oven for about 20 minutes or until golden brown and fork tender.
Step 4.
Remove potatoes from oven. Toss crispy roast potatoes in grated Parmesan cheese and serve immediately. 
Variations
This is a very basic potato recipe that makes a great side dish but feel free to jazz them up with these flavors:
Herby potatoes:

any combination of fresh herbs will work, but my favorite are fresh parsley and pungent dill.

Dried seasonings:

use a blend of powdered seasonings like onion powder, garlic powder, and sweet paprika for deeply flavored taters.

Different spices:

use chili powder for Mexican-inspired side dish or curry powder for a more Indian flair.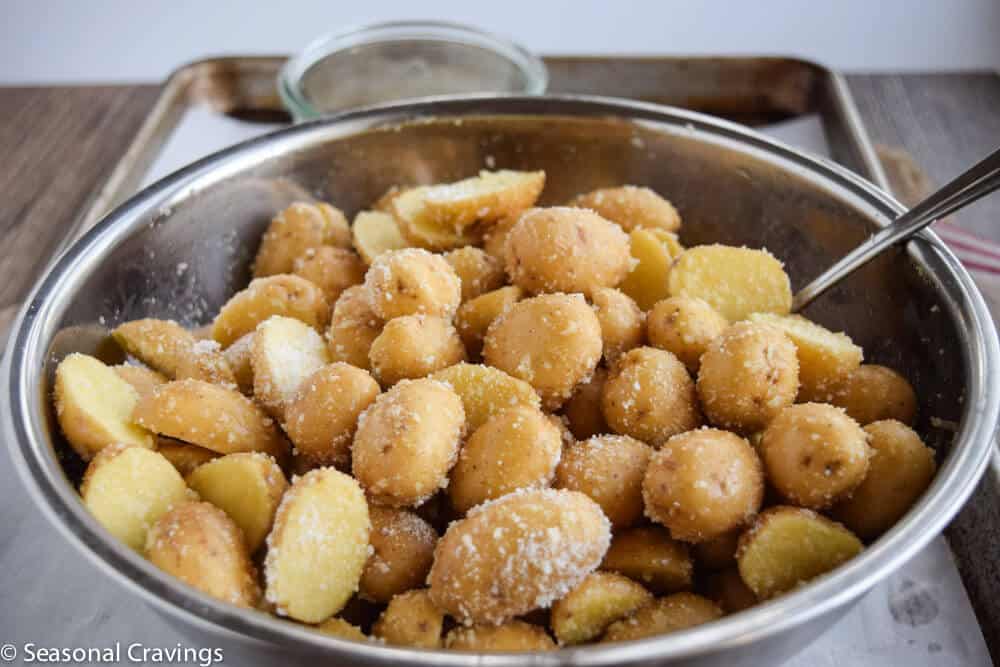 Helpful Tips
Roasted potatoes are a simple side dish that comes together with minimal prep time and few ingredients. But a few expert tips may be helpful as you make this recipe.
The best way to get crispy potatoes

is to roast them in a hot oven at a high temperature. A toasty 450 degrees Fahrenheit will ensure crispy skin and creamy inside. If using cut potatoes, place them cut side down on the rimmed baking sheet for best results.

For easy clean up,

consider lining your baking tray with parchment paper or aluminum foil. 

Make it a meal:

Pair this perfect potato side dish with an easy and quick-to-cook protein like cooked sausages or fish for a complete meal.
Storage Instructions
Leftover roasted mini potatoes can be stored in an airtight container in the refrigerator for up to 4-5 days. Reheat in the microwave for a few minutes or on a skillet over medium-high heat. 
Give your leftover potatoes new life by using them in these fun ways:
As a topping on a salad

Dipped in roasted red pepper sauce or a similar dip as an appetizer

Saute them with onions and scrambled eggs for breakfast

Top with cheese and bake for a few minutes

Add to potato soup
Frequently Asked Questions
Should you boil potatoes before roasting?
Billing potatoes before roasting is unnecessary as long as you use smaller potatoes. The great thing about using bite-size potatoes is that they will roast to golden perfection when cooked properly.
How long do I roast potatoes for?
Ovens vary therefore your cooking time may vary but generally 20 minutes is a great time to start checking in on them. When making roasted baby potatoes, the most important thing to remember is to cook at high heat for crispy outside skin and check on them regularly.
Where can I buy mini potatoes?
Mini potatoes are often available at grocery stores and farmer's markets during their peak season. They may also be labeled as baby potatoes, new potatoes, or petite potatoes. If you can't find mini potatoes, try this recipe with any waxy potatoes like fingerling potatoes as they hold their shape well during heat and won't fall apart easily.
Serving Suggestions
Serve this easy oven baked potato dish with your favorite protein like these Air Fryer Chicken Thighs or Baked Pork Tenderloin and you have a delicious meal. You can pair it with a side salad like Arugula Orange Salad for an easy weeknight dinner.
Nutrition
Baby potatoes are a healthy choice and are a good option if you are looking for a delicious side dish. 
The most nutritious part of a potato is the skin as it contains several important vitamins and minerals such as potassium, vitamin C, folate, and vitamin B6. It's also rich in dietary fiber, which is important for digestive health. 
Furthermore, cooling potatoes after cooking may increase resistant starch, improving gut health. (source) All the more reasons to double this recipe and reheat it for a healthy breakfast the next day.
Need More Healthy and Simple Recipes to Get You Through The Week?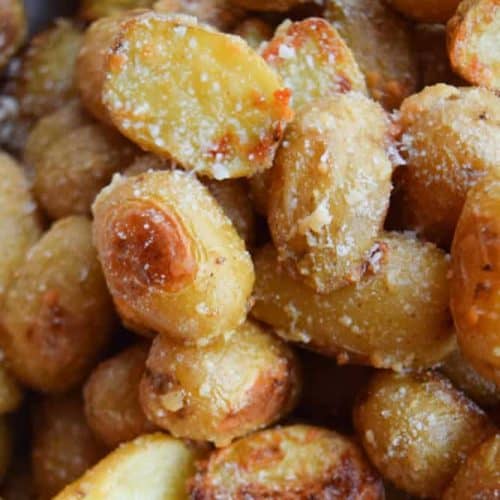 Roasted Mini Potatoes
Quick and easy side dish for weeknights.
Print
Pin
Rate
Ingredients
1

lb

tiny potatoes, mine are from Trader Joes

4

tablespoon

olive oil

3

cloves of garlic, chopped

1

teaspoon

kosher salt

½

teaspoon

pepper

¼

cup

parmesan cheese
Instructions
preheat oven to 450°

wash 1 lb. teeny tiny potatoes and pat dry

slice bigger ones in half (optional)

put in a bowl and toss with 3-4 tablespoon olive oil, 3 garlic cloves (I buy the jarred ones), 1 teaspoon kosher salt, ½ teaspoon pepper

place on a baking sheet and cook for about 20 minutes

sprinkle with parmesan cheese and serve immediately
Notes
I found my mini potatoes at Trader Joe's.
Nutrition
Calories:
159
kcal
|
Carbohydrates:
13
g
|
Protein:
3
g
|
Fat:
10
g
|
Saturated Fat:
1
g
|
Cholesterol:
2
mg
|
Sodium:
459
mg
|
Potassium:
324
mg
|
Fiber:
1
g
|
Vitamin A:
35
IU
|
Vitamin C:
15.3
mg
|
Calcium:
61
mg
|
Iron:
0.7
mg