Aren't these the cutest things you have ever seen?  They are one bite Teeny Tiny Roasted Potatoes.  Every time I go into Traders Joe's I come out with a treasure.  I love grocery shopping, especially when I find new products! This was my treasure from Trader Joe's last week.
I am sure that everyone has made roasted potatoes before right?  This is a no brainer, family favorite recipe that is an easy weeknight fix.  I didn't have to slice them in half but I did cut some of the bigger ones just to make them bite sized.  My kids love the combo of garlic and parmesan so that's what we went with here.  Serve it with Herbed Skirt Steak and win super mom status.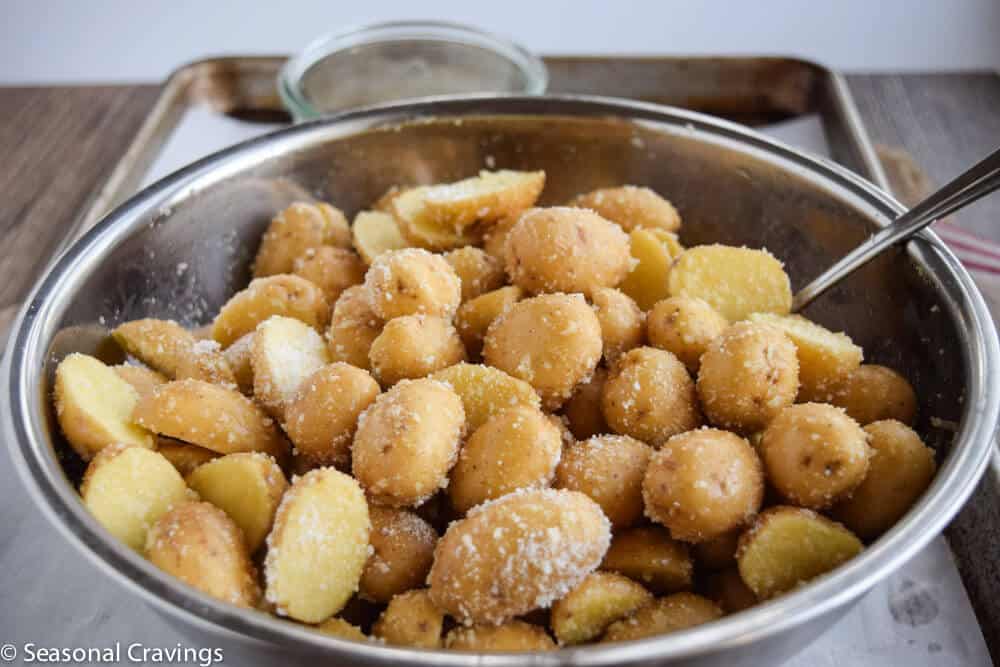 This is so easy I'm not even giving you a printable recipe.  You can do this, I know you can.
preheat oven to 450°
wash 1 lb. teeny tiny potatoes and pat dry
slice bigger ones in half (optional)
put in a bowl and toss with 3-4 tbsp olive oil, 3 garlic cloves (I buy the jarred ones), 1 tsp kosher salt, 1/2 tsp pepper
place on a baking sheet and cook for about 20 minutes
sprinkle with parmesan cheese and serve immediately
If you are lucky enough to have leftovers don't toss them!  Use them for…
topping for a salad
dipped in roasted red pepper sauce or similar dip for an appetizer
saute them with onions and scrambled eggs for breakfast
bake them with cheese on top
potato soup
Enjoy!