California Quinoa Salad recipe is a popular Whole Foods copycat that is refreshing, nutritious, and incredibly delicious. This gluten-free salad features cooked quinoa tossed with fresh vegetables like red bell peppers, red onions, herbs, and a flavorful, zesty salad dressing.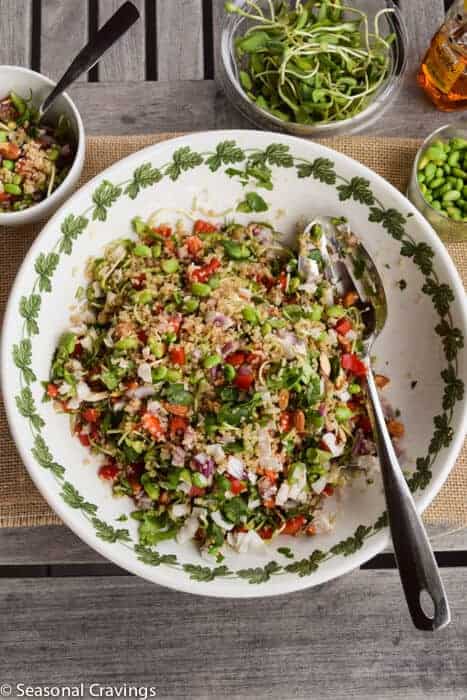 This copycat recipe has become popular recently and for good reason. It's packed with flavor and nutrition thanks to a handful of wholesome ingredients. And it comes together in 30 minutes.
Quinoa salad is a versatile dish that can be enjoyed as a main course (just add a healthy source of protein), a side dish, or a salad. It's even great as an afternoon snack. The best part is this Whole Foods copycat recipe is excellent for meal prep, making it a great option for busy people.
California Quinoa Salad pairs well with most proteins. Serve it alongside Tender London Broil, Instant Pot Pork Tenderloin, or this Prime Rib Roast. It's a wonderful, easy side dish that requires minimal ingredients and little prep work.
Ingredients
You'll need just a few simple ingredients to make a California Quinoa Salad recipe.
For the salad: 
White quinoa -

I used regular quinoa but feel free to use a blend of white and red quinoa if you wanted to stick closer to the Whole Foods version.

Red bell pepper

- half of a small red bell pepper diced into small pieces.

Red onion

- a quarter of red onion diced will give you flavor and zest.

Unsweetened coconut flakes

- a must in this salad.

Chopped almonds

- gives wonderful crunch and texture.

Fresh edamame

- or use frozen edamame but thaw and drain first.

Fresh cilantro

- chopped fresh herbs add a refreshing flavor.

Sunflower sprouts

- though this is optional it adds great nutrition; feel free to use other sprouts like alfalfa sprouts or radish sprouts.
For the dressing:
Balsamic vinegar -

to give that lovely tang and flavor.

Olive oil -

use regular olive oil or extra virgin olive oil; you can also use a more neutral oil like avocado oil.

Limes -

fresh lime juice along with lime zest adds refreshing flavor that balances all savory flavors and textures; may use lemon juice in a pinch

Honey -

for a hint of sweetness and to balance the tanginess in balsamic vinegar and lime flavors.

Kosher salt and ground black pepper -

to taste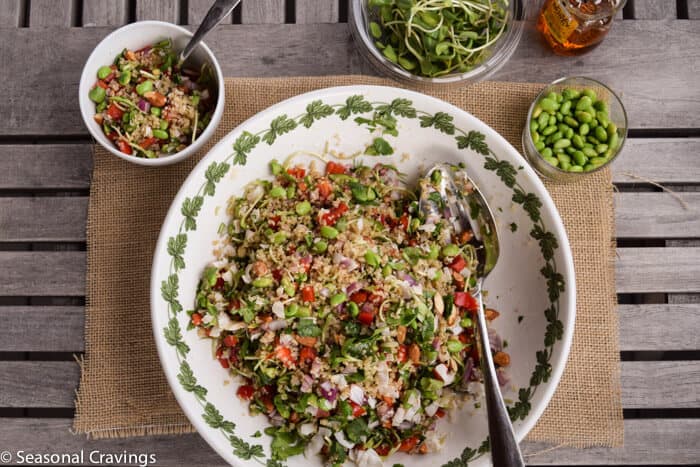 How to Make California Quinoa Salad
This zesty quinoa salad comes together in a matter of three steps and a few minutes. Combine quinoa with your chopped veggies and toss together in a delicious dressing. Easy salad that you'll be making again and again. 
Step 1.
Rinse quinoa under running water.  Add it to a medium saucepan and cover it with water and a pinch of salt. Bring to a boil on medium-high heat. Reduce the heat to low and simmer for 15-20 minutes or until the water is absorbed and the quinoa is cooked through and tender.
Fluff quinoa with a fork and set aside uncovered to cool at room temperature. 
For additional information on quinoa, check out my post on the benefits and how to cook quinoa. 
Step 2. 
Add balsamic vinegar, olive oil, zest and juice of two limes, honey, and salt and pepper to a pint-size mason jar. Close the lid and shake well to combine. Alternatively, you can whisk the salad dressing ingredients in a small bowl.  
Step 3.
To a large bowl, add diced red bell pepper, diced red onion, unsweetened coconut flakes, chopped almonds, edamame, chopped cilantro, and sunflower sprouts.
Add cooked and cooled quinoa. Top with salad dressing and toss to combine. Check for salt and pepper and adjust as needed.
Serve quinoa salad chilled.
Variations
If you want to make this Whole Foods copycat closer to the original recipe, consider adding diced sweet mango and raisins. You can also use a quinoa mix, a blend of white quinoa and red quinoa. 
To incorporate your own fresh flavors, add some chopped fresh basil or sliced green onions, a few garlic cloves, and kalamata olives. Increase the protein by adding a little bit of black beans or feta cheese if dairy is tolerated. 
Either way, this salad is sure to be a hit. 
Helpful Tips
California quinoa salad recipe is a simple salad or side dish that comes together with minimal prep time and few ingredients. But a few expert tips may be helpful as you make this recipe.
Cool quinoa quickly:

Consider

cooking quinoa

the night before or well in advance of making this salad.

Here are some easy ways to speed up the cooling process:

After cooking it, leave the pot uncovered for heat to escape.

Better yet, transfer the cooked quinoa to a shallow bowl or baking sheet and spread across evenly to create more surface area for heat to escape the grains.  

Make it a meal:

Consider adding a healthy protein like leftover roast chicken meat or canned tuna to this salad and make it a complete meal for a busy weekday. 
Storage Instructions
California Quinoa Salad can be stored in an airtight container in the refrigerator for up to 4-5 days. To extend shelf life, consider leaving out the red onions and bell peppers just before serving. This will ensure the vegetables will stay crispy and fresh. 
Related: How to Cook Quinoa
Frequently Asked Questions
What is a California Quinoa Salad?
California Quinoa Salad is a healthy and delicious salad made with quinoa, fresh vegetables, and a zesty dressing. It is a popular item at the salad bar at Whole Foods Market. This copycat  recipe has those same refreshing flavors and is packed with nutrition. Now you can enjoy California Quinoa Salad at home with this simple recipe. 
Can I swap quinoa with something else?
California quinoa salad wouldn't be the same without quinoa but you can absolutely use another hearty and healthy grain instead of quinoa. Some good options are buckwheat, millet, teff, and brown rice. They are all naturally gluten-free whole grains and will make an excellent alternative to quinoa.
What vegetables can I add to California Quinoa Salad?
In addition to bell peppers, red onions, and fresh edamame, you can add any extra veggies in your refrigerator. Cucumbers and grape tomatoes are great options. Shredded or julienned carrots are also an excellent addition.
Serving Suggestions
Serve this easy salad with your favorite protein, such as Baked Pork Tenderloin or Air Fryer Chicken Thighs, for a well-balanced and delicious meal. This salad is packed with so much flavor and nutrition. 
Plus, it's an easy on-the-go meal and a great option for meal prep. Consider doubling the recipe and making enough to last you throughout the week to add to your work or school lunches. There's no reheating required making it a satisfying, easy leftovers lunch.
Nutrition
Quinoa is a whole grain high in protein, fiber, and various vitamins and minerals. It's naturally gluten-free, making it a good option for people with gluten insensitivities. Of course, the nutritional value of any quinoa dish will depend on the specific ingredients used, but in general, recipes made with quinoa are a great choice and contribute to a healthy and satisfying meal.
Furthermore, I love adding raw sprouts to this salad. Sprouts are a germinated seed of a vegetable and are loaded with vitamins and antioxidants. (source)
A serving of this California Quinoa Salad recipe clocks in under 300 calories and 10 grams of protein. It also packs in 6 grams of fiber and is rich in vitamins A, C, and calcium. With those nutrition facts, I can eat a bowl of this every day. 
Need More Healthy Recipes with Quinoa?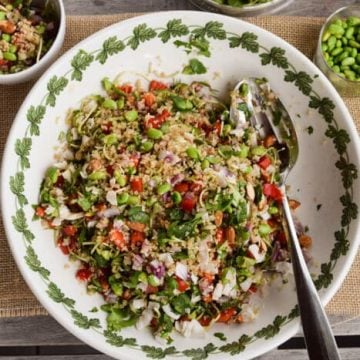 Whole Foods Quinoa Salad
A delicious, healthy, gluten free salad to eat all week.
Print
Pin
Rate
Ingredients
1

cup

dry quinoa

2

cups

water

½

small red pepper

diced small

¼

red onion

diced small

½

cup

flaked

unsweetened coconut

½

cup

chopped almonds

1

cup

frozen edamame

thawed

½

cup

cilantro

chopped

1

cup

sunflowers sprouts

optional, washed and chopped

Dressing:

2

tablespoon

balsamic vinegar

1

tablespoon

olive oil

juice and zest of 2 limes

1 ½

tablespoon

honey

salt and pepper to taste
Instructions
Cook the quinoa according to package directions.

Put all ingredients for dressing in a mason jar and shake well.

In a large bowl toss all remaining ingredients. Add the cooled quinoa and top with dressing. Add salt and pepper to taste. Toss and enjoy.
Nutrition
Calories:
299
kcal
|
Carbohydrates:
32
g
|
Protein:
10
g
|
Fat:
17
g
|
Saturated Fat:
5
g
|
Sodium:
12
mg
|
Potassium:
435
mg
|
Fiber:
6
g
|
Sugar:
7
g
|
Vitamin A:
400
IU
|
Vitamin C:
14.9
mg
|
Calcium:
65
mg
|
Iron:
4.5
mg