Let's celebrate summer with this super delicious Strawberry Lime Gin Rickey. It's the perfect combo of sweet and sour with lots of summer freshness.
Cocktails on Wednesday? Why yes!
Of course, you must partake when you are part of such a fun, summer cocktail celebration. Sherrie over at With Food + Love has organized this fun booze party to wrap up the summer.
I can't think of a better way to end it, can you? There are a ton of very talented bloggers who created extra special cocktails for this celebration.
Scroll down to view the entire list.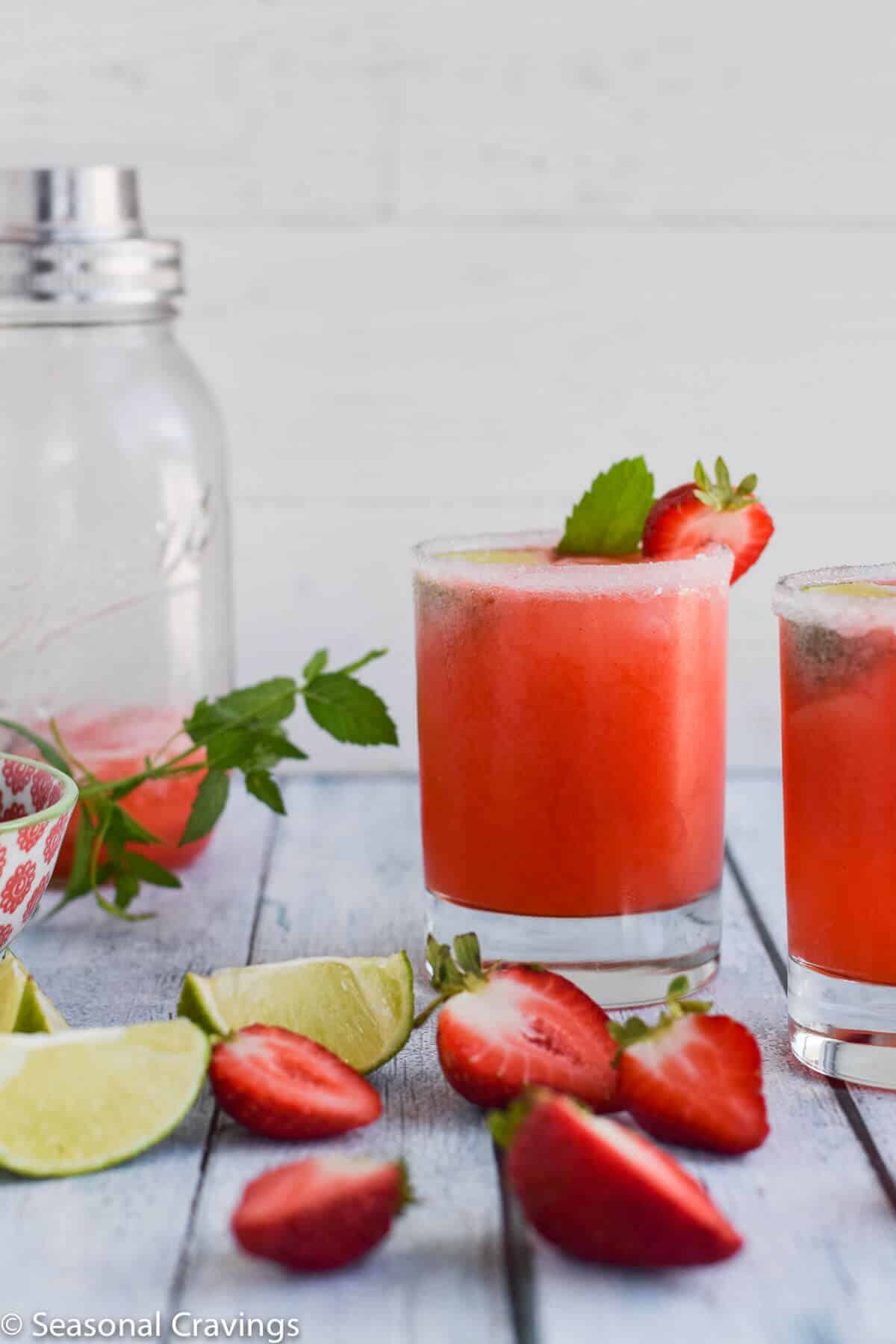 Can you believe the summer is almost over? Where did it go?
Why didn't I get to all items on my summer bucket list? We didn't go to the water park, pick strawberries or learn to paddleboard.
What we did do was spend many days at the beach and pool lounging. Well, I was lounging and the kids were swimming, boogie boarding, and snorkeling.
Lucky me!
Fall is always a turning point for me where I re-evaluate my goals and make plans for the school year. I will be making goals for the blog and for things I want to do with my family.
Hopefully, I will have a more organized way to get my meals on the table each night (weekly meal planning anyone?)
Seriously, I'm on a mission to fill this blog with simple gluten free weeknight meals that can be made in less than 30 so stay tuned. I will recommit to working out on a regular basis since I haven't worked out all summer. Gross, I know, but who has time for that?
It's almost like New Year's Resolution time for me and I love it. I'm a list maker and a goal setter and it's the only way I get anything done.
Can you believe that I have written something on my list that I have already done just so I can cross it off? Crazy, yes!
In the meantime, I have one week left of summer celebrating and so do you. Luckily you have this awesome list of summer cocktails to make.
Try each one and enjoy every last second of summer!
Cheers everyone!
Here are all the talented bloggers celebrating #drinkthesummer!
BOOZY
With Food + Love | Basil Fig Vodka Smash
EGD | Backyard Peach Sweet Tea
The Broken Bread | Honeydew-Ginger Apricot Mojitos
rooting the sun | Strawberry Fennel Soda