This broccoli is sooo amazing that I've been eating it for lunch all week.  It could be a star dish this Thanksgiving if you want to pass on the green bean casserole.  I never liked those fried onions anyway.  Not only will the adults like it but the kid's table will be swooning over the broccoli. Trust me.  It's a hit!
Broccoli has never been my favorite vegetable.  I grew up eating it overcooked and swimming in butter – sorry mom – I love you!  My first good experience with broccoli was Ina Garten's oven roasted broccoli.  It is so delicious.  Who knew vegetables could be so good?  She taught me to roast them at high heat.  You rock Ina!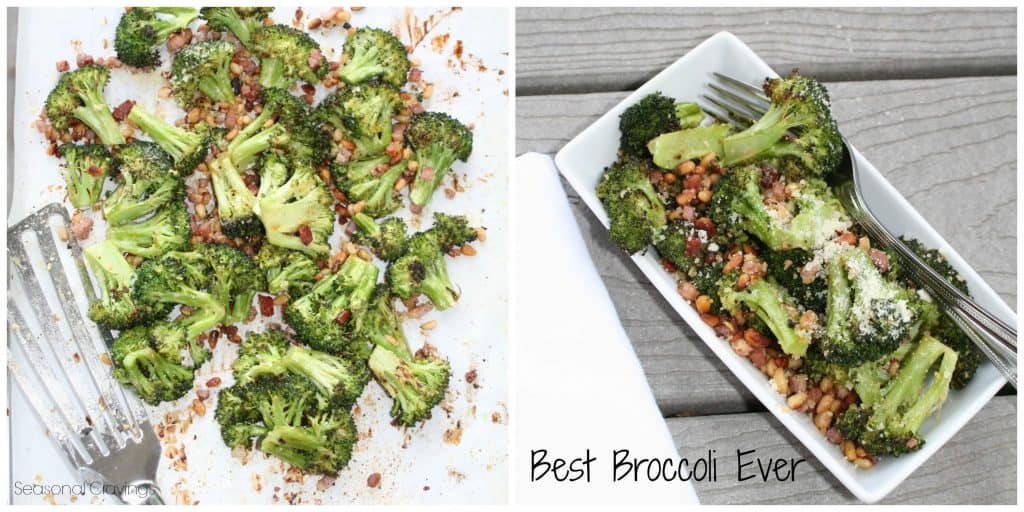 This recipe was inspired by my favorite asparagus dish from Food 52.  It's called Absurdly Addictive Asparagus and it is just that.  It has butter, pancetta and leeks.  That's a worthy combination in my book.  Try this because it will not disappoint.
Ingredients
One bunch of broccoli

florets cut off, no stems

2

tbsp

olive oil

1/4

cup

prosciutto

cubed

1/4

cup

pine nuts

2

cloves

garlic

chopped

Lemon juice and zest

A handful of parmesan cheese

grated
Instructions
Preheat oven to 425 degrees.

Put broccoli in a bowl and mix with olive oil. prosciutto, pine nuts and garlic. Pour out on a sheet pan lined with foil or parchment.

Roast for 15-20 minutes. Be careful of the pine nuts. If they are left alone they will burn so stir often.

When browned remove from oven and top with zest and juice of one lemon. Sprinkle with one handful of grated parmesan. Serve immediately.