Whether you are new to gluten free baking or a pro, I'm here to help make it easier and tastier. Sometimes we don't want to turn on the oven, and we need a delicious dessert to get through the long afternoon. If you are gluten free, you know how hard it can be to find sweet treats that taste great and taste not gluten free!
I've been cooking gluten free for years, and I help my health coaching clients who want to do the same, whether they have celiac disease or non-celiac gluten sensitivity.
If you want to learn more about eating a gluten free diet check out my Gluten Free Guide for Beginners.
These easy to make no bake desserts are sure to become family favorites no matter what your dietary needs are. From no bake cheesecake to no bake cookies you will find one you love. Give them a try, and be sure to let me know what you think in the comments.
Keto Chocolate Peanut Butter Fudge
This Keto Chocolate Peanut Butter Fudge is a healthy indulgent five-ingredient snack that will satisfy all your sweet cravings and keep you full. Layers of rich chocolate and peanut butter to the rescue.
Strawberry Shortcake Icebox Cake
Icebox cakes have been around since the 1930s, and this gluten-free no-bake strawberry shortcake icebox cake from iowa girl eats. is perfect for a summer picnic! This icebox cake must
Chocolate Creamy Peanut Butter Bars
If you are a lover of peanut butter! These no-bake chocolate creamy peanut butter bars from erin lives whole are an easy recipe you'll make on repeat. They are made from gluten-free and vegan ingredients; if you love Reese's peanut butter cups, you may be unable to tell the difference.
Three Ingredient Paleo Chocolate Truffles
Need a chocolate fix? Try these Three Ingredient Paleo Chocolate Truffles for a creamy and delicious two-bite treat. Made with coconut cream for a rich, paleo, vegan chocolate candy.
Snicker Slices
Snickers are a popular candy; although they are gluten-free, they are not very healthy! So if you are looking for a simple and more nutritious candy bar, try these snickers slices from Two City Vegans.
Mini Fruit Tarts
Mini fruit tarts are easy to make, and these mini fruit tarts from the pretty bee are some of the easiest ever! The best part? They're free of all the top allergens! Just grab some gluten-free cookies or graham crackers and get started! Plus, you can use fresh strawberries on these decadent treats.
Gluten Free No Bake Cookies
Not having to bake a cookie not only makes it easier. But you also can enjoy them faster. These gluten-free no-bake cookies from hello spoonful are made with peanut butter and are delicious. The best part is they are completed within 15 minutes.

Keto Chocolate Fat Bombs
These Keto Chocolate Fat Bombs will satisfy all your sweet cravings and give you a healthy dose of fatty acids, AND they are made with only four ingredients!
Edible Cookie Dough
Everyone loves to eat cookie dough off the spoon. But it can be dangerous. So, here is a gluten-free edible cookie dough recipe from science & crumb that you can enjoy whenever! When it comes to easy no-bake, gluten-free desserts, this is definitely one of the easiest.
No Bake Chocolate Cookies
These gluten-free no-bake chocolate cookies from meaningful eats are made with just a few ingredients and have a delicious chewy, fudgy texture. If you are looking for a quick and easy gluten-free chocolate treat, these no-bake cookies must be at the top of your list!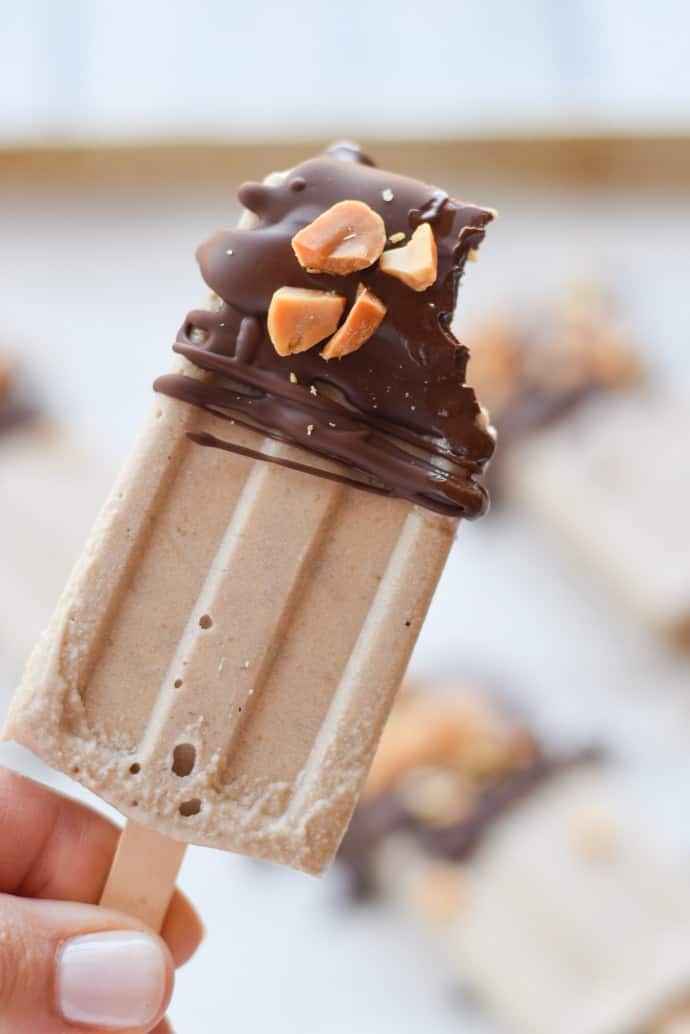 Chocolate Peanut Butter Banana Popsicles
Craving ice cream? These healthy Chocolate Peanut Butter Banana Popsicles are the tastiest summer treat on a stick. Hard to believe these homemade treats have no dairy and are made with coconut cream, bananas, and peanut butter. Simple ingredients for the win! You can feel good about feeding these treats to your kids! You can also substitute almond butter in these.
Dirt Pie
Were you a fan of the worms in dirt dessert when you were younger? If so, this gluten-free dirt pie recipe from cotter crunch may be your favorite! Use gluten-free chocolate cookies for the crust, or completely create your own date crust! It is delicious either way!
Peanut Butter Bliss Balls
These no-bake peanut butter bliss balls from The Picky Eater are easy, delicious, kid-friendly, completely vegan, gluten-free, and even low in sugar! The perfect guilt-free treat and they will satisfy anyone's sweet tooth!
Gluten Free Cheesecake
Everyone loves a good no bake cheesecake, and this creamy no-bake gluten-free cheesecake from mama gourmand is made with just a few simple ingredients! Add some fresh fruit on top for a great dessert!
Gluten Free No Bake Oatmeal Cookies
Cookies are always a favorite in my house, and these gluten free no bake oatmeal cookies do not disappoint. Simply mix and drop, and you have yourself a delicious treat. Be sure to store these in an airtight container to keep them tasting fresh for days. I use natural peanut butter in this one, and it works great.
Unicorn Cookies
Who doesn't love unicorns? These unicorn cookies from The Big Man's World are adorable and super easy! With only 4 ingredients, these cookies are egg-free and gluten-free and probably one of the simplest recipes you'll ever find!
Butternut Squash Crumble Pie
Butternut squash doesn't seem like a dessert food. It makes a perfect Thanksgiving side dish. But only a few people realize just how delicious it can be. This butternut squash crumble pie from Beauty Bites is a great addition to your pie menu!
Almond Butter Bars
Peanut butter is great. But these no-bake almond butter bars from the toasted pine nut are so crazy easy! They're perfect for a quick bite to tide you over between meals and a snack the whole family will love!
Chocolate Blueberry Clusters
Chocolate blueberry clusters from Salted plains are simple and delicious and are comprised of just 3 ingredients chocolate, blueberries, and brown rice cereal! The best part is there is no need to bake these!
Yogurt Bark
Yogurt bark is something that I hadn't tried before. But this easy yogurt bark from Her Highness Hungry Me melts in your mouth and can easily be customized to your tastebuds.
Fudgesicles
You can enjoy ice cream all year round, and these fudgesicles from gluten free on a shoestring will put the ice cream man to shame! Since the brand "fudgesicles" is off-limits if you're gluten-free. These are great alternatives.
Pumpkin Popsicles
Craving a healthy snack that's out of the ordinary? Try these Pumpkin Popsicles with only a few ingredients. They are drizzled with a sweet chocolate sauce that really takes them over the top.
Raspberry Bars
Raspberries are so sweet and make for a great dessert on their own. But these raspberry bars from Rainbow Nourishments are easy to make, no bake, and completely sugar-free. The best thing? They are absolutely gorgeous looking!
Peanut Butter Eggs
If you are looking for easy no-bake, gluten-free desserts and your family are fans of peanut butter eggs. These gluten-free, dairy-free peanut butter eggs from Living Freely are a great healthy alternative to the originals.
Monster Cookie Bites
A recipe that only requires one bowl, 15 minutes, and can be enjoyed as soon as you're done mixing. These no-bake monster cookie bites from Healthy Gluten-Free Family are easy, fun, and a nourishing snack or dessert!
Mini Bailey's Chocolate Mousse Pies
A boozy Irish dessert that is light, fluffy, and gluten-free, these mini Bailey's chocolate mousse pies from Cupcakes & Kale Chips are full of chocolate mousse and deliciousness.

Creamy Chocolate Peppermint Cups
These Creamy Chocolate Peppermint Cups are dangerously delicious. They have a chocolatey outside and a creamy sweet peppermint filling in the middle.
White Chocolate Lemon Truffles
White chocolate lemon truffles from Home Grown Happiness are the perfect after-dinner dessert, and if you love white chocolate and lemon, these are amazing! They even make a lovely gift for a special occasion!
Black Bean Brownies
Can you believe you can make a fudgy, rich, and amazing brownie out of black beans? These black bean brownies from Beauty Bites are easy and can quickly be made in one bowl or a food processor, making them perfect if you need a quick dessert.
Banana Oatmeal Bread
A simple gluten-free banana oatmeal bread from homemade mastery tastes amazing, with a deep banana flavor that pairs perfectly with a cup of coffee or even as a healthy breakfast "dessert."
Strawberry Chocolate Cheesecake
Strawberry chocolate cheesecake from Living Freely is drenched in chocolate ganache, strawberry sauce, and other easy-to-find ingredients. This cheesecake will quickly become a favorite and top your list of no-bake desserts.
Almond Joy Bars
Almond Joy Bars are pretty delicious, and if you're a chocolate and coconut lover, they probably top your list of candy bars. But if you don't feel like running to the store to grab one. These easy-to-make homemade almond joy bars from whole new mom are perfect for any special diet too, like low-carb, paleo, and vegan.
Sweet Potato Pudding
Seven ingredients and 10 minutes are all you need when making this sweet potato pudding from delightful adventures is egg-free, dairy-free, oil-free, and gluten-free. A light, delicious dessert that is the perfect ending to a meal.
S'mores Parfait
S'mores are the ultimate summer dessert, but that doesn't mean you can't enjoy them all year long. This gluten-free s'mores parfait from Strength & Sunshine is protein-packed and allergy-free!
Pumpkin Peanut Butter Fudge
Fudge is found in most candy stores, and people love grabbing it for a quick dessert. If you love fudge but want a healthier and gluten-free option, this pumpkin peanut butter fudge from kitchen of youth is perfect, and the best part is it can be stored and eaten right from the freezer!
These 35 easy no-bake, gluten-free desserts are just some of the delicious gluten-free desserts you can make! Whether you choose to eat gluten-free or need to, these gluten-free desserts are healthy but easy, and you'll enjoy eating every single one of these!
Prefer to Bake Your Desserts? Try these: