There are so many delicious gluten free cake mixes available at your local grocery stores now. No need to go to a specialty store or order online. You can easily get a tender, fluffy cake that is perfect for a birthday or special celebration.
Jump to:
I've been gluten free for a long time, and I remember when you couldn't find any easy boxed mixes, and everything had to be made by mixing different types of gluten free flours together. Luckily being gluten free is more mainstream, and you can easily find shortcut boxed cake mixes at any local store.
Traditional cake mixes are made from wheat flour, so those should be avoided if you are gluten free. Gluten is a protein found in wheat, barley, and rye that can cause issues for certain people. If you want to learn more about starting a gluten free diet, find my Gluten Free Guide for Beginners here.
We have tested out so many boxed cake mixes over the years I have put together a comprehensive list of our favorites grouped by flavor and order of preference. Of course, if you prefer to make your cake or cupcakes from scratch, try out my Gluten Free Chocolate Cupcake Recipe or my Gluten Free Chocolate Almond Cupcakes.
These boxed mixes are infinitely adaptable and usually only require eggs, water, and oil. You can jazz them up by adding mini chocolate chips, sprinkles, or nuts.
Best Gluten Free Yellow Cake Mix
King Arthur Gluten-Free Yellow Cake Mix
I have always loved King Arthur baking products, and it is very hard to tell if this one is gluten free. This delicious cake mix turns out a moist, tender, golden cake that can be made into layers, a sheet cake, or cupcakes. The reviewers say no one ever knows this is gluten free and there is no metallic taste. It is a no-fail cake mix that should become a pantry staple.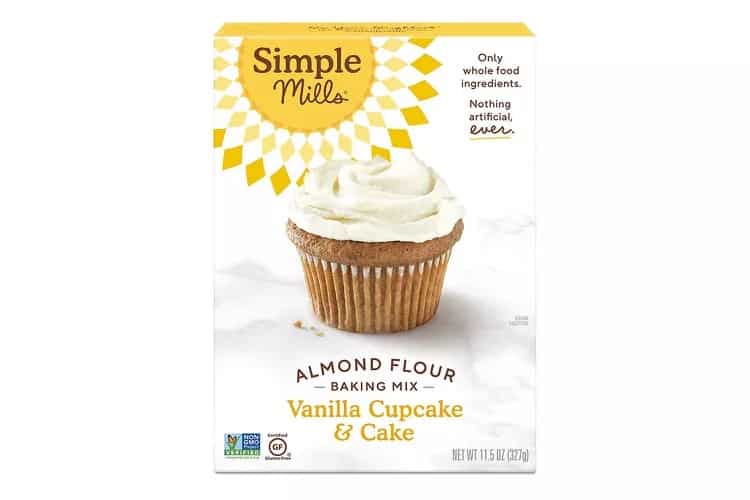 Simple Mills Almond Flour Vanilla Cake Baking Mix
Simple Mills is a brand I have grown to love. It is sweet but not too sweet and is made with a mixture of almond and coconut flour. I love using almond flour in baking because it adds so much flour and goes well with vanilla.
This brand is certified Gluten-Free, Grain Free, Soy Free, Corn Free, Dairy Free, Gum/Emulsifiers Free. It is truly amazing, this healthy product could taste so good!
Bob's Red Mill Gluten-Free Vanilla Cake Mix
I'm a huge fan of Bob's Red Mill and use their gluten free baking flour almost exclusively. This blend is made with the perfect combination of gluten free flours and starches to create a light and fluffy cake.
The key ingredient is whole grain sorghum flour, a powerhouse of nutrition, so you can feel good about serving this to your family.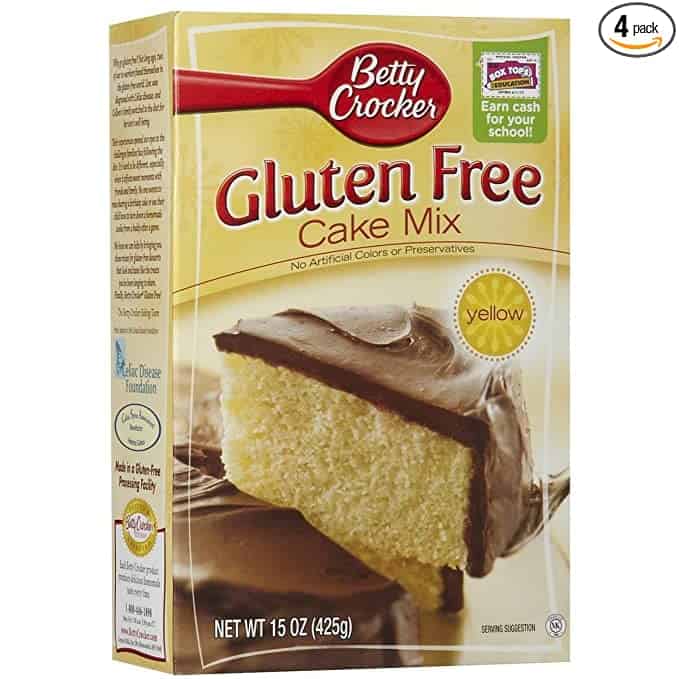 Betty Crocker Gluten-Free Yellow Cake Mix
I would use this one in a pinch as it is not my favorite; however, the price is usually better. The first ingredient is sugar, so you can bet this one is super sweet and does not produce a moist, tender cake. It tends to be crumbly and gritty.
Best Gluten Free Chocolate Cake Mix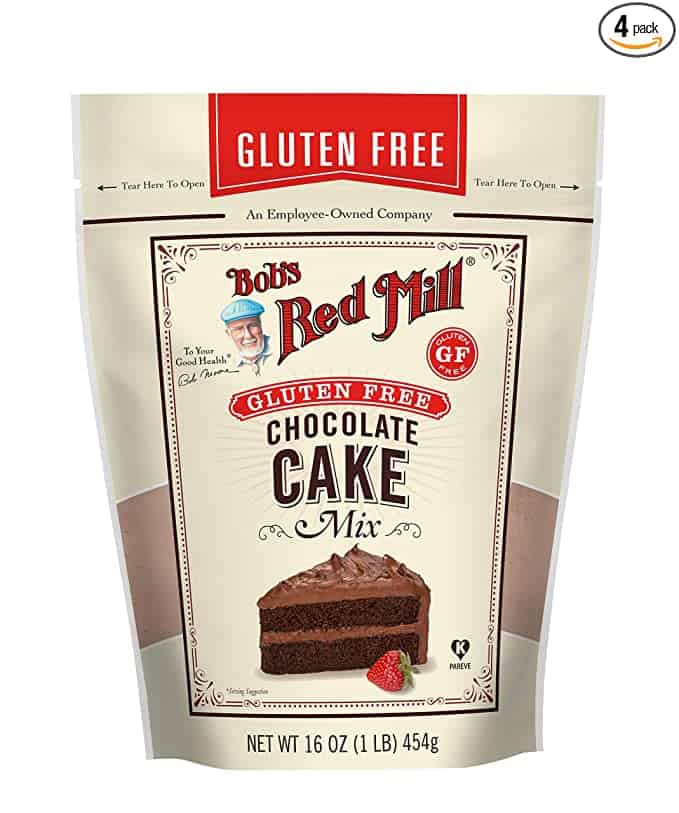 Bob's Red Mill Gluten Free Chocolate Cake Mix
This one is so delicious it can be hard to find in the store. It makes a deliciously moist cake, and none of your guests will know it's gluten free. Bob's Red Mill Gluten Free Chocolate Cake Mix is always in my pantry for quick treats for friends and family.
It is made with a blend of gluten free flours and uses high-quality cocoa powder to give it that deep chocolate flavor.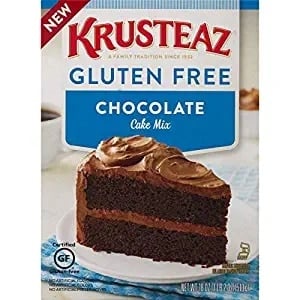 Krusteaz has come a long way in the gluten free arena and creates some truly delicious gluten free mixes. I love their cornbread mix and use it in my
Gluten Free Corn Casserole
.
This cake mix produces a tender, rich chocolate layer cake or cupcakes that is sure to delight your guests. It is easily made with a few simple add-ins and is delicious when topped with
chocolate buttercream
. Never too much chocolate!
My love of King Arthur runs deep as I love their Gluten Free Flour Blend too. It has a tender and moist texture, and it's perfect for all your special occasions.
They claim to do a lot of recipe testing to get to the perfect gluten free flour blend. They use simple ingredients to ensure you get reliable results time after time.
Simple Mills Almond Flour Chocolate Muffin & Cake Baking Mix
Simple Mills can always be counted on to have the healthier boxed mix. They use a mixture of almond and coconut flour and sweeten it naturally with coconut sugar.
I swear you really can't tell, although it is less sweet than the other brands. I prefer that sometimes, especially when topping it with a super sweet frosting. Oh, this one is paleo friendly too!
Best Gluten Free Dairy Free Cake Mix
If you need a cake mix that is both gluten free and dairy free, that can be a bit harder to find. On the ingredient label, you will see it says, "contains milk ingredients," so look out for that. There can be hidden sources of dairy, so look carefully.
Related: 100 Gluten Free Dairy Free Breakfasts
Here are a few cake mixes that are DF/GF:
Simple Mills Almond Flour Vanilla Cake Baking Mix
Bob's Red Mill Gluten-Free Vanilla Cake Mix
Katz Gluten-free Chocolate Fudge Cake Mix
The Vegan Knife Gluten-free & Vegan Cupcake and Cake Mix
gfJules Certified Gluten Free Cake Baking Mix
Enjoying a gluten free lifestyle can be hard, but with these easy-to-use boxed cake mixes, you can't go wrong. It really helps to have shortcuts like these to make life easier when you are trying to adhere to a strict gluten free diet.
Tips to Make Box Cake Better
Once you find your favorite gluten free cake mix above, use some of these tips and tricks to make your box cake taste better.
Add an extra egg for a richer flavor.
Add melted unsalted butter instead of oil.
Try adding whole milk or buttermilk instead of water.
Add a teaspoon of espresso powder to your chocolate cakes for a richer chocolate flavor.
Add vanilla or almond extract for extra spice.
Mix in some gluten-free add-ins like chocolate chips, nuts, marshmallows or dried fruit.