Looking for some delicious and easy chicken dinner recipes to add to your weekly meal rotation? You've come to the right place! In this collection of 26 recipes, you'll find a variety of flavorful and simple chicken dishes that are perfect for weeknight dinners or weekend entertaining. Whether you're a seasoned cook or a beginner in the kitchen, these recipes are sure to impress and satisfy your hunger. So, grab your apron and get ready to whip up some mouth-watering chicken dinners!
Caprese Chicken
This easy 5-ingredient Caprese Chicken is everything you want in a one-pan meal. It's wholesome, hearty, and a total comfort food. Your whole family will love this and it will be your instant favorite for when you want an easy yet delicious dinner. The best part is that it only needs five ingredients so prep time is a breeze! You can even make it in one pan and is also gluten-free. Read the 5-Ingredient Caprese Chicken recipe here.
Easy Balsamic Chicken
Easy Balsamic Chicken is a quick one-pan dinner that can be whipped up in under 20 minutes. The tomatoes and balsamic vinegar make a delicious sauce. If you love Italian food, you'll enjoy this recipe because of the classic Italian flavors. Since it's a healthy protein, you can indulge without the guilt. Make a large batch for an easy yet delicious leftover the next day. Find the Easy Balsamic Chicken recipe here.
Easy 5-Ingredient Chicken Drumstick
Bored of the same old drumstick recipe? Not this one! This easy 5-ingredient Chicken Drumstick recipe is a crowd-pleaser. The crispy skin holds the moisture in, giving way to the tender meat inside. Every bite is juicy and flavorful, just as it's supposed to be. The marinade for this recipe is made with tamari, olive oil, red wine vinegar, and garlic. And best part is that it's gluten-free! Read the 5-Ingredient Chicken Drumstick recipe here.
Gluten Free Kung Pao Chicken
Bursting with flavor and beyond easy to make, this Gluten-Free Kung Pao Chicken is a healthier twist on your favorite take-out dish. The perfect combination of salty and sweet, this savory recipe is sure to become your new weeknight staple.
Instant Pot Chicken Teriyaki Recipe
Instant Pot Chicken Teriyaki thighs are the easiest weeknight recipe ever. The teriyaki sauce is easily made with only a few ingredients and it is gluten free. Quick and easy instant pot pressure cooker dinners are the best!
Cauliflower Chicken Fried Rice
If you are trying to eat low-carb, you'll love this Chicken Fried Cauliflower Rice. It's full of veggies and Asian flavor, plus low carb!
Skillet Cranberry Leek Chicken
This Skillet Cranberry Leek Chicken is a fun and festive holiday dinner. The tart and sweet sauce makes the perfect pairing with sauteed chicken breasts.
Four Ingredient Soy Glazed Chicken Thighs
This is one of the easiest ways to prepare chicken. The Soy Glazed Chicken Thighs need only four ingredients to make the marinade, but it packs a ton of flavor. You can soak the chicken thighs in marinade overnight or at least an hour to maximize the flavor. It's a great recipe to do ahead of time, saving you more time for dinner. Find the Four Ingredient Soy Glazed Chicken Thighs recipe here.
Campbell's Chicken Curry
This foolproof Campbell's Chicken Curry is the perfect easy weeknight meal your family will love. It's loaded with tender chicken, vegetables, and a flavorful broth. The sauce is made rich and layered with curry powder, turmeric, and coconut milk. As a bonus, it requires minimal prep! Find the Campbell's Chicken Curry recipe here.
Sheet Pan Chicken and Brussel Sprouts
Here is a no-brainer winner of a chicken dinner that will please even the pickiest eaters in your house. It's also a great way to get your family to eat more vegetables. Try this Sheet Pan Chicken with Brussels Sprouts.
Creamy Chicken Alfredo and Spinach Casserole
What can be more comforting than eating a warm, cheesy, chicken Alfredo pasta dish, with an oh-so creamy sauce? Whether you use a store bought jar of Alfredo sauce or make it homemade, this baked pasta casserole chicken dinner is an easy and delicious crowd pleaser.
Crispy Air Fryer Chicken Wings
These chicken wings in the air fryer turn out so crispy and I don't mean to sound cliché – but finger licking good! Add baking powder before putting them in the air fryer and you will achieve juicy tender wings that are crispy on the outside.
Sheet Pan Plum Roasted Chicken
This sheet pan recipe is a beautiful blend of sweet plums and soft red onions with roasted chicken. To make this a complete one pan meal, toss in some Brussels sprouts or other vegetables and your dinner is ready in 45 minutes or less. For best results, marinate the chicken the night before.
Baked Moroccan Chicken
I often daydream about visiting Morocco, the colorful culture and pristine beaches. Until I brave the long flight with two squirmy kids – I will indulge in this flavorful baked Moroccan chicken dish!
Cheesy Chicken Quesadillas
This is a perfect meal for a busy weekday. Use store bought rotisserie chicken and other premade ingredients to make this delicious chicken quesadillas meal in a snap.
Chicken Mulligatawny Soup
Chicken Mulligatawny Soup is a popular soup that originated in Indian cuisine and has since become a favorite in many parts of the world. It's a hearty and flavorful soup made with spices, vegetables, and chicken. The soup typically includes ingredients like curry powder, garlic, and coconut milk, which gives it a unique taste and aroma. This soup is delicious and nutritious.
French Mustard Chicken
Prepare to fall madly in love with this Creamy Dreamy Mustard Chicken Recipe. Classic French dish that tastes outstanding. Get the recipe.
Spanish Chicken And Rice
Bursting with flavor, juicy, hearty, and comforting, this Spanish Chicken And Rice makes a delicious one-pot recipe for the whole family. Perfect for a weeknight or Sunday dinner. Get the recipe.
Pumpkin Chicken Curry
Pumpkin Chicken Curry is juicy, tender chicken breasts cut into bite-size pieces and simmered in a flavorful and creamy canned pumpkin sauce. This easy and quick one-skillet recipe is bursting with flavor and is perfect for a cozy autumn meal. Get the recipe.
Creamy Honey Mustard Chicken
Decadent and delicious, this Stovetop Creamy Honey Mustard Chicken skillet meal is just 30 minutes away. Filled with rich flavors and made in one pan, this simple and easy recipe is sure to be your new fave. And the creamy honey mustard cream sauce is amazing on rice, potatoes, and roasted veggies, too! Get the recipe.
Chicken Mushroom Stroganoff
This Chicken Mushroom Stroganoff is a creamy, savory, luxurious dinner inspired by delicious Eastern European cuisine and it's ready to eat in just half an hour! You simply can't beat this easy stroganoff recipe for a one-skillet, thirty-minute dinner when you're ready for a satisfying, comforting meal that doesn't involve slaving in the kitchen all afternoon. Get the recipe.
Moroccan Chicken with Preserved Lemons & Olive - One Pot!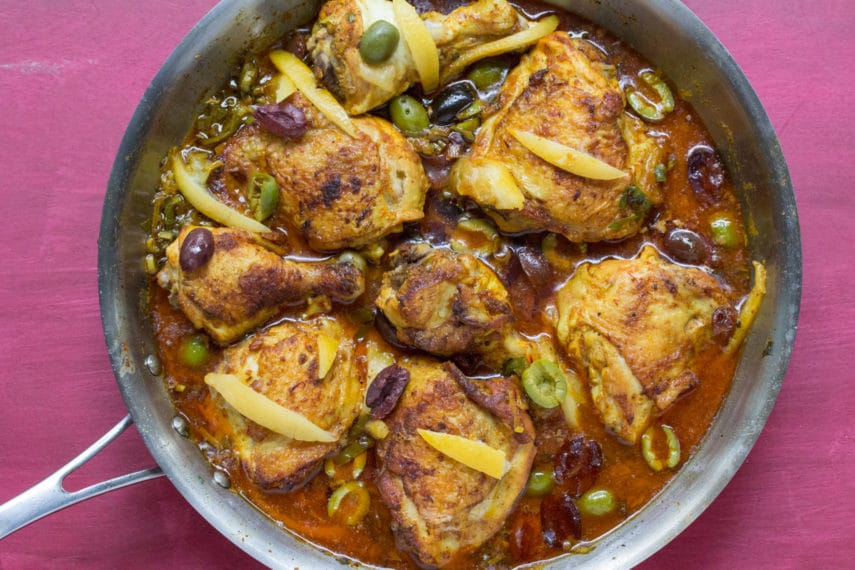 The enticing flavors of Morocco in a one-pot chicken dinner. The blend of spices – saffron, turmeric, cumin, ginger and cinnamon – might seem unusual. Combined they are indeed heady and fragrant but they are also perfectly balanced by the acidity from the Preserved Lemons as well as lemon juice. The classic rendition of this dish uses a fair amount of onion and garlic but that was easily remedied with Garlic-Infused Oil and a combo of scallion and leek greens. CLICK FOR RECIPE
​Chicken Thighs with Grapes, Thyme & Smoked Paprika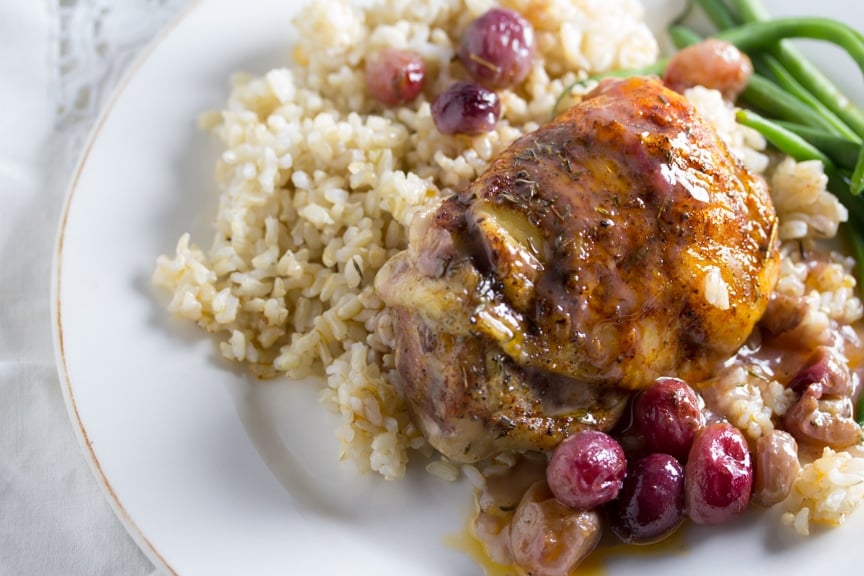 ​We Love Our Thighs. Chicken thighs that is. Chicken thighs are in regular rotation around here and this dish for Chicken Thighs with Grapes was a happy sweet and savory surprise. This Chicken with Grapes, Thyme and Smoked Paprika is a simple one-pan, oven-roasted meal that highlights the sweetness of the grapes, the smokiness of the paprika and the savory-ness of the chicken and thyme.It comes together in less time than it takes for the oven to preheat and is easy enough for a weeknight but fancy enough for non-FODMAP guests. CLICK FOR RECIPE
Chicken Pot Pie - Low FODMAP, Gluten Free
You asked for it! You all have made it very clear that a recipe for Low FODMAP Chicken Pot Pie was something you NEEDED. So, here it is! As delicious as any classic rendition that you have ever had. Promise. CLICK FOR RECIPE
​Maple Balsamic Chicken with Roasted Blueberries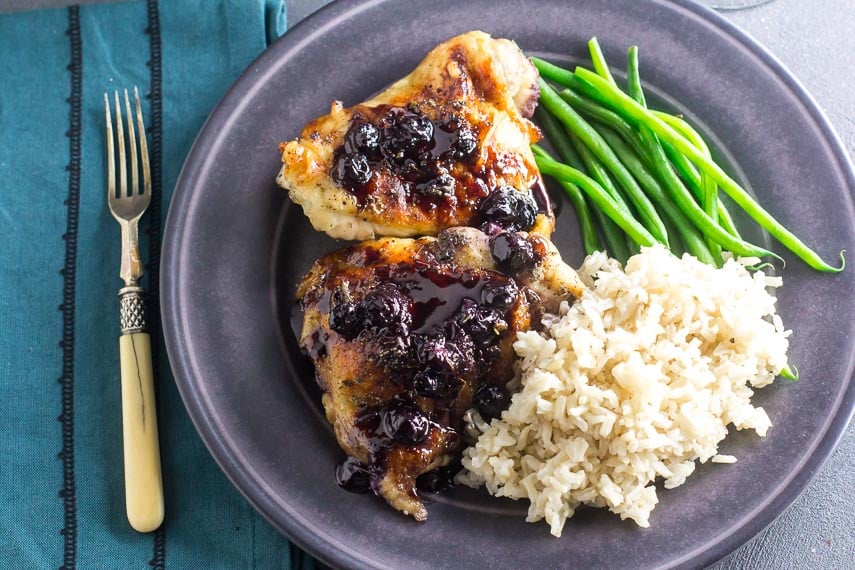 This Low FODMAP Balsamic Blueberry Chicken Recipe is a quick and easy dish using economical, juicy chicken thighs, maple syrup and low FODMAP amounts of balsamic vinegar and fresh blueberries. CLICK FOR RECIPE
​Balsamic Chicken with Peaches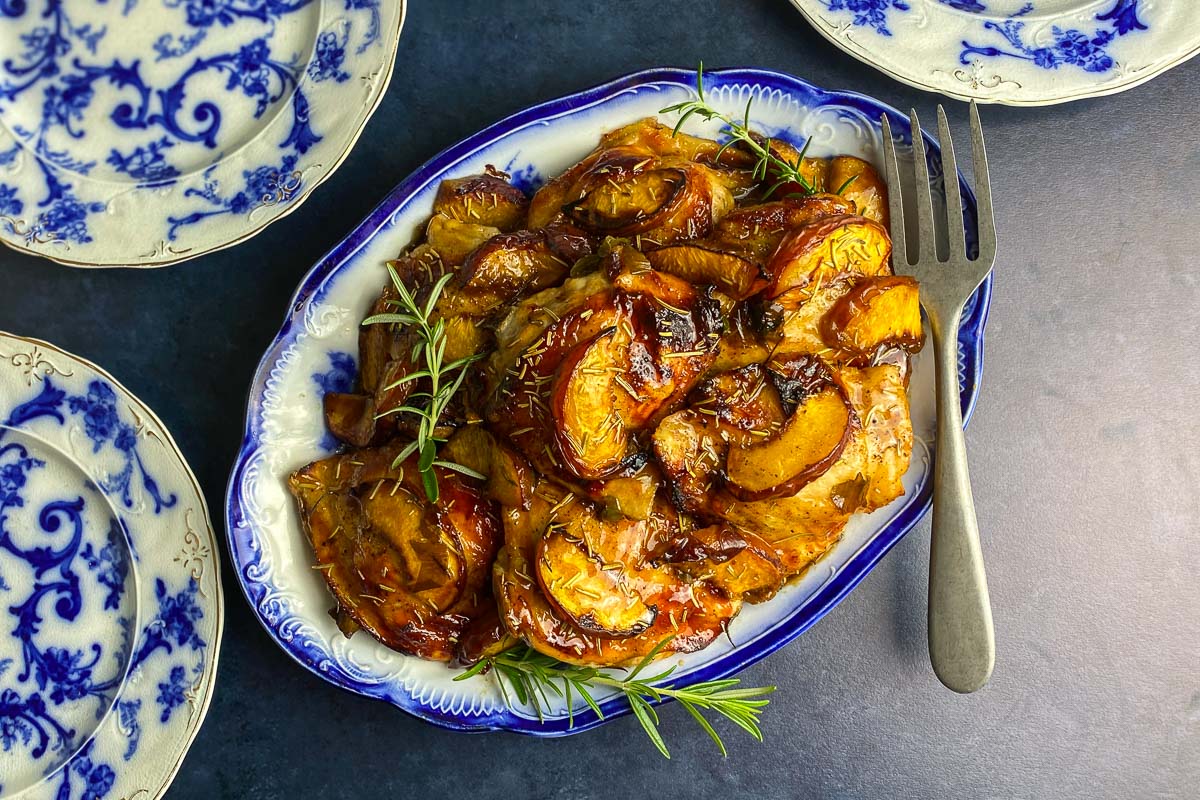 Juicy chicken thighs, peaches, balsamic vinegar, maple syrup and rosemary come together in our one-pan Low FODMAP Balsamic Chicken with Peaches. This recipe is based upon our incredibly popular Low FODMAP Maple Balsamic Chicken with Roasted Blueberries. If you love that dish, you gotta try this one – if you have passed your sorbitol Challenge. CLICK FOR RECIPE
Massaman Chicken Curry
Make this takeout favorite at home, it's easy and done in under 30 minutes. Get the recipe from always use butter: Massaman Chicken Curry
Chicken Stuffed with Feta Cheese
These chicken filets are loaded with Feta cheese, sun-dried tomatoes and basil for the tastiest chicken you've ever had. Get the recipe from always use butter: Feta Cheese Stuffed Chicken
Spanish Chicken Stew
Make a quick chicken stew with the help of rotisserie chicken - packed full with lemon & rosemary flavors! Get the recipe from always use butter: Easy Spanish Chicken Stew
Chicken Teriyaki Stir-fry
A healthy dinner or lunch loaded with veggies - use store bought or homemade teriyaki sauce. Get the recipe from always use butter: Chicken Teriyaki Stir Fry
Air Fryer Orange Chicken
Another takeout favorite you can make at home - with the juiciest, tastiest orange sauce. Get the recipe from always use butter: Air Fryer Orange Chicken
Oven Roasted Five Spice Peking Chicken
This Chinese five-spice chicken is marinated overnight in five spice, ginger, garlic, and soy sauce and then baked in the oven and glazed to get that delicious-looking skin. It's full-on flavor and pairs amazingly with a ginger scallion sauce. If you're looking for a very flavorful roasted chicken, you definitely need to try this one. Get the Oven Roasted Five Spice Chicken recipe here.
Grilled Thai Coconut Chicken Skewers
Smoky grilled chicken skewers recipe marinated in ginger, garlic, coconut cream, and soy sauce. Then finished with a sweet coconut cream glaze and served with a simple peanut sauce. Big on flavor and super easy to throw together! Get this Grilled Thai Coconut Chicken Skewers recipe here.
Thai Basil Chicken (Pad Krapow Gai)
Thai Basil Chicken is a delicious and simple Thai dish made with diced or ground chicken, yardlong beans (or green beans), and lots of fresh Thai basil tossed in a savory umami sauce. If you're looking for a quick weeknight dinner, this would be it! You can have this ready from start to finish in about 15 minutes if you're using ground chicken, and your taste buds will love you for it! You can get the Thai Basil Chicken (Pad Krapow) recipe here.
Sweet and Sour Chicken
If you're a fan of sweet and sour pork, then you should definitely try sweet and sour chicken. If you're wondering what the difference is, the batter is lighter with fewer aromatics, so it is a lighter version that brings out the flavor of the sweet and sour sauce more. Get the Sweet and Sour Chicken recipe here.
Chilli Chicken
A popular and delicious Hakka, Indian Chinese takeout dish, dry chilli chicken is made with crispy chicken chunks and lightly tossed in a spicy chilli sauce. Packed full of amazing flavors from both worlds. Get the Chilli Chicken recipe here.
More From Seasonal Cravings
Dinnertime again? Yes, so grab some sausage, and let's get to work. These tasty sausage recipes are easy to make and a nice change from ground beef and chicken breasts which we all get sick of. Your family will love you for these delicious and creative recipes, and you will love it if you have leftovers! 25 Sausage Recipes That Will Make You Dream of Leftovers
30 Mouthwatering Mediterranean Recipes to Satisfy Your Cravings
The Mediterranean Diet is one of the best diets to follow for anyone wanting a healthy switch. It is delicious and filled with nutritious elements, such as heart-healthy fats, whole grains, nuts, fruits, and vegetables. This diet has no restrictions, although refined sugar and other processed foods should be in limited consumption. 30 Mouthwatering Mediterranean Recipes to Satisfy Your Cravings
25 Healthy Chicken Tenderloin Recipes
Easy grilled chicken tenders, simply marinated and grilled in the pan or on a grill. Perfect for serving as they are, sliced on a salad or in sandwiches. Either you marinade them for hours, or just for 30 minutes before cooking, the grilled strips will still be moist and wonderful. 25 Healthy Chicken Tenderloin Recipes
30 Foolproof Soups for Easy Winter Dinners
This creamy Tortellini Soup with Sausage will warm your soul on a cold fall night. Easy to make in less than 30 minutes and a family hit for sure. It's simply made with fresh or frozen tortellini and a rich tomato base. 30 Foolproof Soups for Easy Winter Dinners
Effortless Eats: Simple Dinner Ideas with Quick and Easy Prep
Get ready to whip up some delicious meals with ease! These recipes are designed to be simple and accessible, utilizing only a few, easy-to-find ingredients. From comforting pasta dishes to juicy grilled meats and delicious vegetarian options, you'll find something to love. Each recipe features step-by-step instructions and beautiful photos, making it easy to follow. Effortless Eats: Simple Dinner Ideas with Quick and Easy Prep