This Easy 5-ingredient Caprese Chicken is everything you want in a one-pan meal. It's wholesome, healthy, delicious, hearty, total comfort food, and a family favorite. The best part is this gluten-free dinner recipe has only 5 ingredients and is made in one pan.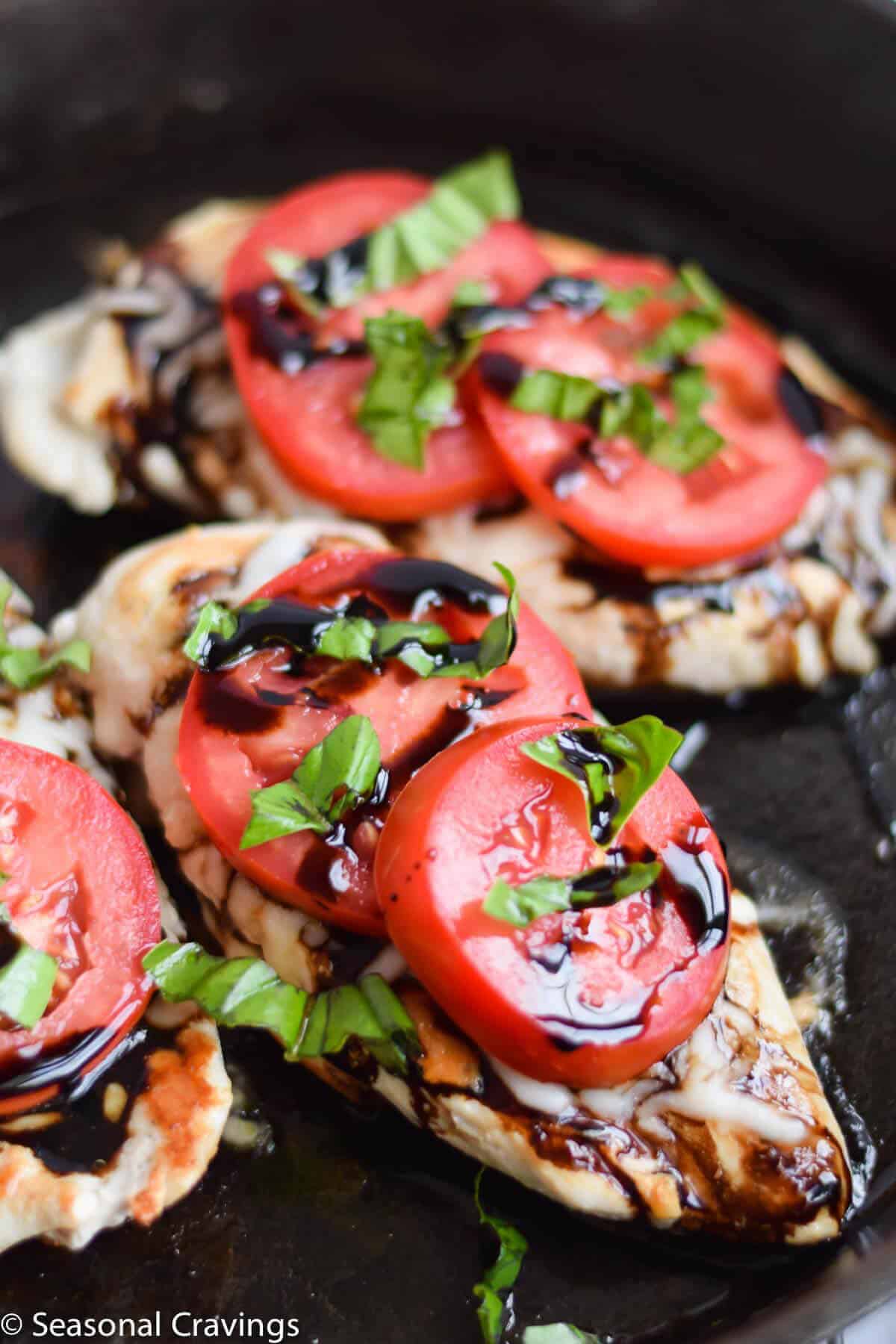 Chicken dinner is always a winner when it comes to simple meals made fast. This easy 5-ingredient Caprese chicken is no exception.
Proudly boasting juicy chicken breast with bold balsamic glaze and melted mozzarella cheese, this one-pan meal will become a part of your regular meal rotation. It's a great way to dress up monotonous chicken breasts and make them into a satiating, healthy, and delicious meal. 
This easy Caprese chicken recipe is a hit with my family because it's an Italian comfort food. And I love easy dinners that can be quickly whipped up on busy weeknights.
A bonus perk is that this chicken breast recipe tastes better the next day, so feel free to double it for easy meal prep tomorrow. It's great for work or school lunches.
If you're looking for more chicken recipe inspiration, check out my list of 45 Gluten Free Chicken Dinners.  But if you're ready to make this easy caprese recipe. 
Ingredients
This simple chicken dinner comes together with five simple ingredients plus oil and salt, and pepper. It is conveniently made in one pan, so clean-up will be a breeze.
Chicken breasts - boneless skinless chicken breasts are best, but chicken tenders will work, too; you can try chicken thighs if you're going for dark meat flavor.
Olive oil

- extra virgin olive oil is a great option for Italian recipes like this one, and I get mine from

Costco

, but you can use another oil with a high smoke point, like avocado oil

Roma tomatoes

- this variety of tomatoes is more slender and firm and is the best type of fresh tomatoes for this recipe as it won't release a lot of liquid

Mozzarella cheese

- shredded mozzarella cheese is best, but fresh mozzarella cheese may work, also. One thing to note is that fresh mozzarella may not melt as well as shredded.  

Balsamic glaze - is also referred to as balsamic syrup and is a reduction of balsamic vinegar. You may also find it labeled as balsamic reduction. It has a bold flavor often used in recipes with tomatoes and fresh basil.  
Fresh basil

- Caprese chicken will not be complete without this fantastic herb.
How to Make Caprese Chicken
This easy comfort meal comes together quickly in one pan. The printable recipe is in the recipe card for your convenience.
Step 1.
Place chicken breasts between two pieces of plastic wrap or parchment paper and pound with a meat mallet to an even thickness. Trim the chicken of any fat.
Step 2. 
Preheat a large skillet over medium-high heat. 
Step 3.
Pat chicken dry with a paper towel and generously season with salt and pepper on both sides. Add two tablespoons of oil to the pan or spray with cooking oil.
Step 4.
Place chicken in the hot pan and cook for about 4- 6 minutes per side, depending on how thick they are. To get good browning on the chicken breasts, take care not to disturb them during cooking. They should release easily when it's time to flip the chicken.
Cook chicken until no longer pink in the middle and the temperature registers 165 degrees Fahrenheit when using an instant-read meat thermometer.
Step 5. 
Drizzle with balsamic glaze when the chicken is cooked and top it with mozzarella cheese and tomato slices. Cover the skillet with a lid and turn off the heat so the cheese melts. 
Step 6.
Serve hot with another drizzle of balsamic glaze if desired, and garnish generously with fresh basil. 
Food Safety
The most accurate way to test for the doneness of any chicken is by using an instant-read meat thermometer. Insert the temperature gauge into the thickest part of the breast. The USDA recommends cooking chicken until the internal temperature registers 165 degrees Fahrenheit. (source) Additionally, there should be no pink when cut into the breasts.
Cooking time will vary depending on the thickness of the chicken breasts; that's why it's helpful to have an instant-read thermometer.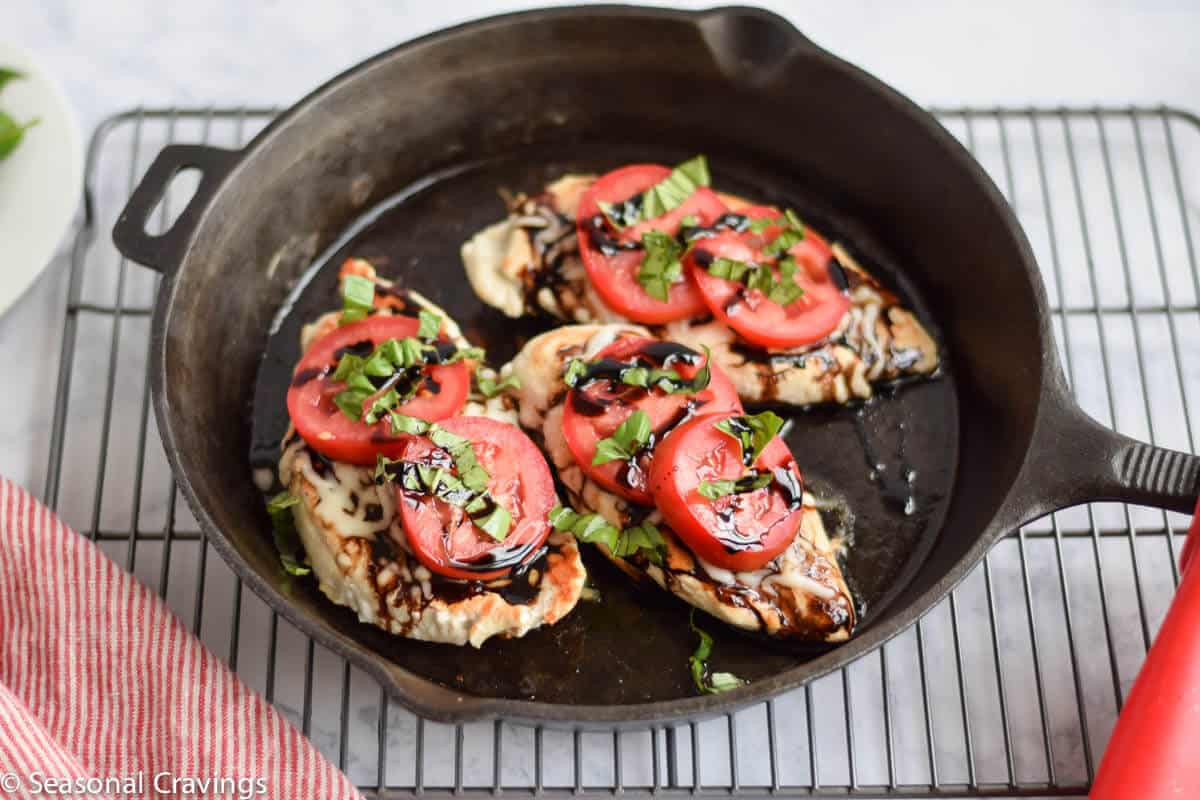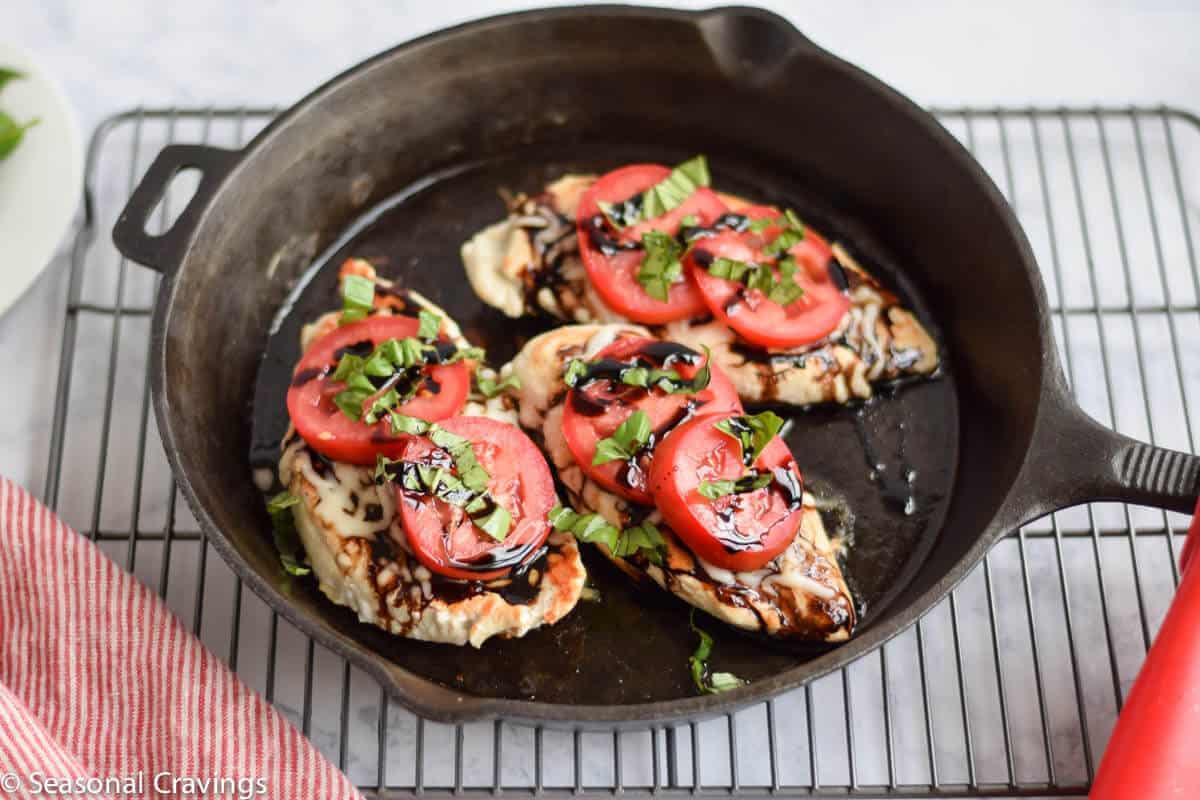 Helpful tips
This easy chicken dinner is pretty simple on its own. But consider these helpful tips for best results:
When pan-frying chicken breasts, I always trim any visible fat and flatten them with a meat mallet. That way, it will cook evenly and produce the most tender chicken. 

Don't overcook the chicken to avoid dry, rubbery meat. 

For perfectly browned chicken, don't rush into flipping the chicken prematurely. It should release easily from the pan when it has achieved that golden crust. 
Storage Instructions
Any leftover Caprese chicken can be stored in an airtight container for up to three days in the refrigerator. 
Reheat it in the microwave until warmed through. Alternatively, you can reheat leftover chicken in a toaster oven with the balsamic juices and tomatoes at 350 degrees Fahrenheit for 10 minutes or until warmed through. 
It's a versatile source of protein, so you can skip the reheating entirely and enjoy it cold in salads or sandwiches. 
Frequently Asked Questions
What is Caprese chicken made of?
Caprese chicken is an Italian-inspired dish made with ingredients similar to a classic Caprese salad consisting of ripe tomatoes, mozzarella cheese, fresh basil, olive oil, and balsamic vinegar. Caprese chicken (or chicken Caprese) boasts these same flavors but with an additional source of protein - chicken. Chicken Caprese is an easy dinner recipe inspired by a classic Italian salad.
What is the best mozzarella cheese to use in Caprese chicken?
Shredded mozzarella cheese is best in hot dishes like the Caprese chicken recipe because it will melt easier due to its low moisture content. As the name suggests, fresh mozzarella cheese is best to be enjoyed, fresh or raw. However, you can still top chicken breasts with fresh mozzarella slices and cover the skillet with a lid to gently warm it but keep in mind it will not melt as shredded mozzarella cheese would.
How long should I cook the chicken breast on the stovetop?
Heat the oil in a large frying pan over medium-high heat. Add chicken breasts and cook for 4-6 minutes on one side. Flip the chicken breast and cook on the other side for another 4-6 minutes or until cooked through. Thinner chicken breasts will cook quicker so it's always a good idea to check with a meat thermometer. To avoid food-borne illnesses, you want to make sure your chicken is fully cooked through. The instant-read thermometer should register at 165 degrees Fahrenheit with inserted into the thickest part of the meat. 
Serving Suggestions
Make this easy 5-ingredient Caprese chicken a complete meal in a flash. Serve it with Caesar salad or another tossed salad. It also pairs well with Roasted Green Beans or Easy Roasted Broccoli. 
For cold chicken Caprese, try dicing up leftovers and adding them to your lunch salad served over kale or spinach for a well-rounded protein with greens meal. Or perhaps make a grain bowl and layer it on top of brown rice, quinoa, or cauliflower rice. Don't forget an additional balsamic drizzle for a finishing touch.
There are so many ways to enjoy this easy chicken dish and make it fit your lifestyle and dietary needs. 
Need More Easy Chicken Recipes to Get You Through The Week?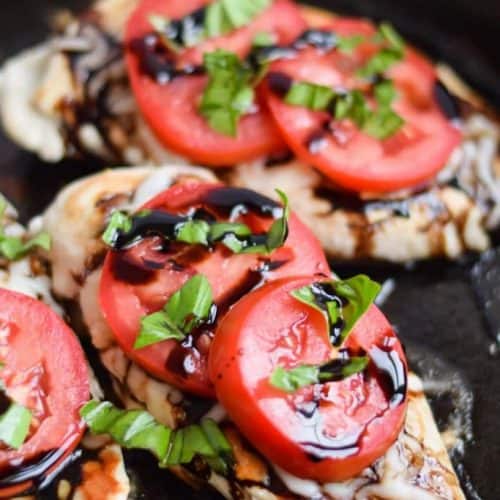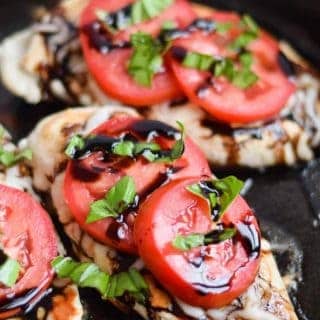 Caprese Chicken
This Five Ingredient Caprese Chicken is super fast and only uses pantry staples. It's healthy, gluten-free and kid-friendly
Print
Pin
Rate
Ingredients
3

chicken breasts

2

roma tomatoes

1

cup

shredded mozzarella cheese

or goat cheese

½

cup

balsamic syrup

2

tablespoon

basil

salt and pepper

olive oil
Instructions
Start by pounding your chicken breasts thin between two pieces of plastic wrap. Trim off any fat.

Heat a nonstick skillet over medium-high.

Salt and pepper chicken breasts on both sides and place in hot skillet. Cook for about 4-6 minutes per side depending on how thick they are. You want to get some good browning on each side.

When chicken is cooked through drizzle with the balsamic syrup, top with the mozzarella and tomato. Turn off heat, put lid on and let the cheese melt for a minute of two.

Serve with more balsamic syrup if desired. Top with basil. I like lots!
Notes
If you are lucky enough to have extra Caprese Chicken, store it in an airtight container in the refrigerator for up to three days.  I often make a double batch of this so my family can take it in their lunches, or we can eat it again for dinner another night.
Nutrition
Calories:
443
kcal
|
Carbohydrates:
20
g
|
Protein:
56
g
|
Fat:
14
g
|
Saturated Fat:
6
g
|
Cholesterol:
174
mg
|
Sodium:
498
mg
|
Potassium:
962
mg
|
Sugar:
9
g
|
Vitamin A:
760
IU
|
Vitamin C:
8.7
mg
|
Calcium:
204
mg
|
Iron:
1.1
mg