If you've got an abundance of zucchini, check out some of these delicious ways to eat them. This vegetable is incredibly versatile and can be used in more than just zucchini bread, although that is one of my favorites. Level up your summer cooking game with these favorite zucchini recipes!
1. Quinoa Salad with Greens
This Quinoa Salad with Greens contains healthy goodness like zucchini, cucumbers, greens, and almonds. You will love how easy it is to make! Get the Quinoa Salad with Greens recipe here.
2. Chicken Thai Basil with Zucchini Noodles
Bring on the zoodles with this Chicken Thai Basil with Zucchini Noodles! It's a savory, filling, and super nutritious dinner that can be whipped up in under 30 minutes. Full of red peppers, sugar snap peas, stir-fried chicken, and a savory sauce over zucchini noodles. Get the Chicken Thai Basil with Zucchini Noodles recipe here.
3. Gluten-Free Zucchini Bread
This easy Gluten-Free Zucchini Bread comes together quickly; no mixer is needed. With just six basic ingredients plus a few baking essentials, you'll have super moist and delicious sweet bread with chocolate chips in every bite. Get the Gluten-Free Zucchini Bread recipe here.
4. Zucchini Noodle Stir Fry with Shrimp
Zucchini Noodle Stir Fry with Shrimp is a great low-carb dinner with flavor. I used peanut butter powder in the sauce to lower the fat and zucchini noodles to lower the carbs. This summer vegetable taste delicious with a savory sauce. Get the Zucchini Noodle Stir Fry with Shrimp recipe here.
5. Quinoa with Zucchini and Tomatoes
Quinoa with Zucchini and Tomatoes is the perfect way to celebrate seasonal summer produce. Sauteing the zucchini first gives it a nice smoky flavor. Make it on Sunday and eat healthy all week! Get the Quinoa with Zucchini and Tomatoes recipe here.
6. Greek Zucchini Noodle Salad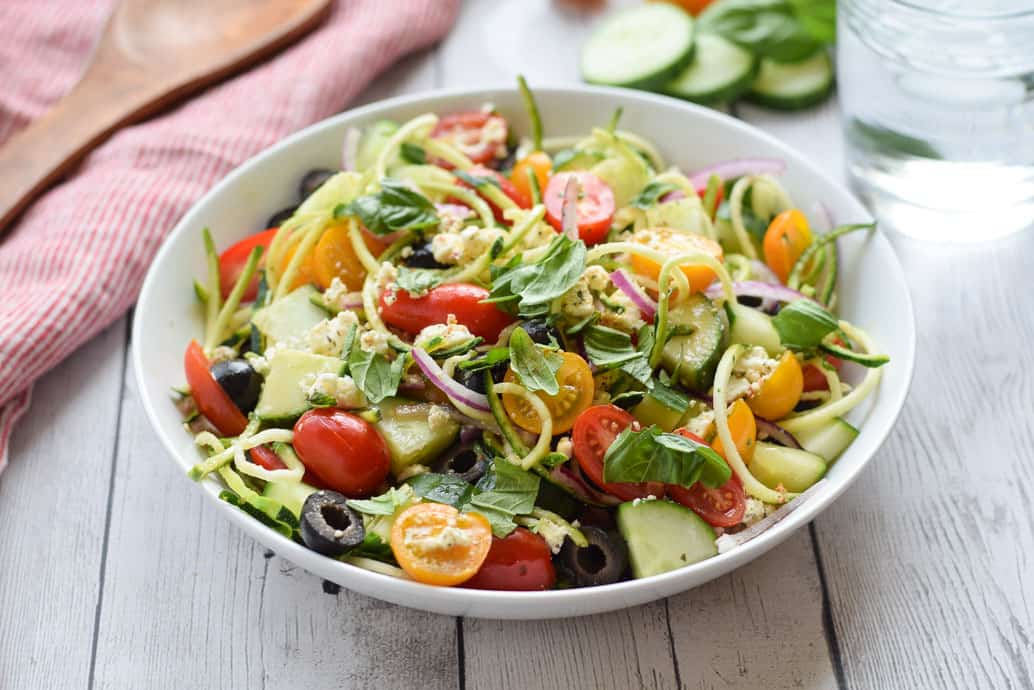 Embrace zucchini season with this healthy Greek Zucchini Noodle Salad. It's fresh and full of flavor with a light Greek dressing. Get the Greek Zucchini Noodle Salad recipe here.
7. Zucchini Noodle Stir Fry with Chicken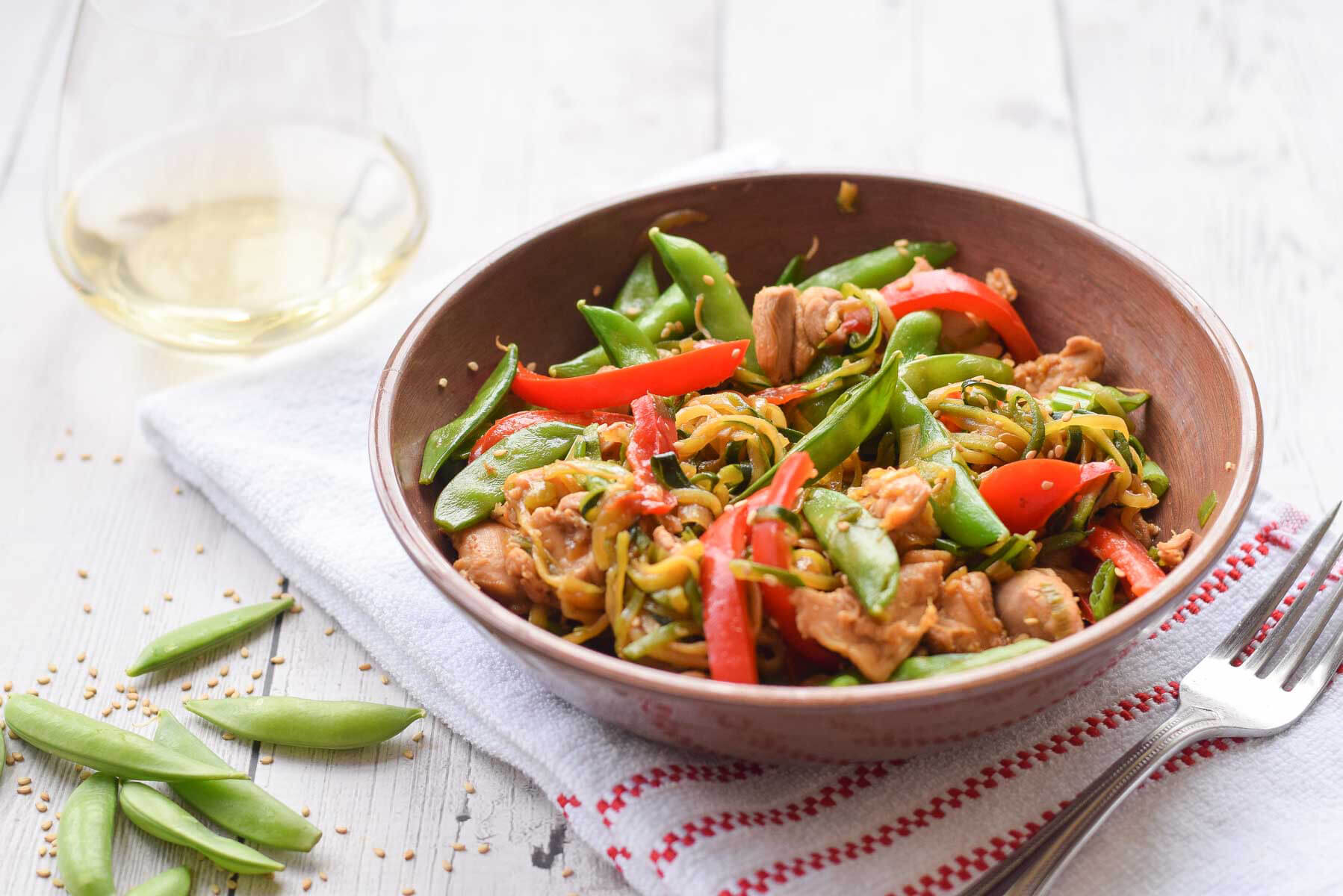 Zucchini Noodle Stir Fry with Chicken is a nutritious, low-carb, gluten-free dinner ready in less than 30 minutes. Make zucchini pasta (spiralized zucchini noodles), onions, and peppers, and toss them with a delicious stir-fry sauce and toasted sesame seeds. Get the Zucchini Noodle Stir Fry with Chicken recipe here.
8. Bucatini and Zucchini Noodle Cacio e Pepe
Cacio e Pepe is one of those dishes that looks fancy enough for company but is easy enough to make on a busy weekday evening. Swap out the traditional pasta with zucchini noodles. Get the Bucatini and Zucchini Noodle Cacio e Pepe recipe here.
9. Vegetable Orzo Soup
Vegetable orzo soup is a hearty and delicious soup filled with tons of healthy veggies! This one-pot meal has a classic minestrone flavor that your whole family will love. Get the Vegetable Orzo Soup recipe here.
10. Lemon Zucchini Loaf
The lemon makes it taste so fresh and light, plus a creamy glaze on top makes for a perfect loaf! You all are going to love this delicious zucchini loaf with icing. Add some lemon zest on top for an extra punch. Get the Lemon Zucchini Loaf recipe here.
11. Zucchini Carrot Muffins
Zucchini Carrot Muffins are naturally sweet and loaded with flecks of shredded vegetables. Easy one-bowl recipe, these carrot zucchini muffins make a delicious healthy breakfast. Get the Zucchini Carrot Muffins recipe here.
12. Sweet Corn and Zucchini Gnocchi Skillet
This sweet corn and zucchini gnocchi skillet is the perfect summer skillet with fresh zucchini and sweet corn in a light creamy lime sauce with fresh basil. Get the Sweet Corn and Zucchini Gnocchi Skillet recipe here.
13. Easy Zucchini Soup
It is a super easy recipe for Zucchini Soup with dill, basil, and yogurt. It's topped with sauteed zucchini, scallions, and corn. Top with more zucchini slices or a little parmesan cheese. Eat it cold or hot! Get the Easy Zucchini Soup recipe here.
14. Healthy Zucchini Brownies
Rich and delicious Healthy Zucchini Brownies made with shredded zucchini, whole wheat flour, and no refined sugar. This is one of the best zucchini recipes! Super moist and fudgy, no one even realizes that two cups of zucchini are packed into the recipe! Get the Healthy Zucchini Brownies recipe here.
15. Zucchini Turkey Meatballs
This main dish recipe is a quick, easy, 30-minute dinner packed with Italian flavor and baked perfectly in the oven. This dish is a better-for-you option to satisfy all your comfort food cravings. Use a store-bought marinara sauce if you prefer. Get the Zucchini Turkey Meatballs recipe here.
16. Cheesy Zucchini Bread
This cheesy zucchini bread with cheddar, onion, garlic, and herbs is a welcomed addition to the world of summer quick breads. It's a savory take on the classic sweet zucchini quick bread. Get the Cheesy Zucchini Bread recipe here.
17. Blueberry Zucchini Muffins
These are "yummy in my tummy" muffins, yet there is a vegetable in them! One of the best things about using zucchini in baked goods is that it makes them more moist. These are zucchini muffins made with applesauce, and they are so moist and delish! Get the Blueberry Zucchini Muffins recipe here.
18. Cream of Zucchini Soup
It is the perfect vegan, gluten-free, paleo-friendly, low-carb, low-fat, and dairy-free soup recipe for anyone. Not to mention, it is super quick and easy to make! Get the Cream of Zucchini Soup recipe here.
19. Zucchini Salad
Paper thin slices of raw zucchini marinate in fresh lemon juice, salt, and garlic until their texture is transformed into something more like tender pappardelle pasta than raw zucchini. Then a sprinkle of creamy feta cheese, a shower of buttery pine nuts, and slivered fresh basil, and you're ready to serve! You can use a vegetable peeler to get these beautiful ribbons. This will become one of your new favorites! Get the Zucchini Salad recipe here.
20. Easy Sauteed Zucchini
This easy Sauteed Zucchini recipe is the best way to turn a favorite summer squash into a healthy, tasty side dish in 12 minutes! It has only a few basic ingredients, but the fresh herbs and garlic flavor makes it taste special. Simple, easy, and one of the best ways to cook zucchini! Get the Easy Sauteed Zucchini recipe here.
21. Double Chocolate Zucchini Bread
Are you seeking a tender, chocolatey loaf of zucchini bread? Look no further. This whole-grain quick bread is made with dark cocoa powder, dark chocolate chunks, and loads of zucchini. This is a moist, delicious chocolate zucchini cake! Get the Double Chocolate Zucchini Bread recipe here.
22. Tex Mex Chicken and Zucchini
One pan Mexican Chicken and Zucchini Recipe with black beans, corn, tomatoes, and melted cheese on top. Low carb and crowd-pleasing 30-minute healthy meal. I like to top this with cherry tomatoes. Get the Tex Mex Chicken and Zucchini recipe here.
23. Zucchini Lasagna
This Zucchini Lasagna recipe (Sicilian Parmigiana DiZucchini) is made by layering thin slices of grilled zucchini with homemade tomato sauces and hard-boiled eggs. An easy-to-make vegetarian dish that you can make any day of the week.A twist on the classic lasagna! Get the Zucchini Lasagna recipe here.
24. Zucchini Banana Bread
This dense, moist, delicious Zucchini Banana Bread is loaded with 10 ounces of raw zucchini! Whole grain flour, butter, and walnuts impart their rich flavor, while overripe bananas and honey infuse a deep sweetness. Toasted and slathered in butter, it's nothing short of heavenly. Get the Zucchini Banana Bread recipe here.
25. Vegan Zucchini and Corn Fritters
These are the most amazing vegan corn and zucchini fritters you'll ever have. Crispy and delicious, they're perfect as a side to a nice fresh salad or dipped into your favorite dip! If you're craving some good vegan fried food, look no further. Get the Vegan Zucchini and Corn Fritters recipe here.
26. Banana Zucchini Muffins
Healthy Banana Zucchini Muffins with whole wheat flour, shredded zucchini, and ripe banana studded with dark chocolate chunks for decadence! Made in one bowl and baked in 20 minutes for perfect wholesome snacks and busy mornings. Get the Banana Zucchini Muffins recipe here.
27. Grilled Zucchini
Easy Grilled Zucchini with balsamic glaze is a simple but delicious summer side dish and a great way to use garden-fresh zucchini! I love to make it as a side dish for company during the summer because it is vegan, gluten-free, low carb, and healthy, so everyone at the table can enjoy it. Get the Grilled Zucchini recipe here.
28. Paleo Zucchini Bread with Almond Flour
This Paleo Zucchini Bread is flecked with fresh zucchini, warm cinnamon, and delicately sweet coconut sugar for a gluten-free, grain-free, low-carb recipe. It's an easy, quick bread made with almond flour that can be customized to complement a keto-friendly diet or baked into muffins for a portable treat. The best way to eat your favorite vegetable! Get the Paleo Zucchini Bread with Almond Flour recipe here.
29. Pasta with Zucchini and Tomatoes
Pasta with Zucchini and Tomatoes is a 20-minute healthy pasta dinner that will become part of your summertime menu must haves! Juicy, crisp-tender zucchini and bursting baby tomatoes create a delicious sauce combined with fresh garlic, basil, and parmesan that coats the perfectly al dente pasta. Get the Pasta with Zucchini and Tomatoes recipe here.
12 Inexpensive Dinners To Make On Repeat
Who says inexpensive dinners have to be bland and boring? Prepare to indulge in the most delicious dinners without breaking the bank. Check out these 12 inexpensive dinners and see which ones you can make this week. Your family will thank you! Get the recipes.
41 Healthy Crockpot Recipes That Will Make Your Slow Cooker the MVP of Your Kitchen
A crockpot is an essential kitchen appliance for easy, healthy weeknight meals you can make weekly. This handy tool makes it easy to enjoy fuss-free slow cooking and makes delicious tender meat and flavorful soups and stews. This collection of healthy crockpot recipes is sure to satisfy your family! Get the recipes.
15 Insanely Delicious Pork Tenderloin Recipes
Pork tenderloin is often overlooked for easy weeknight dinners, but it's perfect in the weekly rotation. When cooked correctly, the result is a tender and juicy piece of meat that takes on whatever flavors you desire. It is super versatile and makes great leftovers for lunches throughout the week. Add it to a salad, a grain bowl, or a sandwich, or cook it up in a quesadilla. Get the recipes.
26 High Protein Recipes for Weight Loss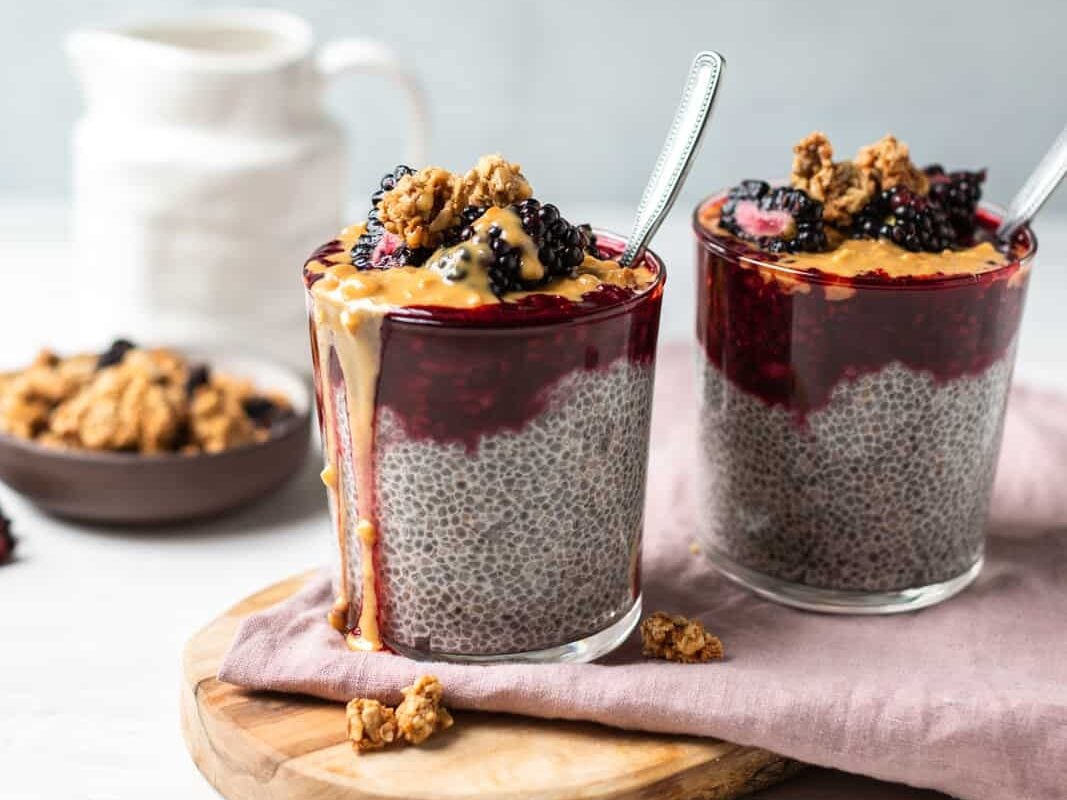 Losing weight is a common goal for many people, but it can be difficult to know where to start. One effective strategy is to add more protein to your diet. Protein helps to keep you feeling full and satisfied, which can help you consume fewer calories overall. It also helps to maintain muscle mass while losing weight, which is important for overall health. Get the recipes.
40 Casseroles That Are So Delicious, You'll Want to Make Them Every Night
Nothing is better than a winter casserole to make you feel warm and cozy when it's cold outside. It is a comforting food choice that is the culinary equivalent of a warm hug. When it gets a little colder, or you want something hearty to share with the family, you can turn to these winter casserole recipes to get by. Trust me; you'll find yourself making these casserole recipes all season long. Get the recipes.
14 Family Dinner Recipes You'll Make on Repeat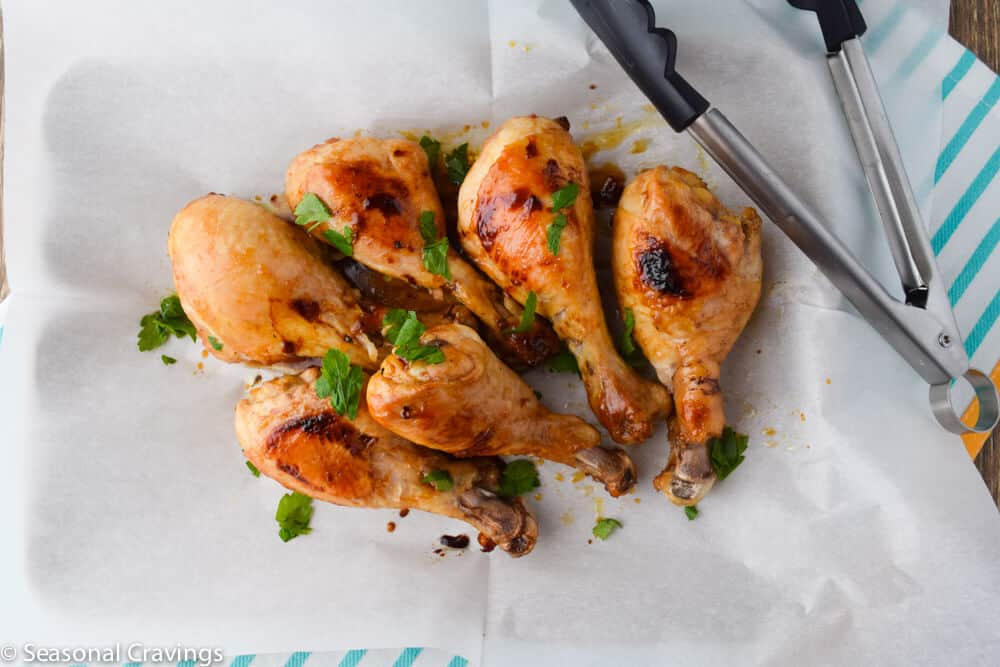 Dinnertime is here again, and I've got some easy, family-friendly recipes the gang will love. I like having a handful of easy recipes I can make at the last minute for weeknight and weekend family wins. I hope you find a new favorite recipe here! Get the recipes.