Are you tired of the same old breakfast routine? Do you struggle to find filling meals that will give you the energy you need to start your day? Look no further! We've compiled a list of 26 high protein breakfasts that are not only delicious but also easy to make. Whether you're a fan of classic egg dishes, hearty breakfast bowls, or sweet smoothie bowls, we've got you covered. With these recipes, you'll be able to fuel your body with the nutrients it needs to power through your day. So, let's dive in and explore these tasty, protein-packed breakfast options!
Blackberry Chia Pudding with Peanut Butter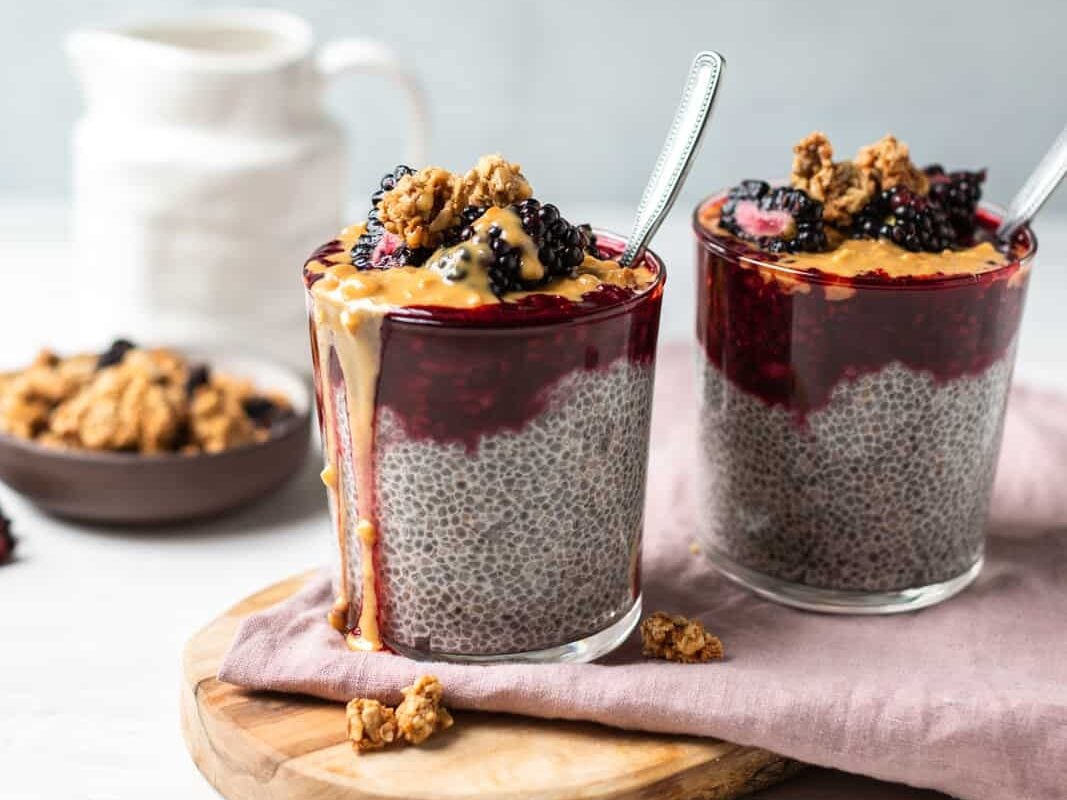 The best Blackberry Chia Pudding loaded up with peanut butter, blackberries and granola for some crunch.
Quinoa Breakfast Bowl with Egg, Tomatoes and Avocado
This Quinoa Breakfast Bowl with Egg, Tomatoes and Avocado will get your day started off right with tons of protein. You will be full until lunch for sure.
Bacon and Egg Cups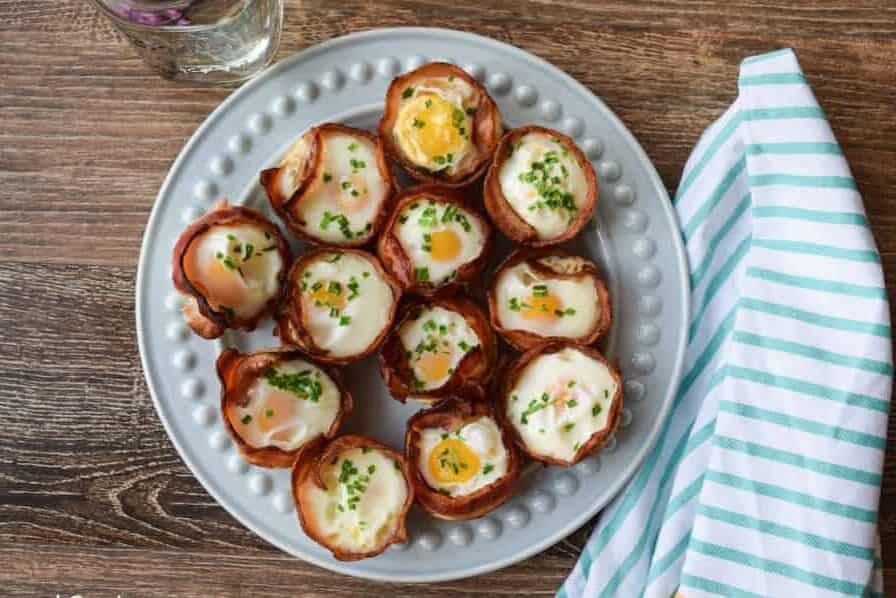 These Bacon and Egg Cups are a delicious and easy breakfast idea that the entire family will love. With only 2 main ingredients, feel free to customize it to suit your personal tastes.
Sweet Potato Toast with Egg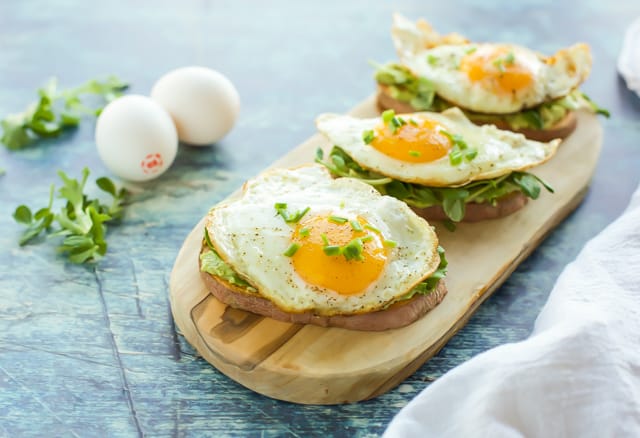 Sweet Potato Toast with Egg is a hearty, wholesome breakfast that will keep you fueled until lunch. The sweet potato toast is topped with avocado, greens and sunny side up eggs.
Overnight Oats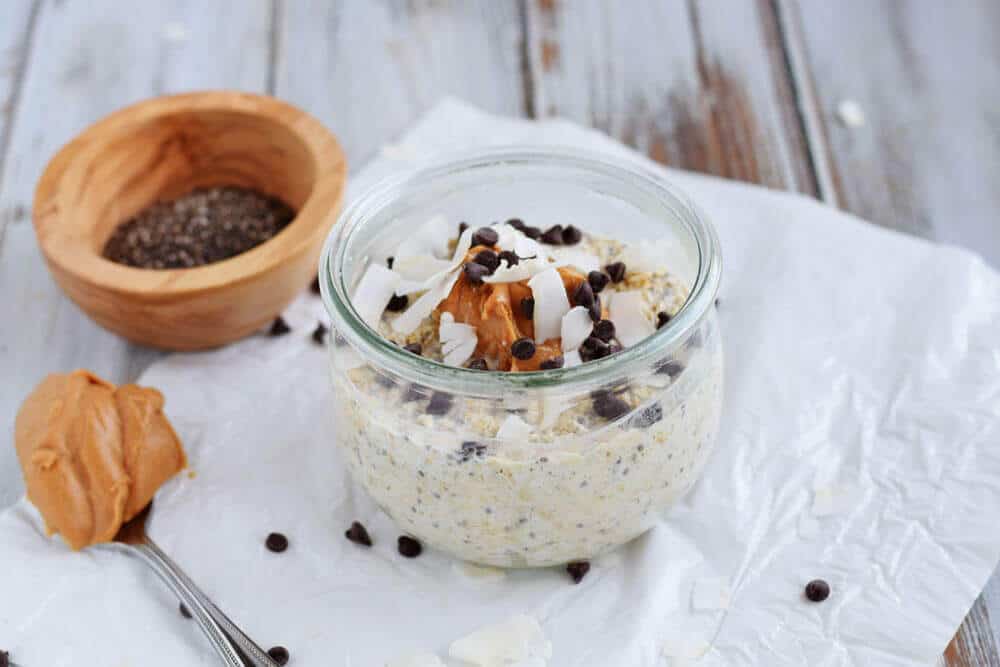 These creamy overnight oats are easy to make, creamy, and filled with delicious toppings like peanut butter, chocolate chips, and chia seeds to keep you feeling full and satisfied all morning.
Pumpkin Baked Oatmeal
This Pumpkin Baked Oatmeal is made in five minutes or less and is oh so satisfying. It's cooked in the microwave for two minutes and topped with chocolate, granola and peanut butter.
Quinoa Yogurt Parfait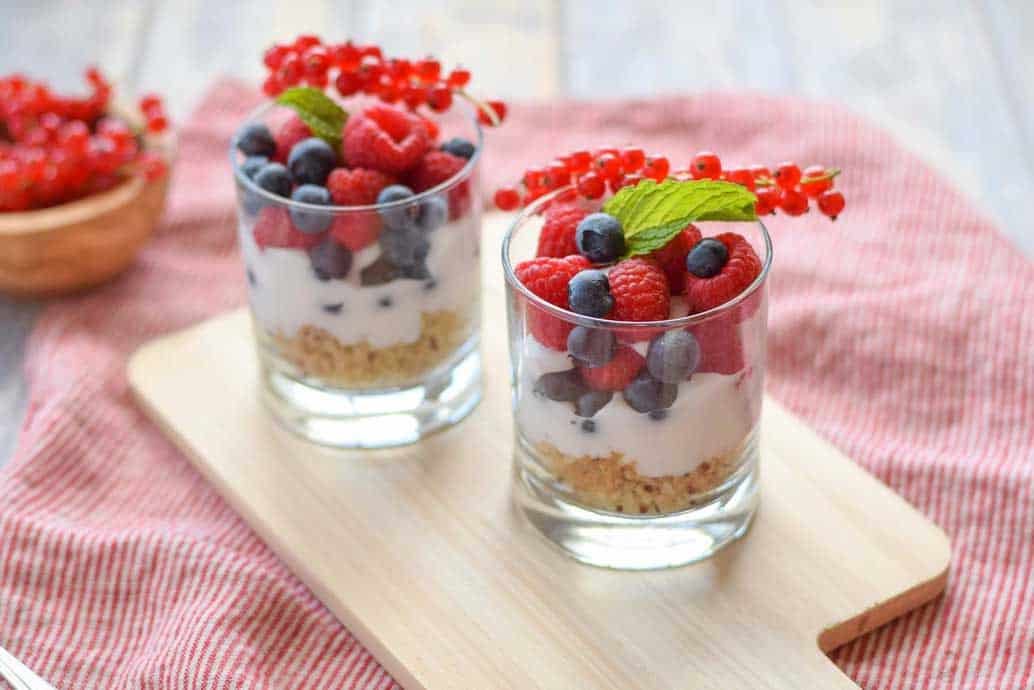 Getting tired of the same old breakfast? How about a Quinoa Yogurt Parfait? It's full of seasonal berries, coconut yogurt, and high-protein quinoa. Add a drizzle of maple syrup for some extra sweetness.
Quiche Cups with Tomato and Prosciutto
Quiche Cups with Tomato and Prosciutto will become your favorite take-along breakfast. They are packed with 10 grams of protein and good for you kale. Make a batch on Sunday and eat them all week.
Mango Chia Pudding
Need new snack ideas? Try this Mango Chia Pudding for a deliciously wholesome snack that will satisfy your sweet tooth. Great for prepping ahead on Sunday!
Peanut Butter Cup Protein Smoothie
An easy protein smoothie recipe that tastes just like a peanut butter cup! A gluten-free and vegan protein smoothie perfect for breakfast or a post-workout snack that will fuel you up with nutrition!
Apple Cinnamon Overnight Oats with Chia Seeds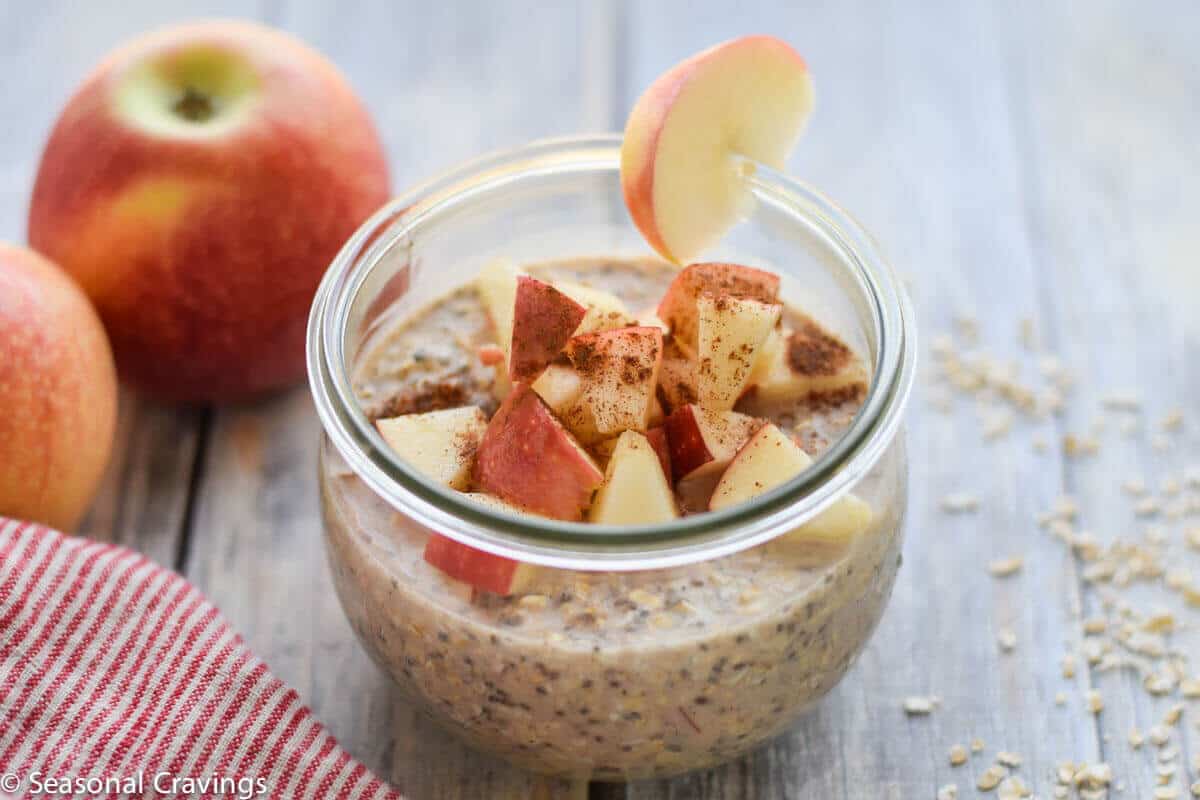 Apple Cinnamon Overnight Oats with Chia Seeds are hearty, satisfying, and oh so filling. Sweet, creamy and full of protein and fiber, this breakfast will keep you full until lunch! Easy to make in five minutes.
Vegan Tofu Scramble
This vegan tofu scramble is the perfect plant-based breakfast! It is oil-free, gluten-free and pairs well with many vegetables.
Strawberry Banana Peanut Butter Smoothie
This Strawberry Banana Peanut Butter Smoothie is like a PB&J in a glass. It's full of strawberries, bananas, and natural peanut butter. Add chia seeds for a nutritional boost. Simple, healthy, and nutrient-dense with only five ingredients.
Scrambled Oats Without Banana
Are you tired of your usual breakfast routine and looking for a new dish to try? Get ready to meet my current crush: scrambled oats without banana!
Coffee Banana Oat Smoothie
If you like coffee and chocolate you are going to love this healthy Coffee Banana Oat Smoothie. It's like drinking a milkshake for breakfast! Healthy, gluten-free and full of protein to keep you full until lunch.
Smoked Salmon and Spinach Quiche
Looking for an easy but impressive brunch recipe to wow your guests? This smoked salmon and spinach quiche with tangy goat cheese, fresh spinach and dill, and a buttery pie crust is a delicious, satisfying meal for any gathering.
Omelette Recipe
This easy, fail-proof omelette recipe is truly the best. With a variety of filling suggestions, you will learn how to make an omelet at home that's even more delicious than your favorite breakfast restaurant (but so simple)!
Protein Overnight Oats
Make breakfast while you sleep with our healthy high Protein Overnight Oats recipe. I love hot oatmeal, but there are days I don't have time to wait. Our overnight oats with protein powder are a healthy, make-ahead breakfast perfect for those busy mornings, and the added protein will keep you full until your next meal.
Iced Coffee Protein Shake
Sweet, caffeinated, and deliciously frosty, this Iced Coffee Protein Shake doesn't just taste good — it'll also keep you fueled up until lunch! Perfect for breakfast on the go or as a post-workout snack, this Cold Brew Smoothie is my favorite way to start the day.
Sheet Pan Huevos Rancheros
Sheet pan huevos rancheros is a new twist on traditional huevos rancheros. It's so easy to bake for breakfast, brunch, and even for dinner!
Banana Protein Muffins
These Banana Protein Muffins are easy, healthy and delicious! They are a great grab and go breakfast option, filling afternoon snack, or even healthy dessert. These gluten free and dairy free protein muffins are soft, fluffy and so yummy!
Protein Pancake
Protein pancakes are a great alternative to traditional pancakes. They're high in protein and can be made without using bananas, so it's perfect for those who don't like bananas or don't have any on hand.
Pumpkin Smoothie
Embrace pumpkin season with this flavorful Pumpkin Smoothie. It has all the flavors of your favorite pie without all the calories.
Strawberry Cottage Cheese Smoothie
If you're looking for a high-protein smoothie that doesn't require protein powder, you'll love this delicious Cottage Cheese Strawberry Smoothie! Naturally sweetened with extra ripe banana and fresh strawberries, this smoothie is a sweet and creamy treat that honestly tastes more like a milkshake than a typical smoothie!
Baked Oats Recipe with Protein Powder
If you're looking for a delicious, nutritious, and filling breakfast option, look no further than this recipe for baked oats with protein powder!
Blueberry Cheesecake Overnight Oats
Blueberry Cheesecake Overnight Oats is a delicious and easy breakfast filled with fresh blueberries, sweet cream cheese, and rolled oats. Make ahead the night before to enjoy first thing in the morning or on the go.
Instant Pot Poached Eggs
The quick and easy recipe you can have for breakfast or any time you want. Make Instant Pot Poached Eggs Toast in only 3 minutes!
More From Seasonal Cravings
Dinnertime again? Yes, so grab some sausage, and let's get to work. These tasty sausage recipes are easy to make and a nice change from ground beef and chicken breasts which we all get sick of. Your family will love you for these delicious and creative recipes, and you will love it if you have leftovers! 25 Sausage Recipes That Will Make You Dream of Leftovers
30 Mouthwatering Mediterranean Recipes to Satisfy Your Cravings
The Mediterranean Diet is one of the best diets to follow for anyone wanting a healthy switch. It is delicious and filled with nutritious elements, such as heart-healthy fats, whole grains, nuts, fruits, and vegetables. This diet has no restrictions, although refined sugar and other processed foods should be in limited consumption. 30 Mouthwatering Mediterranean Recipes to Satisfy Your Cravings
25 Healthy Chicken Tenderloin Recipes
Easy grilled chicken tenders, simply marinated and grilled in the pan or on a grill. Perfect for serving as they are, sliced on a salad or in sandwiches. Either you marinade them for hours, or just for 30 minutes before cooking, the grilled strips will still be moist and wonderful. 25 Healthy Chicken Tenderloin Recipes
30 Foolproof Soups for Easy Winter Dinners
This creamy Tortellini Soup with Sausage will warm your soul on a cold fall night. Easy to make in less than 30 minutes and a family hit for sure. It's simply made with fresh or frozen tortellini and a rich tomato base. 30 Foolproof Soups for Easy Winter Dinners
Effortless Eats: Simple Dinner Ideas with Quick and Easy Prep
Get ready to whip up some delicious meals with ease! These recipes are designed to be simple and accessible, utilizing only a few, easy-to-find ingredients. From comforting pasta dishes to juicy grilled meats and delicious vegetarian options, you'll find something to love. Each recipe features step-by-step instructions and beautiful photos, making it easy to follow. Effortless Eats: Simple Dinner Ideas with Quick and Easy Prep