They say breakfast is the most important meal of the day, so why not have it for dinner? Breakfast foods are perfect for any meal of the day as they can be whipped up quickly with pantry staples. If you find yourself craving your breakfast favorites at dinner, I've got you covered. Here is a collection of breakfast-for-dinner ideas that will turn your dinner table into a breakfast paradise.
1. Gluten-Free Sheet Pan Pancakes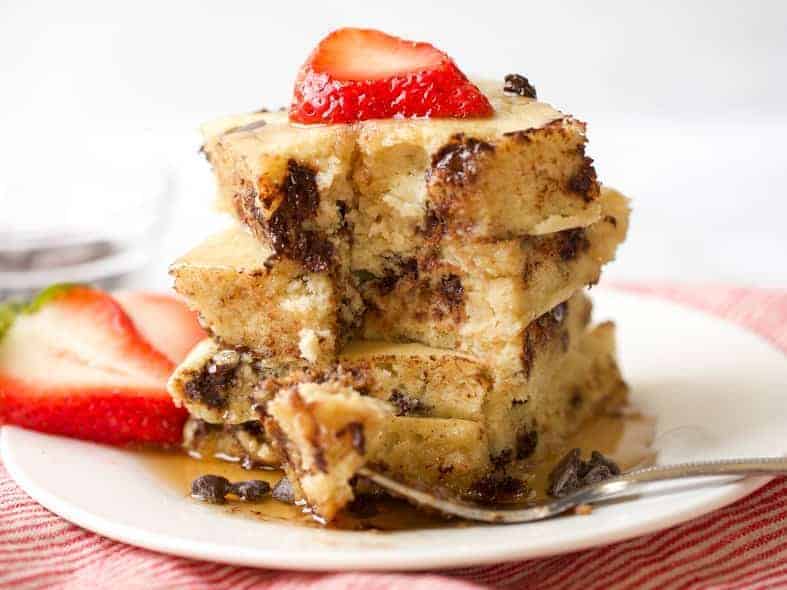 Gluten-Free Sheet Pan Pancakes are easily made with pantry staples but are baked in a sheet pan! They are great for feeding the whole family at once or for super easy meal prep to enjoy all week. Add your favorite mix-ins to make them extra special. Get the Gluten-Free Sheet Pan Pancakes recipe here.
2. Sausage and Egg Casserole
Thrown together in minutes, this Never Fail Sausage and Egg Casserole can serve a crowd any time of day. If you want some color, add some chopped spinach or kale to the breakfast sausage when you cook it. It's so good, you won't need much cheese. This is a great way to make a plan ahead meal. Get the Sausage and Egg Casserole recipe here.
3. Keto Almond Flour Pancakes
These healthy pancakes come together so quickly and is a keto recipe that the whole family will love. They are deliciously fluffy, and they make the best low-carb breakfast or dinner. Get the Keto Almond Flour Pancakes recipe here.
4. Gluten Free Waffles with Almond Flour
Gluten-free waffles are good news for kids and adults alike, brightening gloomy weekends with endless possibilities and favorite toppings (oh, and let's be real - the best part is ZERO bloat afterwards!). Get the Gluten-Free Waffles with Almond Flour recipe here.
5. Sweet Potato Toast with Egg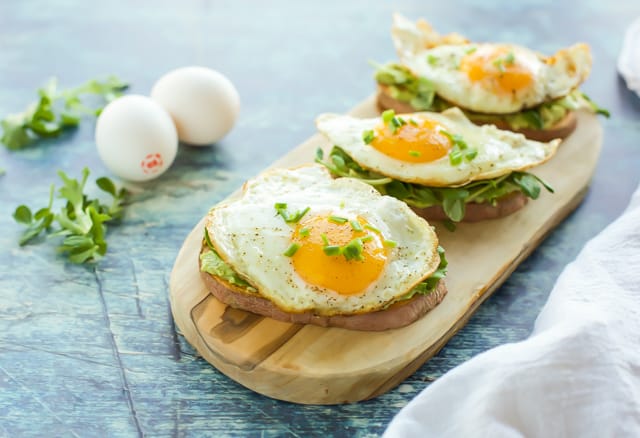 Get ready for a hearty and wholesome breakfast or dinner recipe idea. The sweet potato toast is topped with avocado, greens and sunny-side-up eggs. This recipe is gluten-free, keto, and whole30-friendly. Get the Sweet Potato Toast with Egg recipe here.
6. Gluten-Free Blender Pancakes
These Gluten Free Blender Pancakes are shortcut heaven! Using a pancake mix makes them super easy to whip up, healthy and kid-friendly. Get the Gluten-Free Blender Pancakes recipe here.
7. Quiche Cups with Tomato and Prosciutto
These Quiche Cups with Tomato and Prosciutto will keep the hunger pains away until lunch or make a hearty dinner. They are loaded with fresh grape tomatoes, chopped kale, and cubed prosciutto. Get the Quiche Cups with Tomato and Prosciutto recipe here.
8. Quinoa Breakfast Bowl with Egg, Tomatoes and Avocado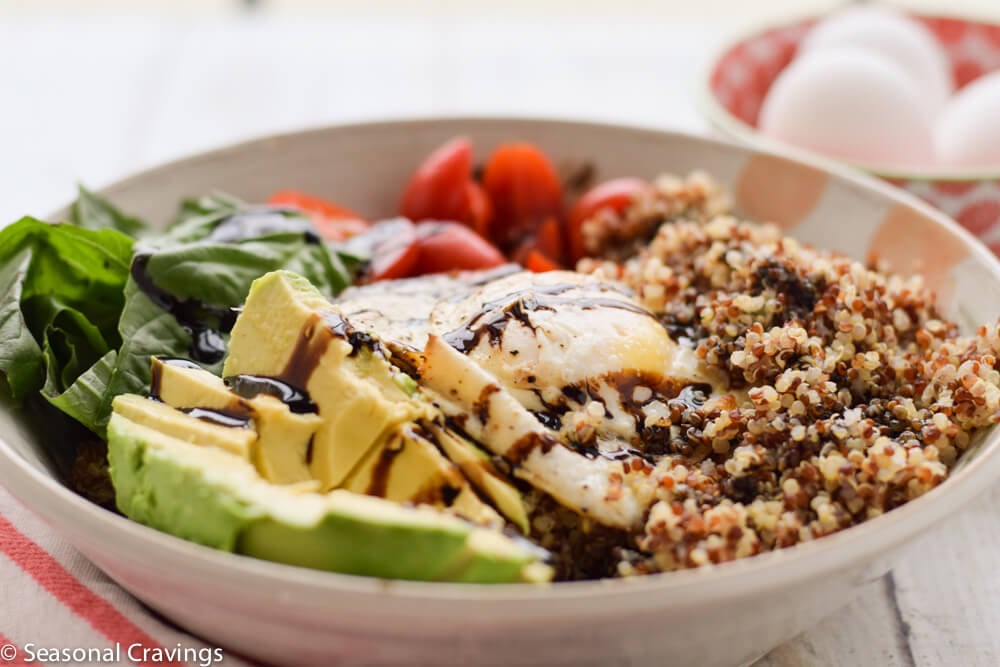 This Quinoa Breakfast Bowl with Egg, Tomatoes and Avocado is a healthy treat for dinner. It's a breakfast favorite but it's easy enough for a busy weeknight, especially if you're craving something nourishing. Top with sour cream! Get the Quinoa Breakfast Bowl with Egg, Tomatoes and Avocado recipe here.
9. Paleo Blueberry Pancakes
Craving a hearty dinner? Try these Paleo Blueberry Pancakes made with coconut flour. They are full of protein with four eggs; plus, it's gluten-free and keto. Get the Paleo Blueberry Pancakes recipe here.
10. Shrimp Spinach Sunny Side Up Omelette
Low in carbs but high in flavor, this shrimp spinach sunny side-up omelette makes a great breakfast or brunch. A shrimp omelette recipe makes an unusual change from the more typical ham and cheese or mushroom varieties. Get the Shrimp Spinach Sunny Side Up Omelette recipe here.
11. Vegan Baked Oatmeal with Fresh Berries
Vegan Baked Oatmeal Recipe with fresh berries is the best breakfast. The perfect healthy, hearty breakfast and great to serve for crowds! This version is vegan and gluten-free. Get the Vegan Baked Oatmeal with Fresh Berries recipe here.
12. French Toast Casserole
Delicious French Toast Casserole combines bread with a sweet vanilla custard that's topped off with a buttery streusel. This recipe is a lifesaver if you're looking for something quick but delicious. Top with some melty peanut butter to really take it over the top. Get the French Toast Casserole recipe here.
13. Chorizo Breakfast Tacos with Crispy Potatoes
There is nothing better than hearty breakfast tacos after a long day! Spicy and savory, these chorizo breakfast tacos are done in nearly 25 minutes and are loaded with crispy potatoes and melty cheddar cheese, all wrapped in a warm, charred tortilla. You could also put this into a nonstick skillet and make breakfast quesadillas. Get the Chorizo Breakfast Tacos with Crispy Potatoes recipe here.
14. Bacon and Vegetable Egg Casserole
This bacon and vegetable egg casserole is going to become your favourite make-ahead breakfast casserole. Filled with tomatoes, spinach, bacon, and bell peppers, it will satisfy you for hours. It's naturally Whole30, low carb, and paleo. Get the Bacon and Vegetable Egg Casserole recipe here.
15. Fluffy Cornmeal Pancakes
This Cornmeal Pancake Recipe is a delicious twist on a traditional breakfast. These gluten-free pancakes are quick and easy to make and come out light and fluffy with perfect golden edges. Serve them sweet or savory with any meal you like! Get the Fluffy Cornmeal Pancakes recipe here.
16. Tater Tot Breakfast Casserole
Tater Tot Breakfast Casserole is an easy recipe with 15 minutes of prep time and bakes to golden hot in just 45 minutes. Put this dish together a day ahead for relaxed weekends, special occasions, or busy weeknights. Get the Tater Tot Breakfast Casserole recipe here.
17. Shakshuka With Feta
A North African dish of runny eggs poached in fragrant harissa, red pepper, and tomato sauce topped with black lime-infused feta cheese (or mozzarella cheese) and fresh parsley. This shakshuka with feta is the perfect brunch recipe or easy one-pan dinner. This hearty breakfast will be a hit! Get the Shakshuka With Feta recipe here.
18. Sweet Potato Corn Hash
This sweet potato corn hash is a tasty savoury breakfast or brunch, with lots of healthy vegetables to start the day. Made without beans or tomatoes, it's a flavourful vegan recipe the whole family will enjoy! Get the Sweet Potato Corn Hash recipe here.
19. Pulled Pork Breakfast Nachos
Pulled Pork Breakfast Nachos are topped with fresh veggies, fluffy scrambled eggs and Mexican slow cooker pulled pork. They're spicy and filling, and perfect for weekend brunching or even breakfast for dinner! Get the Pulled Pork Breakfast Nachos recipe here.
20. Crescent Roll Breakfast Casserole
Crescent roll breakfast casserole combines buttery crescent rolls with crumbled sausage, eggs, and cheese, baked to perfection in a casserole. It takes about 10 minutes to prep it all and the oven does all the work. So simple yet so tasty! Get the Crescent Roll Breakfast Casserole recipe here.
21. Freezer Breakfast Burritos
These fantastic freezer breakfast burritos are a great meal prep recipe. They make 8 large burritos full of flavorful and filling ingredients. They are perfect for any time of the day! Get the Freezer Breakfast Burritos recipe here.
22. Fluffy Oat Milk Pancakes
These fluffy oat milk pancakes are dairy-free and easy to make with just 6 simple ingredients. They have a rich, buttery flavor that pairs perfectly with toppings like fresh fruit and maple syrup. You can easily make these pancakes gluten-free and vegan, and you only need one bowl! Get the Fluffy Oat Milk Pancakes recipe here.
23. Savory French Toast
Put a spin on your favorite brunch with this Savory French Toast recipe. Topped with seared garlicky mushrooms and thyme, this herby, vegetarian breakfast recipe is always a crowd-pleaser. Get the Savory French Toast recipe here.
24. Hash Brown Crust Quiche
Filled with fluffy eggs flavored with sharp white cheddar, crispy pancetta, and sliced green onions this easy quiche recipe is an excellent savory option for breakfast or dinner. It is made right in a cast iron skillet for an extra crispy crust. Get the Hash Brown Crust Quiche recipe here.
25. Hawaiian Roll Breakfast Sliders
Fluffy Hawaiian dinner rolls piled high with deli ham, scrambled eggs, gooey melty cheese, and drizzled with a maple butter topping. These quick & easy Hawaiian Roll Breakfast Sliders are the ultimate breakfast, brunch, or even "breakfast for dinner" treat! Ready in 35 minutes from start to finish! Get the Hawaiian Roll Breakfast Sliders recipe here.
26. Healthy Breakfast Tacos with Black Beans and Eggs
These healthy breakfast tacos are stuffed with black beans and eggs, making them the perfect weekend breakfast or hectic weeknights! Get the Healthy Breakfast Tacos with Black Beans and Eggs recipe here.
27. Dinner Oatmeal with Roasted Vegetables
Oats for dinner are totally a thing! Especially when they're delicious and keep you full longer because they're topped with veggies, a fried egg, and cripsy bacon. Feel free to mix up the vegetables; try red peppers, sweet potatoes, red onion, and fresh herbs. Get the Dinner Oatmeal with Roasted Vegetables recipe here.
28. Keto Chicken And Waffles
If you love Southern-style fried chicken and waffles, then this low-carb chicken and waffles recipe is for you. Smear some cream cheese on the waffle first for a bit of a twist. It's made using chicken tenders battered with a ketogenic coating that fries beautifully. Get the Keto Chicken And Waffles recipe here.
29. Spring Veggie Breakfast Pizza
This homemade breakfast pizza recipe is perfect for springtime! With plenty of veggies, some shredded gruyere cheese, and a baked egg on top. Get the Spring Veggie Breakfast Pizza recipe here. The perfect breakfast for dinner idea!
30. Cottage Cheese Pancakes
Healthy Cottage Cheese Pancakes are fluffy on the inside and slightly crispy on the outside. These delicious Ukrainian/Russian fried Cottage Cheese Patties will soon become your new favorite breakfast or even dessert. Super easy to make (under 30 minutes) and so good! Get the Cottage Cheese Pancakes recipe here.
31. Savory Oatmeal with Miso, Cheese, and Egg
A simple creamy savory steel-cut oatmeal recipe made with cheddar cheese, sweet caramelized onions, miso and topped with a soft-boiled egg. A delicious way to enjoy breakfast or dinner. Get the Savory Oatmeal with Miso, Cheese, and Egg recipe here.
32. Air Fryer Twice Baked Breakfast Potatoes
These air fryer twice-baked breakfast potatoes are incredibly good. It's an easy air fryer breakfast recipe that is simple to prepare. If you have leftover baked potatoes, you might like to consider baked potatoes for breakfast and you won't regret it! Get the Air Fryer Twice Baked Breakfast Potatoes recipe here.
33. Sheet Pan Breakfast Hash
Sheet pan meals are the new one-pot pasta meals. You are going to love this quick and easy dinner (or breakfast) idea. Vegetarian and gluten-free. Get the Sheet Pan Breakfast Hash recipe here.
34. Breakfast Sandwich (with a Hash Brown!)
This hearty breakfast sandwich made with a runny egg, bacon, sausage, ham, melted cheese, and crispy hash browns is definitely not limited to just breakfast time. It's all piled high onto English muffins. Why not have it for Brinner (Breakfast for Dinner)? Get the Breakfast Sandwich recipe here.
35. Poached Egg & Avocado Breakfast Salad
Mix things up with a salad for breakfast! This vegetarian, gluten-free, and dairy-free Poached Egg & Avocado Breakfast Salad is simple, easy to make, and DELICIOUS. Perfect for a balanced meal any time of the day in 15 minutes or less!
36. 10-Minute Huevos Rancheros Breakfast Tostadas
Photo Credit: Jar of Lemons
Crunchy corn tortilla, creamy refried beans, runny egg, fresh tomatoes, and avocado sauce on top. These 10-Minute Huevos Rancheros Breakfast Tostadas are a breakfast dream come true!
37. Mini Ham Cheese and Spinach Breakfast Pies
Enjoy these ham cheese, and spinach breakfast pies on your way out the door in the morning or even as an easy breakfast for dinner option!
38. Freezer Friendly Breakfast Burrito
Photo Credit: Budget Bytes[/caption]
I'm a huge proponent of batch cooking and stocking your freezer with portioned meals that you can just grab-reheat-and-go! Not only are these make-ahead freezer breakfast burritos a great answer to the "I'm too busy to make breakfast" conundrum, but for someone who loves breakfast for dinner as much as I do, these burritos make a fast and easy anytime meal.
39. Salsa Poached Eggs
If you love shakshuka, you're going to love these Salsa Poached Eggs! Just like shakshuka, these eggs are poached in a rich tomato-based sauce, but I've traded in the sweet bell pepper and paprika for a sort of cooked salsa made with onion, garlic, diced tomatoes, and green chiles, giving it a southwest spin.
40. Southwest Protein Breakfast Bowls with Sweet Potato and Black Beans
These Southwest Breakfast Bowls are a great way to enjoy a quick, healthy, and high-protein breakfast at home on busy weekday mornings.
41. Simple Breakfast Casserole
Make this cheesy breakfast casserole recipe for a tasty weekend brunch or the holidays! It's got very few ingredients and is big on flavor. You can even prepare this casserole beforehand so that mornings are much easier!
42. Spanish Breakfast Potatoes with Gordal Olives from Spain
Up your brunch game with delicious breakfast potatoes with a Spanish flair. They're made with crispy, pan-fried potatoes, plump Gordal Olives from Spain, chorizo, and roasted red peppers. Breakfast potatoes don't get any tastier than this!
43. Smoked Salmon Eggs Benedict
Smoked Salmon Eggs Benedict is the ultimate Sunday brunch recipe. It's healthy, delicious, and a real treat. Plus, with some make-ahead tips I have for you, it's a breeze to make for a group.
44. Crustless Broccoli Quiche
Crustless Broccoli Quiche is lightened-up and healthy version of a traditional quiche without the pie crust fuss and extra calories. It tastes amazing, freshly baked or cold, for breakfast, snack, or even dinner.
45. Healthy Breakfast Sandwich
Move aside drive-thru, Healthy Breakfast Sandwich with eggs, veggies, and whole wheat bun is a better way to jump-start the day. Meal prep dozens at a time, freeze and reheat for a healthy breakfast idea any day.
46. Cheesy Hashbrown Casserole
This easy cheesy hashbrown casserole features shredded potatoes in a creamy sauce topped with plenty of gooey cheese. It's a homemade version of Cracker Barrel's popular side dish, and it's perfect for your next holiday meal.
47. Breakfast Pitas
These 8-minute Breakfast Pitas are a great way to pack protein and veggies into your morning meal. They are made with scrambled eggs, roasted red peppers, scallion, and spinach topped with melted cheese, Everything Bagel Seasoning and hot sauce!
48. Apple Cheddar and Sausage Breakfast Strata
Apple, Cheddar, and Sausage Breakfast Strata is the perfect holiday morning breakfast. It is an unforgettable, savory, and sweet make-ahead breakfast casserole.
49. Sheet-Pan Coconut Pancakes
These coconut pancakes are super moist and ready in just 20 minutes! No flipping is required. Simply spread the batter on a baking sheet, top with chocolate chips, and bake! Vegan, gluten-free, chocolatey, and not too sweet!
50. 10-Minute Healthy Banana Pancakes
The best ever Healthy Banana Pancakes that can be made in 10 minutes or less! Made with real banana, protein-loaded eggs, rolled oats, and plant-based protein powder. So delicious and perfect for your entire family!
30 Healthy Chia Seed Puddings That Taste Like Dessert
Chia seed pudding is one of the easiest, most wholesome breakfasts around and it's especially tasty when you add chocolate, peanut butter or fresh berries. It's easy to make and great for meal prep. Get the recipes.
26 High Protein Recipes for Weight Loss
Losing weight is a common goal for many people, but it can be difficult to know where to start. One effective strategy is to add more protein to your diet. Protein helps to keep you feeling full and satisfied, which can help you consume fewer calories overall. It also helps to maintain muscle mass while losing weight, which is important for overall health. Get the recipes.