These bright and refreshing Salmon Tostadas are a healthy, hearty, weeknight meal made in 20 minutes. It starts with grilling salmon to tender, flakey perfection. Add to a crispy tostada shell, followed by zesty slaw, and topped with fresh mango and avocado slices.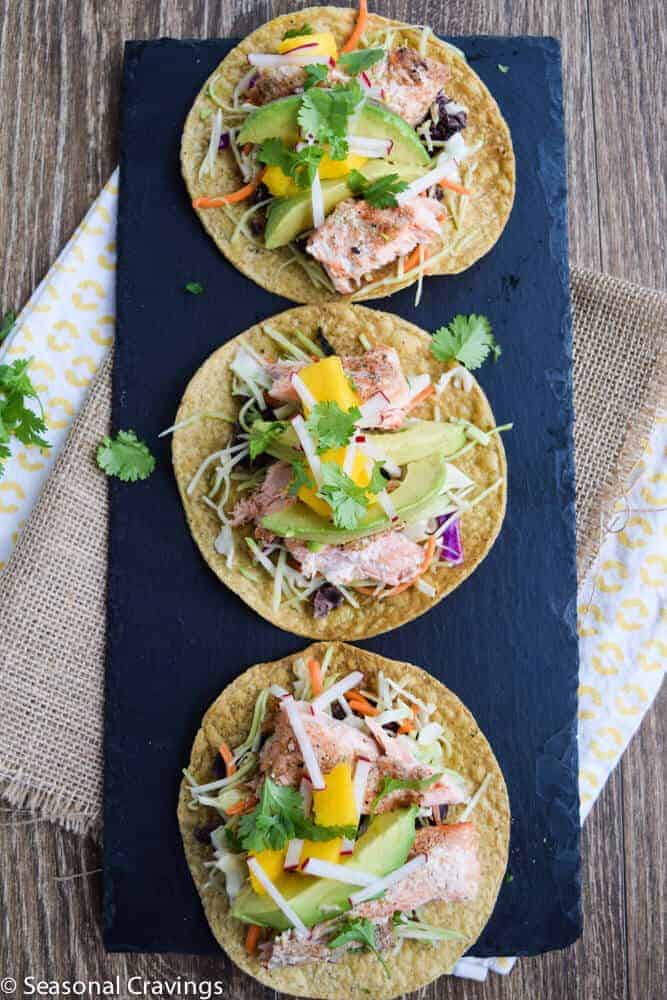 If you don't have dinner plans for tonight, let me help you out. This easy salmon dish comes together quickly and effortlessly. 
In fact, you can even do it if your fish is still frozen. Go ahead and pull it out of the freezer, place salmon in a bowl of cold water, and then come back to finish reading.
But back to this salmon tostada recipe. It's such a refreshing and fantastic dinner that will make your taste buds dance. Flaky fish on top of crispy tortillas topped with lively slaw and creamy avocado - the most perfect way to enjoy these flavors. The best part is the whole meal is done in under 20 minutes. Faster than you can grab takeout. 
Ready to make an easy dinner that will quickly become one of your favorite meals?
Ingredients
This gluten-free salmon dinner comes together with eight basic ingredients, plus seasonings and garnish.
For the salmon:
Salmon - skinless salmon fillets are best; for maximum health benefits and if budget allows, use wild salmon
Olive oil

- extra virgin olive oil is a great option; I

get mine from Costco

Seasonings - salt, pepper, smoked paprika, garlic powder,

and

cumin

is all that's needed for a delicious spice rub blend that will make fantastic smokey salmon
For the slaw:
Slaw mix -

use your favorite slaw mix made with red and green cabbage and carrots

Fresh cilantro

- this fresh herb will add excellent flavor

Rice vinegar

- may also use apple cider vinegar

Olive oil

- extra virgin olive oil is best but you can also use avocado oil for a more neutral taste

Lime juice

- fresh lime juice is ideal, but bottled lime juice works too

Radishes

- just one or two radishes to give fresh crunch and bite

Salt and pepper

 
To assemble tostadas:
Tostada shells - made from corn tortillas or wheat tortillas
Black beans

- using ½ cup of black beans, smashed with the back of a fork

Garnish

- fresh

mango, avocado,

and

cilantro
Wondering what to do with the rest of the black beans? You're welcome to mash it all up for these tostadas or use just half a cup as per the recipe. But it would be a shame to let the remaining beans go to waste. Try this Skinny Cucumber and Tomato Salad with black beans for some protein or these delightful Sausage Stuffed Acorn Squash for a heartier meal.
How to Make Salmon Tostadas
This easy salmon dish comes together quickly in one pan. The printable recipe is in the recipe card for your convenience.
Step 1.
Preheat grill on medium-high heat. Then, pat dry the salmon with a paper towel. Season salmon with olive oil, salt, pepper, paprika, garlic powder, and cumin. 
Cook on the grill for 6-8 minutes per side. 
Step 2. 
While the salmon cooks, prepare the rest of the ingredients. In a small bowl, mash black beans with the back of a fork.
In a large bowl, combine slaw mix, fresh cilantro, sliced radish, lime juice, olive oil, and rice vinegar. Season with salt and pepper to taste. 
Dice mango and avocado into cubes, or cut them into thin slices and set aside.
Step 3.
Remove salmon from heat when done cooking and allow it to rest for three minutes before flaking it with two forks. Warm tostada shells on the grill for a minute or two.
Step 4.
To assemble salmon tostadas, spread the mashed black beans on the shell. Add salmon flakes, followed by the prepared slaw. Top with fresh mango, avocados, and cilantro. Enjoy with your hands.
Variations
Salmon tostadas are very versatile, depending on your taste preferences and what you have in your refrigerator. Check out these ideas:
Mango salsa:

while salmon cooks, make a batch of simple mango salsa with fresh mangos, red onions, jalapeno peppers, and cilantro. 

Guacamole:

there's always room for creamy guacamole on a tostada shell. 

Change up the slaw:

this recipe calls for a traditional slaw mix of cabbage, red cabbage, and carrots, but change it up to include broccoli slaw or angel hair coleslaw for a more delicate texture.

Deconstructed tostadas: Make it a salad and reverse the order of these salmon tostadas for a fun spin. Add flaked salmon on a bed of slaw and top with mango and avocado slices. Crush up some tostada shells and eat with a fork. 
Food Safety
Cooking salmon typically takes approximately 6-10 minutes per side, depending on the thickness of the salmon. A good rule of thumb to remember when cooking salmon is the color will change from translucent to opaque when it's done. Additionally, salmon should flake easily with a fork when cooked through. 
The best way to check for the doneness of salmon is to use an instant-read meat thermometer and insert it into the thickest part of the fish. The internal temperature of salmon should be 125 degrees Fahrenheit. (source) You'll notice this is lower than FDA recommended because salmon will continue to cook with residual heat. So the temperature will rise even when the salmon has been removed from heat. Grill salmon to a temperature that feels comfortable for you.
Helpful tips
This easy one-pan meal is pretty simple on its own. But consider these helpful tips for best results:
Get perfect sear.

Pat dry salmon with paper towels to remove excess liquid. The seasonings will adhere better, yielding a better-tasting salmon overall. This will help get a perfect sear on the salmon every time.

No fresh lime?

You can conveniently use store-bought bottled lime juice for the slaw. No judgment. 

Don't overcook salmon.

You will be left disappointed with a dry, rubbery fish. 
Storage Instructions
Leftover salmon tostadas are great the next day as long as the recipe components are stored separately. Store grilled salmon and slaw separately in an airtight container in the refrigerator for up to 3 days. 
Then assemble per instructions and enjoy.
Frequently Asked Questions
What is a tostada?
Tostada is a crunchy, flat tortilla. It literally means "toasted" and refers to a crispy tortilla that has been toasted or deep-fried. It is a popular staple in Mexican cuisine and can be used in any dish that uses toasted tortillas as the base. This crispy tortilla can be topped with your favorite toppings like mashed beans, flaky salmon, and fresh slaw. 
What are good tostada toppings?
This is a matter of personal preference but generally, you could top tostadas as you do tortillas. Starting with some hefty beans like black or refried beans. Followed by some protein source like ground beef, crispy carnitas, or grilled fish. Finish with fresh toppings like pico de gallo, fruity salsa like mango, pineapple, or even watermelon. 
Serving Suggestions
These salmon tostadas are one of the best things to serve on sweltering hot summer days. They are refreshing, filling, and nourishing. Best of all, they take very little time to prepare.
Enjoy these with your favorite tostada toppings and lime wedges on the side for extra bright flavors. To make it a complete meal, pair it with Watermelon and Cucumber Salad and make an adult beverage like this Blackberry Vodka Cocktail.    
Nutrition
Salmon is an excellent source of healthy fats and protein. It's also packed with various vitamins and minerals. According to Healthline, wild salmon is higher in protein and lower in calories than farmed salmon. But if farmed is all that's accessible to you, it's still considered a nutritious food.
It's important to get a varied diet, and adding these salmon tostadas to your regular rotation of meals will ensure you get all health benefits and expand those taste palettes.
Need More Healthy Salmon Recipes to Get You Through The Week?
Salmon Tostadas
These Salmon Tostadas are healthy, gluten free and easy to put together. You can add any fresh, seasonal toppers that you like.
Print
Pin
Rate
Ingredients
1

¾ lb

salmon filet

1

tablespoon

olive oil

1

teaspoon

smoked paprika

1

teaspoon

garlic powder

1

teaspoon

cumin

½

cup

black beans, smashed with the back of a fork

salt and pepper
Slaw
½

cup

cilantro

2

cups

slaw mix

1

tablespoon

olive oil

2

tablespoon

rice vinegar

1

lime, juiced

salt and pepper

1

mango, cut into chunks

1

radish, sliced

1

avocado

4

tostadas
Instructions
Preheat grill and sprinkle salmon with oil, salt, pepper, paprika, garlic and cumin. Cook for 6-8 minutes per side.

Warm tostadas on the grill for a minutes or two. Spread the mashed black beans on the shell. Top with salmon.

To make slaw toss together slaw, radishes, cilantro, lime, olive oil and vinegar. Salt and pepper to taste.

Top tostadas with slaw, sliced mangos and avocado.
Notes
To save leftovers make sure you store all components separately in the refrigerator.
Nutrition
Calories:
270
kcal
|
Carbohydrates:
24
g
|
Protein:
4
g
|
Fat:
18
g
|
Saturated Fat:
3
g
|
Sodium:
121
mg
|
Potassium:
475
mg
|
Fiber:
7
g
|
Sugar:
1
g
|
Vitamin A:
490
IU
|
Vitamin C:
23.3
mg
|
Calcium:
49
mg
|
Iron:
1.7
mg