These Salmon Tostadas are healthy, gluten free and easy to put together. You can add any fresh, seasonal toppers that you like.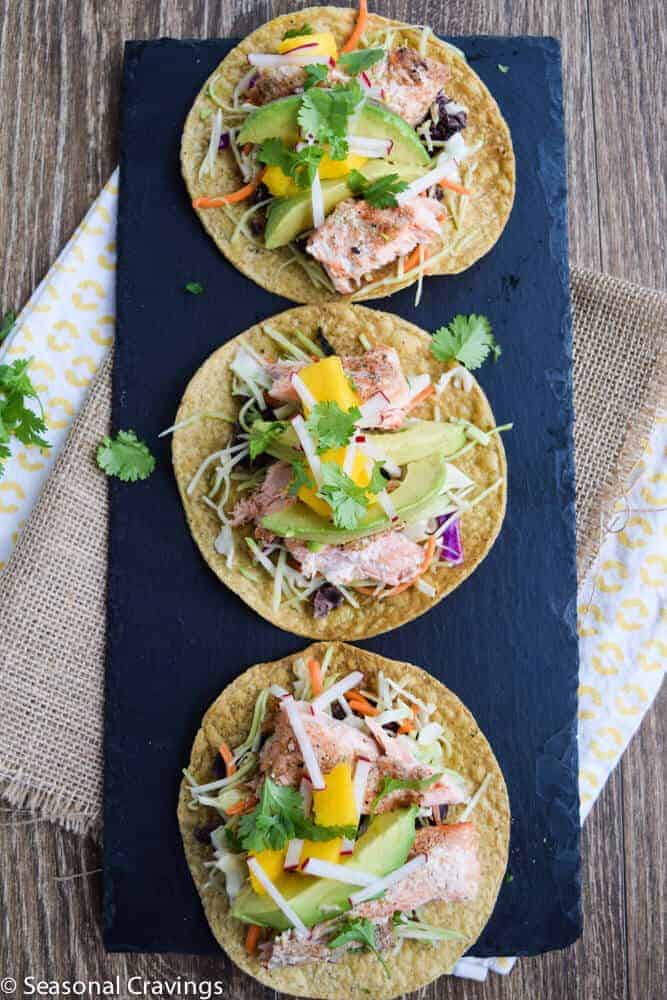 Happy Friday guys! Can you believe we only have four more days of school? Are you one of those parents who is happy about that? No more rushing around in the morning, packing lunches, doing homework, etc. Or are you stressed?
I love that we have less activities and we can relax and go on vacation but I worry. Are my kids going to play too many video games? Are they going to fight? (Well, duh.) Are we ever going to complete our summer workbooks? Do I have enough camps planned? Do I have too many? Calgon take me away.
No more worries. It will be the best summer ever. We are going to be in the kitchen cooking together and jumping off the high dive with no fear. We will wear sunscreen every day and weed the yard without complaining. In fact, we may even learn how to do our own laundry (including folding and putting away). We will do art projects at the kitchen table and ride our bikes around the hood freely. We will make our own dinner, at least one night of the week...like these Salmon Tostadas.
I've been on a major Mexican food kick lately. It's so easy and fresh. Tostadas are essential in my pantry. There is an endless list of toppings that you can pile on: grilled shrimp, skirt steak, pork or chicken, cheese, pico de gallo, beans, lettuce, slaw, guacamole, sour cream or tomatoes. They are a blank slate for whatever leftovers you have in the fridge. Embrace the tostada!
These tostadas are topped with the freshest of seasonal ingredients: mango, avocado, slaw, radishes, black beans and cilantro. My kids love tostadas and top theirs with ground beef, cheese, salsa and the more daring ones add lettuce. It's basically a flat taco shell so treat it as such and top with anything you would put in a taco.
It makes a quick midweek meal that will be a hit with the kids.
In order to make the salmon I used a favorite new find - grill toppers. They keep the salmon or other flaky fish from falling through the grates and best of all, you can toss them when finished. I bought mine at Wegmans but you can find them at Amazon as well.
Salmon Tostadas
These Salmon Tostadas are healthy, gluten free and easy to put together. You can add any fresh, seasonal toppers that you like.
Print
Pin
Rate
Ingredients
1

¾ lb

salmon filet

1

tablespoon

olive oil

1

teaspoon

smoked paprika

1

teaspoon

garlic powder

1

teaspoon

cumin

½

cup

black beans, smashed with the back of a fork
Slaw
½

cup

cilantro

2

cups

slaw mix

1

tablespoon

olive oil

2

tablespoon

rice vinegar

1

lime, juiced

salt and pepper

1

mango, cut into chunks

1

radish, sliced

1

avocado

4

tostadas
Instructions
Preheat grill and sprinkle salmon with oil, salt, pepper, paprika, garlic and cumin. Cook for 6-8 minutes per side.

Warm tostadas on the grill for a minutes or two. Spread the mashed black beans on the shell. Top with salmon.

To make slaw toss together slaw, radishes, cilantro, lime, olive oil and vinegar. Salt and pepper to taste.

Top tostadas with slaw, sliced mangos and avocado.
Notes
To save leftovers make sure you store all components separately in the refrigerator.
Nutrition
Calories:
270
kcal
|
Carbohydrates:
24
g
|
Protein:
4
g
|
Fat:
18
g
|
Saturated Fat:
3
g
|
Sodium:
121
mg
|
Potassium:
475
mg
|
Fiber:
7
g
|
Sugar:
1
g
|
Vitamin A:
490
IU
|
Vitamin C:
23.3
mg
|
Calcium:
49
mg
|
Iron:
1.7
mg