Easy Honey Garlic Salmon is gluten free, healthy and flavorful with caramelized honey on top. Baked in the oven and ready in 20 minutes.
My son who shall not be named is still home with "tummy troubles." Am I being duped?  I must be a pushover but I really can't tell what is going on with him.  Sometimes tummy aches can mean he's worried about something at school or someone is not being nice to him.  I don't think that's the case here because he was in my bed at 3:00 AM crying and folded over at his belly.  Poor guy.  Watch T.V. and eat Saltines all you want.  Momma will take care of you. ?
Sometimes being a food blogger is the. best. ever.  Like this week.  I've been cooking up a storm and have had the best healthy ready-made lunches.  Not many folks have leftover Easy Honey Garlic Salmon in the fridge for lunch.  Today was yet another cooking day and I had Roasted Broccoli and Beets with Tahini Dressing and a small bowl of Brussel Sprout Salad.  I do eat a lot of vegetables but there are plenty of days when I'm making Gluten Free Doughnuts or Mini Peanut Butter Cups and I eat those for lunch too.  I have no self-control and food is food - calories do count!
At least, I can feel good about eating this Easy Honey Garlic Salmon.  I've been making this dish for years and it's been tweaked and modified many times but this is it at it's purest.  It's no fail, weeknight-friendly but still fancy enough for company.  I bought fresh salmon from Whole Foods but you can also use frozen.  Just give yourself plenty of time to thaw.  I like to take it out of the packaging the day before and lay it on a paper towel lined plate covered with plastic wrap. Leave it in the fridge overnight and you should be good to go.
One of my resoultions this year was to replace at least one meat meal per week with fish. I'm on a mission to find simple and easy ways to prepare fish that my kids will eat.  They will eat this salmon because it's mild and sweet.  When you put it on low broil at the end it makes the honey garlic sauce get all gooey and the salmon gets some crispy edges.  Yum! My kids also like Skinny Roasted Cod with Tomatoes minus the tomatoes.  The things I have to do for my kids!
This salmon is easy to prep for a dinner party.  I usually make the sauce early in the day and brush it on a few hours before.  Then I put it back in the fridge until time to cook.  I love that each piece is perfectly portioned for your dinner guests.  If you want to serve some extra sauce on the side that would make it way fancy.  Serve with roasted broccoli or green beans gremolata.
Ingredients
4

pieces

of salmon

3

tablespoon

honey

1

teaspoon

garlic

1

tablespoon

tamari

or soy sauce
Instructions
Preheat oven to 400°.

Line a sheet pan with parchment paper.

Place salmon skin side down. Sprinkle with salt and pepper.

Mix all sauce ingredients and brush on salmon.

Place in oven for about 20 minutes. Halfway through baste salmon with more sauce and rotate pan.

For more browning on top, pop them in the oven on low broil for a minute or two. Watch closely.
For all quick, easy and healthy dinner recipes look here.
Looking for more super easy and healthy weeknight recipes?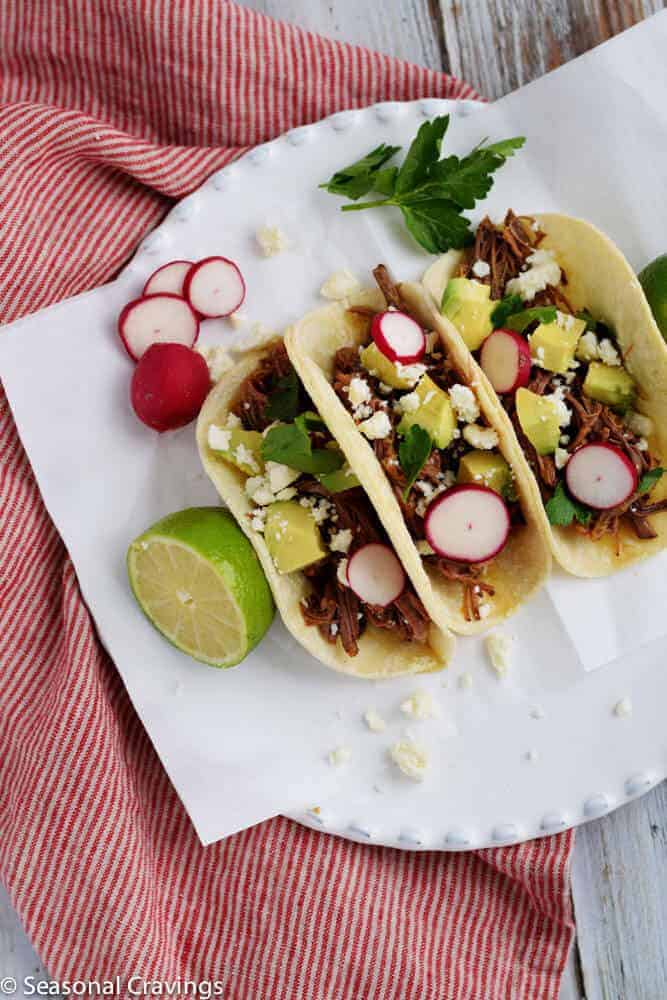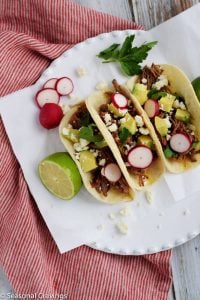 Two Ingredient Slow Cooker Beef Brisket