These Gluten Free Chocolate Pecan Pie Bars are right out of my mom's recipe book. They are rich, sweet and deliciously sticky. They can easily be made ahead of time and popped into the freezer.
This post was sponsored by Bob's Red Mill but all opinions are my own.
What are your fondest memories of the holidays?
I have so many but my favorite is baking cookies for the neighbors with my mom. I would stand on a stool at the counter and help her make all of our favorites: cut out sugar cookies with sprinkles, gingerbread, buckeyes, magic bars and these pecan pie bars.
Every cookie was mixed by hand since we didn't have a fancy stand mixer. Our kitchen was tiny so we struggled to have enough room for all the goodies. We used these cheap little plastic cookie cutters and the cookies would sometimes stick but we didn't care. We had fun and we did it together. We wrapped them in plastic wrap and delivered them door to door. When Christmas rolled around we had a house full of goodies; some we made and lots from our neighbors.
Traditions are so important to me now that I'm a mom. Traditions are rituals you perform again and again that are out of the ordinary day to day life. They can lend a certain magic to life, provide comfort and strengthen the family bond. Some of our favorite rituals are family movie night, bacon on Sundays and dinner together every night. These all help my kids to develop a pool of happy memories. They often look back on these times with nostalgia and talk about them.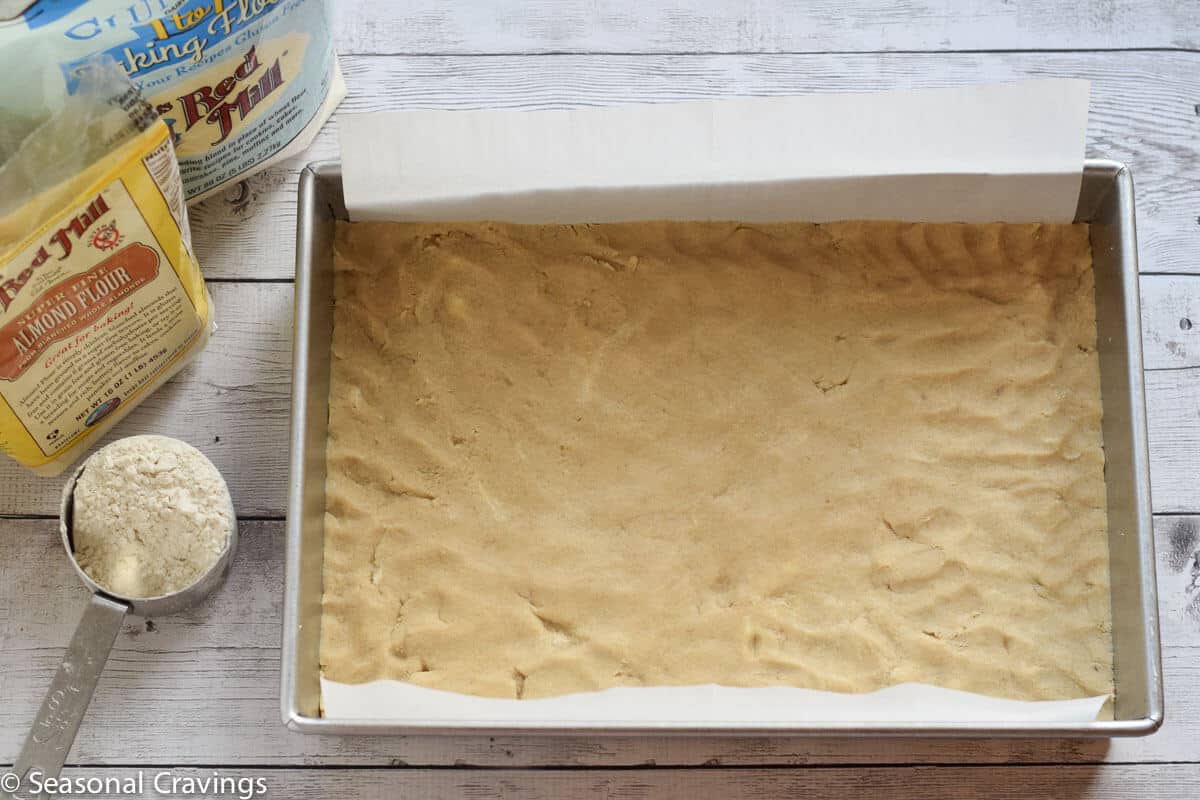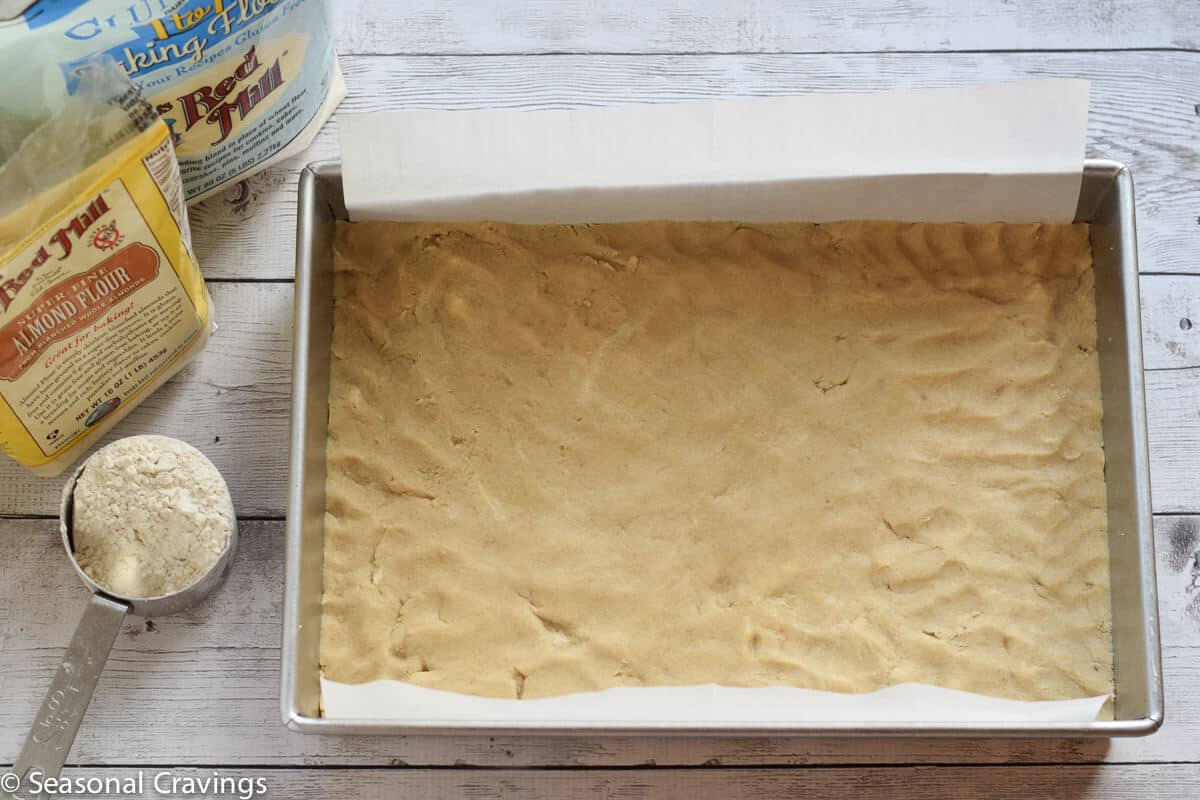 Another family tradition is baking Christmas cookies for the neighbors like I did as a kid. One of my favorites is my mom's pecan pie bars. I modified them a bit to make them Gluten Free Chocolate Pecan Pie Bars. Hers were not gluten free and did not have chocolate.
They are so much better with chocolate. Isn't everything better with chocolate?
The crust is made from my favorite flours from Bob's Red Mill. You guys know how much I like Bob's right? You see it here in my Gluten-Free Apple Cider Doughnuts and in my Gluten Free Sweet Potato Casserole.
I have spent years baking gluten free and it was so tricky but now with Bob's Gluten Free 1-to-1 Baking Flour, it's a no-brainer. It is a one to one replacement with no additional ingredients needed. If you saw how many different types of weird flours I have in my pantry right now you wouldn't believe it. It's a discarded flour wasteland! Do you know that weird gluten free texture and graininess? You will not find that with Bob's.
I love Bob's Red Mill Almond Flour because it is ground superfine from whole, blanched sweet almonds. This added into the crust imparts such a delicious background flavor and it's naturally gluten-free.
These Gluten Free Chocolate Pecan Pie Bars are ...
sticky sweet
salty
full of chocolatey goodness
irresistible
gluten free
If you haven't given Bob's Red Mill 1-to-1 Gluten Free Flour a try, it's time you did. It will not disappoint.
Ingredients
Crust:

1

cup

unsalted butter

softened

½

cup

brown sugar

¼

teaspoon

salt

Filling:

3

large eggs

¾

cup

light corn syrup

½

cup

brown sugar

1

teaspoon

vanilla

2

cups

unsalted pecans

chopped coarsely

1

cup

gluten free chocolate chips
Instructions
Preheat the oven to 350º F. Line a 13 x 9-inch baking pan with parchment paper and spray with non-stick spray. I like to spray the pan too before I put the parchment in. This makes it stick.

First, make the crust. Put the butter, both flours, brown sugar and salt into the bowl of an electric mixer and stir until coarse crumbs form. Press into prepared baking pan.

Bake for 11-15 minutes or until lightly browned.

Next, make the filling. In another bowl, whisk the eggs, corn syrup, brown sugar and vanilla until well-mixed Fold in the pecans and chocolate chips. Pour the filling over the cooked crust and bake for 25-35 minutes or until set.

Remove from oven and let cool completely before cutting. Cut into triangles.
Nutrition
Calories:
287
kcal
|
Carbohydrates:
30
g
|
Protein:
3
g
|
Fat:
18
g
|
Saturated Fat:
6
g
|
Cholesterol:
42
mg
|
Sodium:
23
mg
|
Potassium:
55
mg
|
Fiber:
2
g
|
Sugar:
22
g
|
Vitamin A:
285
IU
|
Vitamin C:
0.2
mg
|
Calcium:
44
mg
|
Iron:
0.9
mg