Are you looking to take your charcuterie board to the next level? I've got the most unique charcuterie board ideas for any season or occasion. That's the beauty of this foodie trend – it is versatile as you can assemble any choice of meat and other food items in one board.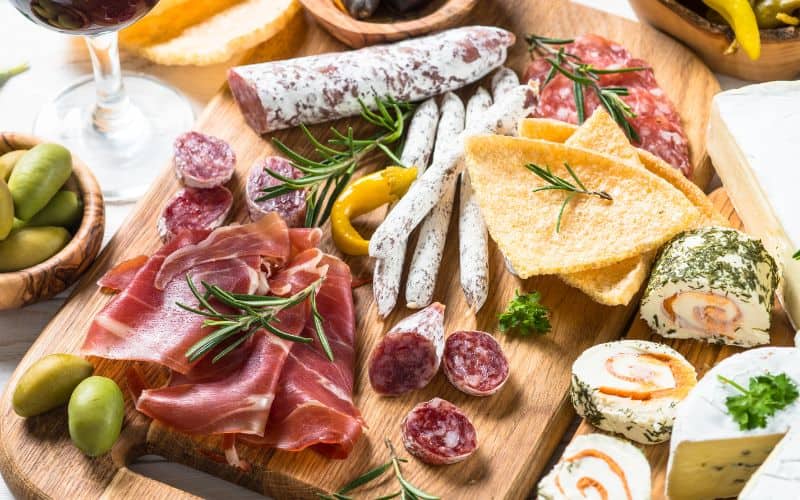 Check out these ideas for a charcuterie board you can use for your next gathering (or date night!).
How to Build Your Charcuterie Board
Presentation is everything when it comes to food. The vibrant and artistic way of presenting and assembling various food items in a charcuterie board is why this trend is a massive favorite at home parties and events.
Despite the name, many people have used their resourcefulness to build their own charcuterie board using a cutting board, a large tray, or even straight on the counter with a layer of parchment paper.
Always start with the largest items when assembling your charcuterie board. Avoid placing the large items close together. Space them out evenly on the board. Do the same thing with each food group. For example, avoid placing two different types of meat on the same side of the board.
It is also a good idea to have at least two options for the main food groups, such as meat and cheese. It's better to have only one option for the smaller items, such as nuts and dried fruits. Use these smaller items to fill in gaps on your board. Don't worry if it looks messy at first, I promise it will all come together.
The final tip when assembling your charcuterie board is to make it as visually appealing as possible. Use the different colors of the food items as your guide in putting the board together. The more colorful the cheese board is, the more appetizing it is!
For example, pick colorful fruits like strawberries, grapes, and kiwis. Most fruits are seasonal so do the best you can in choosing the available fruits for the season. Meanwhile, it's good to incorporate food with various textures, too.
Think small chocolates, dried fruit, and seasoned nuts. You would be surprised what delicious and fun items you can find at Trader Joe's and other markets.
Unique Charcuterie Board Ideas
This collection of fun charcuterie board ideas will give you plenty of inspiration to impress your guests.
Charcuterie Board Ideas for Christmas
Impress your friends and family with a simple yet vibrant charcuterie board for Christmas. It is a unique take on a traditional charcuterie board since the elements are shaped like a Christmas tree.
Tips and Tricks:
Choose two items from each category (meat, cheese, bread/crackers, and dips/spreads).
To make this Christmas tree-shaped charcuterie board, start at the tree's base with the "main" items like cheese and meats. Add the next layer of smaller items like nuts and fruits.
When adding each layer, always shorten the one on top to form the tree shape.
This charcuterie board idea is a great way to add a festive twist using traditional items. Another idea to fit the Christmas theme is to form a wreath. You can switch up the traditional ingredients with your favorites, too! Place them all in a circle and add a real bow or ribbon at the top.
Vegan Charcuterie Board Ideas
Plant-based eaters can take advantage of the charcuterie board fun. You can try out this recipe using plant-based and vegan alternatives.
Tips & Tricks
Thanks to a growing plant-based movement, several options are now available for plant-based and vegan meats. Choose as many or as few ingredients according to the size of your party.
Aside from the meat, you can also find many vegan cheeses in most grocery stores. Vegan cheeses are made from oils, tofu, or a combination of starch. You can look for vegan cheese in your local grocers or online.
Add other items to complete your vegan cheese board, such as crackers, fruits, nuts, and vegetables.
Charcuterie Breakfast Board Ideas
If you're a fan of all-day breakfast meals, the savory and sweet combination of elements in this board idea brings all of your favorites into one board.
Tips & Tricks
You can choose a 'traditional' breakfast board using any of the items listed above. You can also incorporate themed breakfast items, such as a waffle board, a pancake board, or a bagel board.
Fruit is an excellent option for a breakfast charcuterie board. It adds colors to your board, and you have many options for any season.
Always incorporate a bread item since it is a breakfast staple. You must choose the type of bread to add to your charcuterie board, such as pancakes, muffins, bagels, waffles, croissants, etc.
Meat is another staple element to your breakfast board. You can opt for traditional options like bacon and sausage. Or mix it up with other types of protein, such as smoked salmon, salami, boiled eggs, and sliced ham.
A good breakfast charcuterie board will always have a dairy element. It will enhance the other aspects of your board. Make sure to add cream cheese, yogurt, and a mix of hard and soft cheeses.
Keto Charcuterie Board Ideas
Creating a board filled with appetizers for your guests on special occasions does not mean you have to ditch your low-carb diet! You have several low-carb and keto options, such as this one.
Tips & Tricks
Meats are the anchors of your keto charcuterie board. Several keto meat options are available, such as pepperoni, chorizo, prosciutto, and salami.
Cheeses are another main component of a keto charcuterie board. Among the keto cheese options are mozzarella, brie, gouda, cheddar, and goat cheese.
Add low-carb crackers and snacks to your charcuterie board. Almond flour crackers, pork rinds, and cheese crips are among the best options for your keto board.
Add keto fruits to your board to keep it low-carb. Your choices include berries (strawberries, blueberries, and raspberries), avocado, olives, and cherry tomatoes.
Most nuts and seeds are keto-friendly, which makes them a great addition to your keto charcuterie board. Your options include almonds, pecans, pumpkin seeds, and macadamia nuts.
Summer Charcuterie Board Ideas
Summers are for picnics! And what better way to enjoy your picnic than with a charcuterie board filled with your favorite summer snacks and delights?
Tips & Tricks
Creating the perfect summer board involves incorporating the fresh flavors of summer and adding seasonal favorites. Add fresh vegetables and fruits for a refreshing element. Ditch the dried and pickled items and opt for freshly picked ones (whenever possible). Add fresh slices of cantaloupe or watermelon, halved figs, and wedges of honeydew. Make sure to add fresh berries, as they make your board extra colorful.
A summer charcuterie board must include lighter meat and cheese options, such as salami, chorizo, and prosciutto. Parmesan and aged cheddars bring the taste of summer to your board.
Fire up the grill and add the items to your summer charcuterie board. You can grill squash, eggplant, or zucchini. The charred accent helps to complete the summer vibe on your board.
Incorporate fresh herbs into your charcuterie board. Mint and basil are excellent edible garnishes for your board.
More Easy Appetizers