This Baked Brie with Fig Jam is gooey, sweet and salty all at the same time.  Perfect on salty crackers or sweet apples and takes moments to make.
I am in practicing for the holidays mode.  I hate serving new recipes to guests so I always try them out first.  We host a lot of family and friends over the next three months so I need easy, no fail appetizers.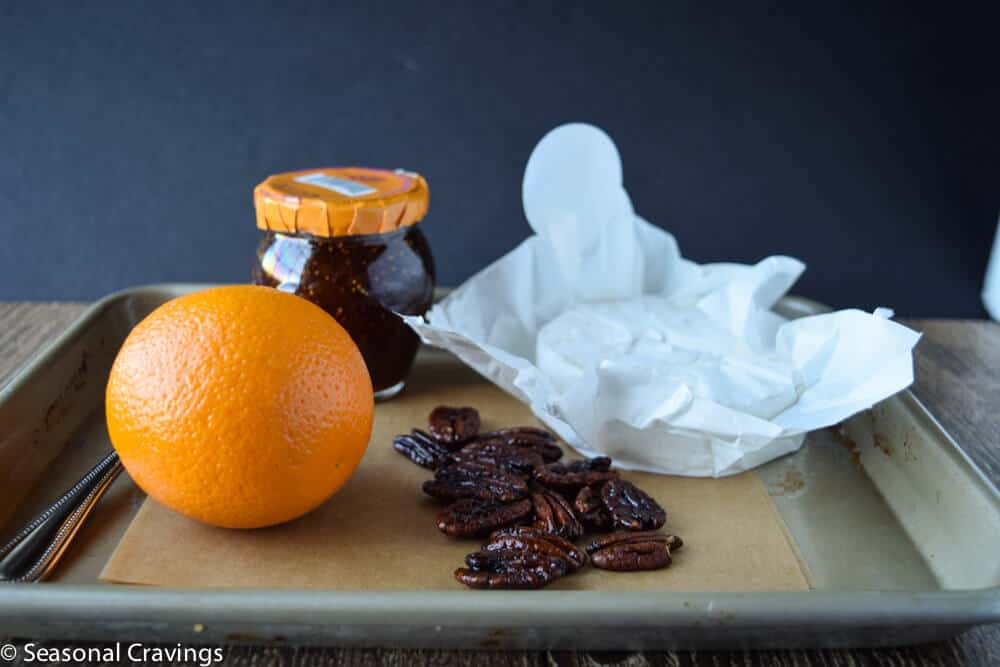 Here is the perfect one→ Baked Brie with Fig Jam.  I suggest you buy the fig jam and pecans the next time you are at the market. That way when you plan to entertain last minute, you will only have to pick up a round of brie.  I always keep crackers for spreading and fun cocktail napkins in case we have an impromptu neighborhood bash.
I also love this Pomegranate Cranberry Baked Brie and these Pomegranate and Goat Cheese Crostini for quick holiday appetizers.
This Baked Brie with Fig Jam is sweet from the jam and salty from the pecans.  The orange zest gives it just a hint of orange flavor and makes it that much more interesting.
It tastes best when fresh out of the oven, but you won't have to worry about it lasting long; it's that good.   I like to bake it on parchment paper on a cookie sheet.  That way, when it's done, I just lift up the parchment sheet and place it on a serving plate.  It looks pretty too.  Did you know they sell parchment and foil sheets at the dollar store?  They are awesome.  They are pre-cut into these perfect rectangles so I don't have to wrangle with stubborn parchment that keeps rolling up on me.  What would you do without all my life changing tips?
Baked brie can be served with a variety of toppings.  Here are some other ideas to get you through the holidays…
maple syrup & pecans
blueberry or blackberry compote
roasted garlic & honey
apple crisp topping
cranberry chutney & pistachios
sauteed prosciutto cubes & peaches
artichokes, pesto & sun-dried tomatoes
cherry tomatoes and basil
strawberries & honey
So let's be prepared for the holidays this year.  Let's stock that pantry with easy appetizer staples that will help us entertain in a pinch.  Don't be afraid to invite friends and family over.  It's okay if you don't have time to clean the house from top to bottom or if your kitchen smells like a new puppy (that's me).  Relax and enjoy.
Oh and be sure to get a manicure!
Instant Appetizer – Baked Brie with Fig Jam
Author:
Prep time:
Cook time:
Total time:
A cheesy, gooey delicious appetizer that can be prepared in minutes.
Ingredients
1 round of brie with rind
1/2 cup fig jam
1/2 cup caramelized pecans
2 tbsp orange zest
Instructions
Preheat oven to 350°.
Place brie on parchment paper on a cookie sheet.
Spread the top with the fig jam.
Top with pecans and orange zest.
Cook for 10-15 minutes, until warm and gooey.
Serve immediately with bagel chips and sliced Honeycrisp apples.
Looking for more appetizers?  Try these: